Championship tables never really tell the full story. A motorsport fan of the future might glance at the 2009 American Le Mans Series standings and think little of the fact that Highcroft's David Brabham and Scott Sharp extended their points lead at Petit Le Mans by finishing sixth in LMP1 while their title rivals Gil de Ferran and Simon Pagenaud were only classified ninth in the De Ferran Acura.
However that score sheet requires a big fat asterisk on that sixth place and a footnote reminding the world that the result was achieved in a car built up from a bare tub in just 15 and a half hours after Sharp had somersaulted the original chassis to destruction in opening practice - and that the new machine ran so smoothly that Brabham was able to come from last to fifth in his first stint, even though his car had not existed one day earlier.
It was the pivotal moment of the Highcroft versus De Ferran title battle, rescuing victory for Highcroft just as the crash seemed to have given its rival an open goal.
"People will always talk about how quickly those guys turned it around," says Brabham. "It was one of the most amazing moments in the history of the series. To turn a tub around that quickly - with a complicated car like this P1 - was a sterling job."
It also typified the irrepressible spirit of Highcroft, a team that Brabham is immensely proud to have been part of throughout its growth from the unknown outsider of the Acura prototype programme to the lynchpin of the company's efforts. As team boss Duncan Dayton readily admits, Acura's line-up for its first year in LMP read to most people as Andretti Green, Fernandez and Some Other Guys, with historic racing graduate Highcroft being the latter. Yet Highcroft and its talismanic driver Brabham would go on to take Acura's first pole and win in LMP2, its first outright win, its first LMP1 win, and now its first championship.
Brabham says his squad has always thrived on its underdog billing.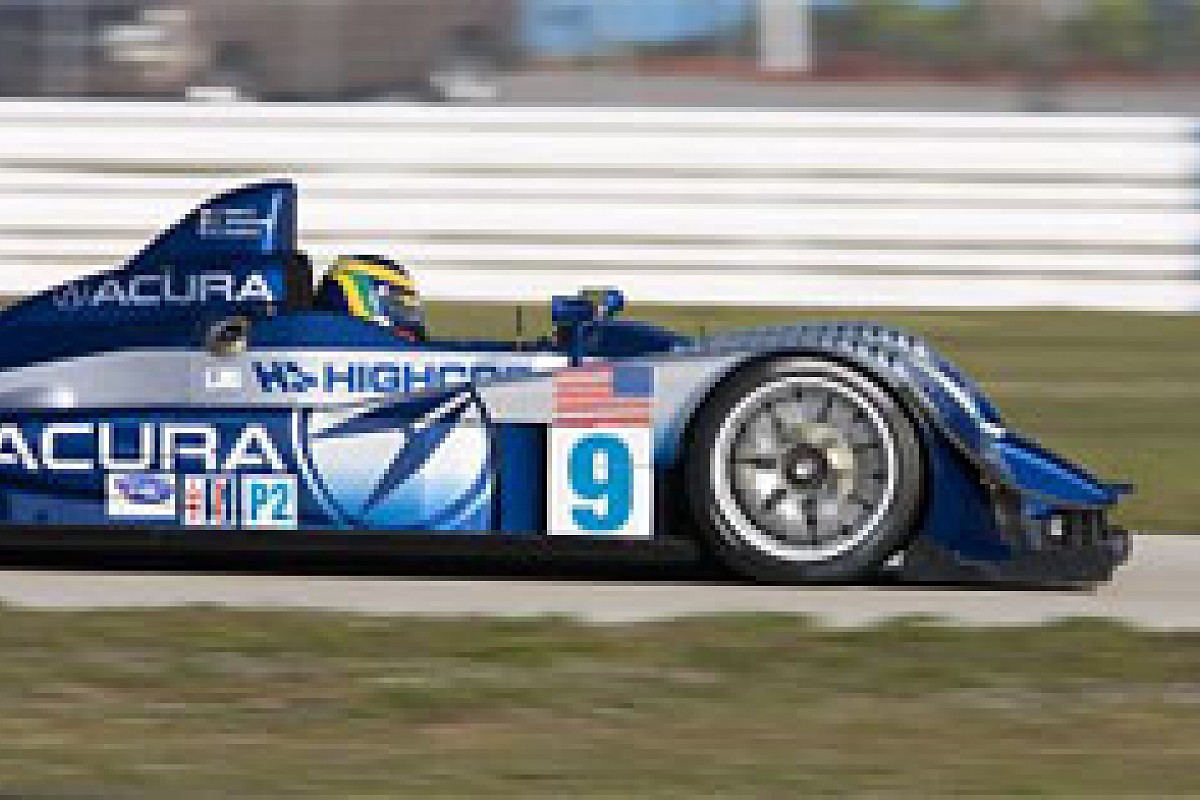 David Brabham in the Highcroft Acura LMP2 during the 2007 12 Hours of Sebring © LAT
"In the first year we were not the favoured team because Highcroft had no history or heritage," he recalls. "I think in the first race we did at Sebring [in 2007] we were the quickest Acura in qualifying, and it surprised everybody, because firstly we were new on the block, but also we knew internally that we had the least amount of power and we were still quickest.
"So it laid a very solid foundation for us from the off, and as the season progressed it was quite clear that we were the Acura team to beat. And we've maintained that form over three years. It's been a great experience to be part of."
That form guaranteed Highcroft's involvement in Acura's LMP1 graduation this year, but the addition of de Ferran's new team to the Acura arsenal gave Brabham another challenge - and even more motivation.
"Gil came in with sort of equal status to us in terms of works support. Then this year they got the full works support and we were sort of semi-works," he says.
"A lot of guys that were on our team last year ended up on the De Ferran side, particularly people like Nick Wirth and people from HPD [Honda's US motorsport arm Honda Performance Development] - which was a great motivation for us. I have to say it didn't sit very well with me because we had such a great nucleus of people. We had a great team together, and we were successful.
"To see that change over the winter was uncomfortable for me, I didn't like it and I don't think the team did either. We still had good support, but when you get a team broken up like that, it takes time for things to settle and gel. But we all said 'right, let's just get on with it and it will feel even better when we win'."
The 2008 season had been glorious for the ALMS, with up to 10 prototypes from Audi, Porsche and Acura all vying for outright victory at every round. But as the winter progressed, that strength in depth melted away. Porsche chose not to return. Then the decision to fall in line with the Le Mans organiser, the Automobile Club de l'Ouest, and clip the LMP2 cars' wings meant only LMP1s had a shot at overall victory. That LMP1 field then dropped to just two Acuras and a handful of privateers as the fragile economy led to Audi's exit.
So that meant a head-to-head between Highcroft and De Ferran. A very different situation to 2008's frenetic free-for-all, but no less demanding for Brabham.
"It doesn't make it any easier, by any stretch of the imagination," he says. "When you've got two cars that are very evenly matched, it comes down to tactics, a little bit of the luck of the draw in traffic or whatever, because we were incredibly close and it was really intense between the two teams - in a good way.
"A situation like that brings different pressures, and makes it even more critical that you simply cannot make a mistake, because you'll get crucified big time and it's so hard to get that back. If one car has a problem but gets back out, they can still finish second and third and pick up the points. If you're racing against 10 guys, if you have a problem like that, you've got cars in between to take points away, but with only two of you, you just couldn't make a mistake, you just had to keep going and going and going, because someone's misfortune may not be too big."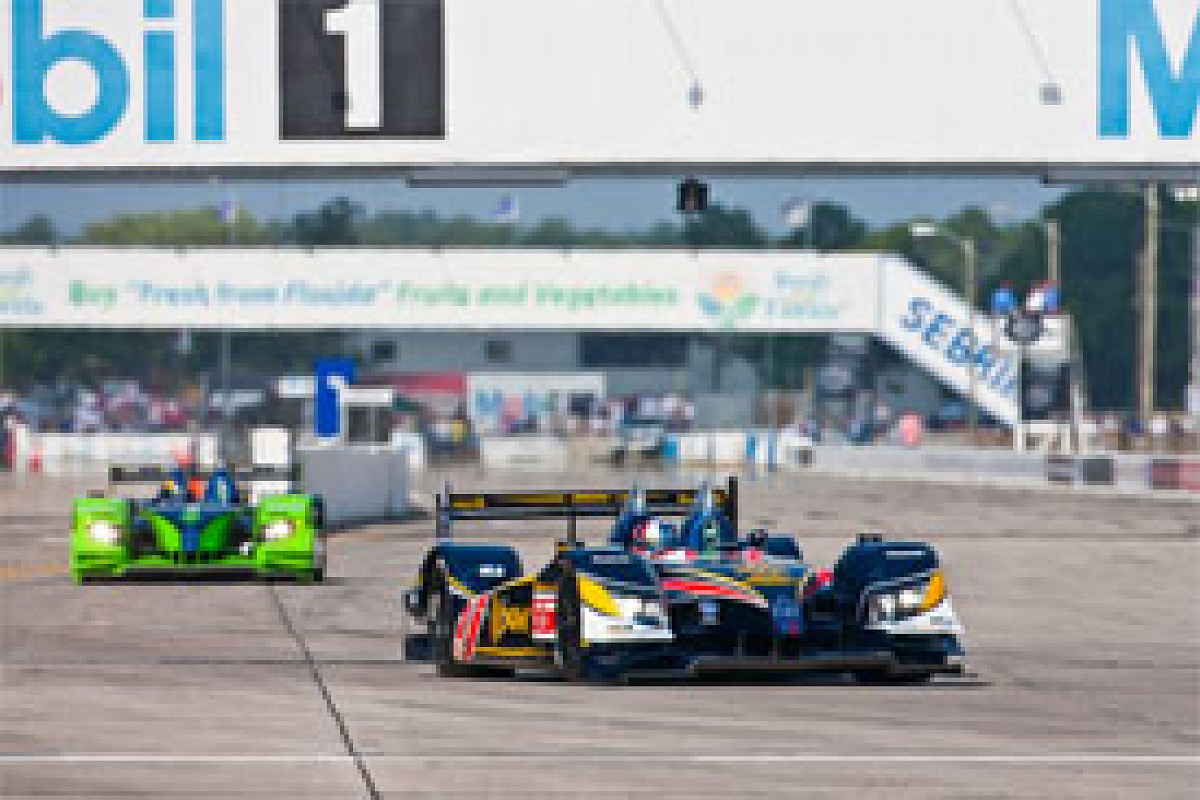 The de Ferran Acura leads the Highcroft Acura at Sebring in 2009 © LAT
Neither Acura squad had much of a chance against the Audis and Peugeots at Sebring, and both suffered teething troubles. Crucially though, Highcroft's car lasted 302 laps - enough to be classified as a points scorer and take 18 for fifth in LMP1. De Ferran had to stop after 246 laps - outside the 70 per cent of winner's distance cut-off - and therefore scored zero. Highcroft immediately had a cushion.
"That sort of dictated what we did and how we did it from then on," remembers Brabham. "In 1999, Eric Bernard and I lost the championship to Elliott Forbes-Robinson even though he never won a race. And it was only because Dyson were reliable and very consistent, they finished every race and they won the championship. It's the kind of series where reliability is key, so that first race we knew was going to definitely be a big help for us.
"But of course it was still a fairly new car and new programme, and we could've had one of those races where we didn't finish and all of a sudden it changes completely."
Brabham and Sharp added to their lead by giving Acura its first LMP1 at St Petersburg, where the De Ferran car dropped back with electrical problems. It was here that the reality of being in a one-on-one title battle hit home for Brabham.
"When one car had a problem, it took the fizz out of it a little bit." he says. "I remember crossing the line thinking 'well I suppose I should punch my hand in the air because we've just won a race'. But I felt extremely flat afterwards because I was so looking forward to having a dice with Simon.
"We had got the jump on them and I knew he was behind me and I thought 'great, we're going to have an awesome battle', and then they had a problem."
Highcroft couldn't relax, though. De Ferran then went on a four-race winning streak and reduced the points gap to just nine with four races - two of them the higher scoring longer distance events - to go. There were mitigating factors - a controversial pit penalty at Long Beach, a puncture while set for Lime Rock victory, and damage from a GT car at Mid-Ohio - but it was still a worrying time for Brabham.
"The confidence was knocked within the team, and we had to bounce back, and that's when we sat down before Lime Rock and looked at absolutely every area. It was a good turning point for us because we really had to take a breath and say 'okay, we can't panic, what can we do better? If we do that, it will turn around'.
"We should have won Lime Rock, and then we won two soon after that, so it really did help us. It was uncomfortable there for a while because they were closing that gap and getting stronger, and it was up to us to respond. In true Highcroft nature, we did."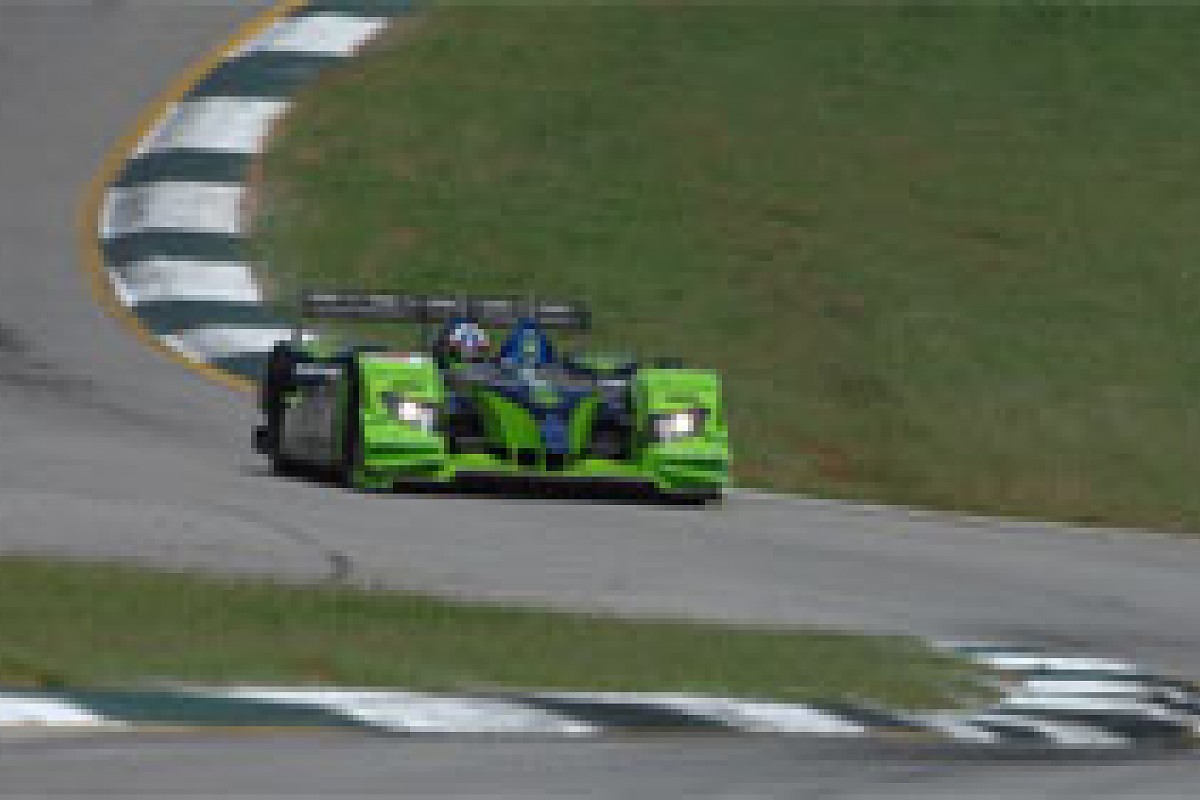 Dario Franchitti in the esses at Road Atlanta © LAT
The lead was up to 17 points again by Petit Le Mans at Road Atlanta, which was where Highcroft's bid to beat Penske to the 2008 LMP2 title had ended when Sharp had heavy crashes in qualifying and the race. When the television cameras switched to the shattering Highcroft Acura cartwheeling down the debris fence in practice, it looked like this year would be deja vu and then some. With Sharp's rapid and unscathed exit from the wreckage allaying all fears for his wellbeing, thoughts turned to how on earth the team was going to get back on track.
"Scott had the biggest accident I've seen in a long time, and thank God Wirth built such a strong car because he got out without a scratch, it was just amazing," says Brabham. "But at that time we didn't know there was another tub in existence. I remember Duncan turning to me and saying 'if that tub's broken, we're done - we won't even be able to race at Laguna.' So you can imagine how everybody felt at that point."
But there was another tub, and by 9:30 the following morning, it was arriving in the Highcroft awning ready for a new car to be assembled from the ground up. In the early hours of race day, just under 16 hours later, the engine was fired up and Highcroft had completed the miracle that kept its ALMS title hopes alive. When the De Ferran Acura was savaged by an out of control Intersport Lola, suddenly Highcroft was not just limiting the damage, but extending its lead even further.
Now all that was required at the Laguna Seca finale was to reach 70 per cent distance and be classified as a points scoring finisher. Easier said than done, especially when GT2 driver Oliver Gavin triggered a multi-car crash at a restart and nearly speared Brabham.
"Suddenly this sideways Corvette was going down beside me," Brabham recalls. "I didn't even know he'd hit me, and then it was like watching ten pin bowling - he just cleaned up all the cars in front of me. If he'd have hit me at that sort of speed, we probably would have been out of the race and out of the championship right there, right then. So I thanked Ollie afterwards for avoiding me..."
Despite this scare, third place was secured and Highcroft's journey from underdog to champion was complete - and with Brabham also winning the Le Mans 24 Hours with Peugeot, the title capped a season he rates on a par with 1989 - the stage for his British Formula 3 title and Macau Grand Prix win.
He is committed to Highcroft for at least one more year, and knows the team will run a prototype in the ALMS, although he is "waiting for Duncan to get everything sorted and tell me what car I'm driving" as Acura's plans remain unknown.
The whole shape of the 2010 series is similarly nebulous at the moment. Determined to boost grids and reinvigorate the competition, the ALMS will balance LMP1 and LMP2 performance to create a single prototype class, continue with the Challenge category for GT3 Porsches, and add a new one-make prototype division for Formula Le Mans cars. But in an effort to stay attractive to the big European teams, it is reverting to standard ACO rules for Sebring and Petit. That decision in particular has led to fears of an over-complicated and messy season, but Brabham thinks the series is doing what is necessary and sees no point in pining for the halcyon times of 2008.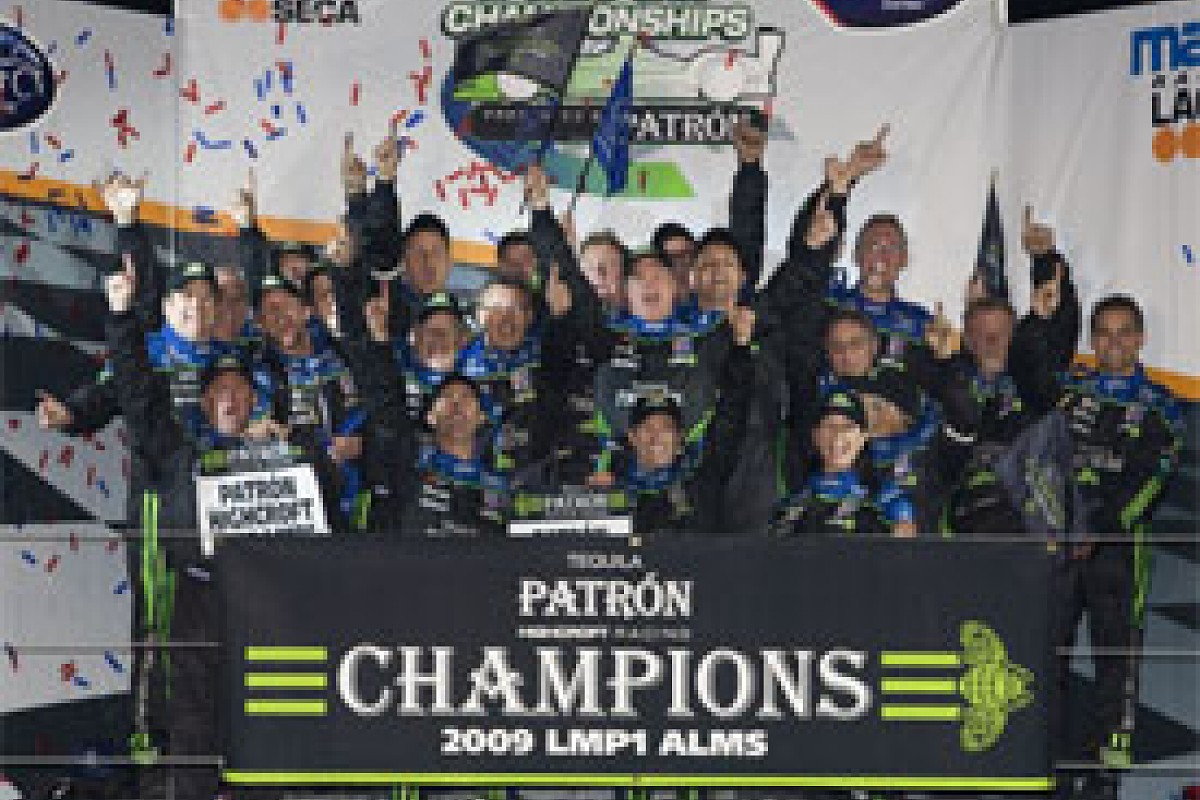 Highcroft Racing celebrate the ALMS championship at Laguna Seca © LAT
"Last year was a fantastic year for the series, but the way the economy went, it wasn't repeatable," the Australian says. "When we get close competition in prototypes, it really lights up the series. It was great, and it was a shame that couldn't continue, but it hasn't. People go into survival mode to get through these times, and luckily Acura stayed in there to help the series keep going.
"Sometimes you've got to chop and change and have adaptability. I think the series is right to try changes. We can all presume and make judgements, but we all know it had to be done and we just have to get on with it and adjust it as we go along to find the right formula that's going to help the series sustain itself for the next ten years.
"Like any change, there will sometimes be some uncomfortable situations. You're always going into something of a danger zone when you change the rules like that. When [ALMS founder] Don Panoz aligned the series with ACO regulations so everything was stable, that worked. But we're in an environment now where that doesn't work so much, so we have to alter it. Sometimes when you do that, it becomes uncomfortable, but in the long run we could look back and go 'actually, I'm glad we did that because it's made the show better.'"
And however the rules balance settles down, whatever car the team ends up with, and whoever else turns up, Highcroft and Brabham will surely be at the forefront of the ALMS' next era. Because shrugging off adversity and turning challenges into triumphs is just what they do.