It was probably A1GP's rockiest ride yet. Four races cancelled, the financial implosion of main investor RAB Capital and the bankruptcy of Team Great Britain, to name but three of its travails. Yet despite the turbulence, the world cup of motorsport survived season four.
After three seasons of confounding the sceptics, who still hover in the background predicting the series' demise at every corner, A1GP made a bold statement of its intentions for its latest iteration. A landmark deal was cut with Ferrari for the supply of engines and technical assistance with the chassis. Getting the biggest brand in global motorsport onside was a great coup for its admirably devoted boss Tony Teixeira.
But behind the sensational headline news, an enormous monster had been created. While getting Ferrari on board brought with it publicity that couldn't otherwise be bought, it also upped the ante of expectation for a series that had carved itself a niche in motor racing's echelons.
Now it needed to deliver. And, with the experience and know-how of Lola and Zytek left behind, A1GP ventured into difficult, uncharted territory. The men it turned to for its greatest voyage yet were Paul Cherry, a former Lotus protege and Sky Sports IndyCar pundit, and his business partner John Travis, an ex-Formula Libre racer and veteran Champ Car designer.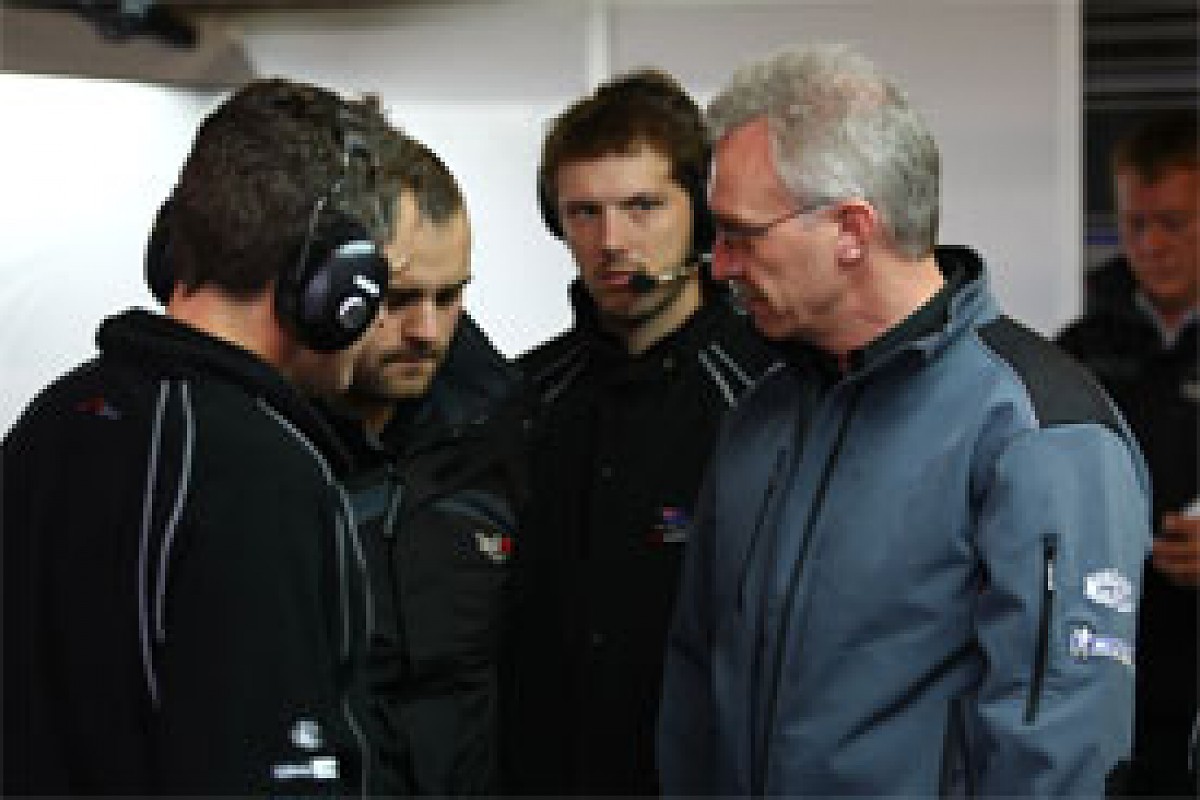 John Travis
"I was contacted when I was at Epsilon doing the [LMS] race at Estoril," recalls Travis. "At the time, quite honestly, I wasn't taking A1GP seriously, what with the car they had then. But they told me that Ferrari was going to be involved and they wanted me to go over to Maranello. So I went over to Italy and met people like Mario Almondo and Rory Byrne, and they were all taking it very, very seriously."
Having been convinced of the project's merits, Travis started to investigate the logistics of creating a spec formula car with close to F1 levels of technology and performance, that could be packed in a box and freighted all over the world, then be reassembled and raced by a team numbering about the same as an F1 pit crew.
Not that Travis was starting from scratch. Both Cherry and Travis had previously been involved in ambitious spec formulas that had failed to get off the ground - Premier 1 and Formula Superfund. But A1 was committed. After signing the Ferrari deal it quite simply had to happen, and there was no time to waste.
"I think it was the end of November that I came to Bognor Regis where URT were building the [Epsilon] sportscar chassis," Travis remembers. "I chatted to them about A1 and they said they were up for it. By chance, there was a building right next door to them that was up for lease. I spent the time between Christmas and New Year laying wires and setting up computers so that we were ready to start on Jan 2. We had nothing - not even a drawing."
'Bognorello' - the new home of A1GP Technologies - was born at the start of 2008, and with Ferrari having to adapt the road engine from its 430 for use in a single-seater racing series, the pressure was on to get the car up and running as a test mule as fast as possible. Rather than invest in heavy machinery, which would usually be sitting idle as there's no real onus on maximising performance in a spec series, a group of subcontractors such as Xtrac, Pankl, Brembo and GPE were commissioned to produce the various parts of the new car that finally hit the track, as intended, in May.
"It was a hell of a challenge," says Travis, "but with the timeframe we had there was no other way of doing it. We did 27 days of testing as Ferrari had to be satisfied that we had all the systems correct with the electronics and everything else."
Testing threw up the usual new car problems, while a suspension failure for Patrick Friesacher at Magny-Cours prompted a minor design adjustment.
"We had a fatigue problem with one of the wishbone's spherical housings," Travis admits. "What happened was the component was not manufactured to drawing, only because the drill point angle, which we'd specified, for some reason had increased. This meant the material thickness at that point had fatigued. But I think we'd done something like 3500km by that point. So we did a full investigation, and then modified all the wishbones that went into production."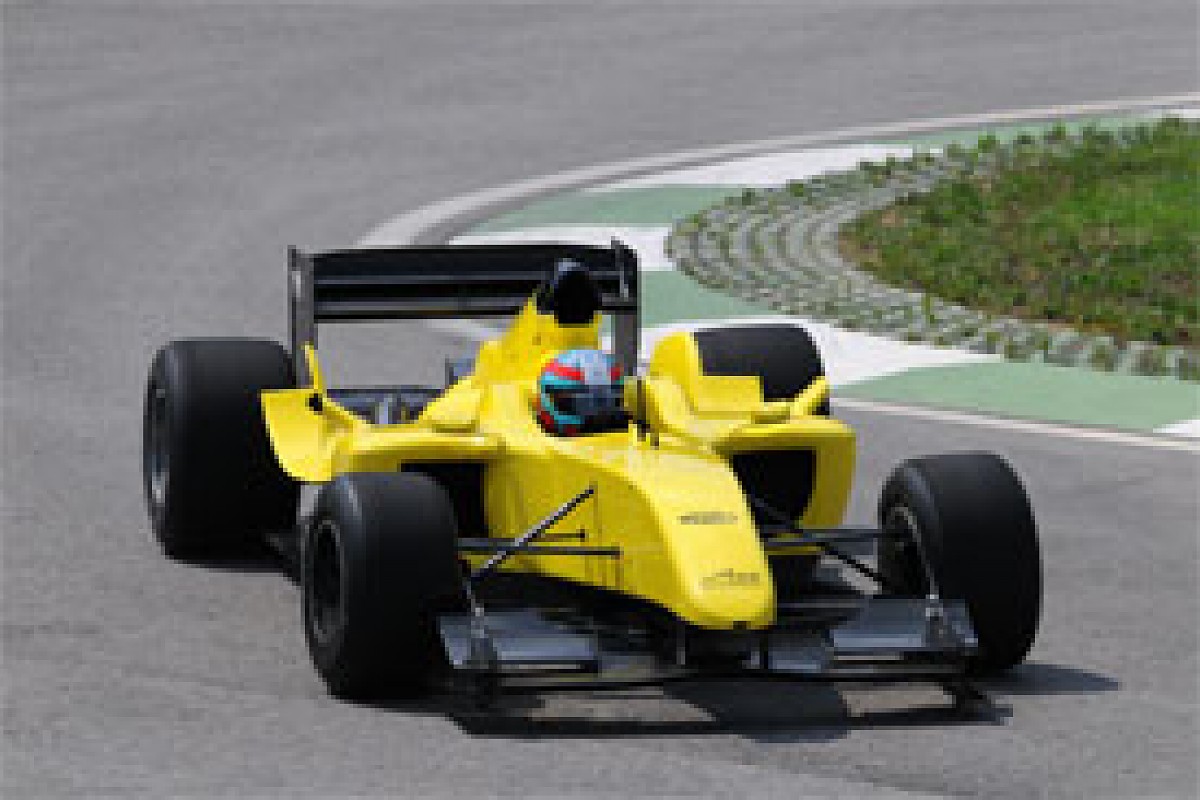 Andrea Bertolini testing the Ferrari A1GP car at Imola
Time was tight and every setback, no matter how small, was costly. The championship was supposed to begin at Ferrari's Mugello test track on September 19, but it proved to be an impossible deadline. So the Italian round suffered the same fate as the planned events in Jakarta, Indonesia, the long-awaited Brazilian excursion and the swine-flu blighted Mexico race.
A tight timeframe, a global economy in meltdown and round one cancelled. The vultures were circulating over A1GP as it rolled into a stormy Zandvoort. Weather conditions were bad, but for the teams it was much worse as parts arrived at the eleventh hour forcing some to work around the clock just to get their cars out on the grid for the first event of the season. As brave new dawns go, it was threatening to dissolve into a damp squib.
But the brilliant Dutch fans burrowed their way into the sand dunes, cracked open cans of beer and packets of fags and gave the sodden teams and drivers the support they deserved as the 'Powered by Ferrari' era of A1GP hit the track.
It had been tough going, but the pretty new car, based on a 2004 F1 Ferrari in family resemblance only, had made it. Despite fears that upping the technology of the cars would drive an even bigger wedge between the teams at the front and those at the back, the opposite was true.
Patrick Moore, who ran Nico Hulkenberg to the season-two title as Team Germany's team manager, and who presided over Lebanon's best results to date, was pleasantly surprised at the level of car Travis and his team had produced.
"Technically, it's a very good, well-made car," he reckons. "I'm not a massive fan of the wiring looms though, I have to say! But it really was a big step forward from the old car. The quality of the parts was very high.
"For a team like ours, which prides itself in engineering work, it was a problem not having many sensors on the car for things like suspension. These days a lot of engineering is really feeding numbers into computer simulator work, but we couldn't do that with this car. It was a bit like the old days where the guys had to use their heads, which is no bad thing."
Despite it being more advanced than the Lola, which could trace its heritage back to the F3000 chassis of 2002, at some tracks the new machine was only fractionally quicker. Travis attributes this to the single-compound Michelin tyre, which didn't work well at the southern hemisphere circuits of Sepang and Taupo.
In general the car proved to be reliable, with most problems occurring in the electrical systems. Travis puts this down to the sophisticated engine management needed to ensure that a road-car engine can deal with the demands of a high-tech racing series.
While the old car was generally disliked for its looks and lack of sophistication, there were few complaints about the quality of racing it produced. With greater emphasis placed on aerodynamic performance on the Ferrari car, it was feared that the racing would suffer from the age-old problem of turbulent air from the leading car disturbing the performance of the one chasing. But Travis's experience working with Lola and Penske in "proper" Champ Car as he refers to it, had given him an insight in how to counter-act these pitfalls.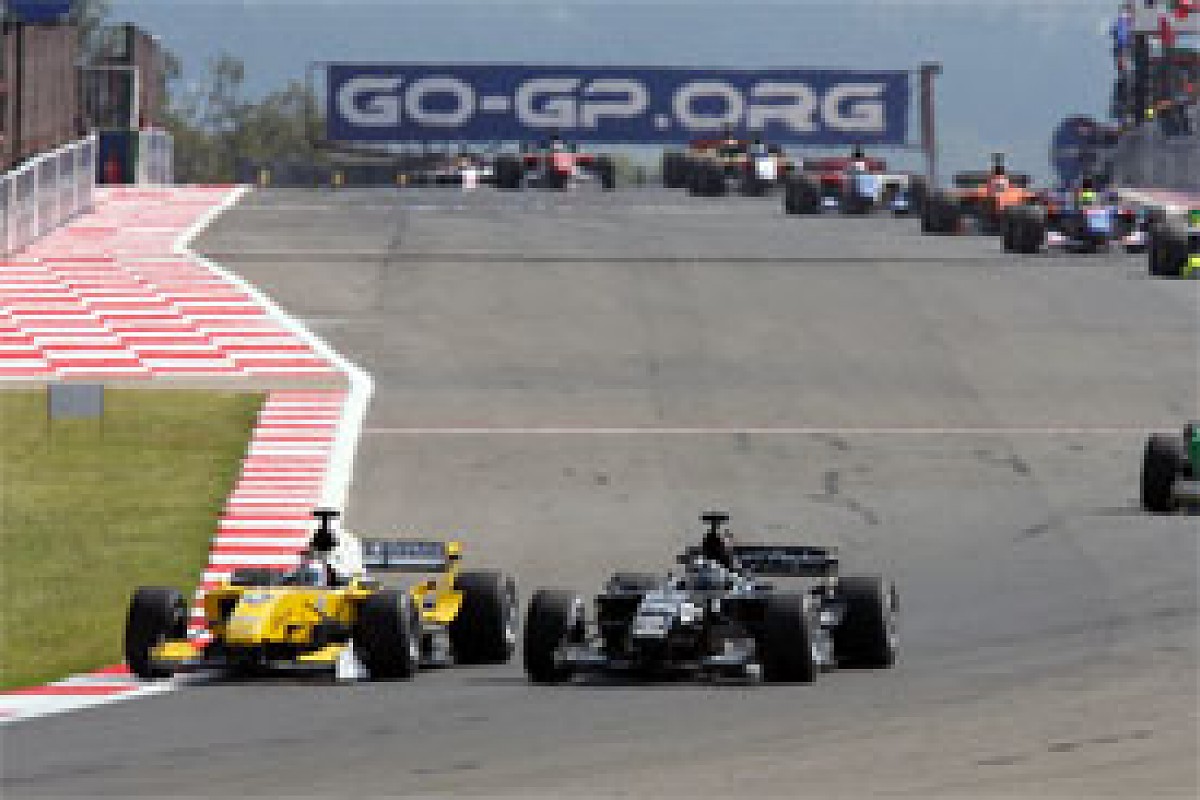 Fairuz Fauzy (Team Malaysia) and Earl Bamber (Team New Zealand) battle at Kyalami
"We were given information about where F1 was going to go, but I'm afraid I disagreed with what they've done," he states. "I don't think it's the right way to go. We went back to wide-track and slick tyres. We wanted to produce at least 50 per cent of the downforce from the underwing, because for me that is the less sensitive part of the car to the turbulent wake. Our front wing philosophy followed what we'd done in Champ Car with Penske in terms of wing position and endplate design. We looked at the turbulent wake and we tried to incorporate that philosophy into this car. We didn't have time to investigate lots of solutions, so we went with what we knew worked."
Of course there's more to overtaking than just being able to run close to the car in front. At tracks like Taupo and Brands Hatch, it's very hard for open-wheel racers to pass - the layout just doesn't lend itself to it. But at venues like Kyalami and the new Algarve track in Portugal, the A1 races were as entertaining and action-packed as ever.
Current IndyCar star and recent Formula Superleague race winner Robert Doornbos played a starring role for the Dutch during his handful of appearances, which he really enjoyed.
"The car is actually quite fun to drive and that's where my experience is, in high-downforce cars," he says. "With the bodywork from the 2004 Ferrari F1 car, the downforce is mega. The power isn't that great - any driver will tell you the power can always be better - but the downforce is awesome. It's a good series. I hope to be driving again for Team Netherlands this winter."
That's the thing with A1GP, those involved in it love it. But love doesn't pay the bills and on at least two occasions - Taupo and Brands Hatch - the racing only took place after the last-minute intervention of one of the seat holders who paid an indebted supplier. The lack of financial security took its toll on the cars too, with spare parts becoming increasingly precious as the season wore on. This twice led to Brazil's crash-prone teenager Felipe Guimaraes having to miss a race. But assurances have been given that the finances are now in place and some tough decisions are being taken as A1GP reorganises itself into a more commercially viable series.
The cars are about to head back to Bognorello where they'll be stripped down and rebuilt (and have 2008 F1-spec driver head protection added). Then they'll embark on a brief pre-season test programme, which kicks off at Silverstone in August, before they're shipped off to Australia for the season-opener at Surfers Paradise.