Hungary Relief: Interview with Ron Dennis

---
By Adam Cooper, England
Autosport-Atlas Contributing Writer
The Hungarian Grand Prix win couldn't have come at a better time for McLaren's Ron Dennis. Going on a summer break immediately after the Budapest event, the McLaren Group CEO tells Adam Cooper why Kimi Raikkonen's win meant so much to Dennis and his team, and admits his family will enjoy a less grumpy dad over the next couple of weeks. But does he really believe his team, stymied by constant reliability issues, could win the coveted World Championship in the remaining six races of the season?
McLaren Group's CEO Ron Dennis seemed unusually emotional in the immediate aftermath of the Hungarian Grand Prix. At times his voice was a little croaky, and it was clear that Kimi Raikkonen's victory had meant a lot to him. Although there have been other good wins this year, this one came after a string of frustrations for Raikkonen, namely the grid penalties in France and Britain that inevitably put the top step of the podium out of his reach, and the crushing retirement while leading in Germany.
In addition, this was the last weekend for West after eight and a half years as title sponsor, but most poignantly of all the victory came a few days after the death of a McLaren team member in a tragic incident at a Budapest hotel. Some of the motorhome staff were holding a crate bearing the message "Darren, this one's for you", and if he hadn't been aware of it earlier, Dennis certainly would have seen it from the podium. The paternal Dennis is known for his loyalty to his staff, and the loss of someone in his crew would have affected him deeply.
Germany was the third time this year that a retirement for the Finn handed a win to Fernando Alonso, and it left the Spaniard with an 87:51 points advantage in the Drivers' Championship standings. Not counting any other disappointments, those three races created a 36-point swing in the favour of the Renault man, and without them it could have been 81:81 going into Hungary, something that Dennis was only too aware of. All the frustration that had built up was relieved in Budapest, and at a perfect time, as it preceded a break of two weekends.
Of course, it was not exactly a perfect day, as the retirement of Juan Pablo Montoya demonstrated that reliability problems still haunt the MP4-20. It cost the team eight vital constructors' points, but ironically also gave two to Raikkonen in his personal quest, since the Colombian was destined to win. Had he not retired, a fascinating scenario would have unfolded.
Raikkonen's Hungarian weekend was of course coloured by the need to go out first in qualifying, a legacy of the Hockenheim retirement. In recent months he's shown exceptional speed even when running heavier loads than his immediate competition, but this time the team had to try something different. We've seen several others use three-stop strategies to get onto the front row this year, and for McLaren it was the only way to ensure that, despite a dusty track, the Finn got himself a reasonable starting position. What we wouldn't know until the race was just how light he was, but in fact we still don't know for sure.
He dealt with Jarno Trulli at the start, was allowed into second by the much heavier Montoya, and then found himself stuck behind the brick wall that was Michael Schumacher. He eventually dived into the pits after 11 laps, a figure that even allowing for his early start in qualifying seemed premature. In fact he did have extra fuel in the car, but exactly how much, no one is about to tell us.
It was in part an attempt to get Kimi out on a clear track and allow him to bang in some laps that could jump him ahead of Michael. It didn't work, and of course we've seen all year that without the benefit of fresh rubber at stops there's a much bigger advantage for the guy who stays on the track. I suspect that McLaren really didn't expect Schumacher to stay out for as many as four laps longer, which meant he had plenty of time on low fuel in which to put in quick times.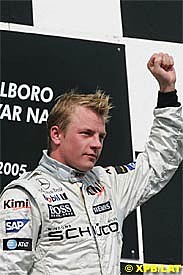 But what it did do was wrong-foot Ferrari a little and help Raikkonen get past at the second stop. The Italian team knew how much fuel McLaren had put in at the first stop, but they couldn't be sure how many laps - if any - were left in the tank when he pitted. So they didn't know quite how to react. In contrast when Schumacher came in, we could be confident that that's all there was.
Having observed how much fuel went into the Ferrari, McLaren knew how far the German was going and knew that they needed to go further to enable the Finn to jump him. Initially he wasn't going to make it, so Kimi had cool it a little and run in economy mode to ensure that he could go one lap further than had been budgeted for. And that's exactly what happened, so he got past easily at the second stops.
"Our strategy was very much sequential," said Dennis. "We had to do certain things at certain times, and the real turning point in the race was when we managed to conserve another lap of fuel, and that gave us the ability to overtake Michael. And that was a great feeling..."
Once ahead it all became academic anyway, as Schumacher's pace slowed, since Ferrari knew that McLaren was not their real opposition. Meanwhile Raikkonen had just enough time to think about what he could do about leader Montoya - both men now had one stop to make - before the Colombian abruptly retired.
Kimi hinted later that he might still have beaten his teammate, but all things being equal, it wouldn't have happened. Juan moved out of the way at the start, but only because Kimi needed breathing space in order to make the best out of the compromised three-stop strategy he had to employ to qualify up the grid. Montoya had thus done his bit, and wasn't about to sacrifice victory. And nor would the team have asked him, despite the obvious Championship implications.
"It cost him the race win," Dennis confirmed. "That's how it would have ended."
Montoya's demise was good news for Raikkonen's points total, but it did very little for the health of those on the pitwall. But the laps ticked away without further drama, and the victory was secure.
"Today we've seen what you can do from what was effectively the worst grid position for starting qualifying," Dennis said. "It was a calculated strategy and a strategy that unfolded successfully for him.
"We never give up. It was an important win for us, very stressful. Once our strategy had unfolded and gave us the race lead, we had to pull out a lead and then really look after the tyre. The last 15 laps were extremely stressful...
"We turned off all the data channels and instructed our people to only talk to us in the event there was a problem. The pitwall fell into five laps of total silence at the end, which is something I've never experienced before."
It was another faultless performance from the Finn. The only two black marks against him this year are the stall on the grid in Australia, and the brake-locking moment that proved so expensive at Nurburgring.
"He was exceptional today," confirmed Dennis. "But he's driven well all through the year. I wish we had made as few mistakes as him.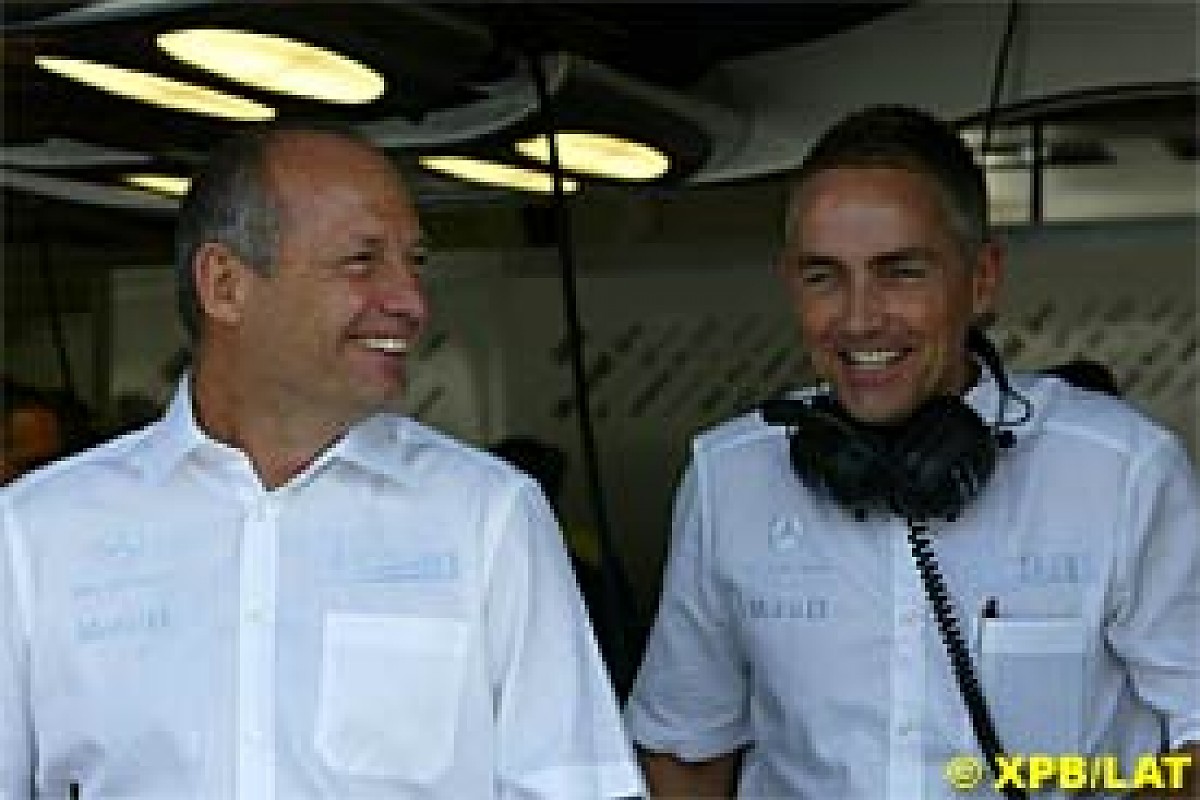 "He did everything we asked him to do, and that was as much knowing when to slow down as well as when to speed up. Kimi's got a disciplined, focussed approach to his racing now, and of course he's on an emotional helter skelter. It's great to see his wife here, and his mother and father. I'm sure that all of us will go into the next couple of weeks, recharge our batteries, and come back stronger.
"At the end of the day we're going into the balance of the season with some chance of winning the Championship, but as we've done before, we have to push. We have to have the performance, we know we're putting all our equipment right on the limit, and we could be cautious, but we have to win races and we have to put them under pressure. Of course we're going to try and make the cars more reliable and [not finishing] is not what we want, but at the end of the day, winning is the most important thing."
Those reliability problems have caused pain to all in the McLaren camp, but typically Ron has tried to see a positive.
"You know, we honestly don't believe in luck, but at the end of the day racing cars are fragile animals, and if we all drove round in circles, irrespective of fuel, there would be systematic failures because they're nor designed for bullet-proof reliability.
"They're designed to compete in one Grand Prix. The closer you get to the edge, the more frequently that car is going to break. And that's the challenge, speed and performance balanced off with reliability. And of course we haven't quite mastered it yet, and it's costs us dearly. I'd rather make a fast car reliable than the other way round..."
Although the exact nature of Montoya's retirement has yet to be revealed, it was certainly related to the driveshaft. Raikkonen had a failure in the same area at Imola, although on this occasion it was at the transmission end rather than the outboard end.
"We know where the car is fragile," Dennis continued. "There are some things that you just can't modify fast enough to get that bullet-proof reliability. But it's the sum of the parts that makes the car quick. We know that some things are right on the limit.
"But what do you want? A quick, race-winning car that's fragile, or a car that you finish races with, but never win? Right now I don't think there's many people in the pitlane who wouldn't like to have our car and the problems with reliability that clearly we still have to master."
It's hard to believe that it would ever happen, but Ron Dennis was actually pleased to see Michael Schumacher on the pace in Hungary, as it means Renault have tougher opposition.
"I think what's valuable is that there are some cars that have picked up a bit of pace and can take some points off Renault. That will help us no end.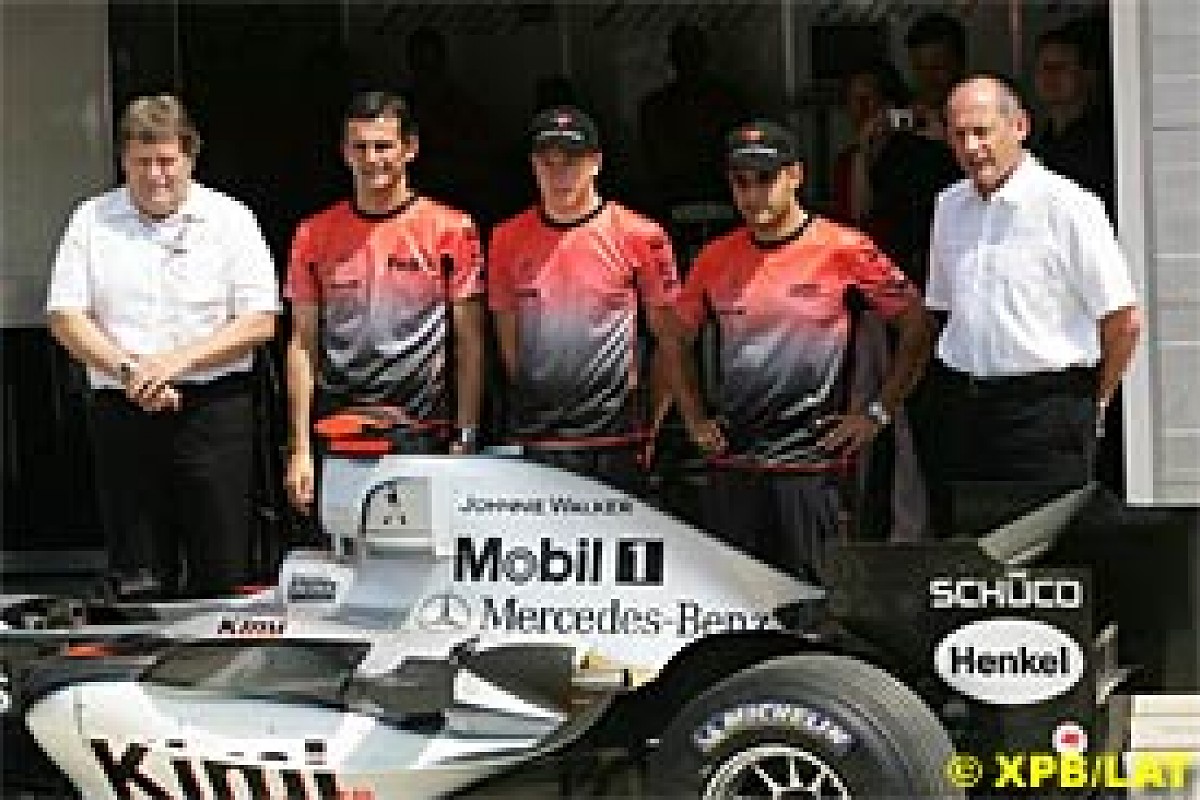 "Our objective is to come first and second, that's what we have to do. Obviously the bad luck that the Renault suffered clearly worked to our favour. I'm afraid the issues of reliability and luck are going to swing this Championship around through the next six Grands Prix.
"We've all had problems, and we've had our fair share. Of all things, what I'm thinking about at the moment is how happy my family is going to be, because they won't have to stay with a grumpy dad over the next two weeks..."
Yes, even Ron Dennis takes a summer holiday, but you can be sure that his mind will - for at least some of the time - be back in Woking. The good news is that the spectre of a title settled as early as Turkey has gone, and now mathematically Fernando Alonso can't win before September. And that's good news for everybody. Hopefully the battle will go all the way to China.
"I'm looking forward to the break, as are so many of our team members that work so hard," Dennis concluded. "It's great to take a win into it and have even a chance of the World Championship, and of course we're going to push like hell to close the gap again. But there's enough points, there's enough races, so why not?"