Tech 1 Racing
#1 Brendon Hartley (NZ)
Age: 19
2008 season: 3rd in British F3
The first Tech 1 entry has been sequestered for Red Bull's fleet of Junior drivers. Carlin F3 Euro Series racer Brendon Hartley will revive his rivalry with stablemates Oliver Turvey and Jaime Alguersuari for the first three races of the season at Barcelona, Spa and Monaco.
#2 Charles Pic (F)
Age: 19
FR3.5 wins: 2
2008 season: 6th in World Series by Renault
Ended 2008 as the highest placed rookie in FR3.5, having scored wins at Monaco and Le Mans. Pic has performed well in testing and starts as one of the favourites for the World Series crown. Has the advantage of continuity in remaining with Tech 1 Racing and is backed by the Renault Driver Development Programme.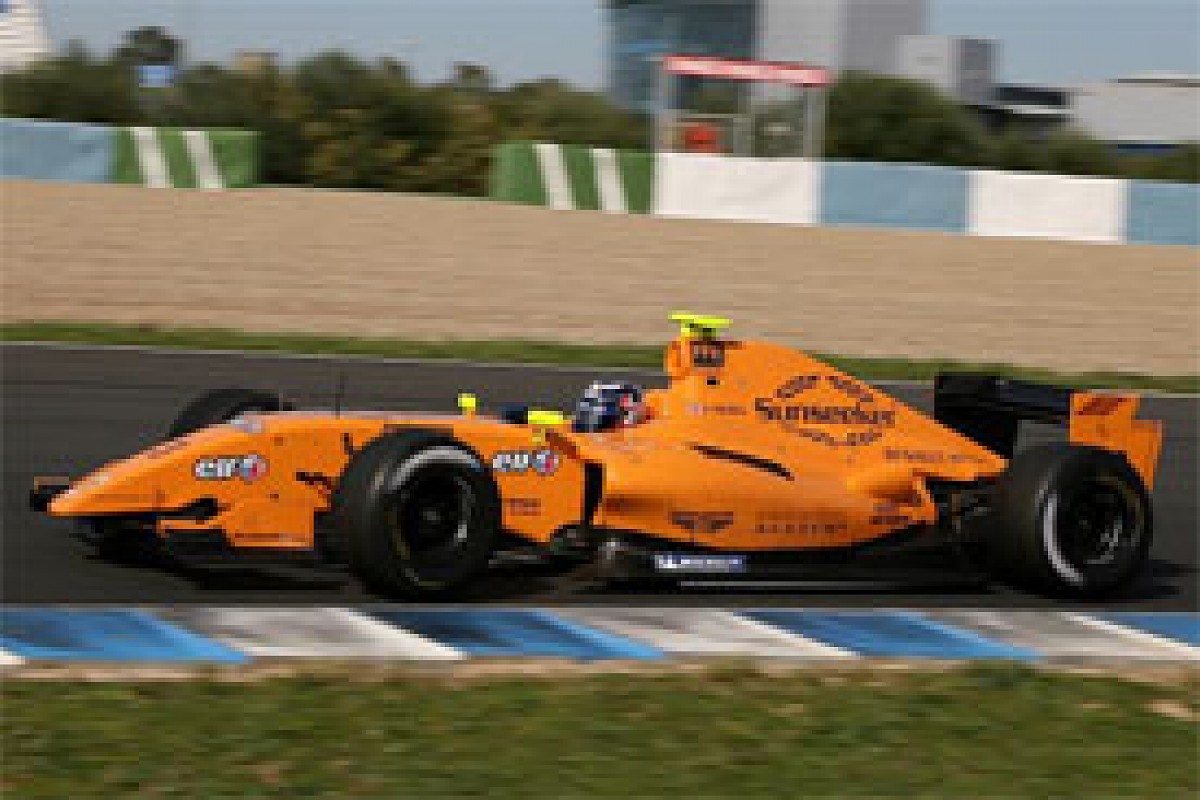 Greg Mansell, Ultimate Motorsport
Ultimate Motorsport
#3 Greg Mansell (GB)
Age: 21
2008 season: 10th in Formula Atlantic
A new start for Mansell, who has shone in wet testing and has the useful benchmark of an experienced team-mate. No question marks over equipment, but for the first time he will be in a team without the ally of older brother Leo, who has moved on to the Le Mans Series.
#4 Miguel Molina (E)
Age: 20
FR3.5 wins: 4
2008 season: 4th in Formula Renault 3.5
There were two wins last year at the Nurburgring and Estoril for the multiple Spanish karting champion. Backed by the Circuit de Catalunya's young driver programme, Molina's speed is not in dispute, but he will be looking to string together a championship campaign in his fourth season.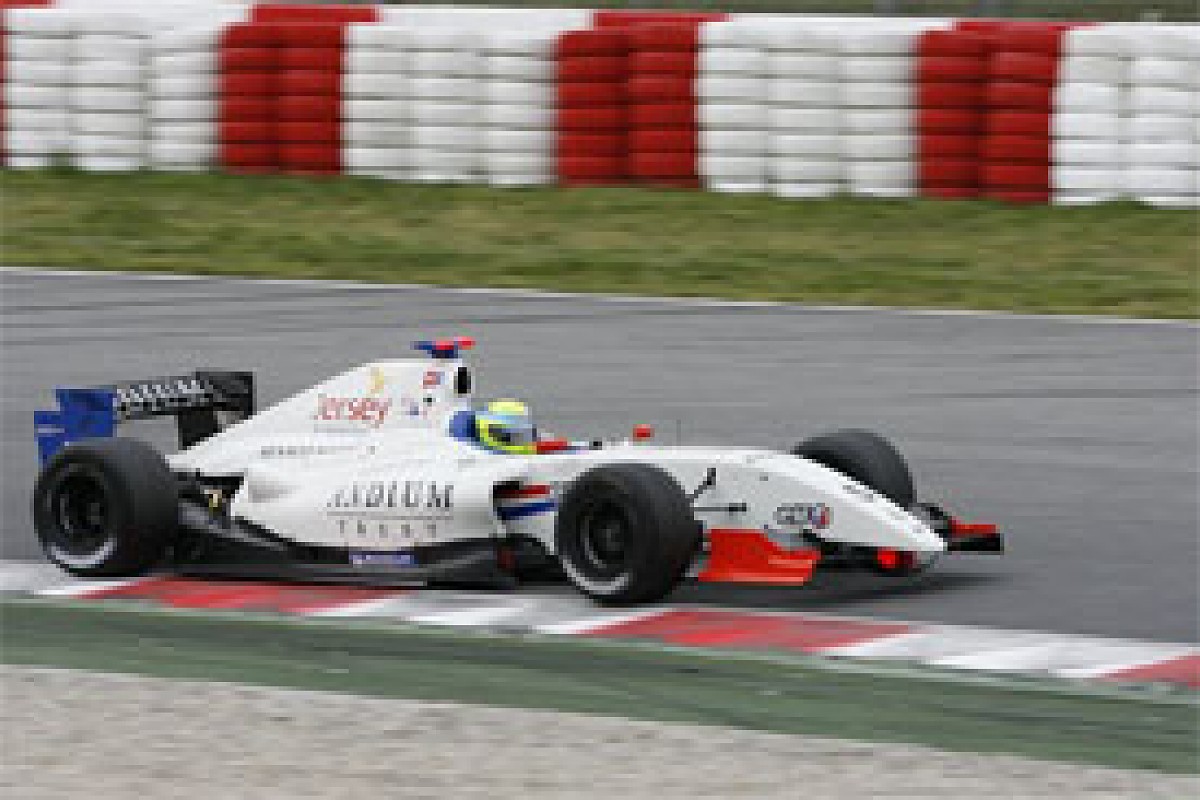 James Walker, P1 Motorsport
P1 Motorsport
#5 James Walker (GB)
Age: 25
FR3.5 wins: 1
2008 season: 13th in Formula Renault 3.5
Walker enters a decisive year of his career in the position of established pre-season pacesetter. Now embarking on his third season in the category, having spent the two previous years at Fortec, he has a great shot at the title.
#6 Daniil Move (RUS)
Age: 23
2008 season: 22nd in FR3.5
Joined Interwetten for his maiden FR3.5 season in 2007 as a comparative novice and failed to make an impression in a field of former-GP2 men and F3 winners. Flashes of form at KTR last year suggest some ability lurking, but he's not produced it anywhere near consistently enough. Move now returns to FR3.5 after throwing in the towel with KTR last July.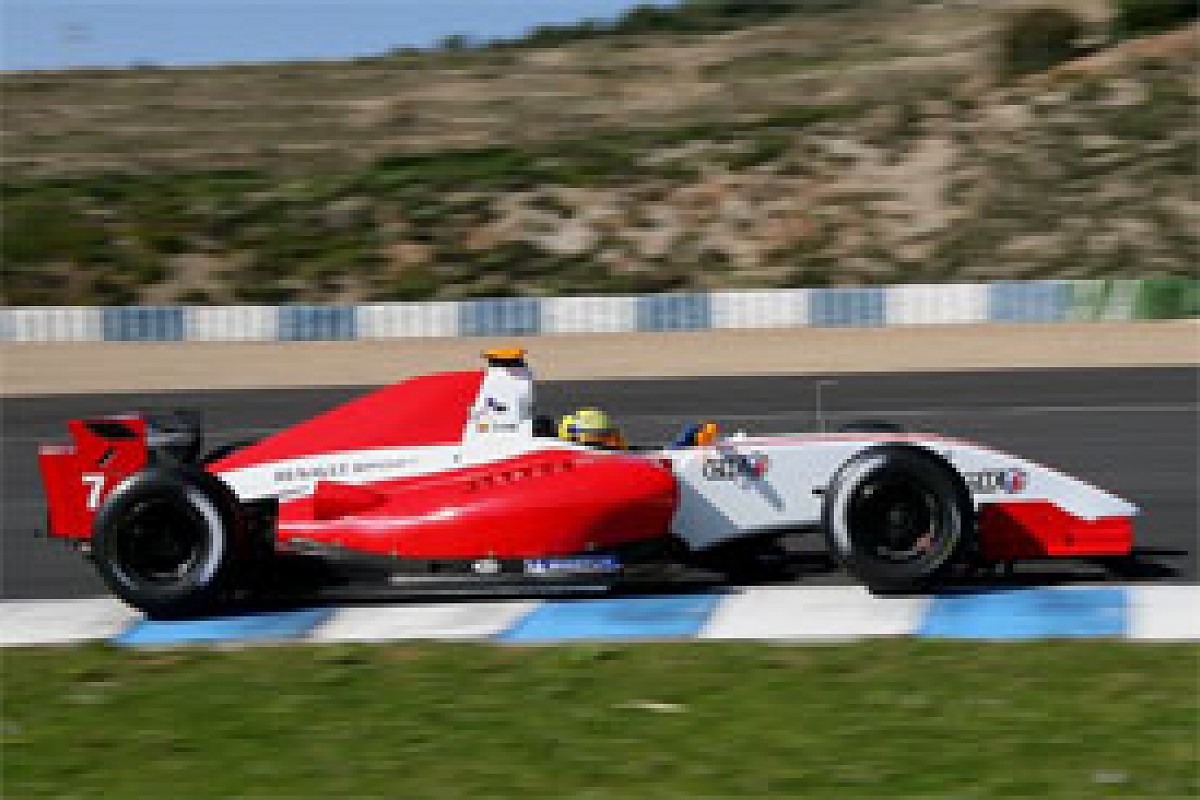 Julian Leal, Prema Powerteam
Prema Powerteam
#7 Julian Leal (COL)
Age: 18
2008 season: 6th in Euroseries 3000, Italian F3000 Champion
The man from Bucaramanga picked up last year's Italian F3000 crown by virtue of success in the encompassing rounds of Euroseries 3000. Prema team manager Rene Rosin estimated Leal had completed just six FR2.0 races in South America before stepping up to F3000 in 2007, and only a total of 3000km of driving last year. Preliminary testing times suggest Leal is in for a learning year.
#8 Frankie Provenzano (I)
Age 23
2008 season: 20th in International Formula Master, 3rd in Master Italia, GP2 Asia 2008-9.
Provenzano is well connected, with links to Renault F1 boss Flavio Briatore, and appeared at the first two tests of the year with Tech 1 Racing. The partnership failed to gel and his home team Prema snapped up the Italian. Made a steady improvement at the most recent test at Barcelona, although he remained lodged firmly in the bottom half of the time sheet.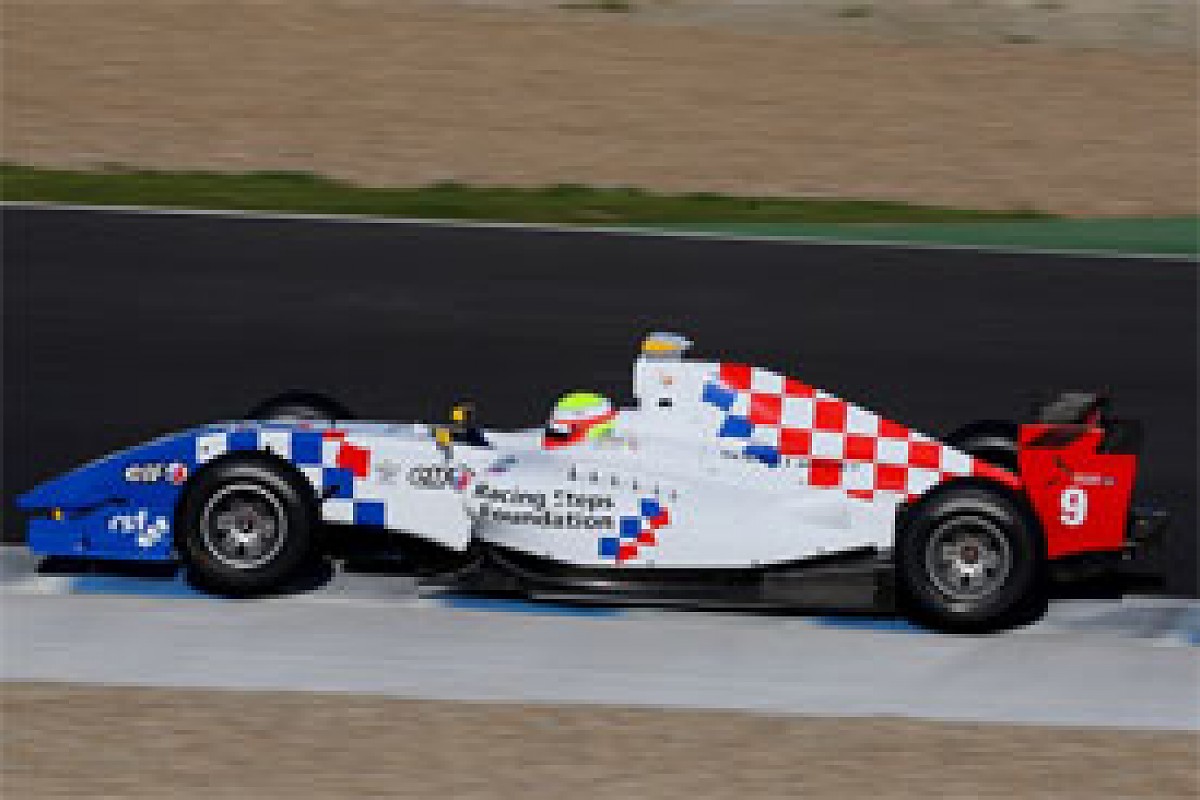 Oliver Turvey, Carlin Motorsport
Carlin Motorsport#9 Oliver Turvey (GB)
Age: 22
2008 season: 2nd in British F3
The Racing Steps-backed Briton narrowly lost out to Carlin team-mate Jaime Alguersuari in the race for the British F3 title last year and will be aiming to level the score in Formula Renault 3.5. Testing form has shown Turvey to be consistently among the fastest rookies.
#10 Jaime Alguersuari (E)
Age: 19
2008 season: British F3 champion
The youngest ever British F3 champion is now on the receiving end of a deserved patriotic push from Spanish oil giant Repsol, who are coincidentally understood to be considering a return to Formula 1. Carlin has brought in experienced engineer James Robinson to work on Alguersuari's car and he went quickest in the final wet test session at Barcelona.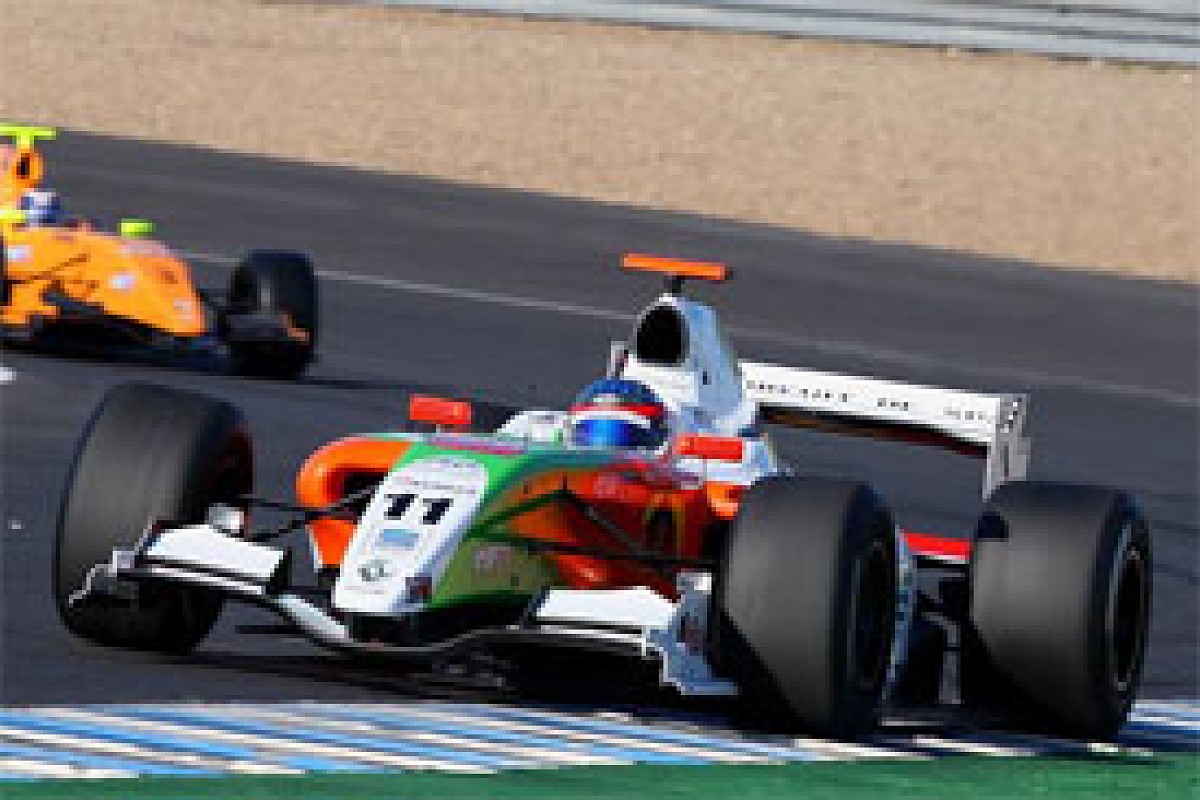 Betrand Baguette, International Draco Racing
International Draco Racing
#11 Bertrand Baguette (B)
Age: 23
FR3.5 wins: 1
2008 season: 7th in FR 3.5
Baguette scored a home win at Spa last year, but elsewhere was often caught up in trouble not of his own making. Baguette is in his third year in the category and will benefit from the continuity of staying with crack team Draco. He has the potential to raise his game to join the select group of championship contenders.
#12 Marco Barba (E)
Age: 23
2008 season: 14th in FR 3.5
The 2008 season was a quiet one for the former Spanish F3 runner-up, but Barba has been electric in testing. Having topped last month's test at his local track in Valencia, he must now be ready to step up to the plate and push for race wins.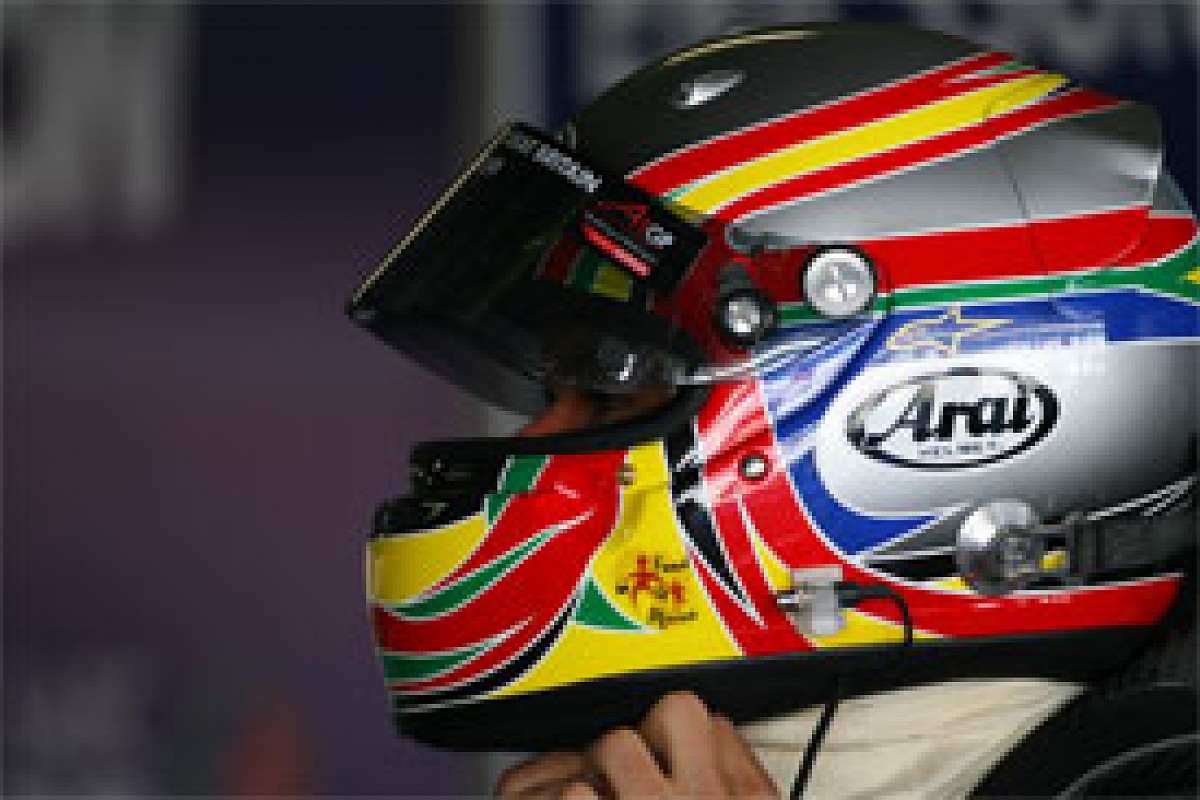 Adrian Zaugg, Interwetten.com Racing
Interwetten.com Racing
#15 Mihai Marinescu (ROM)
Age:20
2008 season: 11th in Formula BMW Europe
The Romanian edged out Interwetten's former driver Salvador Duran for a place at Walter Raus's team. Marinescu will be familiar with many of the FR3.5 circuits through experience garnered in FBMW and Renault, but has had just one day of running with Interwetten at the final preseason test at Barcelona.
#16 Adrian Zaugg (RSA)
Age: 22
2008 season: 5th in A1GP (2007-8)
Zaugg has had to content himself with outings for A1GP Team South Africa since his GP2 season with Arden in 2007. The former Red Bull protege has distant FR3.5 experience after standing in for the injured Sebastian Vettel at Carlin in 2006 and scoring a podium. Zaugg is similarly in at the deep end with Interwetten and has missed all pre-season testing.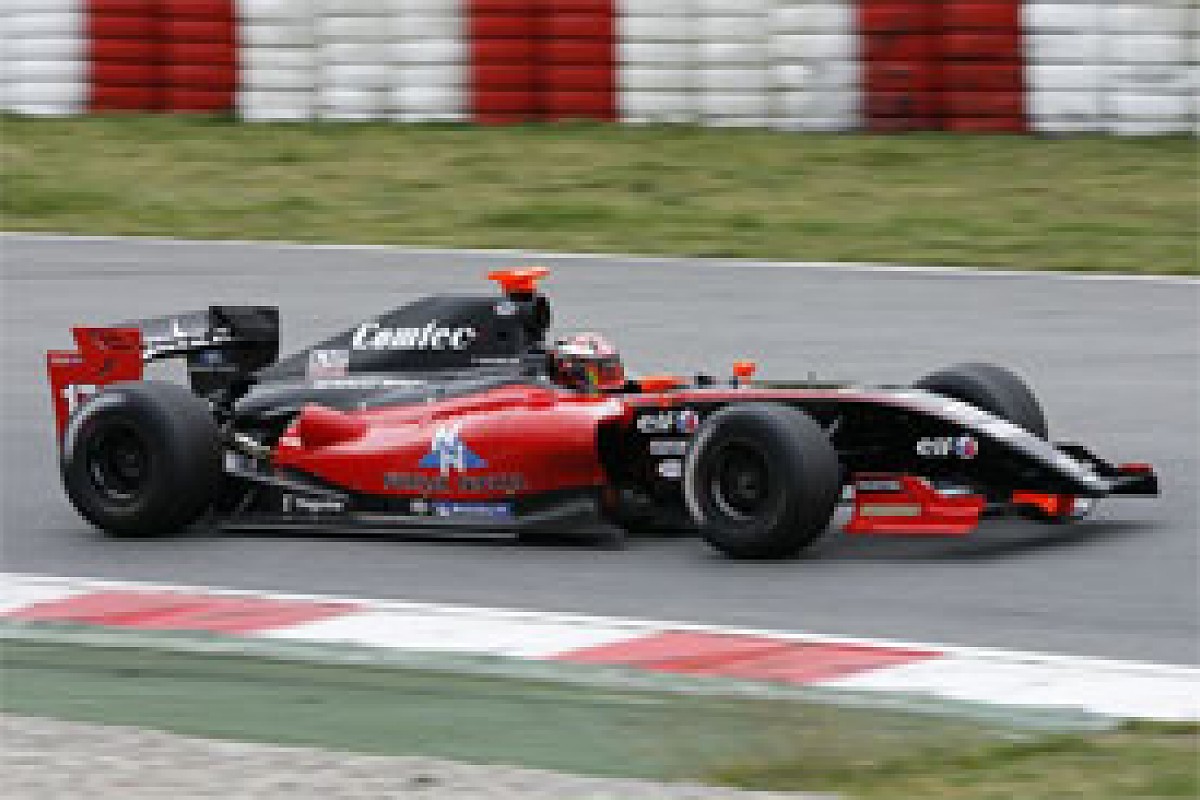 Anton Nebylitskiy, Comtec Racing
Comtec Racing
#17 Anton Nebylitskiy (RUS)
Age: 19
2008 season: 7th in FR.2.0 WEC, 20th in FRenault Eurocup
Nebylitskiy was schooled at Stephane Guerin's expert, multi-car SG Formula Renault 2.0 team. The Russian midfielder had previously spent two years with rival Addi Schlosser's Cologne based SL Formula team. Has performed very respectably in testing and appears to be coping with the step up to 450bhp.
#18 Harald Schlegelmilch (LVA)
Age: 21
2008 season: 4th in Formula Master
Latvian Schlegelmilch has been drafted in as an 11th-hour replacement for Alexandre Marsoin at Comtec. Marsoin encountered budgetary problems after being announced in Comtec's line-up in December. Schlegelmilch has been a front runner in Formula Master over the past season and picked up a reverse grid win in the F3 Euro Series in 2007.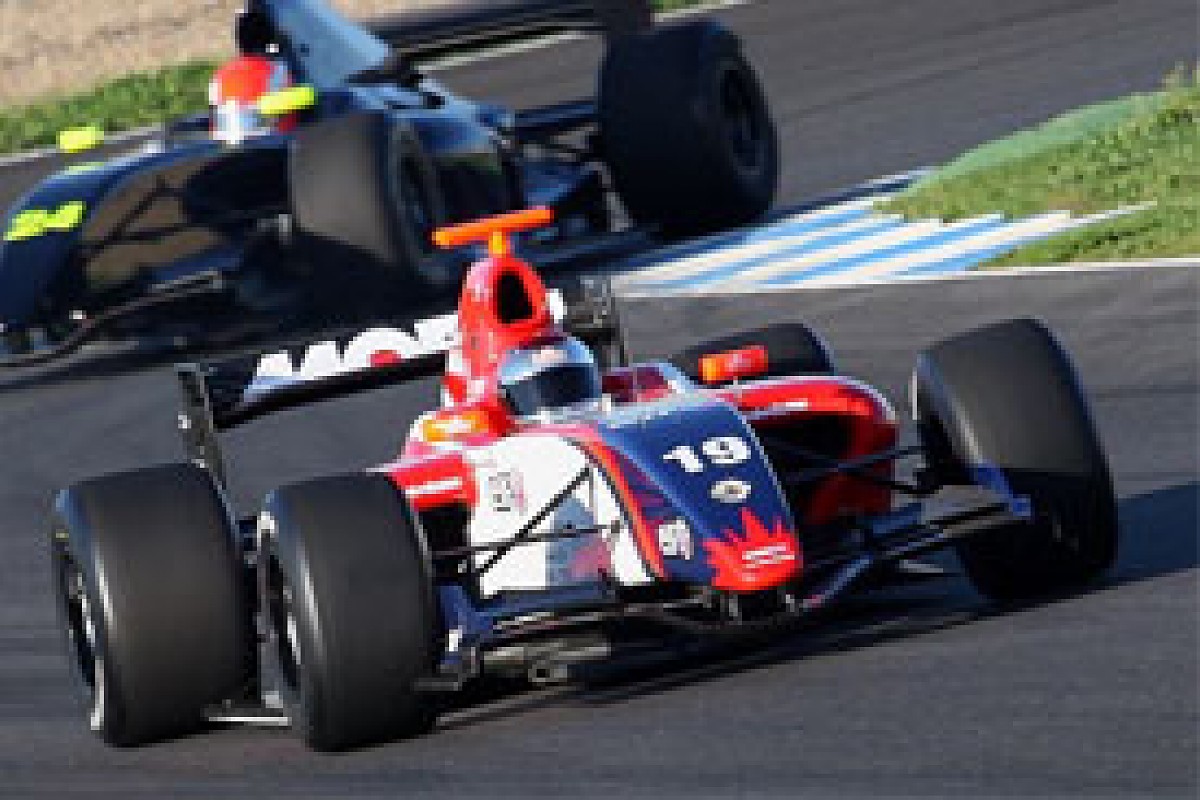 Fairuz Fauzy, Mofaz Fortec Motorsport
Mofaz Fortec Motorsport
#19 Fairuz Fauzy (MAL)
Age: 26
2008 season: 18th in FR 3.5
Fauzy is an experienced hand with two years of GP2 experience behind him, and now enters his third season of FR3.5. The pole-positions in 2007 have not been repeated and a podium at Monaco last year remains his strongest result. The buy-in of Fortec's FR3.5 team over the winter provides some options outside of the cockpit for his future.
#20 Sten Pentus (EST)
Age: 27
2008 season: 18th in FRenault UK
Pentus has enjoyed an assorted background in touring cars as well as being a double Estonian F4 champion. He's done well to progress to FR3.5 from BARC Formula Renault in just two years, although has not made much of an impression along the way. Pentus's driving has been a little ragged at times in testing.

Epsilon Euskadi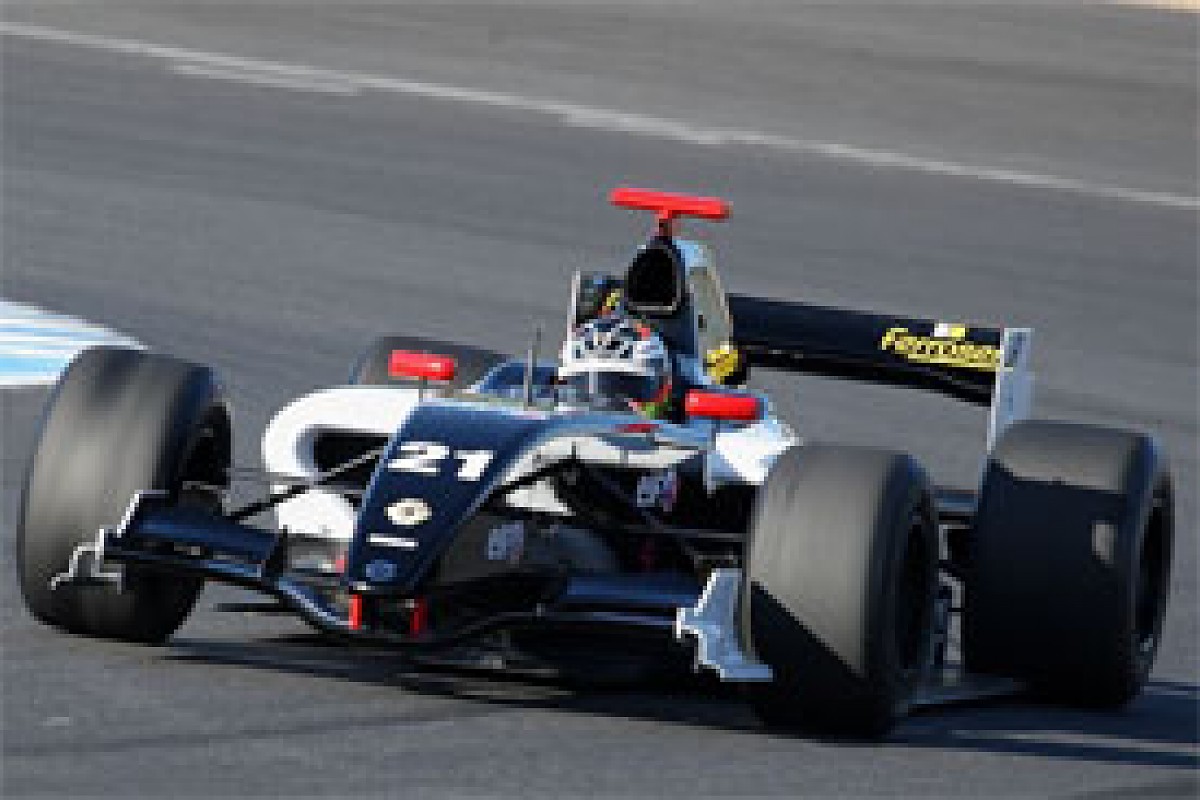 Adrian Valles, Epsilon-Euskadi
#21 Adrian Valles (E)
Age: 22
FR3.5 wins: 2
2008 season: 21st in GP2, 4th in Superleague, 7th in GP2 Asia 2008-9, LMS
Valles is a possible candidate for championship honours, having narrowly lost out to BMW F1 driver Robert Kubica in his quest for the 2005 FR3.5 series. The Spaniard has raced for Epsilon in Le Mans 24 Hours and Le Mans Series and Superleague success with Liverpool last year provided a consolation after GP2 difficulties.
#22 Chris van der Drift (NZ)
Age: 23
2008 season: International Formula Master champion, GP2 Asia, A1GP
The reigning Formula Master champion has managed to put together a late deal to compete with Epsilon after coming close to being forced to spend a year on the sidelines. Unfortunate to lose out on his prize Honda F1 test opportunity when the team folded, van der Drift has shown steady improvement with Epsilon during testing.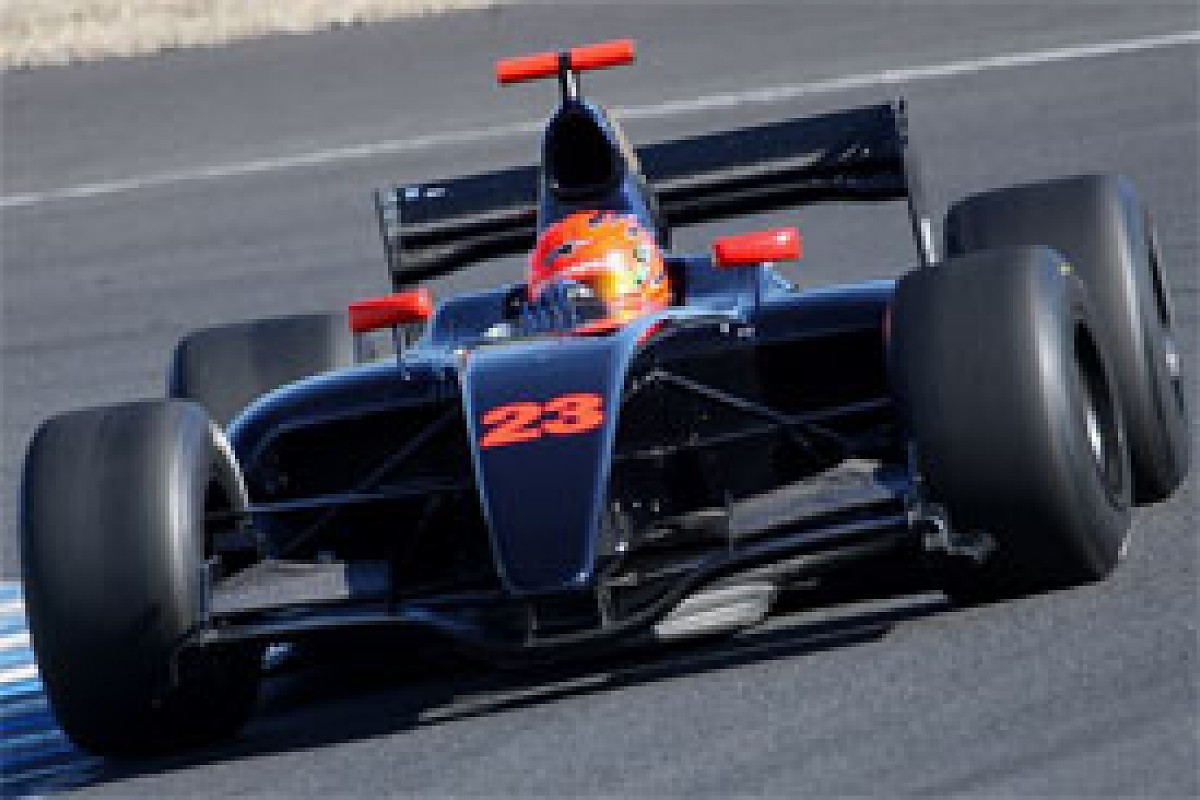 Marcos Martinez, Pons Racing
Pons Racing
#23 Marcos Martinez (E)
Age: 23
2008 season: 15th in FR3.5, Spanish F3
The former Spanish F3 racer made his debut in FR3.5 at the end of 2006 with Eurointernational and surprised with his strong form in the wet. He remains with Pons for a second year and has been a constant factor in the top six during testing. Martinez is now rebuilding his reputation after a challenging season in GP2 with Racing Engineering in 2007.
#24 Frederico Leo (I)
Age: 20
2008 season: 9th in German F3
Leo has performed solidly with Ombra Racing in F3, without achieving any startling results. Prior to competing in Germany, Leo was a graduate of the Italian FR2.0 and FR1.6 scene. The move into FR3.5 continues his trend for stepping up each year into a new category, but the Italian has struggled to break into the top 10 during initial tests with Pons.
RC Motorsport
#27 TBC
#28 Pasquale di Sabatino (I)
Age: 20
2008 season: 20th in FR3.5
Di Sabatino agreed terms with RC in another late deal. The former Italian FR1.6 champion has previously driven for Cram, P1 and Comtec in FR3.5. It was with the latter that he scored his best finish to date, a second on home soil at Monza last year.