Formula Brawn

---
By Adam Cooper, England
Autosport-Atlas Contributing Writer
Quite surprisingly for a team as efficient as Ferrari, the World Champions can't seem to find the improvement needed to give Michael Schumacher and Rubens Barrichello a race winning car. Adam Cooper heard from technical director Ross Brawn where the Italians have gone wrong, and what he feels is the problem of Formula One today
As Michael Schumacher wandered away from parc ferme at Hockenheim, he had a grin on his face. He couldn't have enjoyed his run to fifth place very much, especially as at different points in the race he had been passed by Jenson Button and Giancarlo Fisichella. It was more of a resigned look, suggesting that he'd given his all, but, on this day, fifth was all there was.
He'd surprised a lot of people by qualifying in that position after the Ferraris had been far from the pace for most of the weekend. Many assumed that he was running very light on fuel, something he tried a few times this year, but in fact he had a very respectable fuel load on board. He had, however, gambled on a soft tyre that helped him to a good qualifying time but which left him struggling as the race went on. Rubens Barrichello went for the harder Bridgestone and had an utterly disastrous day, so there was no reason to criticise Schumacher's strategy too much.
It all left technical director Ross Brawn with some serious head scratching to do, and just a few days to pull something out of the bag for Hungary. In fact, the busy July schedule has been a major disappointment for Ferrari thus far, and all the extra testing the team managed to squeeze in seems to have done little to help.
Earlier in the Hockenheim weekend, Brawn found time to reflect on recent performances, and particularly France and Britain. It was a fascinating insight into where Ferrari is right now, and also into what the Briton believes F1 should take in the future. Inevitably, as far as the here and now was concerned, tyres were the main talking point.
"We had a new compound, which basically didn't work," he explains. "We went to another couple of circuits and found that it wasn't performing. When the track rubbered in, when the track was gaining grip, it didn't perform in the same way as expected. In Magny-Cours and Silverstone that was amplified. We had a very good test at Barcelona the week before, when we were by ourselves. It seemed to be quite good a step, but it didn't work out."
It's amazing to think that, for all their huge combined experience, Bridgestone and Ferrari can still get things very wrong when they develop and choose tyres for particular venues.
"We tried to extrapolate from Barcelona," Brawn continues. "Obviously all surfaces are different, but Barcelona now has changed since they resurfaced it over the winter. Before, we understood the relationship between Barcelona, Magny-Cours and Silverstone. But now it's different and we probably didn't have the right tyre or the right compounds.
"The way a tyre works is fundamentally [through its] mechanical grip or adhesive grip. The mechanical grip is interrelated a lot to the forces, and the adhesive grip is related a lot to the chemical nature of the surface. If the track has stayed green, then it would have been OK, but the track changed. It's part of the difficulty we face for being only team to test on Bridgestone. We try to make progress as quickly as we can, and we get caught out occasionally, and I think Magny-Cours and Silverstone reflected that."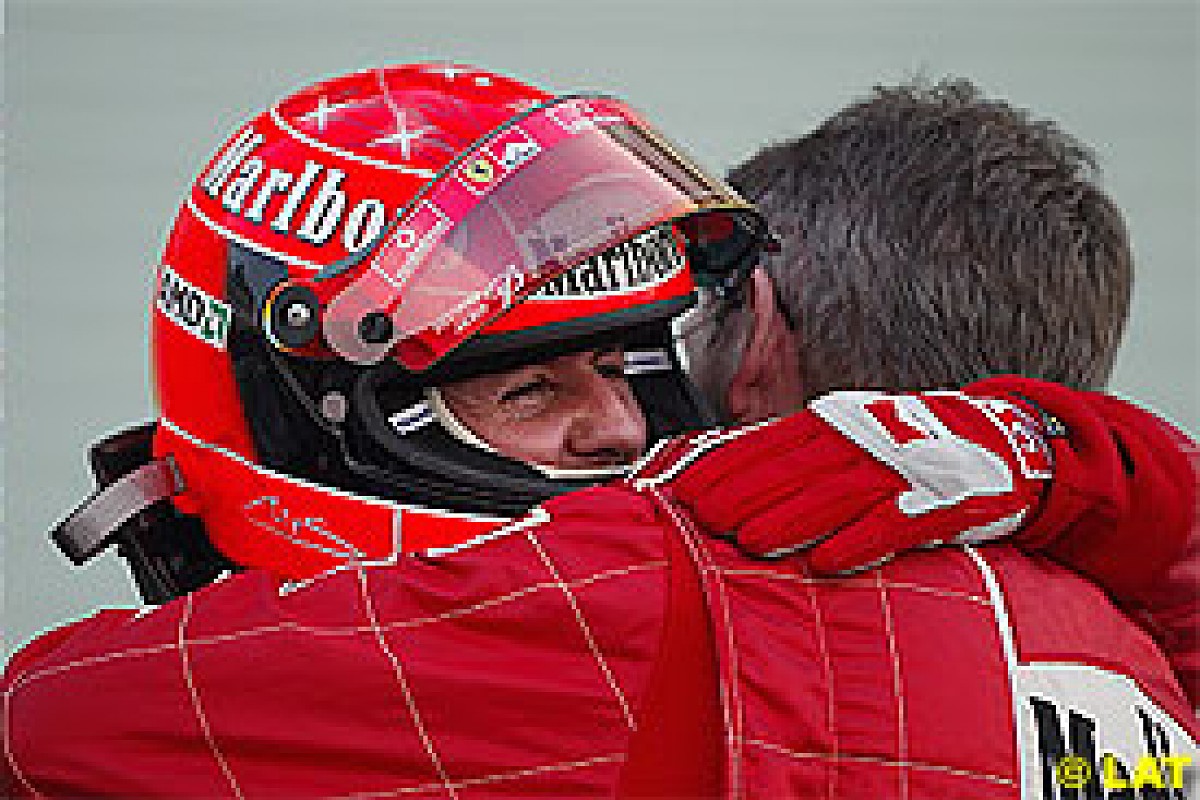 The tyre programme is ongoing, but the bad news for Schumacher and Barrichello is that Ferrari have all but given up on the F2005. Winding down development was not a problem in years when the team was dominant, and of course it didn't happen in seasons like 2003, when there was serious pressure from the opposition. This time there's been an inevitable shift of focus to next year and the new V8 machine.
"We've got a new aero package here [at Hockenheim] which is diffuser, turning vanes, and we're actually running a front wing which we took to Silverstone, but we hadn't done enough testing with it," Brawn says. "For Monza we have a new low downforce package. I think apart from details that feed back from next year's car, this will be it for the rest of the year. And then any progress we can make on the tyres - obviously any tyre work we do now is relevant for this year and next year, so the tyre programme will be continuous.
"But, really, the team started to major on next year's programme now, so really there won't be an awful lot coming on the car for the rest of this year. A little bit on the engine, because I know Paolo [Martinelli] is still discovering things as he's developing the V8, things that can be transferred back. There may be an upgrade, but nothing dramatic."
This comes as bad news for Schumacher in terms of any aspirations he has to win more races this year, although he understands more than most the value of looking ahead. But how has he coped with this unusually stressful season?
"I think there are two aspects," Brawn says. "One is he's frustrated by not winning races, because that's his normal position. But I think he sees it as a good challenge. We're not in the position we want to be in, and he's working very hard to help us regain the position we want to be in. He made himself available for a test last week. As I mentioned earlier, we had some confusion over the tyres, so we asked Michael in particular to have a look at them with us.
"We went to [circuit Paul] Ricard last week to look at them, and he tried them in Mugello this week. So he's very committed to trying to recover the situation. I wouldn't say it's a welcome challenge, but it's one that he's meeting and is willing to meet and work hard to get back to where we want to be.
"The drivers are never a question mark in our equation of why we're not winning."
It's been suggested by some that Schumacher has lost his winning edge, and the fact he didn't pass Renault's Fernando Alonso at Imola has been cited as an example of a supposed more cautious approach. Brawn will have none of it.
"I don't think that's the case," he says. "I think Michael was trying very hard. I think Fernando drove very well that day. It's a tragedy of these cars, and it's interesting that Kimi [Raikkonen] commented at Silverstone, that they cannot follow each other. These cars seem to be even worse than the cars we had last year. Lifting the front wing and limiting the amount of downforce we generate from under the car has made the cars extremely difficult.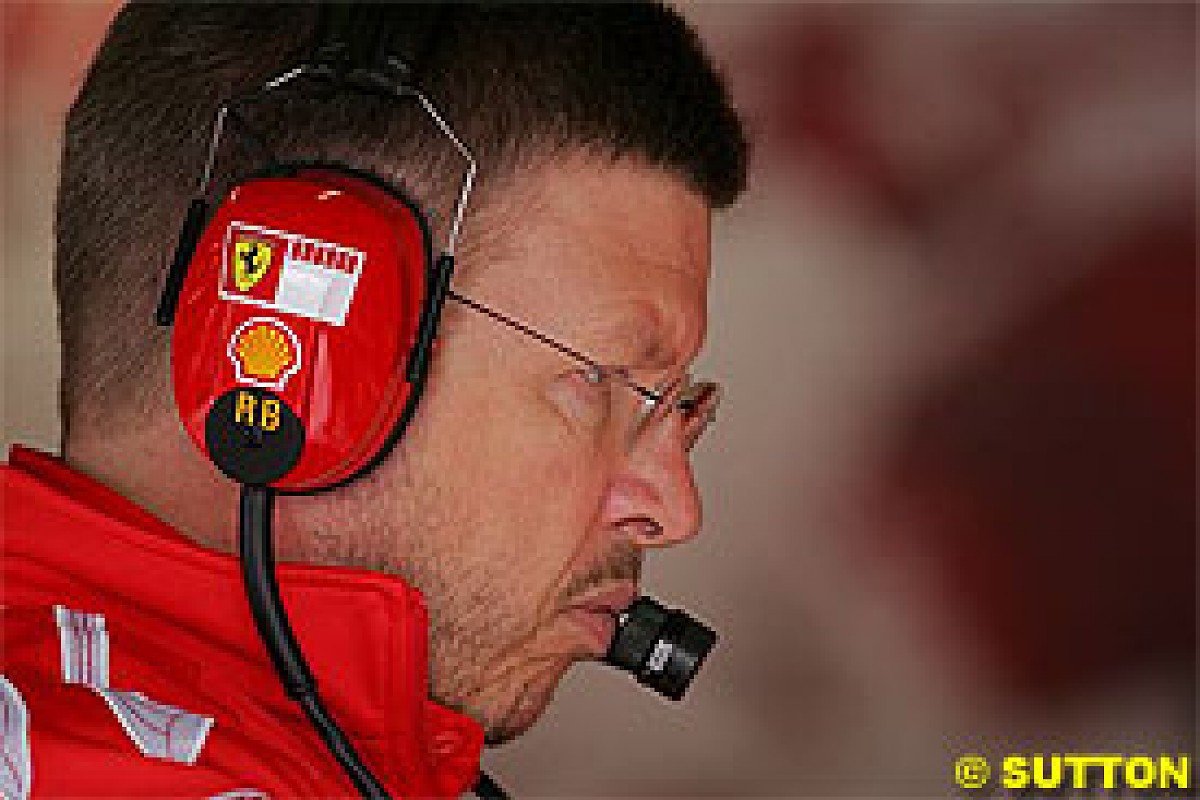 "I remember talking to Michael in the race at Silverstone. He was trapped behind [Jarno] Trulli, and I said, 'can you go any faster?' He said: 'I'm going as quick as I can go'. As soon as Trulli came into the pits, he went 1.5 seconds faster. He didn't think that performance was in the car, because the car was behaving so badly behind Trulli. As soon as he got clean air the car was well-balanced and he was happy with it. I think Kimi commented the same. Following Michael, he didn't have any opportunity to overtake. That's the difficulty they have with these cars now."
It's clearly a problem that frustrates Brawn. He remains at heart a pure racer, and he's also less precious about aerodynamics, a discipline that some of his fellow technical directors have specialised in earlier in their careers. He really wants to see change.
"I think it's a clear indication for the future that we've got to get out of this corner that we've painted ourselves into, because you can't race these cars. It's more about pitstops and maybe the driver in front making a mistake than actual racing now."
Brawn says it's impossible to determine whether this year's problems are more to do with the higher front wings or the changes to the diffusers.
"I couldn't separate it, because we did both at the same time," he explains. "Of course everybody's wind tunnel work was with a single car. I don't think there's anyone who consistently tests two cars in the wind tunnel to see what effect it might have on the car behind. We've done it occasionally, but we've not done it systematically. So I couldn't answer that. It just appears now, and there's been lots of evidence that we're disrupting the car behind even more than we used to.
"I think in principal the more you use ground effect - which is a relatively clean and efficient process - the better it will be. I think all this appendages that we've grown, all the turning vanes and winglets, they're all quite sensitive to the airflow. They're very detailed in the way they work. And as soon as they get into dirty air they stop working. We're trying to recover the lost downforce with a lot of bolt-on features, which are not very elegant, and make it quite difficult for one to follow the other."
That's a concept that will go down with purists. It's more by chance than anything else that modern cars are peppered with so many extra pieces, and it's mainly due to the exploitation of loopholes in the rules that have allowed certain areas of the car to be so developed. Brawn wants to see much cleaner cars in the future.
"I'm not advocating necessarily ground effect cars, I'm advocating maybe just forgetting downforce, because it's the bane of F1," the Briton says. "It doesn't give us anything, it doesn't give any added value to F1, the performance of the car being generated by aerodynamic means. I'd advocate a much stronger move back to, let's say mechanical and tyre grip, and much less dependency on aerodynamics.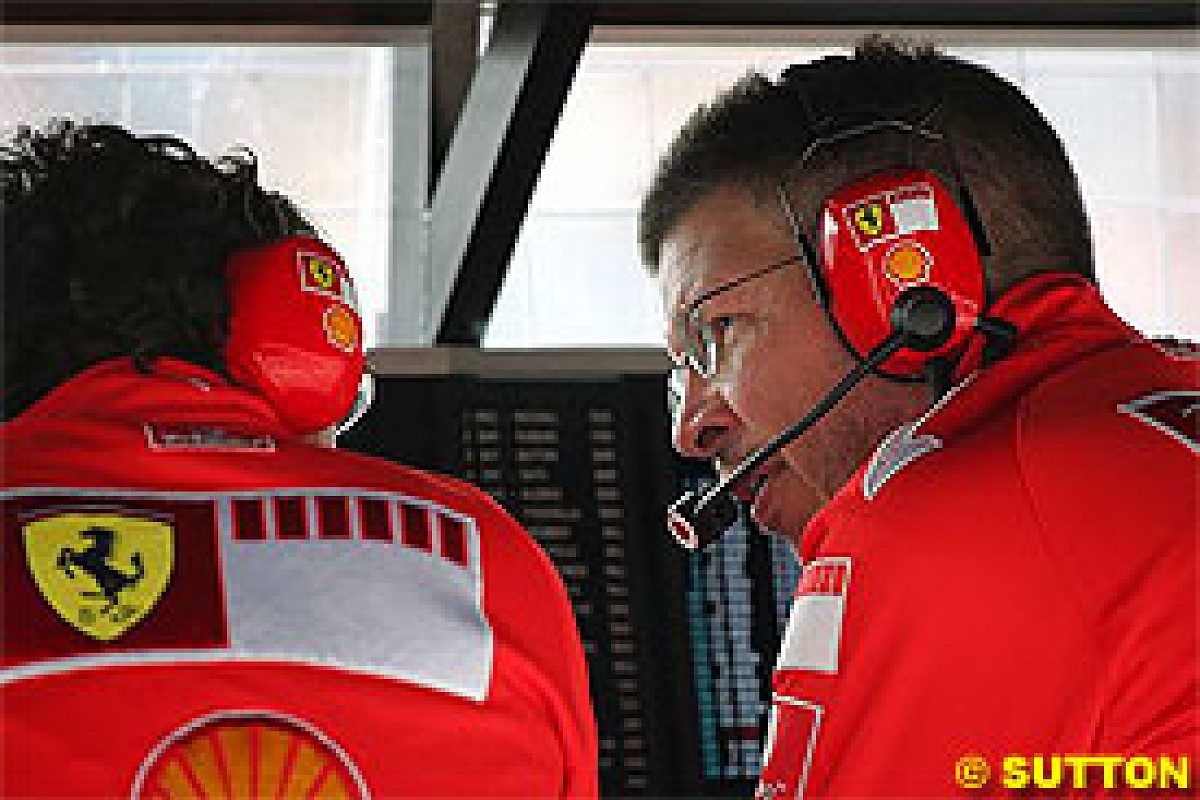 "We've gone completely in the wrong direction. We've got skinny tyres and grooves in, with tyre compounds that have to last the whole race, and we're generating all the performance from the aerodynamics of the car. We should completely reverse that. We should have wide, soft tyres, and lots of mechanical grip from the tyre.
"We need to reduce the dependency on aerodynamics by a large margin, and I think if we can do that by having a set of regulations which produce a more streamlined car, then that will make it easier for one car to follow another. We need to get rid of all these appendages and bits and pieces and bargeboards. If you look at a modern F1 car, it's horrific really."
What an incredible admission from a guy in Brawn's position! But do his colleagues at other teams share his opinions?
"I think they all generally feel the same way, but of course that's taking away some of the toys that we play with! I think that there's a fear that if we get rid of all that stuff, the importance of the aerodynamic departments will disappear, but I'm not sure it will.
"I think aerodynamics will always be very important on an F1 car. I just think we could manage it in a nicer way, and I think we could reduce the proportion of the performance of the aerodynamics. I don't think we ever want to get rid of it, but I think the ratio has gone askew. We can't follow each other, we can't overtake."
That begs the question by how much should downforce levels be reduced in the future. The FIA's initial figure of a 90% reduction seemed like a joke when first announced, but perhaps there's some sense in it.
"I believe the Gang of Nine or whatever you want to call them have come up with 70%, and I don't think that's enough. To give you some idea, I believe next year we'll have the same downforce as we had last year. And that was intended to be a 20% cut. I think everyone lost about 20-25% when the rules changed. And next year we'll be back, so in two years we'll have recovered everything we lost with that regulation change. If you take 30% off, I don't think it's enough. There's got to be substantial change.
"The FIA has suggested 10% of current levels. I think it's important to understand how we can achieve it, and then see what is practical. That might be a starting point. And of course the 2008 regulations are proposing a control tyre, so if the aerodynamics do get a little bit stronger than we expect, then of course the tyre can be changed to keep the cornering speeds down. I think it is possible to come up with a set of regulations which reduce the downforce substantially and keep it at a suitable level.
"But I haven't heard an argument for downforce. No one can give me an argument as to why racing cars should have downforce. It's like a sort of dependency, a drug that we've become addicted to. I don't think there's any argument that F1 cars should be the fastest things around the track, but that doesn't have to come from downforce. It can come from tyre grip, it can come from engine power, lots of things."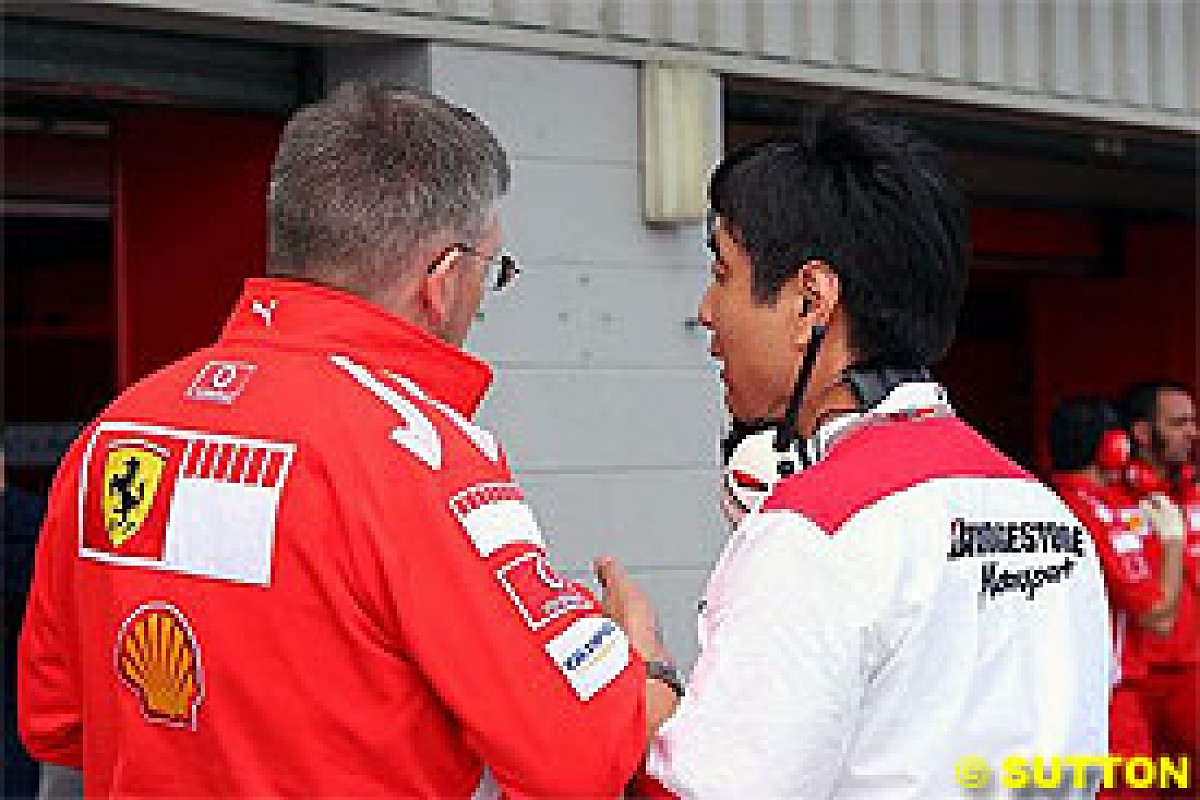 It's fascinating to ponder what an F1 car with 90% of its downforce removed might look like.
"I think what's got to happen is we've got to find a way to have a proper study into what sort of vehicle would be suitable," Brawn says. "Obviously there are a lot of other considerations - sponsorship space, safety criteria. There are quite a lot of constraints that need to be considered. I know it was discussed in the Technical Working Group several meetings ago to commission a study by someone independent from the F1 group to see what they come up with."
All that's for the future, but in the mean time, Brawn has other problems to solve. He remains bullish, but of course he has to.
"I think the change of regulations didn't help us. Over the years there have been many changes of regulations which were never in our favour, and this time it's particularly hurt us. We just need a bit more time to sort ourselves out. Bridgestone are a very dedicated company. They're putting huge resources into trying to improve the situation.
"I don't want to separate the reasons why, because it's all reasons. If we had more engine power, if we had more downforce, we'd go quicker. The two areas we're not concerned about are Rubens and Michael. They're doing a great job. But everyone else within the company, including myself and Bridgestone, are looking to improve the situation.
"I think the aero group are doing a great job, but then in these circumstances, they need to do more. We've got to be better than anyone else in all areas..."