---
By Dieter Rencken, Belgium
Autosport-Atlas Columnist
Regenerating Power
Is the letter written by FIA President Max Mosley to Formula One team principals requesting them to develop state-of-the art technology a sign that the governing body have made a U-turn on the 'dumbing down' of the sport? If so, have they done so as result of the FIA/AMD fan survey, which showed 80% of the 93,000 respondents as feeling that advanced technology set F1 apart from other racing series, and that almost two-thirds of fans looked forward to each season's technological advances?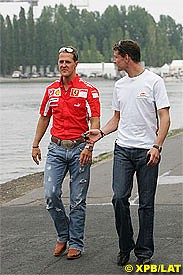 Or is the letter a sign that genuine will exists to embrace those teams and manufacturers who believe that Formula One is a combination of a thrilling sporting contest at the highest driver level and enthralling technological exercise providing, ultimately, road car and consumer relevance?
Whatever caused the letter to be circulated - possibly a combination of both factors - its content is good news for the sport, and, simultaneously, provides hope that two paths, previously so divergent their goals lay in opposite directions, could converge before Christmas this year to provide a stable platform for future regulations which provide as happy a medium as Formula One could ever know.
The regenerative energy system suggested by Mosley in his letter is just one example. Previously banned, after McLaren were rumoured to be developing such a system, it is now being hailed as future technology. In the late nineties, immediately after that most creative of current technical directors, Adrian Newey, joined McLaren - who already had access to Gordon Murray's lateral-thinking genius via their road car division - was said to be developing a regenerative energy system, which, said engineers at the time, could deliver spurts of 50-60 bhp for an overall weight penalty of, including drive shafts and storage cells, +/- 30 kilograms.
Sure, that equates to a lot of mass to chug about, even at five kilowatts per weight unit, but given that Formula One cars have been known to carry up to 100 kilograms of useless ballast, the concept of supplementing underweight cars with power-generating mass, particularly given its potential location close to the centre-of-gravity, would have caused more than mere raised eyebrows in Albert Drive, Woking, and some rather worried frowns in Maranello, then battling to make their early V10s run above 14,000rpm, and, as such, with little time to fret over second power units.
By no means new - Porsche used similar concepts in WWII tanks - McLaren's regenerative energy system worked simply, and, word went, effectively in tests: momentum generated under braking and trailing throttle was converted to heat, which, in turn, was converted to supplementary energy. Such power could be discharged in great dollops to provide overtaking or qualifying bursts, or be released in comparative trickles to provide steady streams of incremental power throughout the race. Needless to say, development was shrouded in great secrecy.
All to no effect, as it turned out. No sooner had rumours gathered pace that such a system, legal under prevailing regulations, was on the drawing board and pencilled in for testing by the period's dominant team, than the technical regulations were reframed to ban the use of such systems. Article 5 (Engine) of the 2005 FIA Technical Regulations is crystal clear:
5.1 Engine specification:
5.1.1 Only 4-stroke engines with reciprocating pistons are permitted.
5.1.2 Engine capacity must not exceed 3000 cc.
5.1.3 Supercharging is forbidden.
5.1.4 All engines must have 10 cylinders and the normal section of each cylinder must be circular.
5.1.5 Engines may have no more than 5 valves per cylinder.
5.2 Other means of propulsion:
5.2.1 The use of any device, other than the 3 litre, four stroke engine described in 5.1 above, to power the car, is not permitted.
Despite Article 5.2.1, matters then become slightly more complicated. The next one (Article 5.2.2) states: "The total amount of recoverable energy stored on the car must not exceed 300kJ, any which may be recovered at a rate greater than 2kW must not exceed 20kJ". However, according to Honda Vice-President Otmar Szafnauer, this amount is "really tiny, and not even worth bothering about. I figure it has been included to cover items such as capacitors, which are technically-speaking stored energy devices."
But, is Mosley proposing to 'unban' the technology first developed for use in Formula One almost a decade ago - in fact, at the time he legislated grooved tyres to reduce cornering speeds - as an overtaking aid to 'spice up' the show, or, laudably, as a performance enhancer with technology transfer capabilities? If the concept of regenerative energy in Formula One terms is as old as grooved rubber, it is not much younger in production car terms: dual power units, relying upon reciprocating engines coupled via sophisticated control units to electric motors powered by regenerative energy, have been on sale for more than few years now.
Honda and Toyota have been particularly active in the field, with both having hybrid products (Insight and Prius respectively) which evade London's notorious congestion charge, whilst the latter plus Ford have recently launched electro-petrol SUVs and even Porsche has admitted to investigating the technology for use in a version of their Cayenne 4x4. So, without doubt, a case could be made that hybrid power units in F1 have, and will continue to hold, road car relevance. But, that said, so do many other concepts, such as turbochargers, constantly variable transmissions (CVT), V10 engines (effectively banned from 2006), active suspension systems and low profile tyres - all of which have been legislated against over the years. Will they return, too?
If, though, regenerative energy systems are included in proposals to facilitate increased overtaking via 'boost buttons', then Formula One could be on a further slippery slide, for already certain drivers have spoken out strongly against regulations which destroy the art of racing - and what else are overtaking or prevention thereof but the finest brushes on a driver's easel?
Whilst 94% of respondents to the FIA/AMD survey did wish for increased overtaking (pray, on which planet do the remaining six percent reside?), 74% want more emphasis on driver skill and less on driver aids, into which category a 'boost button' would certainly fall, and, if the overtaking question had been qualified (boost button-assisted overtaking/defence versus skilled manoeuvres), an outright majority surely would vote for the latter.
Yes, Mosley is correct in opening the gates to increased technology - 80% of fans said so rather resoundingly - but not at the cost of the purity of the sport; yes, 94% fans would love to see more overtaking, but at least 70% of those would not wish for it should the sporting integrity of Formula One be destroyed through supplementary energy harnessed at the push of a gimmicky button.
And, yes, Mosley is correct in standing against technology which 'dumbs down' driver skills - traction and launch controls, and such-like - for a driver on a tight rope is what fans pay good money to see. By the same token, 64% look forward to the technical innovations each season, and given the long-life nature of the proposed 2008 regulations, an awful lot of fans are sure to be disappointed should technology be forced right down Formula One's pecking order. The Indy Racing League, although in a constant state of denial, did just that - and look where its spectator numbers have dropped to.
Equally, at least two engine suppliers have reason to rejoice at the notion of regenerative power hitting Formula One - intriguingly, those two are outside what was GPWC - whilst the balance would do well to embrace its inclusion, for there exists little doubt that it will be the next Big Thing in automotive trends. Crucially, though, the fan survey has provided an instrument of concession: where once the FIA stood firmly against teams and manufacturers on matters of technology and resultant costs, the market research has presented the governing body with an opportunity of about-turning with little or no lost face as "revised policies have been adopted for the 93,000 fans who have spoken".
Mosley and the Drivers
"We should be glad to discuss these and related questions with any of the teams and other stakeholders, either individually or collectively." Thus, rather meritoriously, and openly, ends Mosley's letter to team principals urging them embrace alternate technology.
Why, then, is the FIA President not prepared to meet with drivers 'individually or collectively' unless at least half the present number of Formula One drivers (26) are present? If maximum attendance numbers were the issue, whether fathomable or not, then cancellation of the scheduled Silverstone meeting could possibly be justified, for present at the Northamptonshire circuit were no less than 23 drivers.
However, having shifted the place and date of the meeting to Cannes, France on 1 August - the day immediately after the Hungarian Grand Prix, and the start of F1's summer break - Mosley, on record as stating he would "always be prepared to meet with drivers over safety matters", requires a minimum attendance of 13 drivers. Given that the GPDA has four directors and that the body has a mandate from over 80% of drivers surely a meeting with the directors would have sufficed?
Sure, director unity was fragmented by Indianapolis but only Michael Schumacher is in the cold. David Coulthard, Mark Webber and Jarno Trulli all sung off the same hymn sheet - which could be Mosley's strategy, as three united directors would be more difficult to divide than 13 notoriously selfish drivers.
Schumacher continues to suggest that concerns relating to Indianapolis are 'technical, not safety issues', and he could well be right if a purely blinkered attitude is adopted, but if the bigger picture is absorbed, it is clear that driver safety was, potentially at least, marginalized by suggestions that speed traps or pitlane detours presented reasonable solutions.
After all, simple mathematical calculations show that, with 14 cars each passing through the pitlane every lap and the six Bridgestone-equipped stopping twice each, 1034 pit passes at 120 km/h (the increased speed said to have been retrospectively approved by the FIA), would have occurred at average 5,5 second intervals. With close on 1000 race, support and media personnel in an area containing upwards of 2000 litres of the highest octane available, the issue ceased to be 'technical' and became very much 'safety'.
Who would not become indignant under those circumstances? That, though, is by the by.
Coulthard's immediate problem is to garner 13 drivers at a time when they may have sponsor or other commitments - last year Jenson Button, for example, flew to South Africa on behalf of Lucky Strike on the evening of the race, whilst others headed to their holiday homes - and any less than a 50% turnout could cause Mosley to question whether drivers are serious about their own safety.
His problem is compounded by the fact that the likes of Schumacher plus Red Bull colleagues are likely to miss the meeting, and rumours abound that Ferrari will 'request' that Rubens Barrichello steer clear of the meeting, bringing potential attendance to 19. All it requires is six further drop outs, and the meeting is off.
An FIA spokesman denied at Silverstone that Mosley was making it difficult for the drivers to meet with the man - Coulthard stated, not at all unreasonably, that it is easier to get one man to meet 23 drivers than to get 23 drivers together to meet one man - and that Mosley wished to convene the meeting away from the hustle and emotion of a race weekend. In addition, said the spokesman, Mosley felt that the drivers had politicized the matter, which is why he refused to meet with Coulthard and clan in Silverstone.
Maybe, but, surely any politicizing as may have occurred is minor when compared with the treatment extended to the technical regulations, and, yet, Mosley is prepared to meet "stakeholders, either individually or collectively." Surely drivers are stakeholders in their own lives, so why was he not prepared to meet with, at the very least, three GPDA directors?
When all is said and done, the mere fact that the drivers were prepared to meet with Mosley during a race week - when there is hustle and bustle, when emotions abound, when workloads are sky-high and demands on their time astronomical - proves that they do take safety extremely seriously.