---
By Dieter Rencken, Belgium
Autosport-Atlas Columnist
Tyregate II
If war is defined as a continuation of politics by other means, then Sunday's fiasco could be deemed as a continuation of Australia's FIA/Minardi debacle and BAR's fuel tank saga by other means, for, whilst Michelin's failure to nominate safe tyres may have provided the weekend's catalyst, deeply divided factions certainly jostled for advantage in the Brickyard's severely destabilised atmosphere.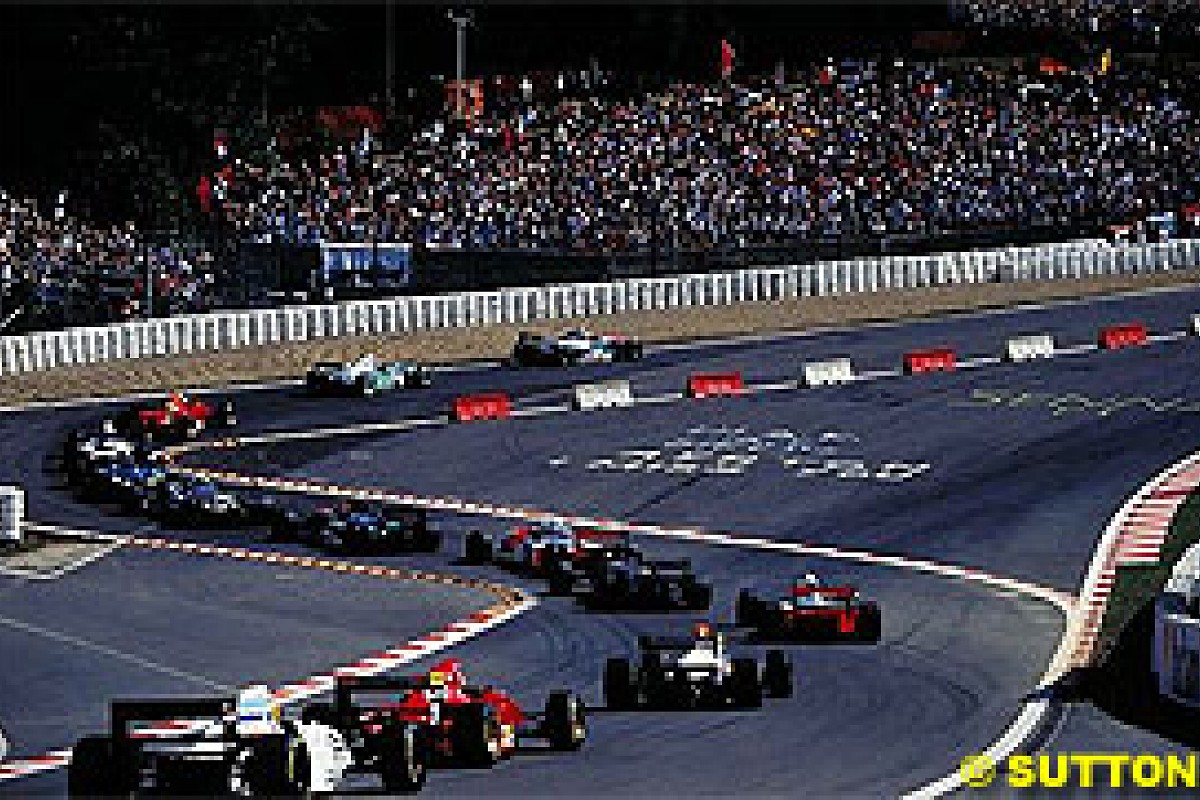 It is no secret that Formula One is being ripped apart virtually on a daily basis, and those who believe the sight of 14 perfectly good race cars, save for suspect tyres, parked in the pitlane at 13:00 local time, no doubt believe the FIA, Bernie Ecclestone and Ferrari invented motor racing. Sunday was, no more and no less, about exercising power to the detriment of motorsport, and, by extension, to the shocking treatment of hundreds of sponsors, thousands of spectators and millions of television viewers.
Sure, the weekend's problem started with Michelin's suspicions over the safety of their nominated tyres, but, for three years now, Formula One has been speeding at full tilt towards its own destruction, and requests for concessions to make possible a race at the self-styled Motor Racing Capital of The World brought such utter shame upon all who decided the weekend's proceedings that many question whether the premier category can survive the scandal.
It was remarkable, whether admirably or not, that the seven teams adhered to their pre-race agreement to take the start of the parade lap, then peel off into pitlane thereafter, for never before has there been such unity in the face of competition. There exist precedents of boycotts of Championship races, but none of such accord. In 1982, for example, the garagistes, led by Bernard Charles Ecclestone in conjunction with Maxwell Rufus Mosley, stayed away from the San Marino Grand Prix over a television rights dispute with the FIA, but, unity was conspicuously lacking when Ken Tyrrell's cars took the start as a sop to their (new) Italian sponsors.
There exist, too, examples of non-Championship races in the face of boycotts: the 1981 South African Grand Prix, promoted by Mosley and Ecclestone for independent teams, was one such event; the 1980 Spanish Grand Prix, boycotted by the likes of Ferrari and Alfa Romeo, provided another controversial landmark. All in, Formula One's political critics have been fed with much ammunition over the years, and, no doubt, will be well sated in the not too distant future.
Equally, those required to provide explanations before the World Motor Sports Council when it meets next Wednesday will no doubt cite these, and other, precedents, in particular proceedings during the 1994 Spanish Grand Prix, when Benetton were advised (by FIA President Mosley, without mention of penalty) to withdraw their cars if they felt them to be unsafe, after the FIA installed a temporary chicane at the Catalunya circuit in the name of safety. They will, no doubt, question exactly why the same safety-orientated solution was not acceptable last weekend.
The Belgian Grand Prix of that same tragic year saw a chicane installed before Eau Rouge as the sport battled to come to terms with its image, and, again, if such a solution was considered acceptable 11 years ago in the wake of two deaths, why was it deemed unsuitable in a season at the end of which engine capacities, and, thus, power outputs, are to be reduced by 20% in the name of safety?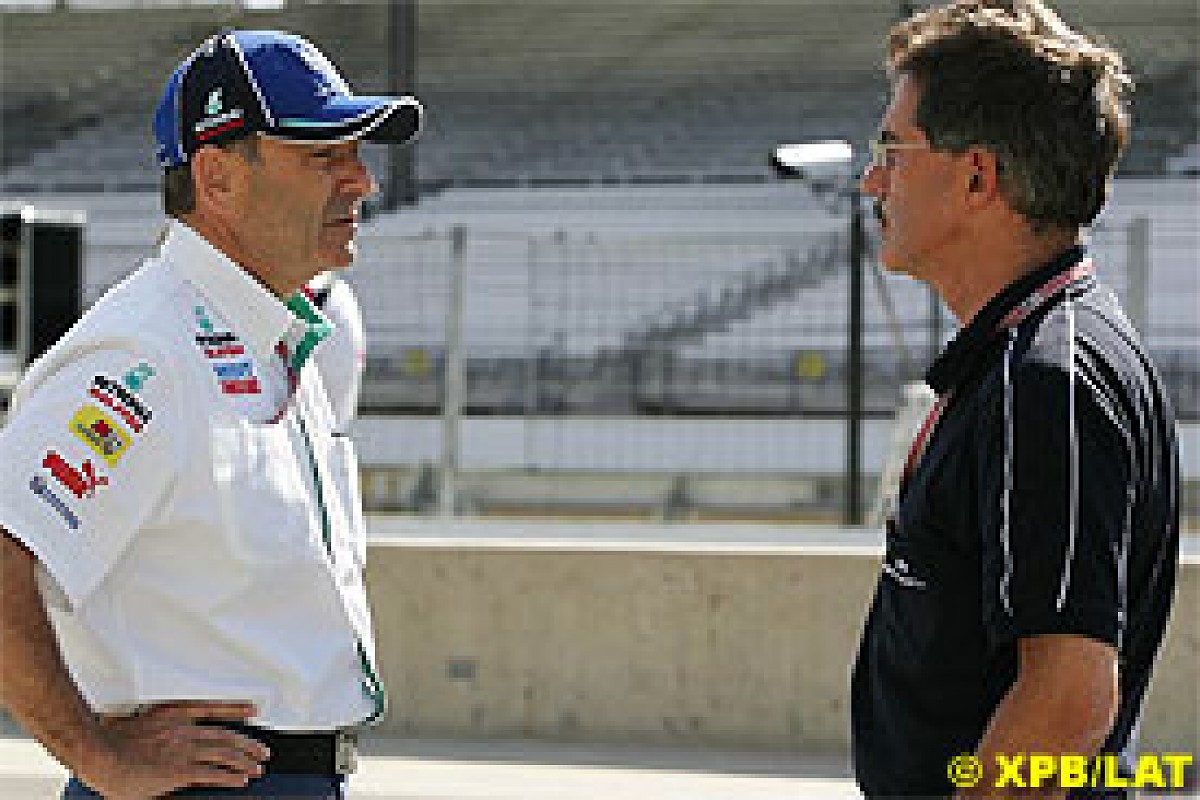 There is, patently, an argument that any deviations from the approved circuit and prevailing regulations could penalise a group with suitable equipment (i.e., Bridgestone's runners), but such simplistic arguments overlook one salient fact, in turn compounded by a clause in the Concorde Agreement, which forbids testing outside of Europe without the express agreement of all teams. And, as has been the case of late, 'unanimous agreement' and 'Formula One' are hardly nodding acquaintances.
Before this year's Indianapolis 500 race, the circuit was resurfaced, then diamond cut. Such was the improvement in cornering speeds that, despite engine capacities reduced by 500cc over 2003's 3500cc limit, pole position at 227mph this May was just 4 mph (1.5%) slower than two years ago. Put differently, 2004 pole, with identical cars, was 222 mph versus this year's speed - put down by Indy 500 insiders to increased adhesion.
A Bridgestone source admitted during the weekend that Firestone had provided technical guidance to its F1 associates. This explains how Michael Schumacher so surely stated during the post-race media conference that "we have left at home tyres with better performance but less durability because we knew what kind of stress the tyres would be under here, so I don't know what was their problem but this was not our problem." Then he added, rather tellingly, "I hope that everyone understands that there was nothing from our side to do in that respect."
Now, if Bridgestone knew full well that stresses had changed, and that Michelin, by dint of not being the favoured party in IRL circles, was unaware of their extent, could not a case be made that pre-race testing should have been permitted? And, if full information on such changes was not provided to Michelin by Indianapolis Motor Speedway, could not a case be made that IMS failed in its duties, particularly as suspicions linger that Firestone suffered problems? No doubt the truth will emerge during pending litigation.
All that, though, is muddy water under a rickety bridge, and the fact remains that seven teams have been summoned by FIA Secretary General Pierre de Coninck to appear before the WMSC on Wednesday next. What can they expect? The first pointer is, of course, that the WMSC falls directly under the FIA, and operates separately from the FIA's International Court of Appeal, which has gone to great pains recently to project an air of independence.
And, given that six of the seven teams have known or suspected links to GPWC and its most recent mutations and manoeuvres, would conspiracy theorists be far off the mark were they to seek political overtones in Tyregate II and forecast draconian punishments for any suggested infringements, particularly in view of steadfast refusals by the six to sign up to the FIA/FOM/Ferrari deals as offered in January, and subsequent snubbings of FIA 'tea and biscuit' meets?
By all accounts, the WMSC is expected to come down heavily on the Michelin Seven, and herein lies a pointer, for one team have not bucked the FIA of late.
This team have fully pinned their colours to Ferrari's mast, have an owner who has succeeded in overturning third driver restrictions after meetings, and, say some, bouts of socialising with Mosley. They are also said to have already signed up to the Mosley/Ecclestone/Ferrari vision of post-2007 Formula One, are said to be switching to Bridgestone sooner rather than later, yet stand as accused in this matter as a fully-fledged subsidiary of GPWC founder BMW.
So, treatment by the FIA of Red Bull Racing will provide a measure of the even-handedness applied to proceedings within 8 Place de la Concorde on 29 June. An entire, 100m-strong audience block was denied a race this Sunday past; no doubt the same block will be watching proceedings as fervently in the hopes of seeing even-handed action.
If Formula One can set aside its destructive infighting, admit to its numerous mistakes in Indianapolis and approach the matter even-handedly, it will have gone some way to repairing the enormous damage inflicted upon itself. If not, two competing series sooner rather than later seem a racing certainty.
The Sale of Sauber
The sale of Peter Sauber's shares in his eponymous team to BMW marks a watershed in Formula One history, for, whilst the Swiss former electrical fitter, gradually reduced his shareholding, first to the Fritz Kaiser Group, then Red Bull, and finally Credit Suisse, as investment demands upon his company grew, his were still the signatures on the cheques and name above the door.
The past ten years have seen no less than eight teams - Arrows, Benetton, Jordan, Ligier, Minardi, Sauber, Stewart and Tyrrell - sold on by their naming fathers, with only Williams remaining in founding ownership, and, if rumours are to be believed, that team, too, will shortly be sold on (to a consortium headed by David Richards).
That Sauber chose this course of action is no surprise, having been forecast and analysed in these pages for the past six months. The Swiss had been anxious to secure the future of the team's personnel, plus, of course, increase the operation's competitiveness, and the sale achieves both objectives rather elegantly
The announcement and its timing is, though, highly significant, for it occurs at a period of great instability for Formula One, particularly given the reduced technical challenges inherent in the proposed 2008 regulations, and accelerating doubts as to the future make-up and direction of Formula One.
With the phased purchase of Sauber by 2008, BMW's board have voted with the cash-rich company's wallet, obviously deciding in the process that competing in top line motorsport as a total operation, rather than engine supplier, provides perfect synergies for its marketing and engineering thrusts. This, note, despite the practical demise of V10 engines in Formula One from end-2005 (the company's recently announced M5 and to-be-launched M6 models have such configuration) and planned 'dumbing down' of electronic aids as outlined in the draft technical regulations as released in Indianapolis, and subsequently overlooked due to the race's infamous outcome.
Where, though, does this leave Williams? Again, this column has previously analysed the Grove-based team's options, concluding that their best path of action would be to remain with the German company - contracts, of course, permitting - until, at least, the end of Concorde in 2007. The confirmed purchase of Sauber has not altered that belief.
After all, Grand Prix Racing, as the mutant GPWC/GPR recently referred to itself, has included in its objectives the supply of engines to two teams. As such, BMW has indicated its willingness to provide a dual stream, certainly under proposed GPR rules, so Williams would be best served by Munich, until it, too, is sold off by the ailing Sir Frank and his younger, yet seemingly less committed partner, Patrick Head.
Should BMW, though, forsake GPR and remain with the FIA series, it would have excess capacity (through longer life engines and reduced technology), and, as such, would no doubt seek an additional team against which to offset costs. Williams, with its proven appeal to sponsors, would be well-placed to secure a badging partner. Certainly, in its Sauber purchase announcement BMW appears to have left the door open for a continuation with Williams.
BMW's release referred to 'a restructured Formula One' and not 'Grand Prix Racing', so the company seems to believe that a single series will emerge from the present pain. Equally, having bought a team, BMW has become a full signatory to Concorde, giving it official access to the terms and conditions of the agreement. No doubt BMW will be voicing its opinion about the agreement in due course; first, though, it needs to ensure that it new purchase surfaces unscathed from Tyregate II.