Ferrari could hardly have responded better to their Melbourne disaster and the inevitable Italian press mauling that followed.
They always insisted that Australia was just an early stumble, and that the "real Ferrari" would return for Sepang.
It certainly did. A dominant one-two in opening practice, despite Kimi Raikkonen bizarrely running out of fuel in the first half-hour, set the tone for a weekend in which the red cars always had plenty in hand over their rivals.
Only Felipe Massa's inexplicable mid-race spin - his second very costly unforced error in a week - marred a potentially perfect result, as Kimi Raikkonen won as he pleased in Malaysia.
With McLaren's Heikki Kovalainen and Lewis Hamilton 40 seconds adrift in third and fifth, Raikkonen eradicated the Australian points deficit as swiftly as it was created.
"This weekend, we have shown what the team can do after our very bad weekend in Melbourne," said team boss Stefano Domenicali. "So, we were not cart horses in Australia and we did not become a phenomenon today."
It was a complete inversion of Melbourne, where McLaren had been peerless and Ferrari regularly looked amateurish.
Clumsiness (the blocking penalties in qualifying) and misfortune (Lewis Hamilton's wheelnut problem) played a part in McLaren's underwhelming result, but that was not the full story. They were a second behind Ferrari for much of practice, couldn't fight for pole, and didn't have the pace to catch the impressive Robert Kubica's BMW in the race.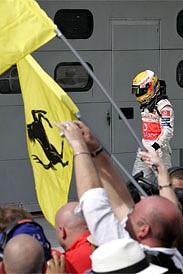 Lewis Hamilton in parc ferme as Ferrari celebrate © Reuters
Team boss Ron Dennis insisted McLaren's lap times had been dictated by the time wasted in traffic as they fought through the top ten, and said their true potential had been hidden.
"Once you spend time in traffic, your front tyres get a bit more punishment and that just makes it difficult," he said. "Once we were in clean air we were able to have the pace. If this is our worst weekend of the year then we will take it."
Ferrari weren't convinced that their margin over McLaren was representative either.
"They didn't have a great weekend in terms of performance but for sure they will be very strong in Bahrain," said Domenicali.
Raikkonen agreed: "I think the next race can be different again, so we need to wait and see and after a few races we will get a clearer picture where we are exactly."
Right now, that picture remains nebulous. Do the fluctuating fortunes of the top two in the past week mean that another season-long, see-sawing title battle is in prospect, or will Sepang be the springboard for Ferrari and Raikkonen to take 2008 by the throat?
Practice
Practice one - Friday am
Ferrari dominance and the field's fragility were the themes of opening practice at Sepang, which Felipe Massa topped by 1.067 seconds over teammate Kimi Raikkonen.
The world champion would have been much closer but for the "communication problem" that led to him running out of fuel on track after only eight laps.
Just as Raikkonen was coasting to a halt, David Coulthard's practice was coming to a far more violent end. A broken track rod sent the Red Bull off the road at Turn 12, and it then hit the inside kerbs at Turn 13 at speed, ripping the front suspension apart on both sides and sending the wrecked car ploughing into the gravel. Red Bull had to convince the stewards of their car's safety before being allowed to complete the Grand Prix weekend.
Team boss Christian Horner believed the angle of impact had been critical in both this crash and Coulthard's similarly damaging incident with Massa in Australia, and insisted there was no cause for concern.
"These cars aren't designed to fly through the air," he said. "We don't build them to go two metres into the air, it's as simple as that."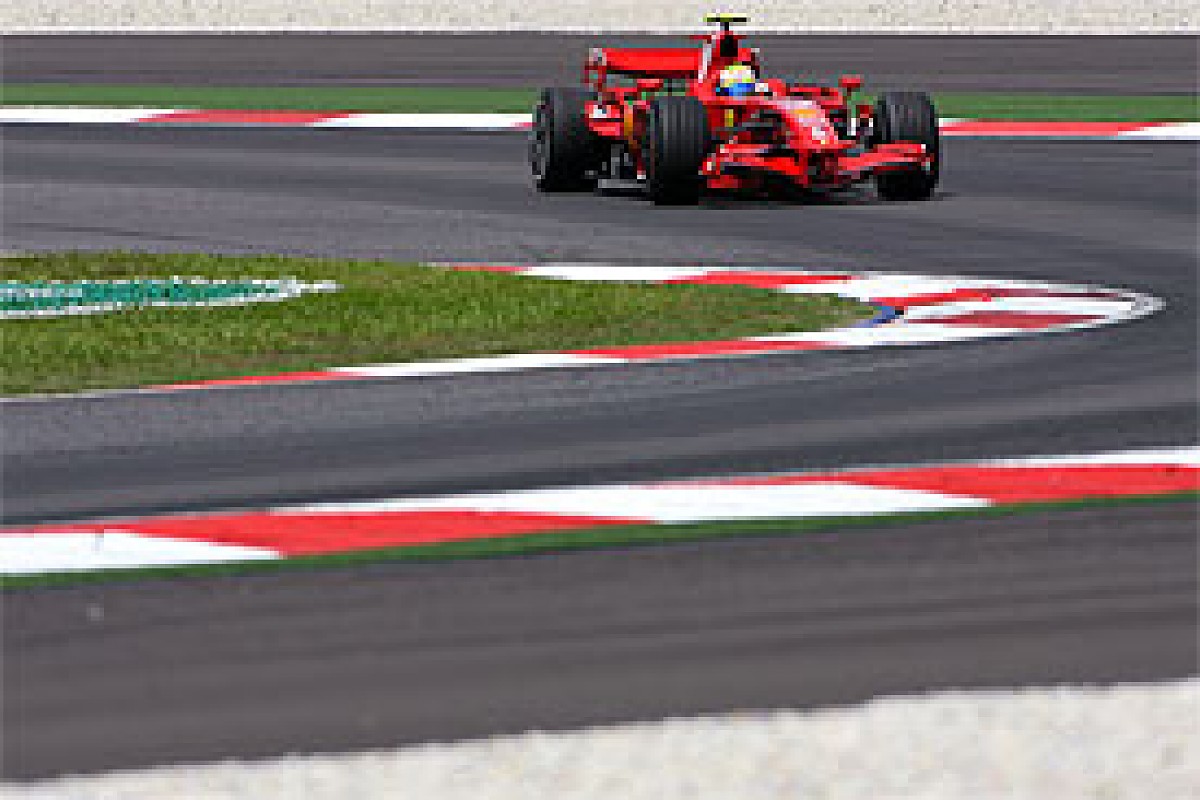 Felipe Massa at speed on Friday © XPB/LAT
Coulthard was not flustered either.
"What's happened this weekend doesn't concern me - as a racing driver you never think you're going to have a car failure, so you don't think about it, and I have complete faith in the team," he said.
Nevertheless, with teammate Mark Webber suffering an engine blow-up later on, Red Bull's weekend had got off to a tricky start.
Also in trouble were BMW's Robert Kubica, who had to sit out the first 80 minutes while a gearbox problem was fixed, Force India driver Adrian Sutil (another engine failure), and Sebastian Vettel, who was pitched into the Turn 15 gravel by a Toro Rosso brake problem.
Behind the Ferraris, the two McLarens and the two Renaults completed the top six - with Nelson Piquet getting some much-needed mileage and nearly matching teammate Fernando Alonso.
Practice two - Friday pm
Until the final three minutes of second practice it looked like Ferrari's domination was set to continue, but then Lewis Hamilton raised McLaren's game to beat Massa to the top spot by 0.151 seconds.
Raikkonen was third, ahead of Honda's Jenson Button, who burst out of the midfield with his last lap.
By contrast Vettel was a leading contender throughout, and held second early in the session before being edged back to a still-impressive fifth.
His teammate Sebastien Bourdais had very different fortunes - not even completing a lap before suffering an engine failure.
Coulthard also sat out the session as Red Bull completed repairs and investigations after his morning crash.
Practice three - Saturday am
Again the final session saw Ferrari holding the edge until being usurped in the closing moments, this time by a late flying lap from BMW's Nick Heidfeld.
The German's 1:35.019 beat Raikkonen by 0.243 seconds, with Massa in third place.
Jarno Trulli earned fourth for Toyota, ahead of the resurgent Red Bulls and Piquet, the latter setting the fastest sector one time of all before making a mistake further around his final lap. His teammate Alonso had an early spin and was 12th.
The McLarens were only 11th and 16th, Hamilton the faster of the pair despite a quick trip through the gravel.
Williams' Nico Rosberg and Honda's Rubens Barrichello had their qualifying preparations disrupted by hydraulic and gearbox problems respectively, although Rosberg managed 15th before his failure, whereas Barrichello ended the morning slowest.
Honda were able to repair the gearbox within the FIA restrictions, but Toro Rosso's Bourdais had to take his one permitted penalty-free engine change after problems in the session.
Qualifying
Part one
Force India had stated that their first goal for 2008 was to start reaching Q2 - and at Sepang they missed that target by an agonising 0.042 seconds. Giancarlo Fisichella edged up to 16th with his final lap, but within moments he was pushed back to an eliminated 17th as Honda's Rubens Barrichello improved.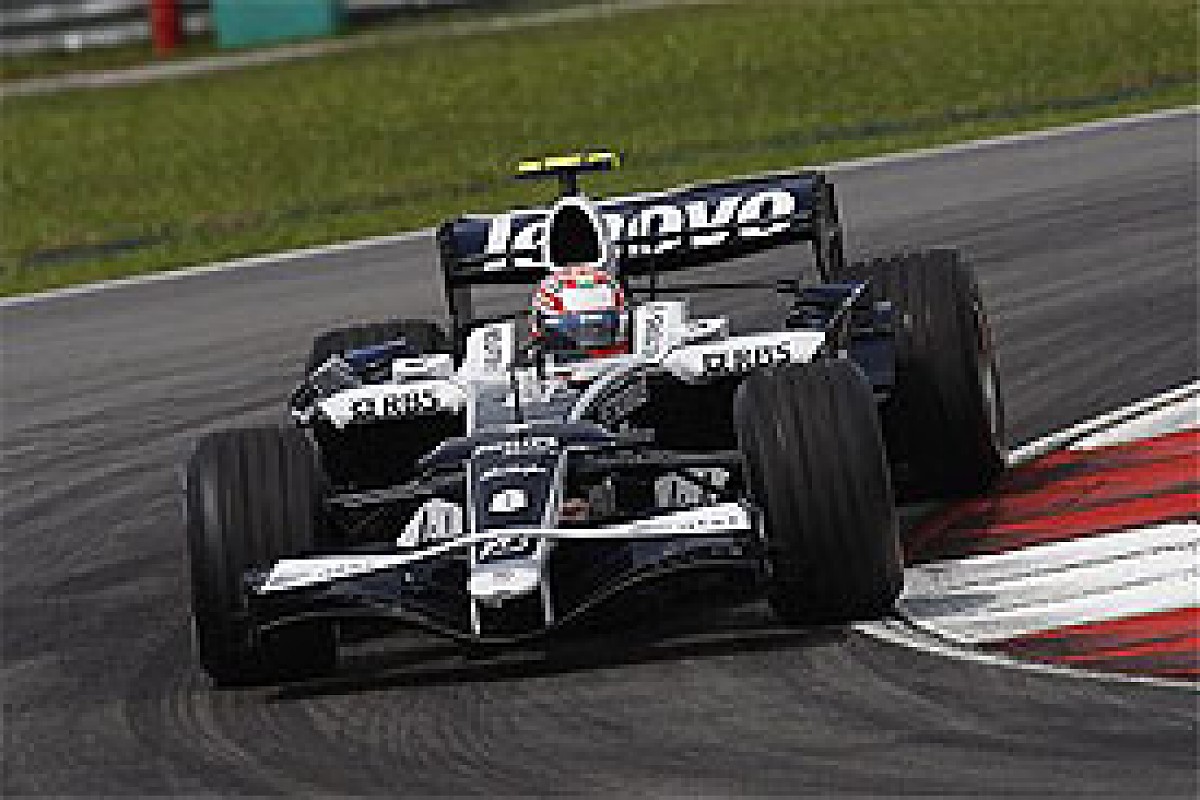 Kazuki Nakajima had a 10 place grid penalty © LAT
"Let's say it's very encouraging - just five hundredths from the top 16 and Q2, and just under a second from the quickest lap time of that session - it is very promising for the future," Fisichella said.
Teammate Adrian Sutil wasn't so happy. He had trailed the Italian all weekend and was frustrated by his inability to get any speed out of the soft tyres as he struggled to 21st, 0.8 seconds off Fisichella's pace and behind Takuma Sato's Super Aguri - which the later team hailed as "a small victory". Anthony Davidson was slowest in the second Super Aguri.
Also out in Q1 were Williams' Kazuki Nakajima and Toro Rosso's Sebastien Bourdais. A minor error left Nakajima, who was destined to fall to last in any case once his penalty for taking Robert Kubica out in Melbourne was applied, in 18th position, while Bourdais was 19th after going off the road with brake problems.
"I got to turn four and the pedal went to the floor, nothing I could do about it," said Bourdais.
Part two
Just a week after the elation of his maiden podium in Melbourne, Nico Rosberg slumped to an embarrassing Q2 exit in Malaysia, unable to better 16th place as Sepang's new track surface left Williams perplexed.
"I was super happy and we come here and it couldn't be worse," Rosberg said. "It is unbelievable. The reason is that the asphalt is new here and our car doesn't make the tyres work.
"We don't know what our problem is. The temperatures are massive, it is 40 degrees out there, so it can't be temperature."
Sebastian Vettel also came back down to earth after Melbourne. The Toro Rosso driver admitted that another top ten appearance was never on the cards as his car was less happy on Sepang's fast corners, but he could have managed a few places better than 15th but for a mistake on his best lap.
After their practice problems, David Coulthard (Red Bull) and Rubens Barrichello (Honda) had to settle for 12th and 14th places, sandwiching Renault's Nelson Piquet. The Brazilian lost time with two small errors in the first sector, but was far happier than in Melbourne.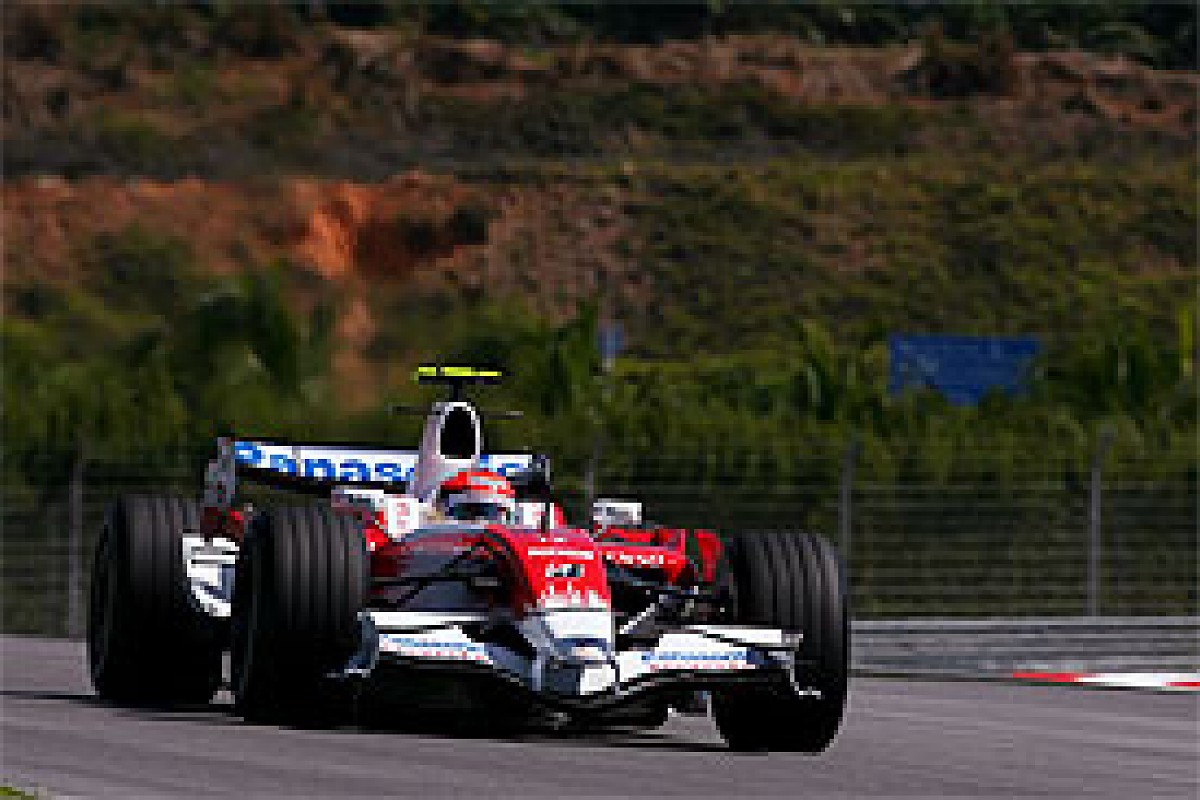 Timo Glock made it into final qualifying in only his second race © LAT
His teammate Fernando Alonso just made it through to Q3. Although he was pushed back to 10th towards the end of the session, no-one behind him improved on their final laps so he clung on to the final top ten spot.
Jenson Button missed the cut by just 0.068 seconds, being pushed back to 11th when Timo Glock thrust his Toyota up to ninth with his final lap, although Button was far from downcast.
"I'm really happy with the lap I did and P11 through sheer speed is not too bad," he said.
Part three
In complete contrast to Melbourne qualifying, Sepang's pole position shoot-out was all about Ferrari.
Felipe Massa's Q2 lap had been slightly lacking, but he was inch-perfect when it really mattered. He took provisional pole with his initial 1:36.434 lap, and wasn't flustered when teammate Kimi Raikkonen lapped two tenths faster.
Indeed Massa's second flying lap was one of the finest of his career. Carrying only one lap less fuel than Raikkonen, he beat the world champion by 0.482 seconds as he made sure of Malaysian GP pole position for the second year running.
"I managed to put everything together in Q3 and did a great lap," he said.
Raikkonen admitted that he hadn't been quite so sharp.
"The car is good, but I just couldn't get the grip," he shrugged. "I didn't get the best out of it."
The McLarens were almost a second slower than Massa in third and fourth, with Heikki Kovalainen out-qualifying Lewis Hamilton. They wouldn't stay on the second row for long, however, being penalised for blocking other cars on their in-laps.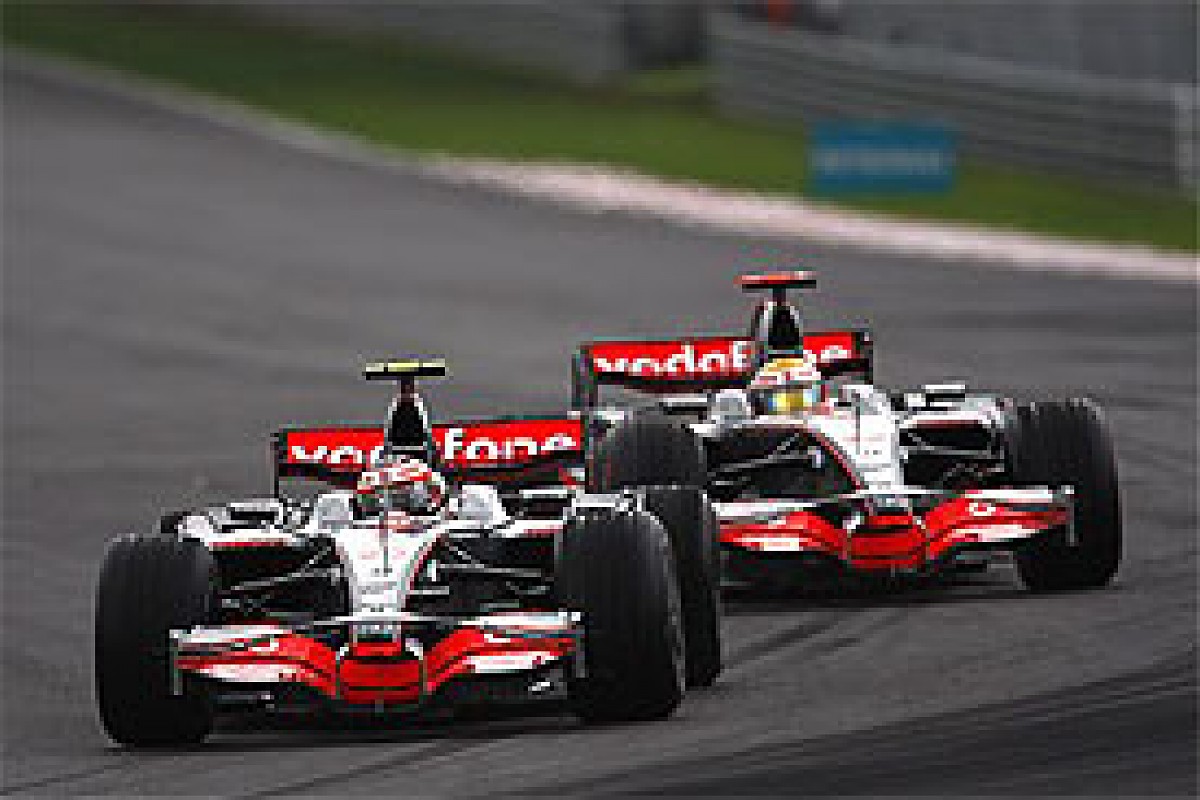 The McLarens of Heikki Kovalainen and Lewis Hamilton © LAT
Anxious about potential rain, most had completed their Q3 flying laps early and then backed right off to try and save fuel for the first stint. But that forced Nick Heidfeld and Fernando Alonso - both still on flying laps - to dodge between the dawdling cars, with the McLarens cited as particular obstructions.
"Most of the cars were already very, very slow when I was on my flying lap - just like parked on the circuit," Heidfeld complained, who felt he would have been third rather than seventh but for the incident. "The biggest problems were the two McLarens in the middle of the racing line on the approach to Turn 4."
The stewards agreed and demoted Kovalainen and Hamilton to eighth and ninth positions.
"We accept the stewards' decision, but would like to add that neither Lewis nor Heikki impeded any of their competitors deliberately," stressed McLaren CEO Martin Whitmarsh.
That elevated a delighted Jarno Trulli, who had topped Q1, to third for Toyota.
"Today's lap time just shows that it's a big improvement compared to last year's car," he said.
The BMWs rose to fourth and fifth, with Robert Kubica ahead, while a pleasantly surprised Mark Webber (Red Bull) and a fuel-heavy Fernando Alonso (Renault) gained sixth and seventh places.
The final top ten spot went to Toyota's Timo Glock, who was frustrated that the need to use two set of tyres in Q1 after a poor first lap left him short of rubber for Q3.
Qualifying results


Pos  Driver       Team                Q1        Q2        Q3       Laps
 1.  Massa        Ferrari             1:35.347  1:34.412  1:35.748  17
 2.  Raikkonen    Ferrari             1:35.645  1:34.188  1:36.230  13
 3.  Kovalainen   McLaren-Mercedes    1:35.227  1:34.759  1:36.613  12
 4.  Hamilton     McLaren-Mercedes    1:35.392  1:34.627  1:36.709  18
 5.  Trulli       Toyota              1:35.205  1:34.825  1:36.711  18
 6.  Kubica       BMW Sauber          1:35.794  1:34.811  1:36.727  13
 7.  Heidfeld     BMW Sauber          1:35.729  1:34.648  1:36.753  13
 8.  Webber       Red Bull-Renault    1:35.440  1:34.967  1:37.009  18
 9.  Alonso       Renault             1:35.983  1:35.140  1:38.450  18
10.  Glock        Toyota              1:35.891  1:35.000  1:39.656  20
11.  Button       Honda               1:35.847  1:35.208            15
12.  Coulthard    Red Bull-Renault    1:36.058  1:35.408            12
13.  Piquet       Renault             1:36.074  1:35.562            12
14.  Barrichello  Honda               1:36.198  1:35.622            15
15.  Vettel       Toro Rosso-Ferrari  1:36.111  1:35.648            15
16.  Rosberg      Williams-Toyota     1:35.843  1:35.670            13
17.  Fisichella   Force India-Ferrari 1:36.240                       9
18.  Nakajima     Williams-Toyota     1:36.388                       9
19.  Bourdais     Toro Rosso-Ferrari  1:36.677                       8
20.  Sato         Super Aguri-Honda   1:37.087                       9
21.  Sutil        Force India-Ferrari 1:37.101                      10
22.  Davidson     Super Aguri-Honda   1:37.481                       9

The Race
Felipe Massa may have had the edge in qualifying, but right from the opening yards of the race Kimi Raikkonen looked like the Ferrari driver in the greater hurry.
The Finn got away faster than Massa, and took a concerted look down the inside into Turn 1 before deciding that second place would do for now.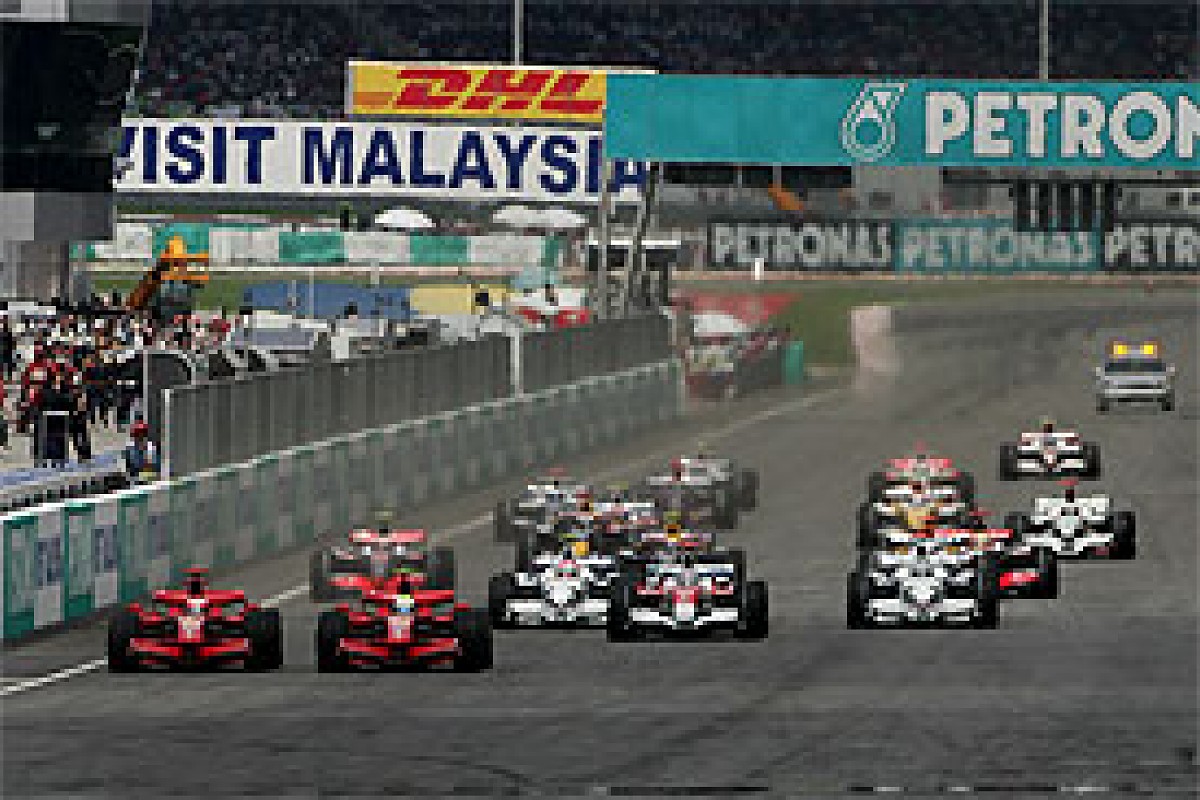 The Ferraris battle for the lead at the start © XPB/LAT
"I got a bit better start but in the situation I knew that we would run one lap longer, so we didn't want to risk it between the teammates in the first corner," Raikkonen explained.
"Maybe if I had pushed harder I could have made it past, but I decided to stay behind and try my move at the pit stop. I think that was better for everybody."
In the Ferraris' wake, it took nearly half a lap of wheel to wheel, two or three abreast racing for the chasing pack to file into line. The faster-starting BMWs went either side of Jarno Trulli into the first corner, with the Toyota and Nick Heidfeld brushing wheels and running wide, allowing Robert Kubica to slip through to third.
Lewis Hamilton made a rapid start and took to the outside at Turn 1. He slipped past Fernando Alonso as the Renault ran wide, then tucked to the inside to get around Trulli and Heidfeld, before slicing ahead of McLaren teammate Heikki Kovalainen as they jostled through Turn 2.
Further back, Sebastien Bourdais held his hands up after throwing his Toro Rosso into the gravel at Turn 6 ("I wasn't quite expecting that but I guess it's part of the learning process"), but there was mutual finger pointing between Timo Glock and Nico Rosberg after the Williams tagged the Toyota into a spin at Turn 14.
"Before I came to turn 13 I looked in the mirror and Nico was a bit further back," said Glock. "I just turned into the corner and he hit me in the right-rear."
Rosberg's assessment differed: "He left a gap, I went for it and I got alongside him. I guess he didn't see me as he turned in and I couldn't back out."
It ruined both their afternoons. Rosberg completed another lap before noticing his front wing was missing and pitting for repairs, while Glock had to retire with suspension damage.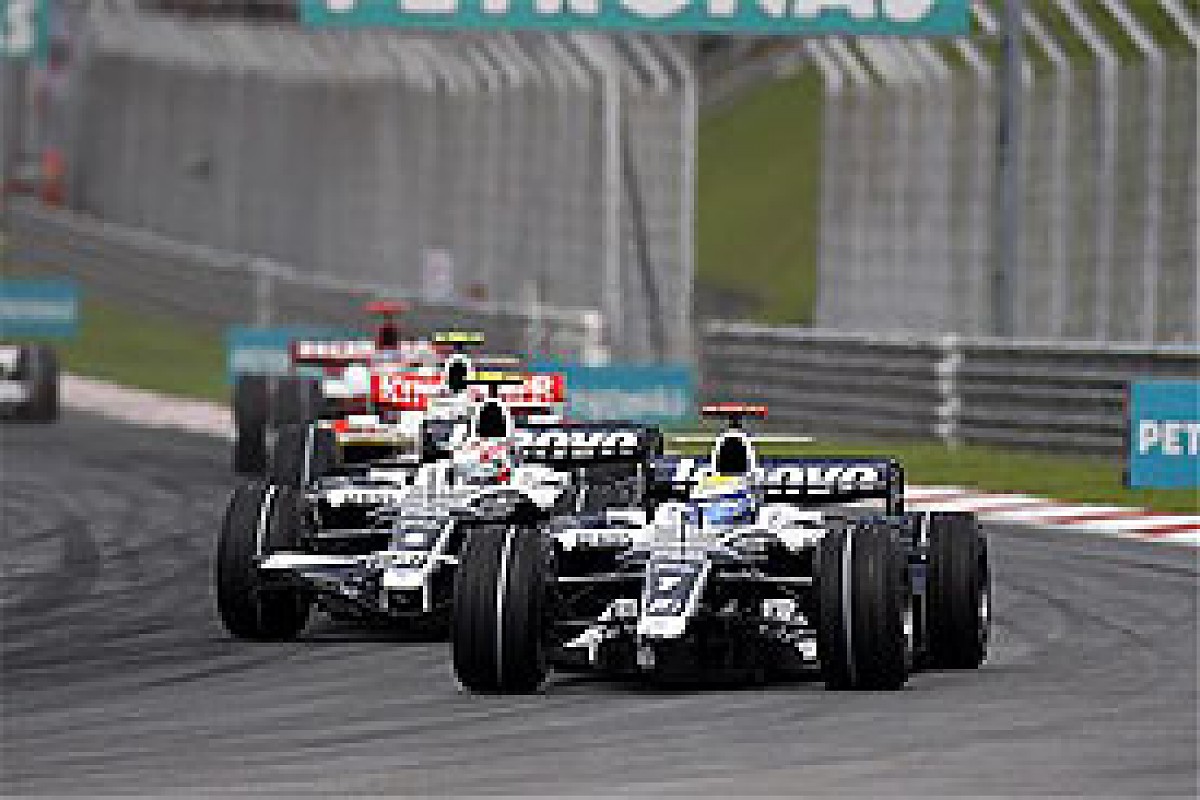 Nico Rosberg lost his front wing at the start but continued for another lap © LAT
Up front, Ferrari immediately stamped their authority, pulling away from Kubica at around a second per lap. Meanwhile the BMW stretched away from fourth-placed Mark Webber, who was being pursued by Hamilton, Trulli and Kovalainen.
Heidfeld - who came out worst in the first corner traffic jam - was also soon catching this pack after recovering two of his lost places in one move. As David Coulthard tried to defend eighth place from Alonso on the charge towards the final hairpin, Heidfeld drafted past both of them.
Coulthard and Alonso then stayed wheel to wheel down the pits straight and through Turns 1 and 2 before the Renault got ahead, although it could not keep pace with the cars in front even after clearing the Red Bull.
Throughout the first stint Raikkonen loomed ominously in Massa's mirrors. The Brazilian may have set a string of fastest laps, but he could not extend his lead beyond two seconds.
When Massa pitted on lap 17, Raikkonen instantly took fastest lap for himself, and then went quicker still on his in-lap. The Finn's stop was just 0.4 seconds quicker - it was his dynamic performance on-track that allowed him to overturn his 1.9-second pre-stop deficit and rejoin a few metres ahead of his teammate.
Behind the very lonely Kubica, who led for three laps between the Ferraris' stops and his own, Kovalainen ran longer than those around him and emerged in fourth ahead of Trulli, who had jumped Webber at his own stop after a fuel pump problem forced Red Bull to pit early and over-fuel.
But the stops didn't work out so well for Hamilton, as a problem with the wheel nut locking mechanism on his right front wheel cost him 10 seconds and left him back behind Webber again in seventh, with Heidfeld now right with both of them.
Alonso turned out to be the heaviest of the front-runners, staying out until lap 24. But he had fallen too far behind the pack early on, and remained a frustrating five seconds behind the Webber-Alonso-Heidfeld dice.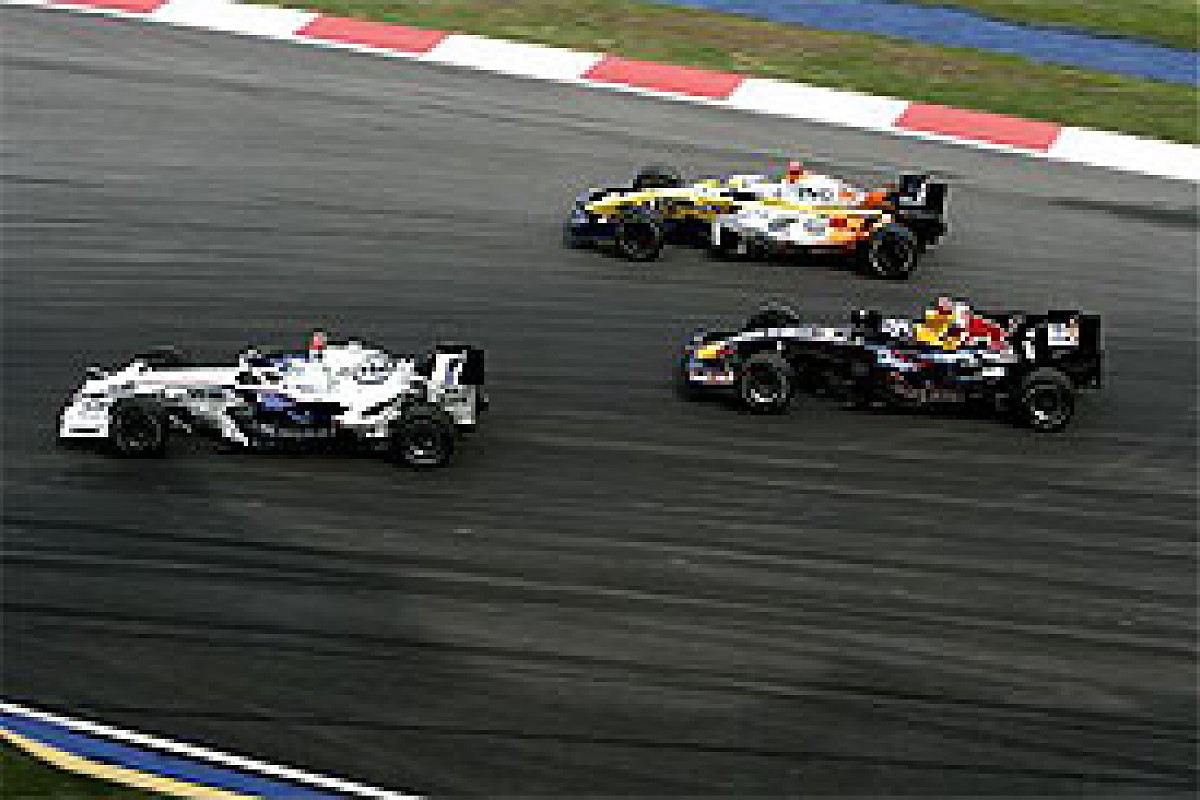 Nick Heidfeld, David Coulthard, and Fernando Alonso battle for position in the hairpin © LAT
Just as the race at the front seemed settled, with Raikkonen establishing a comfortable five-second lead over Massa, Ferrari lost their certain one-two when the Brazilian looped into the gravel at Turn 8 on lap 31.
"I don't know what happened, I just lost the car completely," said the baffled Massa.
Now 21 seconds clear of Kubica, Raikkonen was able to relax his pace and ease to a dominant victory, with the Pole similarly untroubled as he was already 17 seconds ahead of Kovalainen at half-distance.
The Finn came under pressure from Trulli's lighter Toyota in the middle stint, but was able to run five laps longer before his last stop. Kovalainen therefore comfortably claimed third, and left Trulli at the mercy of the second McLaren.
Although he had been unable to pass Webber on-track, Hamilton had no difficulty getting ahead of the Red Bull at his second (this time flawless) pit stop. Webber also lost out to Heidfeld, thanks to both traffic and his fuel system glitch, but Alonso wasn't able to get close enough and had to settle for eighth.
Early tyre graining meant that Coulthard lost touch with this group, and he briefly came under pressure from Jenson Button and Nelson Piquet in the middle of the race. This battle later fizzled out, with Button able to hang on to 10th place ahead of the Renault despite a grassy excursion on the penultimate lap.
His teammate Rubens Barrichello had made a bad start and then had his second pit stop headache of the week, this time picking up a speeding penalty that dropped him to 13th behind Force India's Giancarlo Fisichella.
The Italian had also got away very slowly at the start, unlike teammate Adrian Sutil, who leapt to 14th until to suffer hydraulics failure just five laps into the race.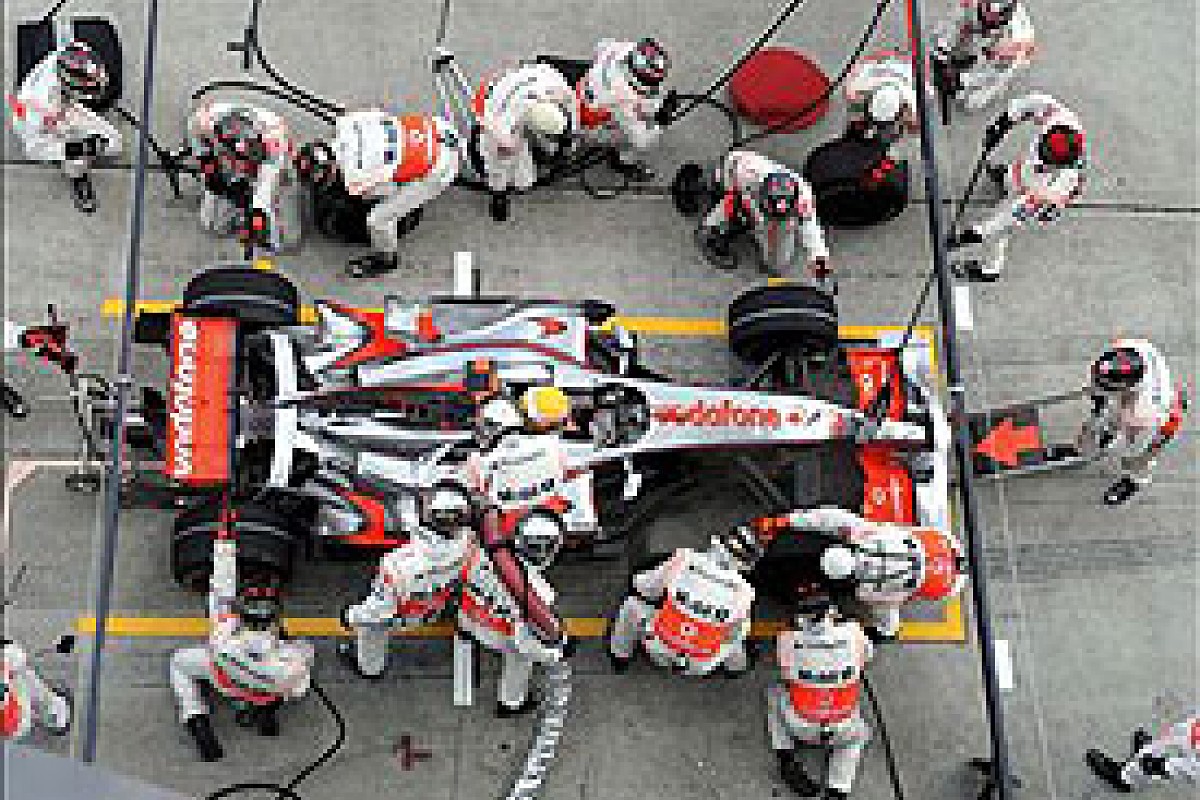 McLaren mechanics struggle to replace Lewis Hamilton's right front wheel © Reuters
Sebastian Vettel was similarly luckless, dropping out of 12th when the rear of his Toro Rosso started pumping out smoke and flames on lap 40.
Williams fared little better, their sole consolation being that both cars reached the finish. Rosberg only recovered to 14th after his first lap collision, while teammate Kazuki Nakajima ran between Piquet and Vettel until a mid-race puncture forced a very early final stop. He later flat-spotted his tyres in a high-speed spin and fell to 17th and last, behind the two Super Aguris.
Anthony Davidson beat Takuma Sato to 15th after the latter went off the road, but both were delighted to complete a much-needed race distance.
The interest in the closing stages came from Trulli's efforts to hang on to fourth place as Hamilton charged towards him. The McLaren reduced the gap from 7.4 to just 0.7 seconds, while Heidfeld set the fastest lap of the race as he closed in on both of them, but Trulli was up to the challenge and secured fourth - his best result since Indianapolis 2006.
"I just hope we can carry on improving the performance of the car," he said. "With Toyota's potential we can bounce back to the 2005 level already this year."
Only seven seconds in front of Trulli, Kovalainen's third place brought mixed feelings - pleasure at his first podium in McLaren colours and at rescuing six points after Saturday's penalty, but concern that he was 40 seconds behind the victorious Raikkonen and 20 behind Kubica.
"I think there was no way we could match Ferrari," Kovalainen mused. "BMW also seemed to be very strong on race day, but then again, when you start further down on the grid, it's always going to be a compromise.
"By the time I sort of got going in the race, the gap to Robert was seventeen seconds. It's impossible to say what would have happened had we started where we qualified."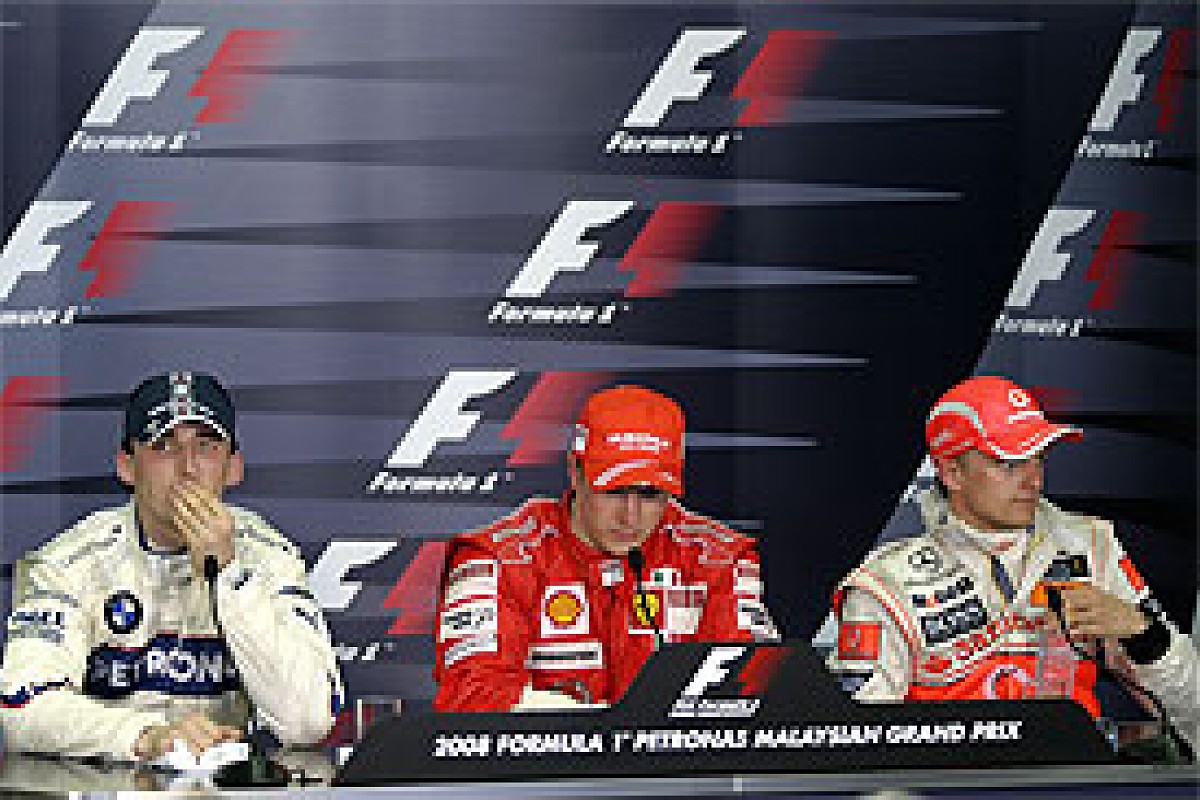 Robert Kubica, Kimi Raikkonen, and Heikki Kovalainen after the race © XPB/LAT
Kubica admitted that he was surprised to beat Kovalainen, having pushed hard early on in the expectation that the McLarens would soon be on his tail.
"We know we cannot keep behind Ferrari but I was trying to make up time as I thought McLaren would be a bit stronger," said the Pole, who was thrilled to end a run of bad luck and take an overdue second Formula One podium.
For Raikkonen, victory was the perfect response to Ferrari's Melbourne dramas. He insisted he had not been concerned after Australia, and suggested that his Sepang dominance only hinted at Ferrari's capability.
"We didn't really expect to have such difficulties in Australia and we were 100 per cent sure that it was going to be different here," he said. "Speed-wise we knew that we were going to be fine once we were in the right place.
"Everything worked perfectly here and we took it quite easy in the race to make sure nothing went wrong. For sure we could have gone much faster if we had pushed but we had already turned the engines down before the first pit stop, so it was quite easy for us."
Race results

56 laps; 310.408km;
Weather: Sunny.

Classified:

Pos  Driver        Team                      Time
 1.  Raikkonen     Ferrari               (B)  1h31:18.555
 2.  Kubica        BMW Sauber            (B)  +    19.570
 3.  Kovalainen    McLaren-Mercedes      (B)  +    38.450
 4.  Trulli        Toyota                (B)  +    45.832
 5.  Hamilton      McLaren-Mercedes      (B)  +    46.548
 6.  Heidfeld      BMW Sauber            (B)  +    49.833
 7.  Webber        Red Bull-Renault      (B)  +  1:08.130
 8.  Alonso        Renault               (B)  +  1:10.041
 9.  Coulthard     Red Bull-Renault      (B)  +  1:16.220
10.  Button        Honda                 (B)  +  1:26.214
11.  Piquet        Renault               (B)  +  1:32.202
12.  Fisichella    Force India-Ferrari   (B)  +     1 lap
13.  Barrichello   Honda                 (B)  +     1 lap
14.  Rosberg       Williams-Toyota       (B)  +     1 lap
15.  Davidson      Super Aguri-Honda     (B)  +     1 lap
16.  Sato          Super Aguri-Honda     (B)  +    2 laps
17.  Nakajima      Williams-Toyota       (B)  +    2 laps

Fastest lap: Heidfeld, 1:35.366

Not classified/retirements:

Driver        Team                      On lap
Vettel        Toro Rosso-Ferrari    (B)    41
Massa         Ferrari               (B)    31
Sutil         Force India-Ferrari   (B)    7
Glock         Toyota                (B)    2
Bourdais      Toro Rosso-Ferrari    (B)    1


World Championship standings, round 2:                

Drivers:                    Constructors:             
 1.  Hamilton      14        1.  McLaren-Mercedes       24
 2.  Raikkonen     11        2.  BMW Sauber             19
 3.  Heidfeld      11        3.  Ferrari                11
 4.  Kovalainen    10        4.  Williams-Toyota         9
 5.  Kubica         8        5.  Renault                 6
 6.  Rosberg        6        6.  Toyota                  5
 7.  Alonso         6        7.  Red Bull-Renault        2
 8.  Trulli         5        8.  Toro Rosso-Ferrari      2
 9.  Nakajima       3
10.  Webber         2
11.  Bourdais       2


Team-by-Team
FERRARI
Massa dominates opening practice while Raikkonen runs out of fuel. They go on to secure the front row of the grid, with the Brazilian fastest by 0.5 seconds after an excellent pole lap.
But it is Raikkonen who comes to the fore on race day, vaulting his teammate in the first stops and then pulling away to a dominant victory. Massa is baffled after spinning out of second at half-distance.
BMW SAUBER
Heidfeld tops final practice and is convinced he would have been third on the grid had he not been blocked by the McLarens. He qualifies seventh, but is elevated to fifth by their penalties.
Kubica, who has gearbox problems on Friday, focuses on a race set-up and is sixth-fastest in qualifying. He emerges third at the start, then has a lonely but impressive race to a comfortable second place.
Heidfeld is pushed wide by Trulli at the first corner, falling to 10th. He passes the battling Alonso and Coulthard in one move, then makes progress at each pitstop, eventually setting fastest lap on the way to sixth, right behind Trulli and Hamilton.
RENAULT
Fifth and sixth in first practice is the high point of Renault's weekend. Alonso takes seventh on the grid after the McLaren penalties but his fuel-heavy strategy does not pay off and he can only finish eighth.
Piquet shows better form than in Melbourne, qualifying 13th and then finishing a quiet 11th after a mid-race battle with Coulthard and Button.
WILLIAMS-TOYOTA
A dreadful comedown after the highs of Melbourne. Rosberg is as high as fourth in practice but cannot make the car work on the resurfaced track in qualifying and starts only 16th. Nakajima qualifies 18th then is put to the back by his Melbourne penalty.
A first lap tangle with Glock breaks Rosberg's wing and leaves him solidly last. He recovers to 14th on a one-stop strategy.
Nakajima is on course for 12th until a puncture brings his last stop forward. He later damages his tyres in a spin and falls to 17th, the last of the finishers again.
RED BULL-RENAULT
Coulthard's destructive Friday morning crash prompts the stewards to seek assurances about the strength of Red Bull's suspension, while Webber's engine failure is an added headache.
They recover to fifth and sixth by final practice, with Webber then taking sixth on the grid after the McLarens are demoted. A fuel pump problem spoils his strategy, forcing early stops, and causing him to fall from an early fourth to finish seventh. Coulthard qualifies 12th and has a quiet run to ninth, losing a three-abreast dice with Heidfeld and Alonso in the opening laps and then dropping away with tyre graining.
TOYOTA
Trulli shines all weekend, setting rapid practice times, topping Q1 and then emerging with third on the grid after the McLaren penalties. A first corner brush with Heidfeld costs him three places, but he jumps Webber in the pits then benefits from Massa's spin to take a superb fourth, fending off Hamilton at the end.
Glock qualifies 10th but has to retire on the first lap following a collision with Rosberg.
TORO ROSSO-FERRARI
Vettel flies in practice again but only manages 15th on the grid. He does better in the race and is heading for 12th when he has to retire with an apparent engine failure.
Bourdais has two engine problems in practice, a brake glitch in qualifying which leaves him 19th on the grid, and then spins into the gravel on the first lap.
HONDA
Button is delighted to qualify on the cusp of Q3 in 11th, having been as high as fourth in practice. He runs strongly in the race, chasing Coulthard in the middle stages, before finishing 10th despite a late error.
Gearbox trouble in final practice upsets Barrichello's preparations and leave him with a less than ideal set-up for qualifying and the race. He starts 14th and finishes 13th after a slow start and a pit lane speeding penalty.
SUPER AGURI-HONDA
Davidson and Sato are thrilled to reach the finish after a largely trouble-free weekend. Sato manages to get up to 19th on the grid again, beating Sutil and benefiting from Nakajima's penalty. Davidson shares the back row with the Williams.
They run at the tail of the field until Nakajima's spin drops him behind them. Sato also has a quick trip off the road, elevating Davidson to 15th, where he finishes, 15 seconds ahead of his teammate.
FORCE INDIA-FERRARI
Fisichella breaks into the top ten in practice again but narrowly misses the Q2 cut and has to settle for 17th. He retains the margin over Sutil that he established in Australia, with the German only 21st on the grid and struggling with the soft tyres.
It's Sutil who leaps to 14th at the start, while Fisichella settles in 18th. But hydraulic failure takes Sutil out after just five laps. Attrition ahead allows Fisichella to reach 12th, 36 seconds behind Piquet's Renault, and 2.4 seconds clear of Barrichello after the Honda's drivethrough penalty.
MCLAREN-MERCEDES
A disappointing weekend after Melbourne. McLaren cannot match Ferrari in practice and are only third and fourth in qualifying, Kovalainen ahead. Both are then demoted five places for impeding Heidfeld on their in-laps in Q3.
Hamilton makes the best of the first lap to emerge in fifth, but falls back to seventh when a wheel nut jams at his first stop. He eventually recovers to fifth, closing on Trulli in vain in the final laps.
Kovalainen runs seventh initially, then jumps to fourth at the first stops. Massa's retirement elevates him to third, 20 seconds behind Kubica.
Lap-by-Lap
Lap 1:
On pole position for the 10th time in Formula One, Felipe Massa holds off a robust challenge from Ferrari teammate Kimi Raikkonen to lead into Turn One.
Robert Kubica grabs third as Jarno Trulli edges Nick Heidfeld wide. Mark Webber capitalises to seize fourth and Lewis Hamilton swiftly leaps from ninth to fifth to lead Trulli, Heikki Kovalainen, David Coulthard, Fernando Alonso, Nick Heidfeld, Jenson Button, Nelson Piquet, Sebastian Vettel and Nico Rosberg, who is missing his front wing after tipping Timo Glock into a spin at Turn 14.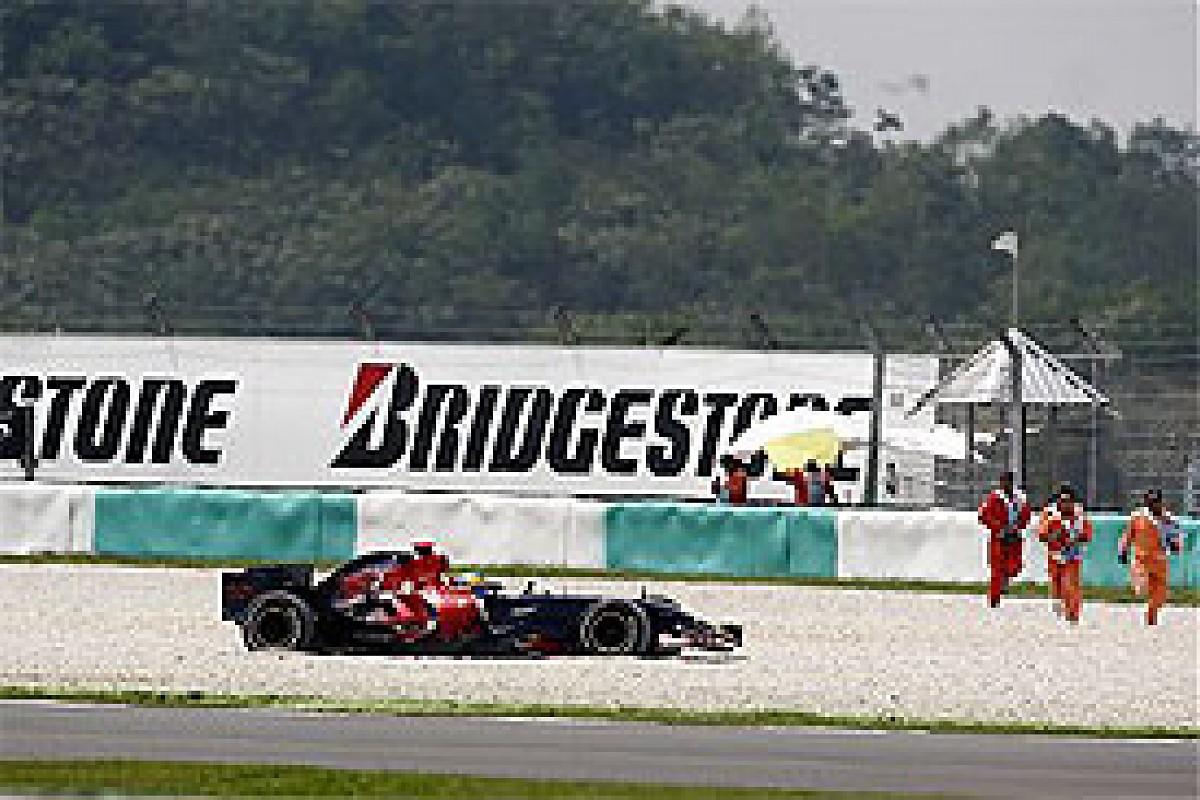 Sebastien Bourdais spun on the opening lap © LAT
Glock subsequently retires to the pits.
Behind Rosberg, Adrian Sutil, Rubens Barrichello, Kazuki Nakajima (up from last, having received a 10-position grid penalty for causing an avoidable accident during the previous race), Giancarlo Fisichella, Takuma Sato and Anthony Davidson complete the order. Sebastien Bourdais spins at Turn Six and is out on the spot.
Lap 2: Massa leads by 1.1s. Rosberg pits for a new front wing.
Lap 3: Massa leads by 1.6s. Kubica is 4.5s behind Raikkonen. Hamilton is pushing Webber for fourth. Nakajima passes Barrichello.
Lap 4: Heidfeld passes Alonso and Coulthard to take eighth. Alonso also passes the Scot and then fends off his attempted retaliation.
Lap 5: Massa posts a 1m37.043s and leads by 1.7s.
Lap 6: Massa laps in 1m36.8023s and leads by 2.0s. Kubica is now 7.2s adrift of Raikkonen. Sutil pulls off to retire.
Lap 8: Raikkonen posts a 1m36.707s. Nakajima passes Vettel.
Lap 9: Raikkonen closes to within 1.2s of Massa.
Lap 10: Massa retaliates: 1m36.263s to Raikkonen's 1m36.644s.
Lap 11: Personal bests for both Ferraris - Massa 1m36.108s, Raikkonen 1m36.340s. The gap is 2.0s.
Lap 14: Raikkonen laps in 1m35.871s. He trails by 1.9s.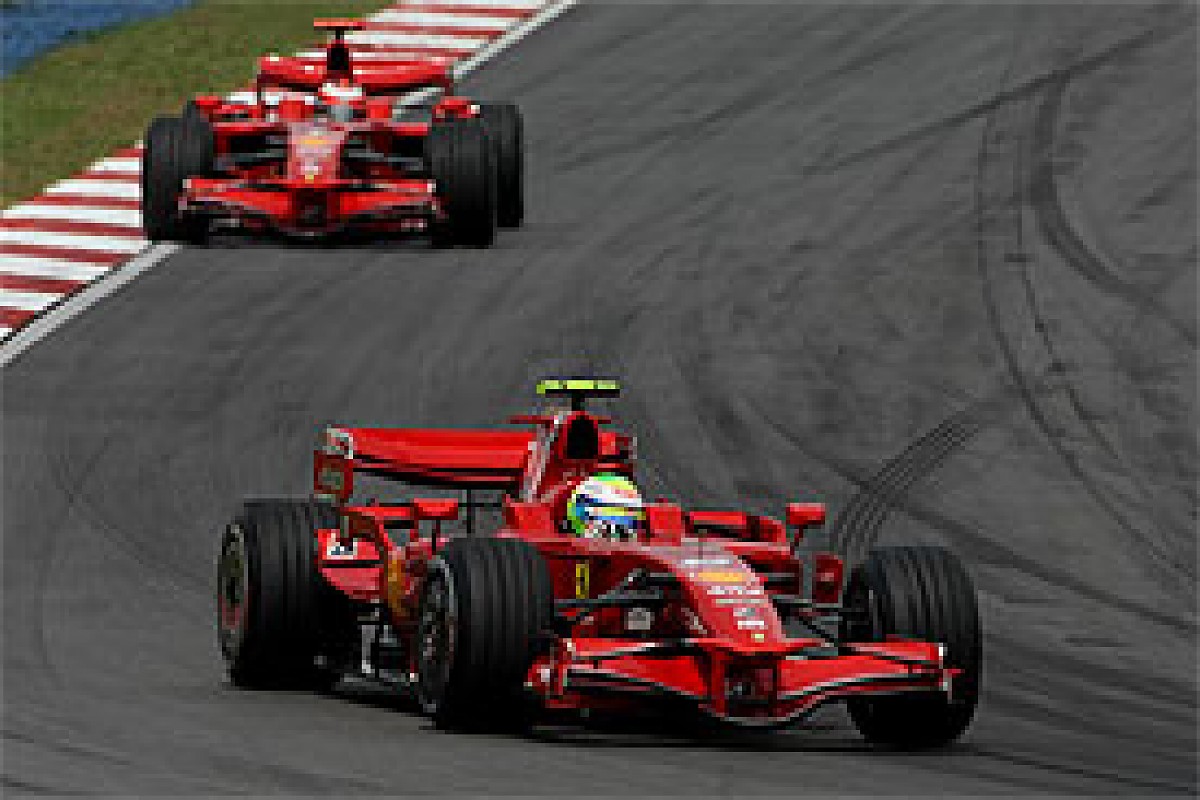 Felipe Massa and Kimi Raikkonen extend their lead over the field © XPB/Reuters
Lap 16: Webber pits for fuel. Nakajima also pits.
Lap 17: Massa, Trulli and Heidfeld pit. Raikkonen posts a 1m35.679s.
Lap 18: Raikkonen pits, as does Sato. The Finn emerges ahead of Massa on the road. Kubica leads.
Lap 19: Hamilton pits and loses time with a jammed front right wheel. He drops to 11th.
Lap 20: Kovalainen, Fisichella and Davidson pit.
Lap 21: Kubica pits. Raikkonen leads.
Lap 22: Raikkonen heads Massa by 3.5s. Alonso and Button pit. Rosberg passes Sato for 17th.
Lap 23: Coulthard pits.
Lap 24: Raikkonen is 4.1s clear. Piquet, Barrichello and Coulthard pit.
Lap 25: With all drivers having stopped once (albeit out of sequence, in Rosberg's case), Raikkonen leads Massa, Kubica, Kovalainen, Trulli, Webber, Hamilton, Heidfeld, Alonso, Coulthard, Button, Piquet, Nakajima, Vettel, Barrichello, Fisichella, Rosberg, Sato and the lapped Davidson.
Lap 28: Sato runs wide through the gravel. He continues but drops behind Davidson.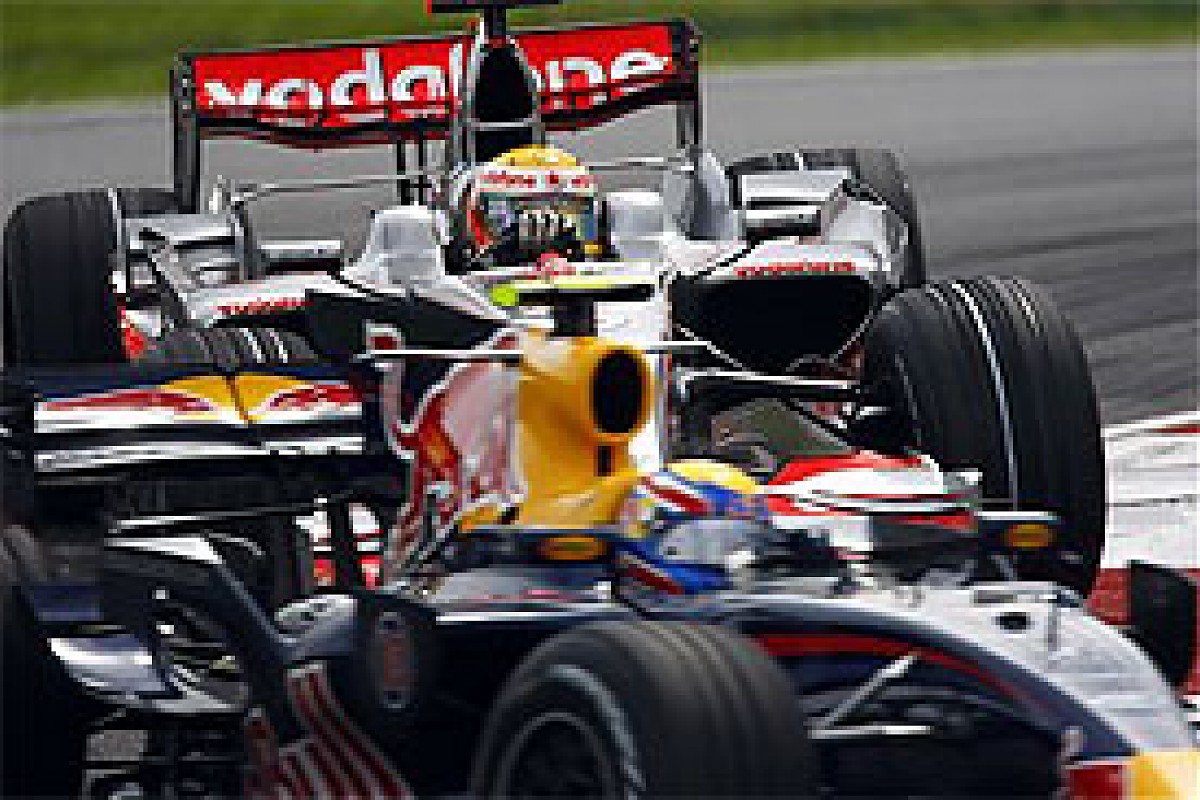 Mark Webber holds off Lewis Hamilton © LAT
Lap 29: Both Williams drivers pit.
Lap 31: Massa spins off at Turn Eight. He's out. Raikkonen leads Kubica by 22.4s, with Kovalainen third.
Lap 35: Sato pits.
Lap 37: A new fastest lap to the leader - 1m35.405s.
Lap 38: Raikkonen pits, Kubica leads - but only just. The Finn rejoins just behind him. Fisichella comes in, too.
Lap 39: Webber, Barrichello and Davidson pit.
Lap 40: Trulli and Piquet pit. Vettel pulls off in a cloud of smoke. Rosberg passes Nakajima.
Lap 41: Heidfeld and Alonso pit. Both Super Aguris pass Nakajima.
Lap 43: Kubica pits.
Lap 44: Hamilton and Coulthard pit.
Lap 45: Kovalainen pits.
Lap 46: With everybody now having stopped twice, Raikkonen leads by 19.9s from Kubica, Kovalainen, Trulli, Hamilton, Heidfeld, Webber, Alonso, Coulthard, Button, Piquet and the lapped Barrichello, Fisichella, Rosberg, Davidson, Sato and Nakajima. Barrichello serves a drive-through for speeding in the pit lane and drops from 12th to 13th.
Lap 47: Hamilton is rapidly catching fifth-placed Trulli.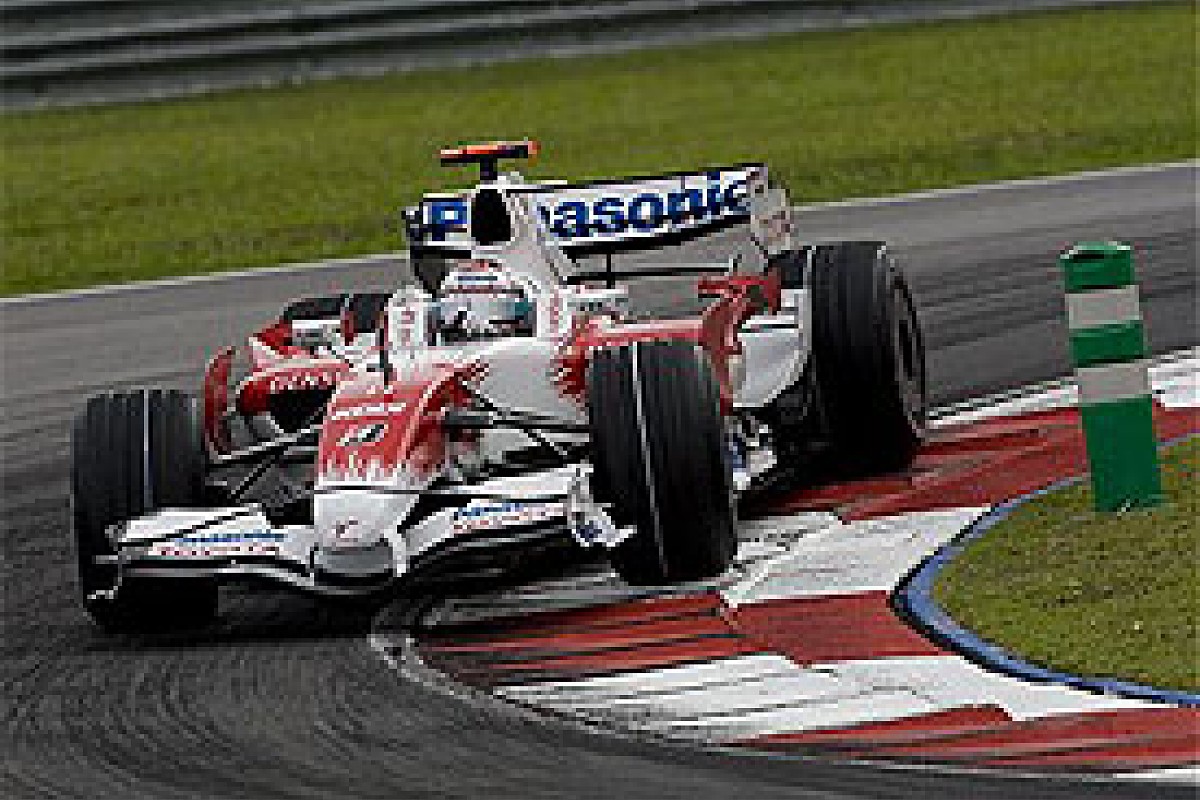 Jarno Trulli held off Lewis Hamilton to finish 4th © LAT
Lap 51: Hamilton closes to within 2.6s of Trulli. Alonso is right on seventh-placed Webber's tail.
Lap 54: With two laps to go, Hamilton is only 1.1s behind Trulli...
Lap 55: ...make that 0.6s. Heidfeld sets fastest lap: 1m35.366s.
Lap 56: Raikkonen wins by 19.5s from Kubica. Kovalainen takes third from Trulli, Hamilton, Heidfeld, Webber and Alonso.