The Break Back

---
By Richard Barnes, South Africa
Autosport-Atlas Writer
The most common setback for the tennis professional is the dreaded break of serve. Fernando Alonso had figuratively broken Kimi Raikkonen's serve at the European Grand Prix, but the Renault driver threw all that away with a driving error in Canada, allowing his McLaren rival to get right back in the match. Richard Barnes analyses the Championship situation after the eighth round of the 2005 season
In Championship tennis, the most common setback for the world's top professional players is the dreaded break of serve. They will also attest that the best possible counter to a break of serve is to return the favour immediately - by breaking back in the very next service game.
The corollary also holds good: if a player breaks his opponent, he should take extra care to hold his next service game and secure a potentially set-winning two game advantage. That means playing the percentages, throttling back slightly on the first serve and giving the opponent no gifts by way of unforced errors or double faults. It's a very simple philosophy - when you have the edge, force the opponent to resort to low-percentage heroics. As often as not, they'll push too hard and self-destruct.
Two weeks ago at Nurburgring, Renault's Fernando Alonso figuratively broke the serve of his McLaren Championship rival Kimi Raikkonen. Incredibly, during Sunday's Canadian Grand Prix, he went out and served up the equivalent of four straight double faults to let Raikkonen right back into the match.
Alonso is no longer Spain's premier rising sports star. During the weekend between Nurburgring and Canada, Mallorca native Rafael Nadal became one of the youngest ever winners of the French Open tennis major, celebrating his 19th birthday with victory over world number one Roger Federer in the semi-finals.
Despite his relative inexperience and explosive rise up the tennis rankings, Nadal is no stranger to the hazards and pressures of a comfortable lead. At the year's first major tournament in Australia, Nadal surrendered a 2-1 set advantage over local favourite Lleyton Hewitt, eventually succumbing in five sets. At Miami in April, he followed that up by blowing a two set-lead over Federer to again lose in five.
Nadal erased those painful memories in France, using his immense power, speed and youthful stamina to crush the opposition. It remains to be seen whether Fernando Alonso can emulate his countryman and do the same. And, cruelly, the pressure on Alonso will be even greater. It's not unusual for a tennis player to surrender a two-set advantage. However, it would be almost unprecedented if Alonso managed to lose the Championship from the position he enjoyed after the Nurburgring win.
Naturally, Alonso's task is more complex than the linear one-on-one matchups in tennis. He faces nineteen opponents at a time, and must factor in mechanical reliability, tyre wear, fuel load, weather, pitstops, backmarkers, and a host of other tactical considerations. This made it all the more inexplicable (and inexcusable) that an unforced driver error was the cause of Sunday's setback.
Alonso's plight midway through the race was understandable. After half a season of routinely outperforming teammate Giancarlo Fisichella, Alonso suddenly found himself behind (and being held up by) the sister Renault. He faced additional pressure from a situation that he's never had to handle as Championship leader - the prospect of Juan Pablo Montoya's McLaren looming large in his mirrors.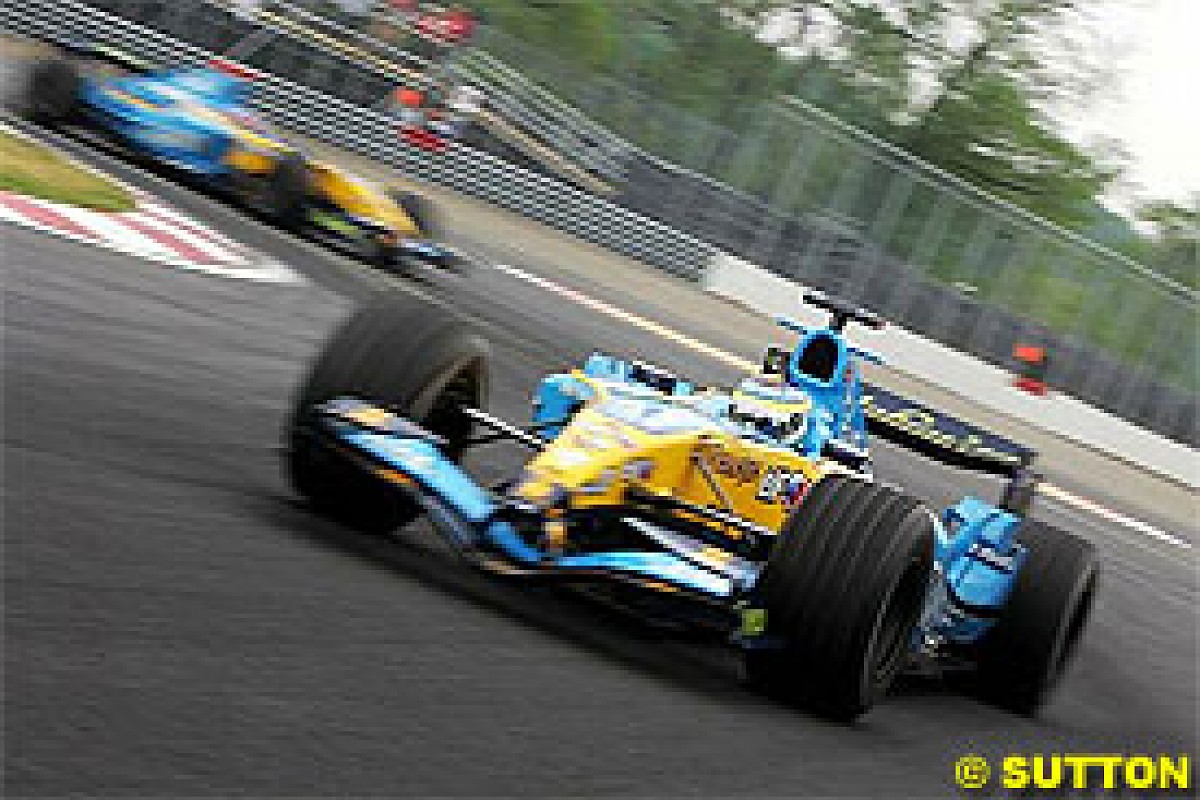 Alonso was the filling in a sandwich of two fast and aggressive drivers determined to re-establish themselves after disappointing starts to the season, and couldn't expect any favours or leeway from either of them. With Montoya's well deserved reputation for clashing with rivals on track, it was little wonder that Alonso's radio communications with the pits became so agitated.
Even after he'd been released into clear air by Fisichella's retirement, Alonso still seemed intimidated by Montoya, to the point where he pushed that tenth too hard and ended up brushing the wall with race-ending consequences. If that put a smile on Kimi Raikkonen's face, his race and Championship situation was made all the sweeter by McLaren's and Montoya's mishandling of the safety car situation later.
The final result must have left Raikkonen wondering if there is any justice in the world. In one race, he pulls out the heroics and ends up with nothing. In the next, he turns in a comparatively conservative and unremarkable performance (admittedly hampered by a steering problem) and ends up scooping the entire pot.
In hindsight, and with the knowledge of what transpired in Canada, Kimi Raikkonen must be wondering why he didn't stop for a new tyre at Nurburgring and accept the points from second or third position. Likewise, Fernando Alonso must be wondering why he didn't merely step aside, let Montoya past and settle for second or third in Canada. For both drivers, it would have improved their Championship prospects greatly.
The difference is that Raikkonen felt he had no choice, that he was a couple of service breaks down, and already at the Championship stage that demanded heroics. Alonso not only has the choice to drive conservatively, but the obligation to do so. It is one thing to lead the Championship by a handful of points, quite another to lead it by the massive margin of 32 points. Alonso must perforce stop taking things race by race, and start driving primarily for the Championship. If he contrives to lose this lead, he will instantly develop a reputation as the greatest choker in F1 history - with a consequent blow to his self-confidence.
Of course, it is anathema for any red-blooded racer to willingly surrender a position to a rival when a GP win beckons, Championship considerations or not. Alonso had stood firm against the charging Schumacher at Imola, and prevailed. Even if Montoya represents a far more hazardous following opponent than Schumacher, Alonso would have felt that he could stand his ground and win again. Although that's also what Kimi Raikkonen thought at Nurburgring...
The true paradox of Canada 2005 was that Raikkonen's victory was sealed not only by Montoya's disqualification for ignoring the red light at the pitlane exit, but also by his earlier mistake of running wide as he left pitlane following his first stop. At that moment, Montoya had an excellent chance of leapfrogging Alonso into second place. Had he succeeded, Alonso would probably not have focused on trying to regain the place from the Colombian, but rather on keeping the second McLaren of Raikkonen behind him.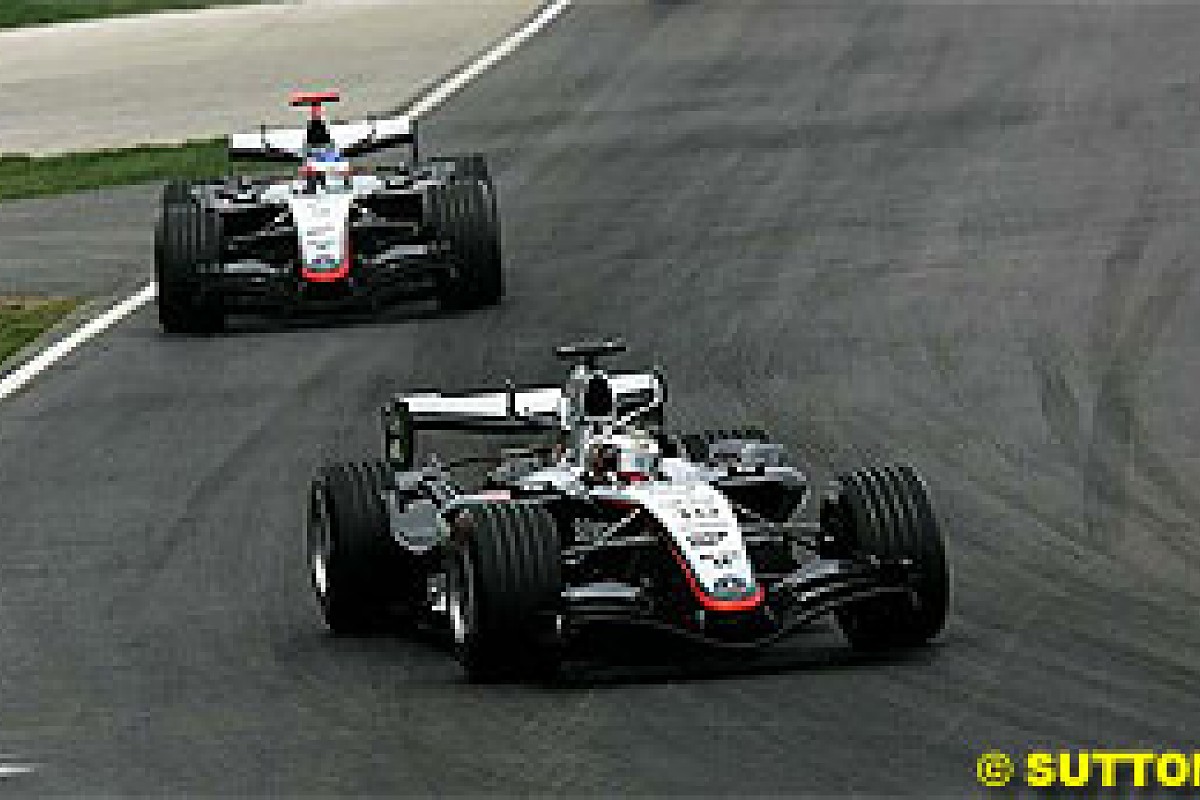 With its excellent traction and top speed, the Renault would have been very difficult to pass. Through careful positioning of the car a la Imola, Alonso could have defended effectively and fairly safely against Raikkonen. The Finn would have had nothing to gain from a reckless passing attempt. If the two had collided and retired, Alonso's 32-point lead would have been left intact - with one less opportunity for Raikkonen to overhaul it. So Montoya did his teammate not one, but two unintentional favours on the day. If he'd kept his head and made that pitlane exit pass on Alonso stick, the race may have played out completely differently.
Alonso is still effectively a service break up, but both of the Championship protagonists have some introspective contemplation to do in the short time before Indianapolis. Both have the reassurance that there is still daylight between their two teams and the chasing pack, meaning that podium positions will be up for grabs at each race.
Raikkonen will be boosted by McLaren's improving reliability, but must be concerned about Montoya's return to top form. The Colombian's antics handed victory to Raikkonen in Canada, but could just as easily harm his chances at Indianapolis. Just as in 2003, Montoya will certainly affect the outcome of the WDC, even if he doesn't win it.
For Alonso, the issues are more complex. Like Raikkonen, he has the problem of a rejuvenated teammate who can take points away from him. His streak has been broken and he must now cope with qualifying early at Indianapolis. He also has to be wondering how long it will take before the law of averages kicks in and he (rather than Fisichella) starts suffering the mechanical gremlins. Most importantly, he has the burden of history to shoulder.
Some drivers claim that the Championship is trivial to them, that instead it's all about race wins. As unconvincing as that sounds in any Championship year, it's doubly unconvincing in 2005. This is not just any WDC Championship. The 2005 Champion will go down in history as the man to dethrone Michael Schumacher (assuming that Schumacher himself doesn't win it, of course) and the first driver other than Schumacher to win a WDC title in the 21st century. Any driver who claims that he wouldn't give his left arm to win this Championship isn't being entirely honest.
Alonso has the burden of already being halfway home, and having it all to lose. It will be fascinating to see how he approaches Indianapolis. Rafael Nadal would have some solid advice for him - throttle back slightly on your first serves to get them in play, aim your shots well inside the baseline and tramlines, play the percentages and don't give your opponent any free points from double faults or unforced errors. Make your opponent resort to high-risk heroics in order to gain points, and be ready to capitalise when he fails. Alonso did exactly that at Nurburgring. He'd be well advised to follow the same game plan again.