Communication Breakdown:
The Undoing of a Grand Prix Win

---
By Adam Cooper, England
Autosport-Atlas Contributing Writer
After a tough beginning in a new team, Juan Pablo Montoya looked certain to silence his critics with a win at the Canadian Grand Prix, when events conspired against him. Everything that could go wrong, did go wrong when McLaren failed to communicate with their driver, and the Colombian himself made a profound judgement error that resulted in his exclusion from the race. Adam Cooper witnessed the events unfold and spoke to the team principals afterwards. He brings a detailed analysis of how it all went wrong
I was watching the Canadian GP from the first corner, and when Juan Pablo Montoya appeared on the pit straight, and the safety car headed out to greet him, I could scarcely believe my eyes.
It was immediately obvious that his race was over. Even as the safety car chugged through the righthander and went up the hill, with Juan Pablo and the lapped Ralf Schumacher behind it, Kimi Raikkonen, Michael Schumacher and the rest of JPM's pursuers were coming out of the pitlane tanked up to go to the end.
But that was nothing compared to my amazement when after pitting on the following lap he came bursting through the red light at the pit exit, which, being double sided, was clearly visible from where I stood. He joined the track just after the safety car and Kimi Raikkonen had gone past, and indulged in a bizarre spot of gamesmanship with David Coulthard.
I could barely believe my eyes. The pitlane red light is sacrosanct, and has been since the safety car was introduced over a decade ago, and we have never seen anyone trying to rejoin the queue in this aggressive NASCAR style. When the message 'Incident involving car number 10 under investigation by the stewards' came up on the big screen, it was no surprise. Nor was the disqualification that followed.
My initial reaction was that shared by many others, namely that McLaren had made a bizarrely poor call or had simply spent too long thinking about whether to bring both cars in. The latter may indeed have been a factor, but the crux of the matter is that the team did want Juan Pablo to come in. But the poor guy didn't receive the message until too late. So what went wrong?
What we have Here is a Failure to Communicate
To get to heart of the matter we need to look at the timing of how everything happened. When Jenson Button crashed, he was running approximately 30 seconds behind leader Montoya. Since the Colombian was lapping at around 1:15s, we can safely say that he would have reached that point on the track some 45 seconds later. Since Button had rather handily crashed at the end of the lap, we can estimate that from the time of the accident Montoya had at least 40 seconds before he passed the point of no return at the pit entry.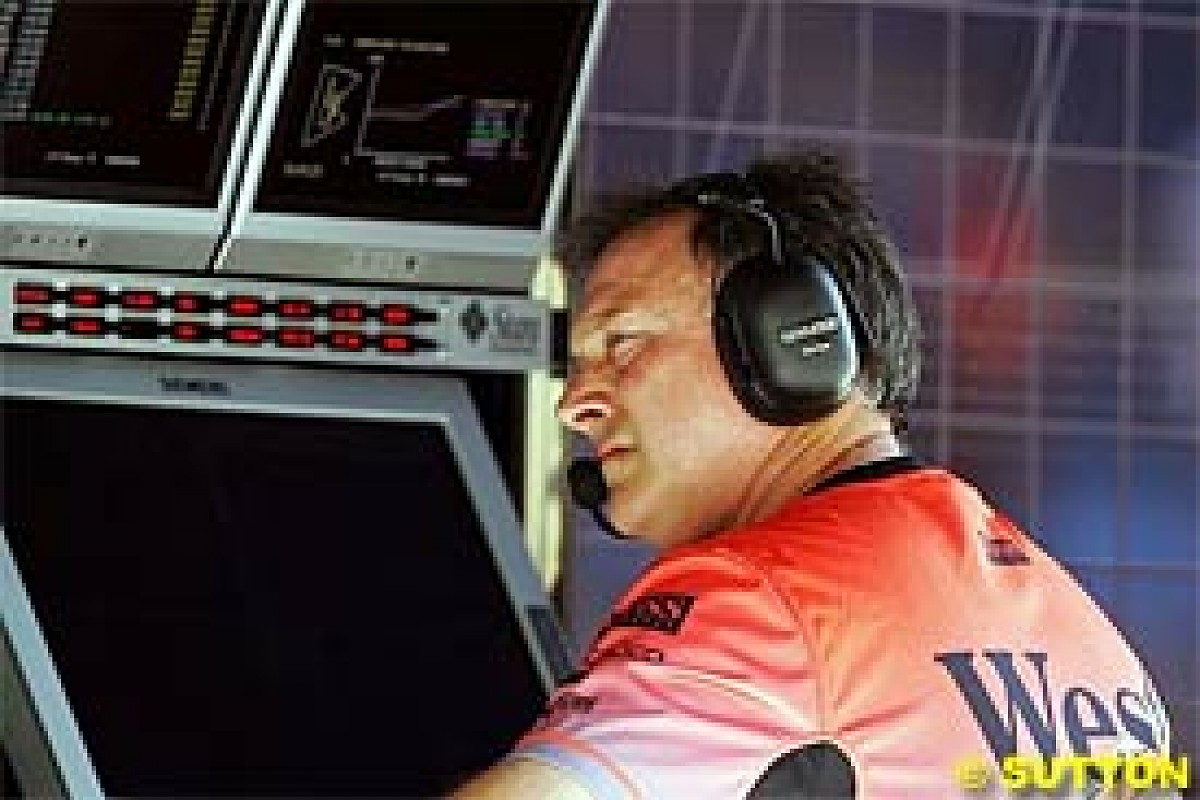 The significance is that as soon as Button hit the wall, the teams could be 99.9% sure that there would be a safety car, because accidents at that point have always brought them out. That means any discussions about what to do should have started then.
I don't know for sure at what stage official notification that the safety car was indeed coming out was shown on the screen. Ron Dennis estimates that the team had a 10 seconds' notice with regard to Montoya. One thing is for sure - notification came inside that 40-second window that Montoya enjoyed.
By definition, the race leader is in a difficult position because he will be have less time than his immediate rivals to make a decision whether to pit or not. But it's interesting to note that a car in front of Montoya on the road did come into the pits. That was Rubens Barrichello, who was nearly a lap down and was running approximately 7seconds in front of the Colombian.
In fact, McLaren had made a decision - in time - to bring Montoya in, but the message was not relayed to him until he had passed the pit entry.
"We were too slow," says Adrian Newey. "There were too many people on the radio to some extent, and we were too slow getting him in. What can I say? The decision to get him took too long to get through to Juan, and by the time we got it through to him he'd just passed the pitlane entrance."
Exactly what happened on the pit wall will be known to McLaren after extensive review of the recordings of radio traffic that are meticulously kept by the Kenwood engineers.
The man who speaks to Kimi Raikkonen on the radio is chief race engineer Steve Hallam, while the guy who talks to Montoya is not an engineer, as in most other teams, but team manager Dave Ryan. A former mechanic, the New Zealander is one of the most respected men in the pitlane. He's been at McLaren since 1974, and he probably is, after Frank Williams, the longest continuously serving member of any team still travelling to races (his McLaren colleague Tyler Alexander has had spells elsewhere).
In all teams no one man makes decisions such as that faced last weekend on his own - there is always to some degree a pooling of knowledge, and reference to strategy specialists. At McLaren the system could be seen as a little unwieldy. Adrian Newey revealed to Autosport-Atlas after Monaco that Ron Dennis has overall responsibility for Kimi Raikkonen, while Dennis and Newey himself share responsibility for Montoya. Montoya's race engineer Phil Prew is obviously in the loop, and then there are the TV-watching Woking-based strategists, who also have an input.
Some Men You Just Can't Reach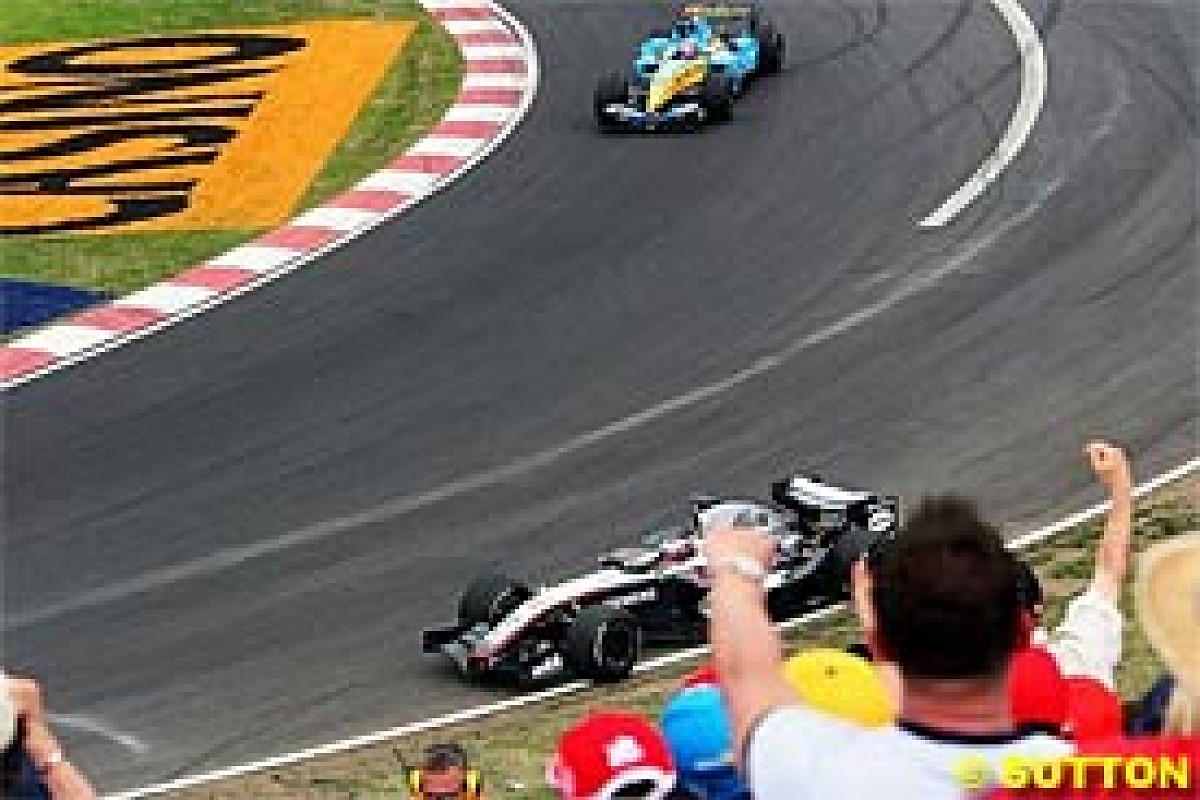 What apparently happened is that there was, in the strained circumstances of an imminent safety car, a great deal of chat on the radio. One of the problems was that before Button's crash Montoya had been told to slow down, as the team didn't want their two cars to race, as Raikkonen was struggling with a steering problem. Naturally Montoya wanted more information - he was presumably afraid that he might get jumped at the final pit stops - and this conversation was something of a badly timed distraction.
Talking to Montoya, who was naturally also asking about the safety car, Ryan somehow missed the final confirmation - presumably from Dennis - that both cars should come straight in. Ryan, or rather Montoya's side of the pit wall, also failed to spot the safety car confirmation that came up on the TV screens, which would have been a clear signal that Montoya should be told to come in.
Somehow in the confusion nobody else spotted that Montoya had not been given the message -McLaren uses the internationally recognised and easy to hear signal 'box' - and nobody noticed that Juan Pablo had failed to confirm that he was indeed coming in. In fact, the rest of the team was so convinced that all was well that the fuel guy was standing there with the hose from Montoya's rig.
McLaren's CEO Martin Whitmarsh says that there was no doubt about the decision: "There wasn't. In the majority of the team there was no discussion. The crew was called to stop both cars and the majority of the team then believed both cars were coming in, and the majority of the team were surprised when only one car arrived. We expected Montoya to be there.
"There was a fair amount of communication. We tend to give quite a lot of information to Juan Pablo, and he gives quite a lot of information back. Clearly we weren't succinct enough in the communications to ensure that he had to come in."
Cool Hand Kimi
Kimi Raikkonen had not only got the message loud and clear that he should come in, he'd also been told to use the now familiar tactic of backing off. That meant that he wouldn't have to wait in the pitlane while JPM was fuelled, with engine temperature rising and tyre temp and pressure falling. At the same time, he could hold up those behind. Kimi later reported that Montoya had appeared to be heading into the pitlane, but jinked away at the last minute. One can only imagine that, knowing the implications, he was rather pleased to see this scenario unfold.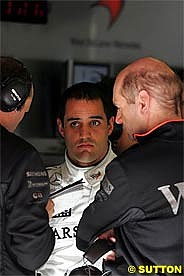 McLaren weren't the only team in for a surprise. Ferrari had told Barrichello to come in, but his radio wasn't working properly, and although he was using a form of Morse code - pressing the radio button on and off to indicate yes and no - the team didn't think he'd heard. When he came sailing down the pitlane it was a bonus. The Ferrari guy was holding Schumacher's hose, and a little shuffling ensued.
One can only imagine what Juan Pablo was saying as he completed what must have seen an endless lap behind the safety car, especially as he saw those tanked up cars arriving in his mirrors.
At Monaco Kimi was in a similar situation, but the circumstances were different. On that lap McLaren were able to determine that Raikkonen could still win if he opened up a 20 second gap before his second and final stop, and the team felt that he had the pace to do it. The subsequent catastrophic drop in the performance of the Renaults was a bonus.
This time around, there was no way back, and everyone knew it. There was nothing to do except bring Juan Pablo in at the end of that first safety car lap, and send him out at the back of the queue. Ignoring the lapped cars, he would have come out in seventh, immediately behind a group consisting of Jarno Trulli, Mark Webber, Felipe Massa and Barrichello. After the green, he would have had 18 laps to salvage something. The worst-case scenario would surely have been fourth, right behind the Ferrari, but if he could have found a way past, he might even have made the podium.
Sadly, he blew it. With the red mist well and truly descended he lost all sense of logic and charged out of the pitlane, although he did heed reminders to use the rev limiter and respect the white lines. He told his entourage that he saw a red light and blue light at the same time, and thought that the system had fused...
In fact this is how the system works: after starting the race, Charlie Whiting deserts the gantry on the pit wall for race control, leaving his FIA colleague Claudio Garavani in charge. One of the Italian's main jobs is to control the pit red light in just these circumstances. At every circuit there is a point on the pit straight which, when reached by the safety car, causes him to manually trigger the red light. And since he is right on top of the pit exit he knows exactly whether anybody has flaunted the system.
The blue light is to warn drivers leaving the pits that there is someone on the pit straight. It operates throughout the race, and a sensor triggers it automatically. Logic suggests that it will react to a safety car and a queue of F1 machines coming down the straight. In other words, the blue will always accompany the red light...
"You have to take for granted that the driver is going to be looking at whether it's a green or red light," says Dennis. "The moment he crossed the lights, the infringement happens."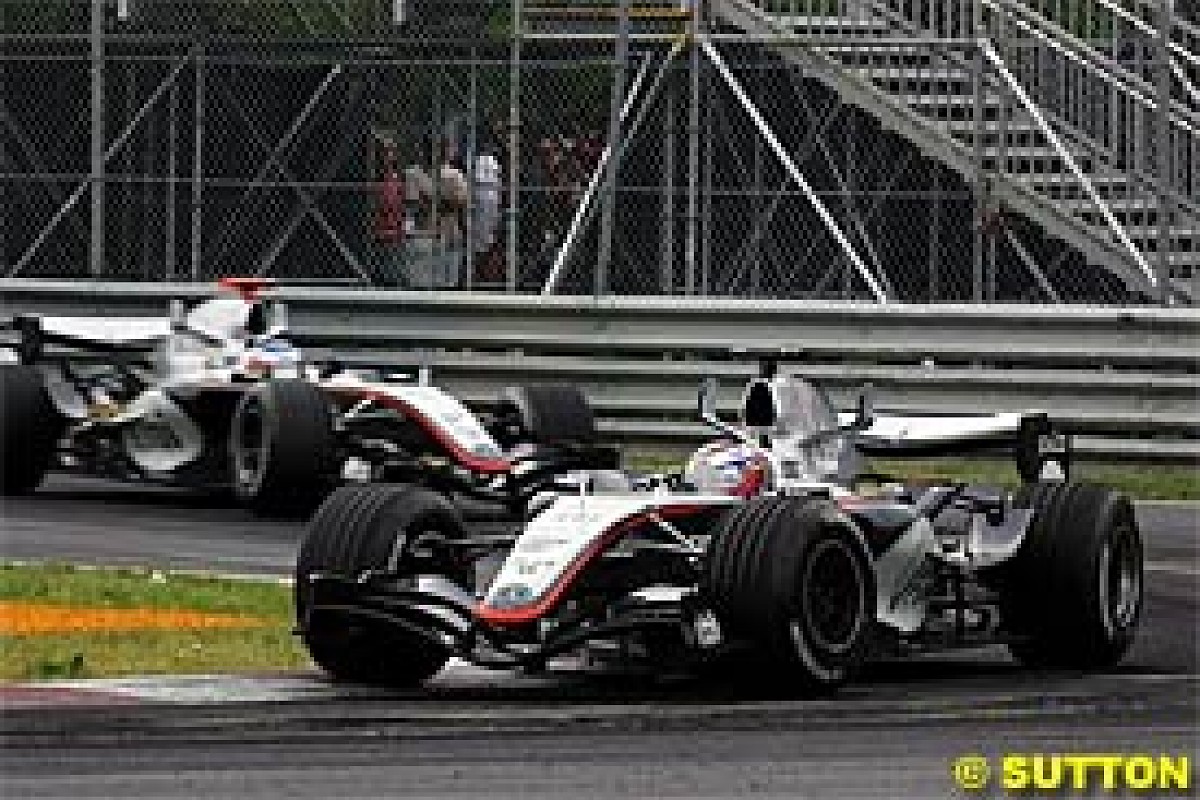 "There were lights at the end of the pitlane,' said Martin Whitmarsh, "and I'm sure under normal circumstances when he wasn't quite as frustrated, Juan Pablo would have spotted the red lights and would have obeyed them. I think he was anxious to rejoin the fray, and in that anxiety, he missed the lights.
"I supposed we all seek to justify our actions, don't we? In fairness, he knew that a few minutes previously he was probably thinking 'right, all I've got to do now is set the car to cruise control and I've got a race win here'. And then circumstances beyond his control changed that. As a team, we've got to be fairly understanding of what happened."
I don't know for sure how long the red light was on before Montoya passed through it, but it's interesting to note the official 'on the road' order at the start/finish line at end of lap 49, as he accelerated out of the pits. It went like this:
Safety Car
Ralf Schumacher (lapped)
Raikkonen
Coulthard (lapped)
Tiego Monteiro (lapped)
Christian Klien (lapped)
Montoya (crossing start/finish line in pit lane)
Michael Schumacher
In other words, there can be no possible doubt that the red light had been on for a while, as five cars had already gone by on the track. As he accelerated down the pit lane exit, he effectively overtook Klien and Monteiro. What Montoya was doing at that point was getting as fast as possible to the safety car line which crosses the track were the pit exit line finishes. Its prime purpose is to sort out 'tie-break' situations when cars that have left the pits are racing for position with those who are still on the track. But that's only when the safety car is just being deployed, or is on the other side of the track.
It is nothing to do with where people are allowed to barge into queues, because that is not supposed to happen. But Montoya clearly thought otherwise, which is why he got involved in that little fight over position with Coulthard. The Scot immediately got onto his team and asked them to make an official complaint. In fact, I understand no fewer than six teams were soon in touch with race control...
Juan on a Hot Tin Roof
It actually took a while for everyone at McLaren to realise what was going on, because nobody considered that JPM would have gone straight out.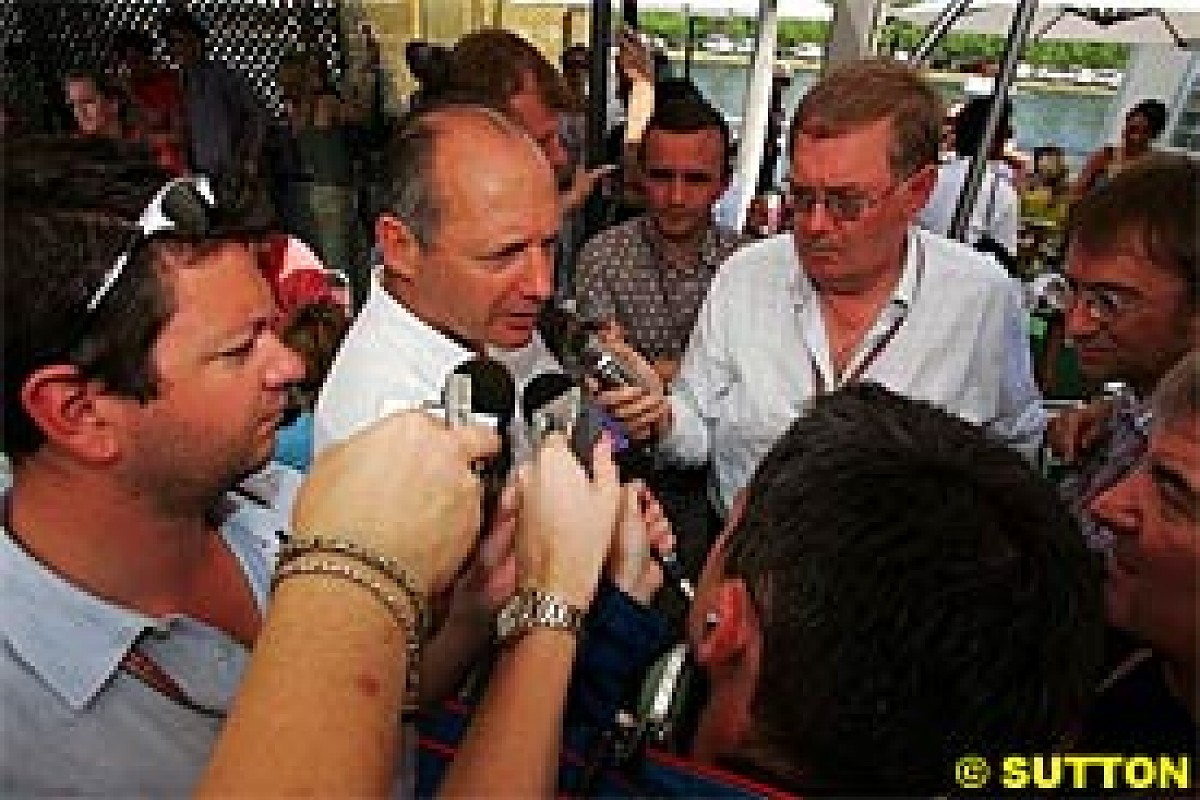 "We didn't know he'd gone through the red light," says Newey. "It showed up at a point where it was too late... you just had to wear it and see what happened at that stage. We were obviously hoping to get away with a stop and go. It seemed a harsh penalty in the end."
The team were very soon onto race control to explore their options. Dennis offered to drop Montoya to the back of the queue and maybe take a drive through or stop and go. He was told that the matter was in the hands of the stewards.
Even before this conversation, the team could have instantly told Montoya to pull over, drop back, and then see what happened. One of the side effects of that was that if he did get such a penalty, if he was already at the back, the consequences would have been much more severe than if he'd dropped out of second: "If he'd gone to the back and then got a stop and go as well, we would have been more penalised," said Newey. "Should he have gone through the red light? Obviously not. Did he do anything that actually was dangerous? I would say also not. So I would say exclusion was definitely a severe penalty..."
Dennis was equally frustrated. "If you have a situation where the stewards are bringing a subjective opinion, then subjectivity needs to be brought to bear. You look at the crime and then penalise it accordingly. I'm not criticising anybody, I just think the penalty is more severe than the crime."
In fact, there was nothing the team could have done. Going through a red light is regarded as a very serious matter, and there are two recent precedents, involving Jarno Trulli in Austria in 2001, and Heinz-Harald Frentzen in Australia a year later. Both men were excluded.
Consider too that after his brake testing exploits in Monaco, Montoya was under a form of warning. And guess who was among the FIA stewards in Canada? The legendary Nasir Hoosein, who by co-incidence was also on duty in Monaco...
The Verdict
The great shame of all this was that Montoya had done an awesome job all day, aside from his grassy moment when trying to exit the pits in front of Alonso, and he certainly deserved a victory.
As for McLaren, it's all too easy for outsiders to criticise communication cock-ups such as that made at the weekend. We're not the guys in the hot seats. But it seems to me that, when you take Monaco into account, the team could streamline their decision-making and communication processes a little. And in this case, there was no real decision to be made - it was blindingly obvious - so there should not have been a delay.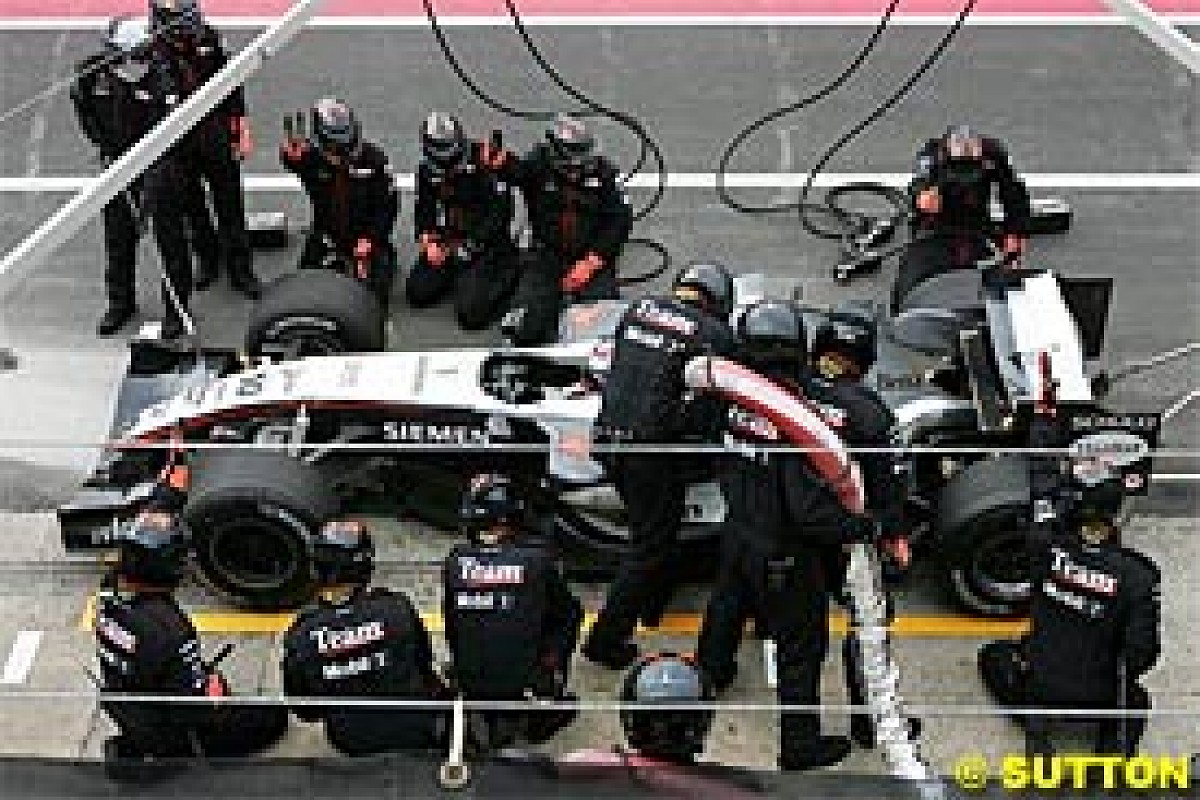 Cynics might suggest that there is perhaps a little too much focus on Raikkonen on the part of Ron Dennis - in other words the first thought may have been how does this affect Kimi, and then let's see about Juan Pablo. That may or may not be true, but for whatever reason perhaps there was an unnecessary delay before a definitive decision was made. Had it been made even a few seconds earlier, there might have been more chance of it getting as far as the driver. To be fair, the team are not making excuses.
"You review things every time," says Whitmarsh. "Every race that we go to, we learn something about the car, about ourselves, about the drivers, about the processes within the team. I think to be a strong team, you've got to face up to those things.
"Can we do a better job? Yes. We can do a better job in virtually every part of the company - from engineering to strategy to tactics, making calls - then we can do a better job. It's not down to individuals. It's a team issue, we'll do the analysis, and we'll hopefully do a better job in the future.
"I don't think our process is as complicated as you might suggest. Nonetheless I'm not going to point fingers within the team, and nor will anyone else. We have views and opinions and everyone will express them. We'll analyse the data, analyse the timing of all the communications that went on, and look to improve the communication."
"We have success as a team and we have to take the plusses and minuses," says Dennis. "We learn from our mistakes, and you're never too old either as an individual or as a team to learn, so we have to do that and come back in Indianapolis."
The biggest fallout concern the team's ongoing relationship with Montoya. While things may have calmed down since Sunday, there were probably words spoken that some in the team might not forget in a hurry.
The irony is that almost two years ago a similarly fraught scenario played out at Williams in the French Grand Prix. McLaren overheard Montoya's fruity comments on the radio, and decided it was the right time to offer him a new home. I wonder if anyone else in the paddock is prepared to pounce this time...