---
By Dieter Rencken, Belgium
Autosport-Atlas Columnist
Expanding the Calendar
The news that a heavyweight black empowerment company, African Renaissance Holdings, has joined forces with South Africa's Grand Prix Bid Company in a quest for a race in April 2008 is, of course, good news for the only inhabited continent without FIA World Championship motorsport.
A regular on the calendar between 1962 and 1985, South Africa gave way to Hungary in 1986, returning briefly (1992/3) before Kyalami was relegated to no more than a temporary test facility for three years at the turn of the century. Since then the circuit has been sold (twice), with the present owners admitting Formula One to be way off their radar, for the once-classic venue, severely emasculated in 1987, simply can no longer compete with Supervenues designed by Bernie Ecclestone's preferred architect, Hermann Tilke. In short, Kyalami as its stands, is too bumpy, too narrow and unable to reasonably accommodate the 100,000 spectators required to make a race viable.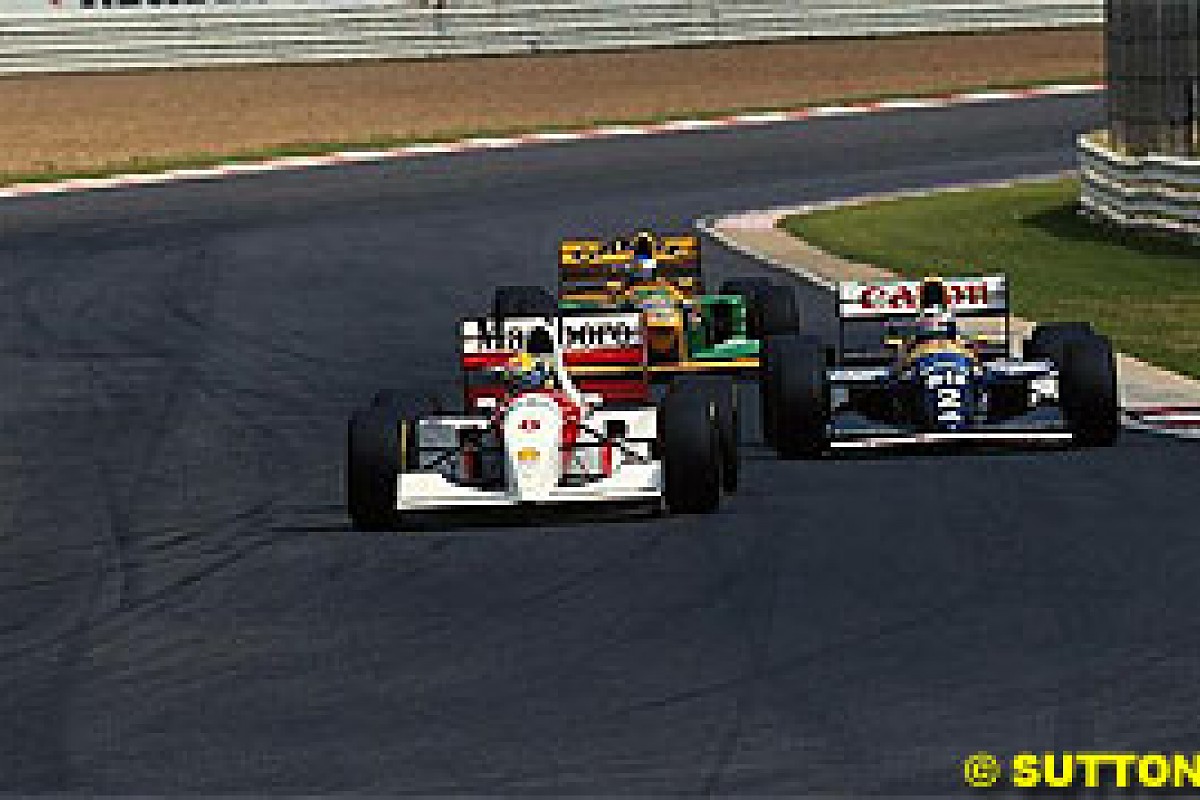 So, a new circuit is planned at the foot of Table Mountain, on the outskirts of Cape Town, and adjacent to the Mother City's international airport - ala Malaysia. And, like the Asian country's expansive circuit, the new facility is to be penned by the German architect, which in all probability equates to a user-friendly but bland autodrome with superb facilities.
CEO of the bid company, David Gant, has released further details of the venue, and, seemingly, any deviations from Bahrain's Sakhir circuit would appear to be purely circumstantial, for an aerial view supplied by Gant shows a shortish straight, flanked by pits, race administration and grandstands, leading into a medium speed turn, followed by flowing bends interspersed by acute corners. Another regular Tilke project, in fact. R500m ($90m), peanuts in first class race circuit terms, would be required to build the facility, says Gant, who is seeking government support.
The circuit, in yellow at top, can be clearly seen, with CTIA's runways and halls adjacent. Table Mountain lies north west (top left corner) of the circuit, with Table Bay and Robben Island, scene of Nelson Mandela's incarceration for 17 years, to the east.
What disturbs, though, is not the standardised layout, but the possible effects on Formula One of yet another event on what is already an over-crowded calendar. With FIA Safety Delegate (and Formula One Race Director) Charlie Whiting, incidentally scheduled to inspect Kyalami for non-Grand Prix events in mid-July, expected to approve Turkey's still-being constructed facility shortly, any previously existent doubts that this season would contested over 19 rounds have been placed firmly to rest.
Worse, this year's calendar contains no less than eight events packed into 11 weeks, with two further sets of back-to-back races scheduled for September/October. Already, after the first set (of two races), F1 personnel are feeling the pressures, and, whilst the sport's controllers, administrators and team chiefs fly First and Business Class and return to the comforts of their expansive homes immediately, those at the coal face, those upon whom drivers rely to diligently work without error, in whom they truly entrust their lives, fly steerage.
Ecclestone, whose annual earnings have been cut by 75% since 'selling' that proportion of SLEC to a trio of banks, can only increase revenues, and, therefore, operational income (without television rights fees), via two avenues: increased hosting fees per event or additional Grands Prix.
With hosting fees running close to, if not at their ceilings, and associate company Allsport Management hardly able to squeeze even further profits from existing events, Ecclestone has apparently decided upon the latter course of action to increase his family's wealth, for additional events not only provide additional hosting fees, but compound revenues via additional streams through Allsport. (Allegedly written into all new circuit contracts is the compulsory use of the Swiss-based company run by former Autosport editor Paddy McNally for circuit advertising and sundry services). Then, of course, more races mean more TV minutes to be sold.
So, where 2003 had 16 events, increasing for 2004 to 18, this season sees 19. Immediately after last year's closer Ecclestone headed for Cancun, where he announced a Mexican Grand Prix in 2006. In the interim, of course, reports have emanated from the north American country, host to 15 Grands Prix at a Mexico City venue between 1963 and 1992, that disputes over circuit construction have delayed matters by a year. So, 2007, then. Add South Africa to proceedings from 2008, and the Grand Prix count hits 21.
Ratcheting pressure on Ecclestone is the threat of a rebel Championship, for, as he rapidly realised in the eighties during the infamous FOCA/FISA wars, he who controls the circuits controls the Championship, and, with most countries pledging bans on tobacco livery either legislatively and/or via ratification of anti-smoking treaties, Formula One's tsar is running out of viable non-EU options, and therefore less able to 'browbeat' EU venues into submission. He must, thus, sign as many circuits as possible - before the rebels gains further momentum.
And, having signed new venues, Ecclestone must retain existing events, for removing same from the Championship to make way for newcomers doubly defeats his objectives by opening established venues to the rebels, and reduced (or the same) income from hosting fees and associated revenues.
So, given that there exist 35 weeks between 1 March and 31 October - beyond each bookend the calendar has seldom ventured for over two decades - cramming 21 events into that timeframe whilst allowing sufficient intercontinental transportation windows for fly-aways entails no less than seven sets of back-to-backs or 14 races into something like 20 weeks.
Imagine the stresses and strains placed upon race crews; imagine their domestic circumstances, imagine the personal upheaval. Of course, when Ecclestone and (FIA President) Max Mosley ran teams in the seventies/eighties, travelling staff seldom exceeded the 20 mark per operation, so recruiting a dozen petrolheads prepared to work at 12 Grands Prix per annum, of which eight in Europe (1972), was the work of a moment, particularly given the prevailing, somewhat elementary labour relations.
Thirty five years on matters are somewhat different. Marketing and sponsorship requirements - without which not one, let alone 21 Grands Prix, could exist - demand three times that number. Add in eight mechanics per car, truckies, tyre controllers, engineers, media specialists, management and logistics staff, and even operations like Jordan and Minardi take upwards of over 60 heads to a Grand Prix. And, that excludes engine specialists, fuel, spark plug, brake and electronics representatives, and staff to see to sundry activities - all of whom are vital to the safe and disciplined running of two cars, all of are required to give of their best, failing which the consequences could be unthinkable.
And, if the minnows require 100 staff to function, what size the travelling staff of the sport's big hitters? 150 in total.
Finally, should a bloated calendar come to fruition, what effect on the media? Sunday qualifying supplied ample proof that overexposure causes first saturation, then switch-off. Television networks in many countries failed to allocate the hours required for Sunday qualifying sessions - causing their demise - so, whilst Formula One has cited the 35-odd races annually scheduled by NASCAR as justification for expanded calendars, the reality is somewhat different. The series' all-American promoters have a choice of over 100 channels to reach their (all-American) audiences during set broadcast periods.
Not so Formula One: in many target countries, the United Kingdom for example, only a handful of national, free-to-air broadcasters exist, and for Formula One to justify its existence as a high-technology automotive showcase, it requires 'open' broadcasters. Can any Formula One of the future hope to 'snatch' 63 hours, at least, of prime broadcasting time when just two years ago the figure was 48? Already ITV has elected to forego live broadcasting of Canada's qualifying, having refused to broadcast Sunday morning sessions.
What chance, then, of broadcasters refusing to transmit all 21 races and their preliminaries, particularly given their time zones? Forget not that the further Formula One wanders from its traditional heartland, the more inconvenient, for viewers and advertisers and, particularly, free-to-air broadcasters reporting to public watchdogs, its time slots become.
Sunday newspaper sports editors, once content to allocate a full page to Formula One on alternate weekends, have of late shown reluctance to allocate space as freely, particularly when asked to do so eight times in 11 weeks. Fourteen races crammed into 20 weeks, 21 events into an extended summer season, will hardly alleviate their attitudes. Can Formula One afford to be driven out of regular Sunday slots?
Ditto sponsors, who were once attracted to the sport through its exclusivity. Will their value judgements remain valid given that hospitality and exposure budgets, will, of necessity, increase by 25% without commensurate returns. Above all, will they still perceive Formula One to be exclusive? Where once Formula One was selling exclusivity, it could soon be perceived to be operating a mass-market.
Just five years ago Mosley stated that 16-18 races per annum was the ideal; that any increase would result in over-exposure and saturation. Given that this season already has 19, just what has changed apart from SLEC's need to increase revenue streams at, seemingly, all cost?