Racing Illustrated

---
By Richard Barnes, South Africa
Autosport-Atlas Writer
There are moments which mark a season, and Kimi Raikkonen's spectacular retirement from the European Grand Prix could end up being one of them. Richard Barnes analyses the Finn's drive and the consequences of his failure to win a third race in a row
The history of Formula One is filled with memorable images, racing moments in which a season was defined and encapsulated in a single image. Nigel Mansell's Williams veering wildly down the straight after his rear tyre blowout at Australia 1986, the McLarens of Senna and Prost tangled together at Suzuka 1989, Michael Schumacher's clashes with Damon Hill and Jacques Villeneuve in 1994 and 1997, and several dozen more.
When historians look back on 2005, they may well remember Kimi Raikkonen's last lap catastrophe during Sunday's European Grand Prix as the defining moment and image of the season.
With the benefit of 20/20 hindsight, it is easy to conclude that Raikkonen should have pitted for a new right front tyre, accepted the consequent loss of victory and Championship points, but at least limited the deficit to eventual race winner and Championship frontrunner Fernando Alonso.
In fairness, though, Raikkonen had little choice but to push for victory. It's not happenstance that F1 Championship leads of 20+ points are rarely overhauled, and Alonso had built one of the most commanding leads in Championship history over the first four races of the year. Renault may yet fall off the pace badly, or Alonso could be injured or suffer a string of retirements. While it's possible in theory, Raikkonen can't count on Alonso handing him the Championship. Instead, Raikkonen and McLaren must go out and win the title on their own merits.
Alonso himself had attested, earlier in the week, that podium finishes weren't going to be enough for him to win the WDC title. If podium finishes aren't enough for the Championship leader, they certainly won't be enough for any driver lagging 22 points off the pace.
Raikkonen needs wins - and lots of them. With his teammate Juan Pablo Montoya gradually returning to form after his injury lay-off, with Williams starting to look ominous and with Ferrari sure to come good at some stage during the season, Raikkonen entered the Nurburgring weekend knowing that winning opportunities will become scarcer as the season progresses.
After Monaco, both McLaren and Raikkonen were on top of their form and dominating the field. The European GP win was there for the taking, Raikkonen had to go for it while he still had momentum and a machinery advantage over his rivals. If Alonso had already retired from Sunday's race or been struggling down in the minor points placings, Raikkonen may have opted for discretion over valor, sacrificing the win in exchange for at least a small chunk out of Alonso's WDC lead. But with Renault resolving their Monaco tyre wear problems and Alonso running comfortably in second, that option was closed to the Finn.
Raikkonen and McLaren were compelled to gamble it all. And they lost, cruelly and spectacularly, just one lap away from what would have been a sensational victory for them and a demoralising blow for Renault.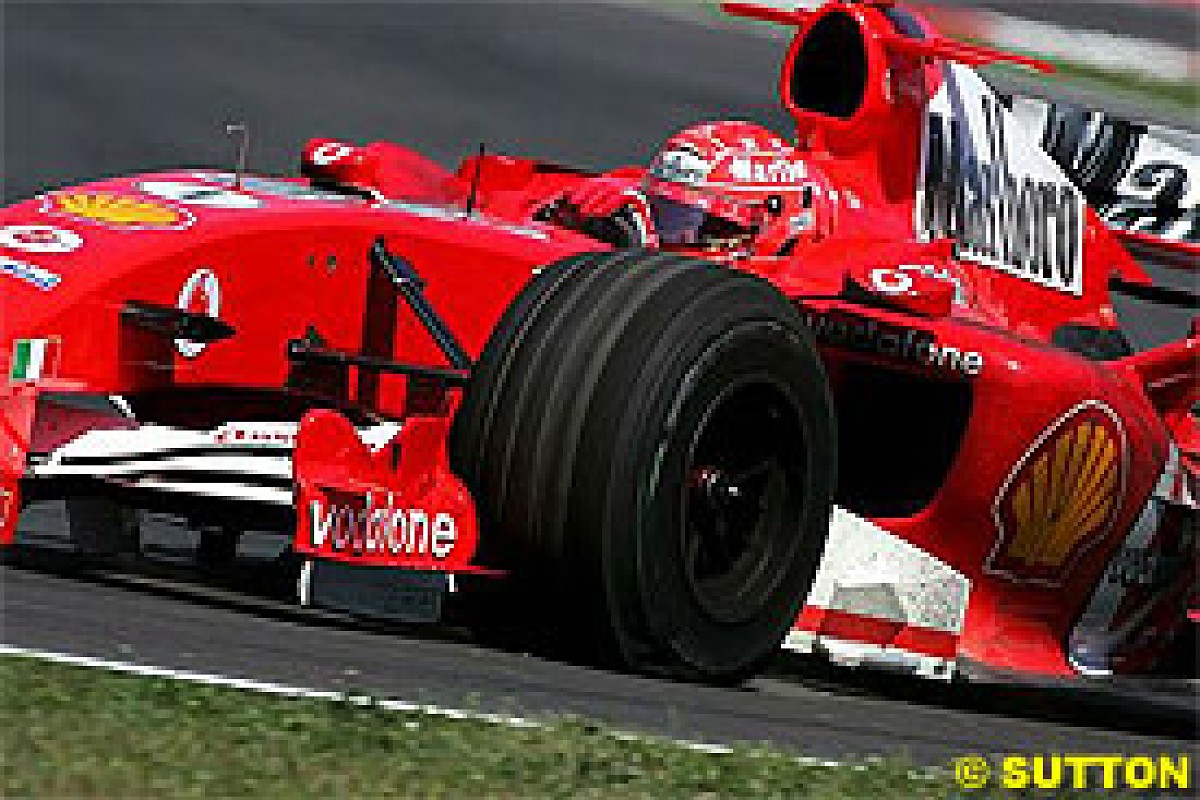 Since the incident, both McLaren CEO Martin Whitmarsh and BMW motorsport chief Mario Theissen have called for a rethink on the new tyre rules. There is nothing unfair or dangerous about the concept of requiring drivers to make one set of rubber last for a full race distance, as F1 teams and drivers have coped comfortably with these conditions in the past.
Tyre delaminations and failures have also been a regular risk in F1, even when teams were running three or four fresh sets per race. The technology certainly exists to make a tyre that will last a full race distance, and the mechanical sympathy to stay within the limits and preserve the tyres was an accepted aspect of GP driving strategy and skill for years.
The problem lies in the stipulation that a tyre must be damaged or punctured before a team can change it without penalty. If the FIA insists on the principle of cutting costs and restricting tyre changes to a minimum based on legitimate safety concerns, there are ways (other than official penalties) to implement the rule.
If teams are restricted to changing only one tyre per stop (and not being allowed to refuel simultaneously), there would be little incentive for them to try and circumvent the 'one set per race' regulation. The performance boost from one fresh tyre (particularly considering the difficulty of balancing it with three worn tyres) would not be enough to justify the 20-30 seconds lost during the pitstop. Thus, there should be no reason to require the teams to justify their actions to the race officials. It would leave the teams free to change tyres if they (and they alone) felt it was necessary - but at a considerable time handicap.
Again, this is in keeping with the spirit and traditions of F1. A driver who flat-spots his tyres has made a driving error. These are ostensibly the best drivers in the world, their mistakes should carry heavy consequences. Most drivers at the Nurburgring were able to make their tyres last the full distance. If Raikkonen didn't, then he has only himself to blame.
Naturally, Raikkonen accepts this and won't be making any excuses, to himself or anybody else. He might have escaped the consequences in earlier years, when a routine tyre stop could have replaced the damaged tyre and reset his grip levels. But, as the old adage goes, that was then and this is now. Conditions change and drivers must have the versatility to change along with the regulations.
Raikkonen's errors at Nurburgring clearly compromised his already slim Championship prospects for this year. However, his efforts during the final ten laps won't do his image any harm. The 'Iceman' moniker has already fallen away since Raikkonen started showing human fallibility, both in his emotions and driving. Yet it is this very fallibility that could endear the Finn to a generation of racing supporters.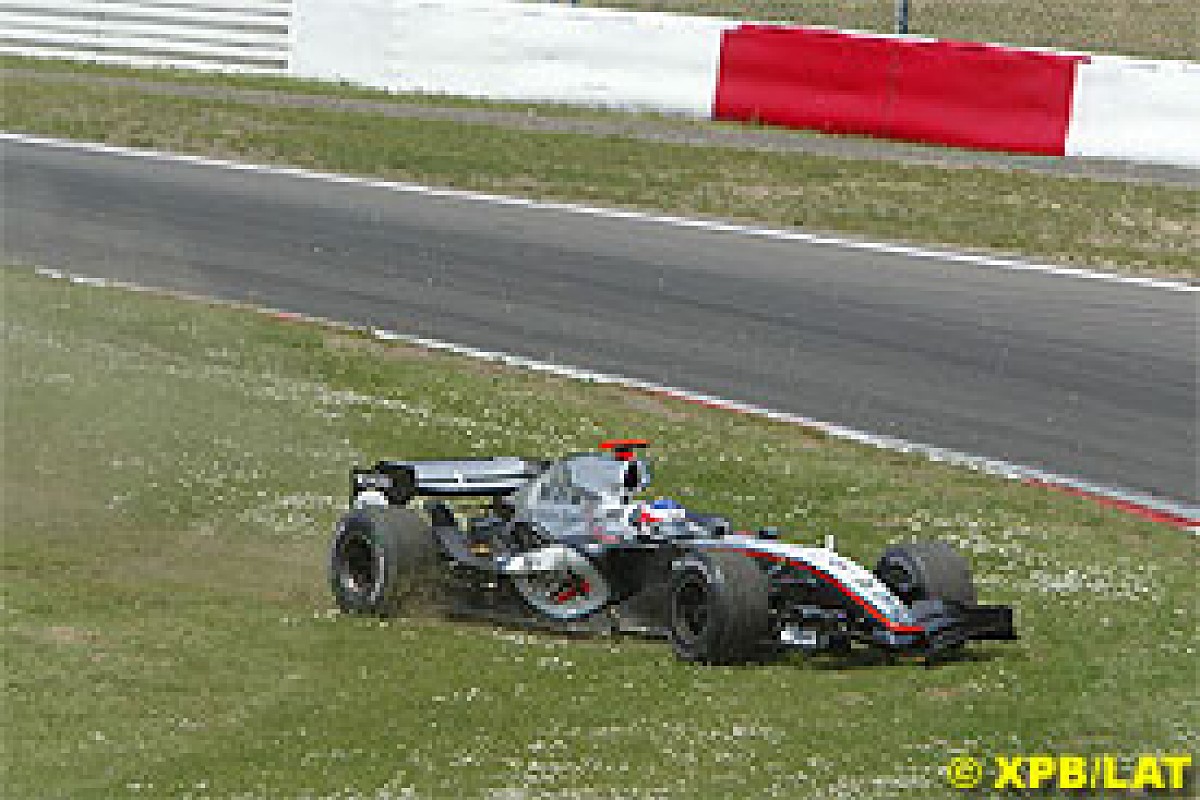 Formula One is not just about the statistics that a driver racks up during his career, but about the mark that he leaves on the sport. Gilles Villeneuve won only six GP and no WDC titles, and he made mistakes - dozens of them. But he also had extraordinary tenacity, a will to win and a level of self-belief that made him one of the most enduringly popular drivers of all time.
Raikkonen may not have earned any points on Sunday, but his efforts to hang on for victory, against the odds, will surely be remembered as a shining example of true racing passion and self-belief. Whether spectating at trackside or via television, it is hard for viewers to appreciate the difficulties that the drivers may be experiencing during a race. The odd visual twitch or missed apex from an unbalanced or ill-handling car offer little indication of the struggle that the driver may be having in the cockpit, nor of the sheer skill that is often required just to keep the car on the racing line. Raikkonen's onboard shots during the latter stages of the GP gave an unprecedented perspective of just what it takes to be a top F1 driver.
The visual distraction alone of a constantly wobbling and deforming front tyre would have been enough to unnerve many other drivers. Add to that the vision-blurring shaking that Raikkonen was suffering through the typically stiff suspension and the steering wheel, and it was truly remarkable that he was able to rock, rattle and roll around the demanding Nurburgring layout at almost the same pace as the charging Alonso.
For lap after lap, Raikkonen continued to nail braking spots, apexes and other aiming points in a car that was patently unfit for competitive racing. It was a display of sheer resolve, fearlessness, racing instinct and car control that would have had Gilles Villeneuve nodding in appreciation.
The only questionable aspect of Raikkonen's decision to continue pushing for the win was the potential danger to other drivers in the vicinity. And, indeed, if Jenson Button's focus had been flagging on the last lap, the flashing glimpse of Raikkonen's stricken McLaren scorching inches past his gearbox would have served as an abrupt wake-up call.
Raikkonen might well have collided with Button, injuring one or both of them. But he didn't. He missed by centimeters, and history often measures the difference between heroism and suicide by less. Button would surely have complained bitterly if Raikkonen had taken him out of the race. But, when the dust had settled, Button would also recognise and respect that Raikkonen is a fellow alpha male F1 racer driven by grit, ambition and resolve.
When glory beckoned, Raikkonen went after it, heart and soul, and forced more out of the car than should have been possible. In an era increasingly marked by dry corporate politics, it was a refreshing illustration of what racing is, and should be, all about.