The 2005 Monaco GP Review

---
By Will Gray, England
Autosport-Atlas GP Correspondent
McLaren and Kimi Raikkonen kept their momentum going and dominated the Monaco Grand Prix as rivals Renault paid the price for an error and struggled to get their cars home. Williams had their best day of the season and Ferrari were once again in the doldrums. Will Gray reviews the events and results from the sixth race of the 2005 season
Kimi Raikkonen will head to Germany this weekend in search of a victory hat-trick after proving himself the flavour of the month with a dominant lights-to-flag victory in the glittering harbourside of Monte Carlo. But as Formula One vintage 2005 has shown, anything can change in the roll of a dice.
Raikkonen, clad with a diamond-studded helmet, proved McLaren are the current high-rollers when he played another winning hand on the glamour circuit, but he will be hoping not to suffer a hangover from what would have been an extra-special party to celebrate the win in engine partner Mercedes' 200th race.
The paddock was buzzing with its usual glamour as celebrities rolled into town to absorb the atmosphere, Darth Vader and his friends from the Star Wars cast being the main attractions this time around, and they were treated to a thrilling race for places but an outright dominance for the top spot.
Raikkonen was able to ease to victory without a problem, while early leaders Renault saw their Championship advantage cut again as they struggled with tyre problems. In the last two races, the tide has turned against Renault, but there are plenty of sea changes left to play.
Firstly, Alonso does not like losing. He is ready to hit back and stabilise his Championship lead in this weekend's European Grand Prix after helplessly watching it slip away as Williams drivers Nick Heidfeld and Mark Webber stole his thunder in Monaco.
They secured a surprise double podium, but while they admit they are not yet on the pace, their top three appearance points towards even more competition at the sharp end of the grid and Webber, who lost out to Heidfeld due to a team call in the pitstops, will be sufficiently riled to put his foot down even more.
Alonso, who won three of the first four races of the season, missed out on a podium for the first time this year as Renault proved they were right to say they could not sit on their early form and relax. The problem is, that seems to be what they have done.
That said, Monaco is an oddity. They introduced a new aerodynamics spec for last weekend's race and, while they will strip away the super-high-downforce add-ons used in Monaco, Alonso believes the general modifications to the car will help him get back in front in Germany.
Tyres were the biggest factor in Monaco, the difficult street circuit surface providing a few surprises to the top teams. McLaren called it right, with Raikkonen suffering no problems as he ran heavy early in the race, but Renault called it wrong, as they had to go fast early on and suffered later in the race.
Renault will not make the same mistake again, but their previous record at the Nurburgring is not strong and McLaren, whose car now seems to work well on any type of circuit after early season problems were ironed out over the first four races, should start as favourites again.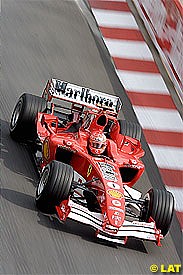 The real fanatical supporters at the German circuit, which rewards cars with efficient high downforce and good traction, will be cheering on World Champion Michael Schumacher as he tries to fight at the front again after struggling in Monaco because of a lack of pace in single lap qualifying.
There is no question Schumacher is under pressure. He is now 37 points behind Championship leader Alonso's 49-point tally, while Ferrari are fifth in the Constructors' Championship on 21 points to Renault's 63, and his desperate lunges for points on the final lap in Monaco proved everything.
Schumacher has given up making predictions, having seen his optimistic approach to recent races end unproven, but he insists he is not ready to give up on his Championship hopes and Ferrari believe they could benefit from a new qualifying format to maximise the stunning race pace that was compromised in Monaco.
The new format will see the unpopular Sunday morning qualifying scrapped and the grid now decided on the one session of single lap runs on Saturday afternoon, and Schumacher will give it his all when he takes to the track as one of the later cars after securing seventh in Monaco.
But while the pack continues to shuffle, the return of a joker could throw it even more open this weekend. BAR-Honda are back, frustrated by two races on the sidelines as punishment for a crime they felt they did not commit after failing to prove their car was legal in the San Marino Grand Prix. And they are ready.
Zero points after six races was not something they would have entertained at the start of the season, and although Jenson Button and Takuma Sato will struggle for a good grid spot because they go out first in qualifying, they are confident the car has the pace to climb through the field.
Nurburgring offers a few opportunities to overtake, so expect the BAR-Honda cars to be let off the leash and chasing down their rivals at every opportunity. Expect, therefore, Sato to be involved in some incidents, considering his past record, but expect that to be exciting. They will not be holding back.
Nor will Italian Vitantonio Liuzzi, who is part of a cockpit-sharing scheme for the second Red Bull Racing car and will be eager to impress after retaining his seat for one more race before handing it back to Christian Klien, with the whole team keen on making up for Monaco.
The team were the focus of attention with their floating motorhome, decked out in gaudy Star Wars livery to promote the film, but their stunt for pitstops with Darth Vader on the jack and stormtroopers on the tyre guns failed to impress as much as their race, which saw their first double retirement of the year.
Toyota were not as fast as they have been this season in Monaco and Trulli lost out on points when a risky overtaking move failed to pay off. But they will be looking for a strong result in front of staff from their Cologne factory to claim back the second place in the Championship they lost to McLaren.
Even the back of the grid is getting interesting. Minardi passed ailing Jordan, who are suffering a lack of funds due to owner Alex Shnaider's understandable lack of interest in funding anything other than his Midland team, which will debut next year unless rumours of Eddie Irvine's buyout are to be believed.
While Jordan fought off the rumour mill their cars failed to provide much resistance on the track and Paul Stoddart's smile broadened as Minardi secured their best qualifying result in two years. It faded when both cars spun in the race, but he will be keen to have the upper hand again this weekend.
Monaco was a clear indicator that Formula One is ready for a thrilling season and with Renault and McLaren head to head at the front, Toyota chasing hard, BAR returning eager from a two-race ban and Ferrari riled by their failures, Monaco may begin to look tame as the Nurburgring prepares to explode with action.
Qualifying
The Monaco weekend saw the end of Formula One's brief foray with aggregate qualifying at a time when people had begun to warm to the dual sessions despite still being heavily critical of running the second qualifying on a Sunday.
The format showed again the excitement it had the potential to provide with several jumps and tumbles amongst the pack between the two sessions, most notably Schumacher for a place in the top ten and, almost, Alonso for pole.
The loss of aggregate qualifying will not be applauded in all corners, but the scrapping of the final session on Sunday morning was greeted wit a mix of with relieved sighs and euphoric cheer when announced on Friday.
But it did have one last hurrah, limiting the Saturday night partying in the harbour for those who wanted to make its 9am start on Sunday morning, but providing thrilling entertainment to make up for it.
1. Kimi Raikkonen (McLaren)
2:30.323 First session 1:13.644; second session 1:16.679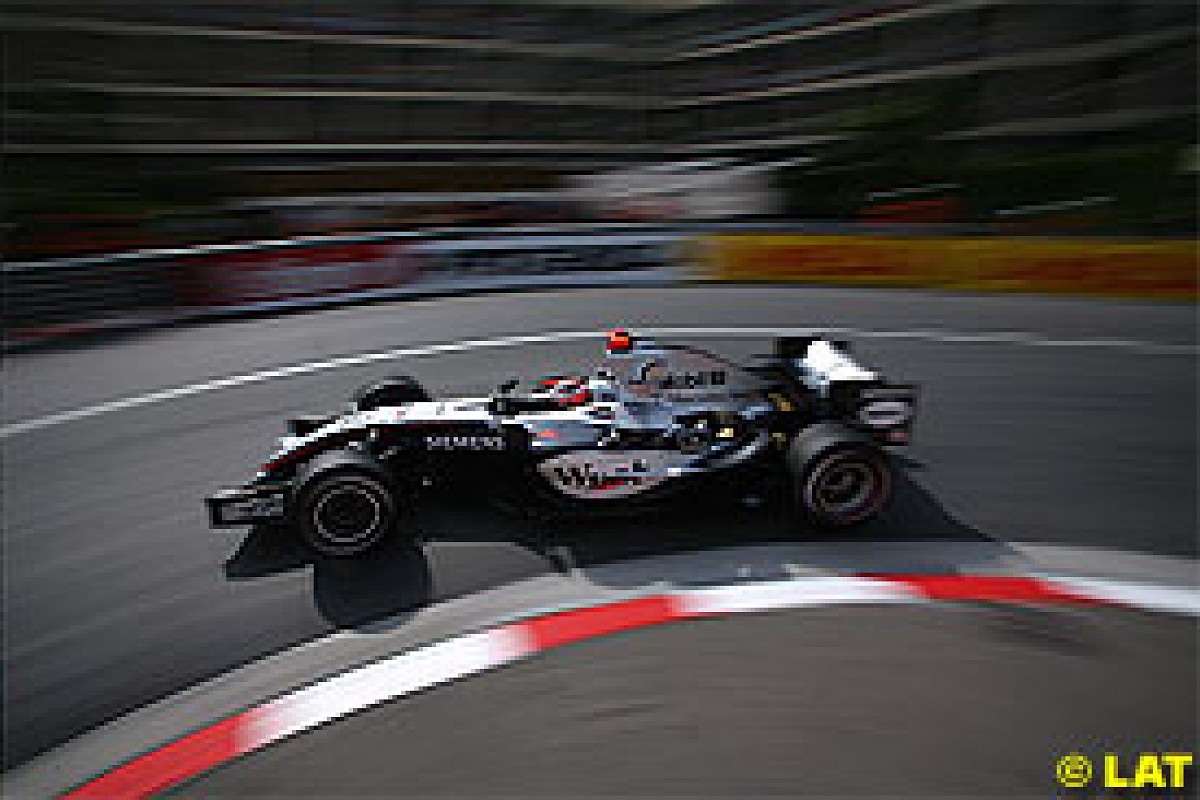 The Iceman showed he is fearless in the first session when he bettered Alonso by almost half a second by putting thoughts of Ralf Schumacher's crash 20 minutes earlier to the back of his mind to remain committed throughout his lap. The advantage allowed the team to play with their strategy but it almost cost them as they filled Raikkonen's car up with fuel for the second run and he only narrowly held onto pole.
2. Fernando Alonso (Renault)
2:30.406 First session 1:14.125; second session 1:16.281
For Alonso, it was the opposite to Raikkonen. A slow lap compared to his rival in the opening session put him under pressure to also play a tactical game, and Renault's solution was to go light and try to snatch the pole back and then race away. The first aim almost worked, as Alonso put in a strong lap, the fastest in the session, but ultimately missed out on the top spot by 0.083 over the two laps, an average of four thousandths on each qualifying lap.
3. Mark Webber (Williams)
2:31.656 First session 1:14.584; second session 1:17.072
Webber was almost a second slower than provisional pole man Raikkonen but was happy and a little surprised to finish third, losing out mostly on the second sector of the lap. He held onto third with the third fastest lap in the second session, with the third fastest time in each sector.
4. Giancarlo Fisichella (Renault)
2:32.100 First session 1:14.783; second session 1:17.317
Difficult starting positions for the first session have hampered Fisichella in recent races and although he was able to start late in the session this time he still struggled for pace, setting the fifth fastest time in the first sector and the eighth in the second. But still came out fourth fastest and he had a good enough advantage to maintain his place in the second session.
5. Jarno Trulli (Toyota)
2:32.590 First session 1:15.189; second session 1:17.401
Trulli suffered from his own teammate's mistake when Ralf Schumacher crashed on his flying lap. Trulli had to wait in his car for 20 minutes while oil and wreckage was cleared from the Tabac corner and he could only manage the seventh fastest time after having to compromise his line. He made up for it in the second run, setting the fifth fastest time of the session and jumping two places into fifth.
6. Nick Heidfeld (Williams)
2:32.883 First session 1:15.128; second session 1:17.755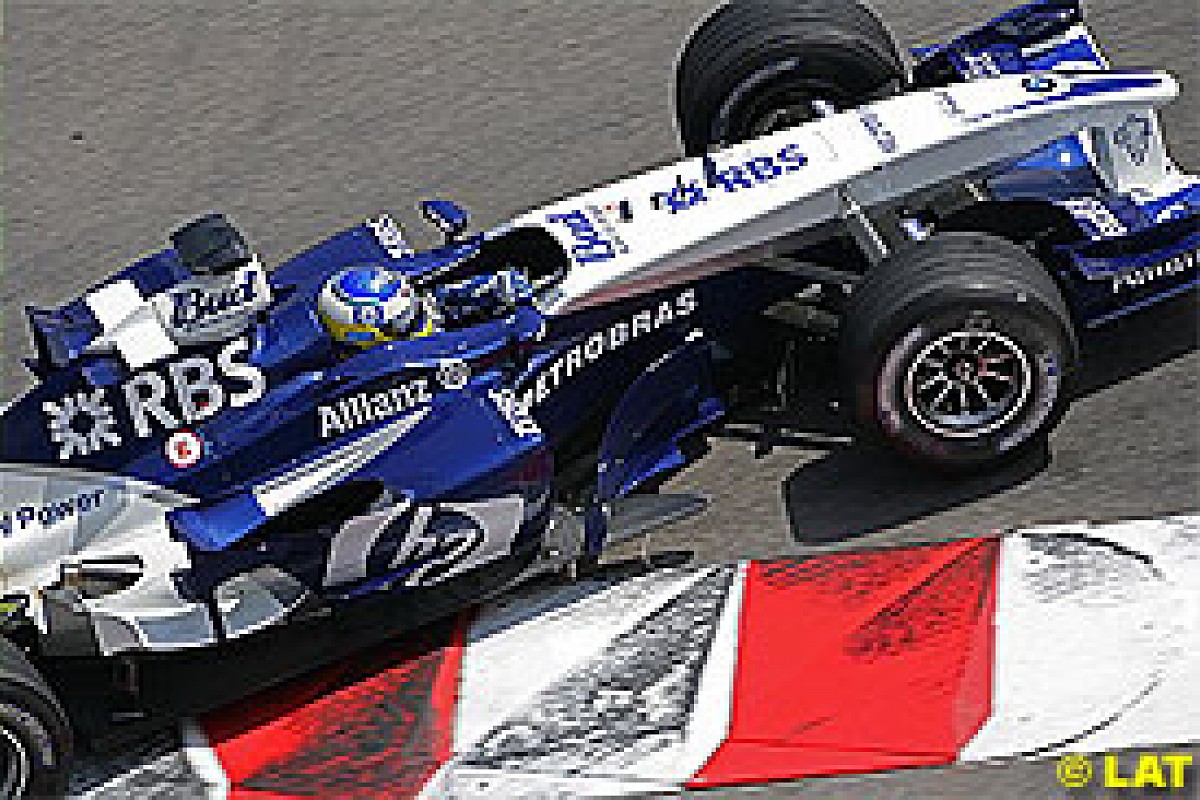 After struggling for grip and consequently setting the 10th fastest time on the first sector he rescued the lap a little with the fourth fastest time in the final sector to claim sixth spot and stayed there after the second when he benefited from Montoya's penalty but lost out to Trulli's impressive run.
7. David Coulthard (Red Bull)
2:33.867 First session 1:15.329; second session 1:18.538
Coulthard was faced with qualifying in an untested car after his Red Bull Racing machine was damaged in a bizarre practice incident, but he managed to set a tidy lap to come in eighth, then did an equally solid job to claim seventh in the second run and moved up a place thanks to Montoya, the man that was judged to have caused the earlier crash.
8. Michael Schumacher (Ferrari)
2:34.736 First session 1:16.186; second session 1:18.550
Schumacher could only manage the 11th fastest lap, behind teammate Barrichello and faster only than Vitantonio Liuzzi and the Minardi and Jordan drivers with all cars on low fuel in the first session. He blamed his poor pace on an early run and predicted he would be faster in race trim. He set the eighth fastest time in the second run and that was good enough to jump him up to eighth on the grid.
9. Jacques Villeneuve (Sauber)
2:34.936 First session 1:15.921; second session 1:19.015
Villeneuve was surprised to set the ninth fastest lap of the first session and he was able to hold onto ninth after the second, despite only managing to set the 11th fastest time on that run.
10. Rubens Barrichello (Ferrari)
2:34.983 First session 1:16.142; second session 1:18.841
Having missed out on running new tyres in the practice session Barrichello claimed he did not have a feel for them in his qualifying run but he was still faster than teammate Schumacher in the first and second sectors and finished tenth overall. He was less impressive in the second session and failed to jump the positions Schumacher managed so had to settle for tenth on the grid.
11. Felipe Massa (Sauber)
2:35.120 First session 1:16.218; second session 1:18.902
Massa took things cautiously because he had a lack of confidence after failing to get out on new tyres during practice. He sensibly chose not to stick it in the barriers and set the 12th fastest lap, then took an equally cautious approach in the second.
12. Vitantonio Liuzzi (Red Bull)
2:37.152 First session 1:16.817; second session 1:20.335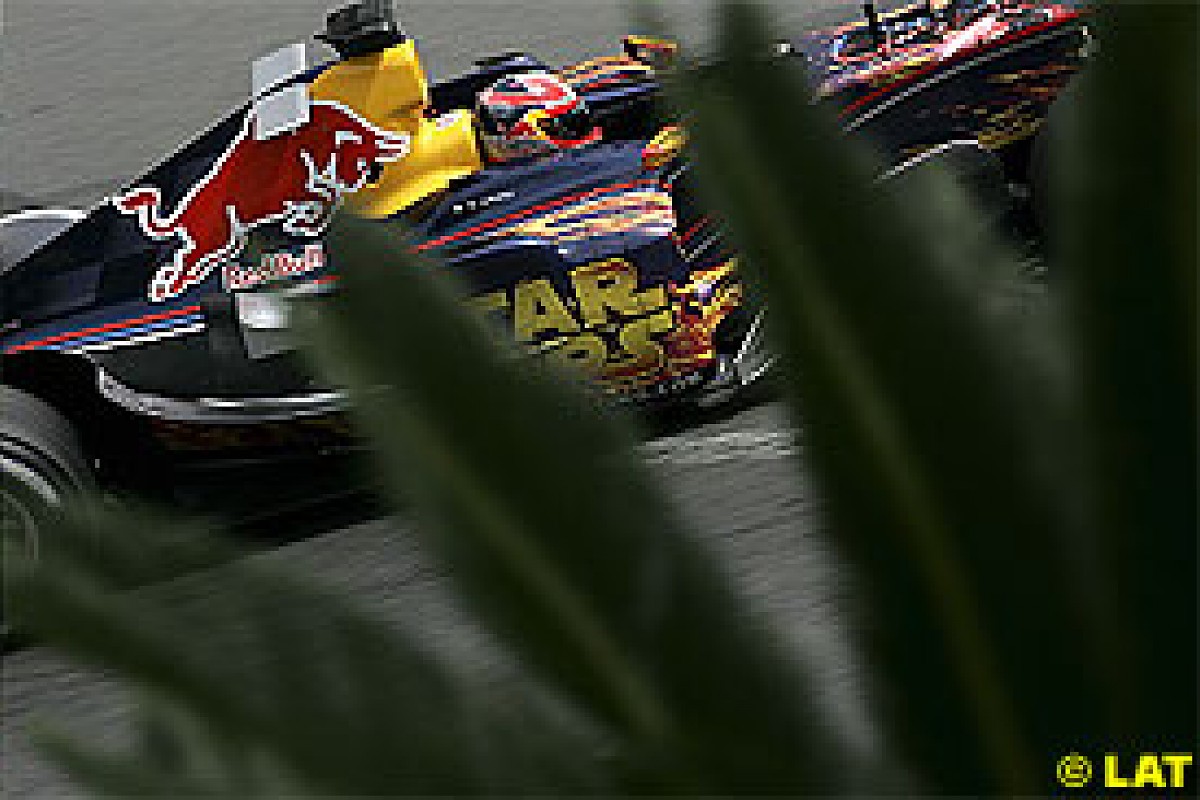 Despite winning in Monaco last year in Formula 3000, Liuzzi was slow on his first qualifying lap, suffering hugely from being the first driver out on track. He finished the session in 13th place and did enough to jump a spot to 12th in the second run, despite a massive moment heading into Tabac that allowed him to demonstrate his impressive car control.
13. Patrick Friesacher (Minardi)
2:40.810 First session 1:18.574; second session 1:22.236
Friesacher brought a smile to boss Paul Stoddart's face when he qualified ahead of the Jordan cars, despite admitting to a couple of mistakes on his flying lap in the first session. He stayed off the barriers in the second session to secure his best ever qualifying spot in 13th place.
14. Christijan Albers (Minardi)
2:42.206 First session 1:19.229; second session 1:22.977
Albers complained that missing the practice sessions on Thursday due to electrical problems had hampered his pace in qualifying and insisted that was why he finished more than six tenths off the pace of his teammate, but he was an even greater margin behind on the second run and had to settle for 14th.
15. Tiago Monteiro (Jordan)
2:43.078 First session 1:19.408; second session 1:23.670
Jordan were left in shock when neither of their drivers could beat their rivals at Minardi but Monteiro was closest, finishing two tenths behind Albers in the first session and seven tenths back in the second. Not good news for the men in yellow.
16. Narain Karthikeyan (Jordan)
2:43.442 First session 1:19.474; second session 1:23.968
Karthikeyan was another to complain of a lack of running on Thursday, but he only had himself to blame after hitting the barriers. He also found it difficult to learn the circuit and finished one tenth slower than Monteiro on his first run and three tenths slower on the second, outqualified by his teammate for only the second time this season.
17. Ralf Schumacher (Toyota)
no time First session crashed; second session did not run
Schumacher had a tough weekend. First Michelin made a mistake and put an unmarked tyre on his car, winning him a half-second penalty on his aggregate time. He was then hit by Coulthard's Red Bull Racing machine, which was spun into him by Villeneuve after Montoya allegedly brake-tested Schumacher on his way up the hill. If that was not enough, he then lost control when pushing hard to make up for the earlier penalty and drove into the barriers on the apex of Tabac, snapping his front left suspension and clattering into the barriers on the other side of the track. The parts on the repair list released by the FIA before the race said it all - everything from the engine to the chassis was replaced.
18. Juan Pablo Montoya (McLaren)
no time First session 1:14.858 (annulled); second session did not run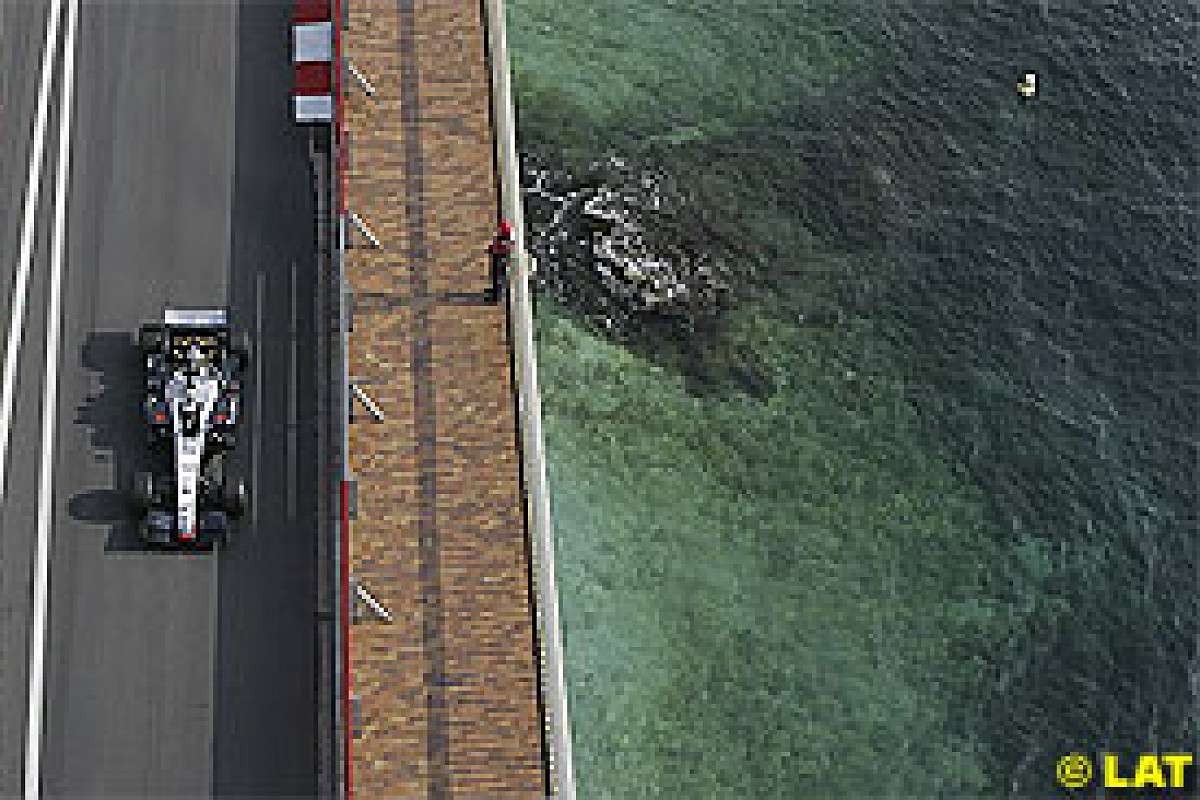 Penalised unfairly, he claimed, for an apparent brain fade in allegedly brake-testing Schumacher, his good work to claim fifth fastest time from the first session was blown to piece when his time was annulled. He did not bother to head out in the second session, so settled for a rearward start on the grid.
The Race
The start of the race was always going to be vital. If Alonso, low on fuel, made it past the heavier Raikkonen, he would have a chance of racing for the win. If he failed, it would be Raikkonen with the upper hand.
Raikkonen made a clean start off the line but Alonso weaved first inside and then outside trying to pressure his rival into a mistake and achieved his aim, with Raikkonen locking both tyres as he headed into Sainte Devote.
Raikkonen made the corner and Alonso had to settle for second while Webber was the worst off the line, once again, as he lost out to both Fisichella and Trulli and only just held off teammate Heidfeld.
"The start was a joke," said Webber. "It was very frustrating that I didn't get away at all, the clutch didn't really work at all. On the formation lap I didn't get away at all well either and I radioed through to the guys.
"I said I think we're in a little bit of trouble with the clutch. We made a small adjustment but it was nowhere near enough. The start is 90 percent car so anyway that was frustrating and I spent the first laps stuck behind Jarno."
Massa jumped both Villeneuve and Barrichello for ninth while Montoya moved from 16th to 12th after finding his way past the Minardis, thanks to a word in Paul Stoddart's ear from McLaren, Monteiro's Jordan and Liuzzi's Red Bull.
Ralf Schumacher was the biggest mover in the early laps after starting last and, having made it past Karthikeyan on the first lap, he moved past Monteiro, Albers and Friesacher into 14th by lap eight.
Narain Karthikeyan was in the pits twice with a problem on his Jordan on laps 10 and 11, stopped again on lap 18 and stalled on his way out the pits, only to finally retired at the end of the next lap.
"I had a touch with the barrier which damaged the hydraulic system," explained Karthikeyan. "That's why we had to pit early in the race and although the team tried to fix it, it was not possible and I had to retire."
By the end of lap 23, Raikkonen had grown a lead of just more than six seconds over Alonso at the front, but the next lap could have turned the race on its head when a collision blocked the track at Mirabeau.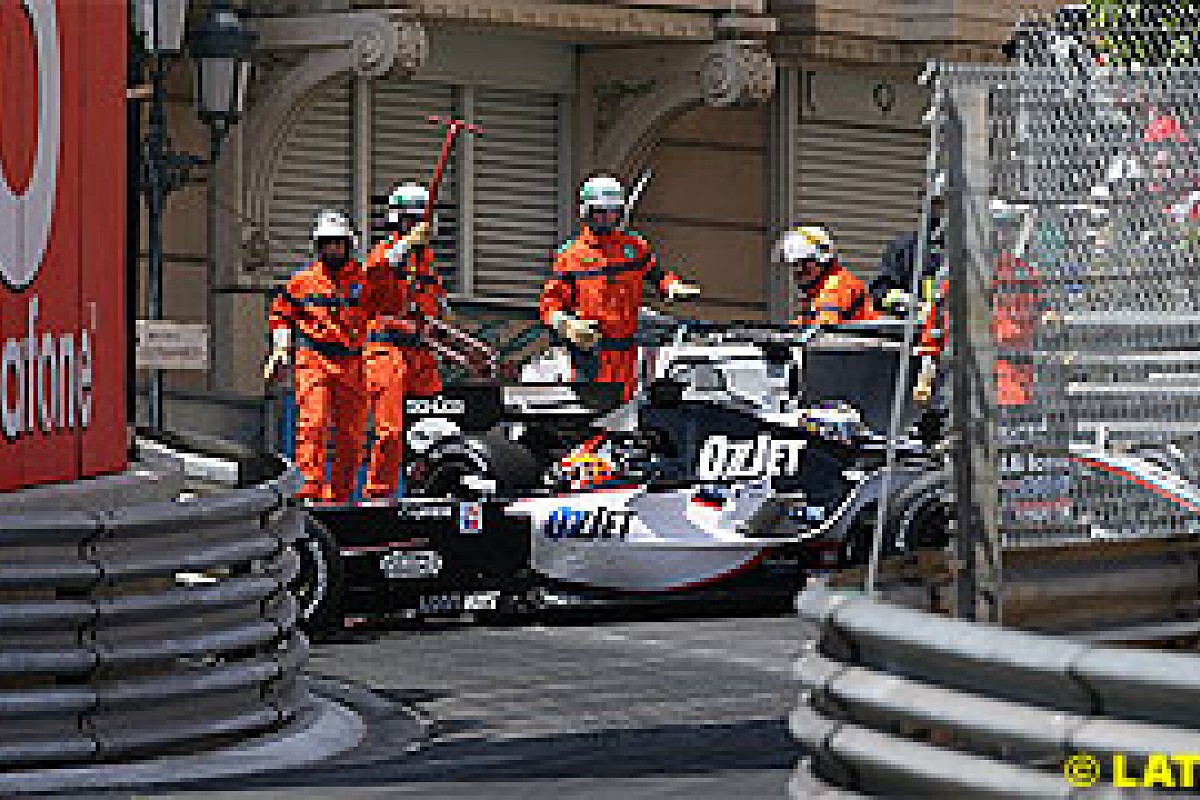 "Albers spun his car going into the corner so I slowed down to avoid him but Michael couldn't see me and he hit the back of my car," explained Coulthard after the incident.
Schumacher continued: "If someone in front of you spins and another one has to stop, you cannot do much more than to brake and either you manage to bring the car to a halt in time or you don't.
"David was suddenly decelerating, I braked as hard as I could but I could not avoid to hit his rear. This is not anyone's fault. I got stuck behind and then I had to pit to change the nose on the car."
Villeneuve and Barrichello were also affected by the accident and Albers humbly admitted: "I still don't understand what caused it. I managed to keep the engine running and continue but it was a shame for the other drivers."
The safety car was called out and threw the pits into confusion, with the strategy chiefs on pit wall and the drivers out on track all forced to make instinct decisions that would have a vital impact on the race.
While the boffins on pit wall pondered their moves, Schumacher pitted immediately for a new nosecone, Massa went in for fuel after finding a gap to get through the accident, and Coulthard stopped for damage repairs.
He was forced to retire, but more importantly the incident ruined Lucas Films' plans to promote the new Star Wars film by having the stops performed by pit crew in costumes from the film.
Darth Vader, on the front jack, and stormtroopers, on the wheel guns, swooped on the car when it arrived, ready for action, but with no solution they simply stepped back and looked bemused. Not quite the look they were going for.
In a bizarre press statement after the race, Simon Corbyn, head of race engineering at Red Bull engine suppliers Cosworth, admitted: "George Lucas pointed out that Darth Vader isn't known for his tolerance of failure."
Nor was Coulthard. "There's not so much to say really. The back of my car was hit and that damaged the back wing and rear suspension," he said. "For that to happen twice in one weekend, lets just say it's pretty bad luck."
The incident happened at just the wrong time for the lead cars and leader Raikkonen admitted to confusion in the ranks. "I was a bit worried when the safety car came out because I missed the pit lane," he said.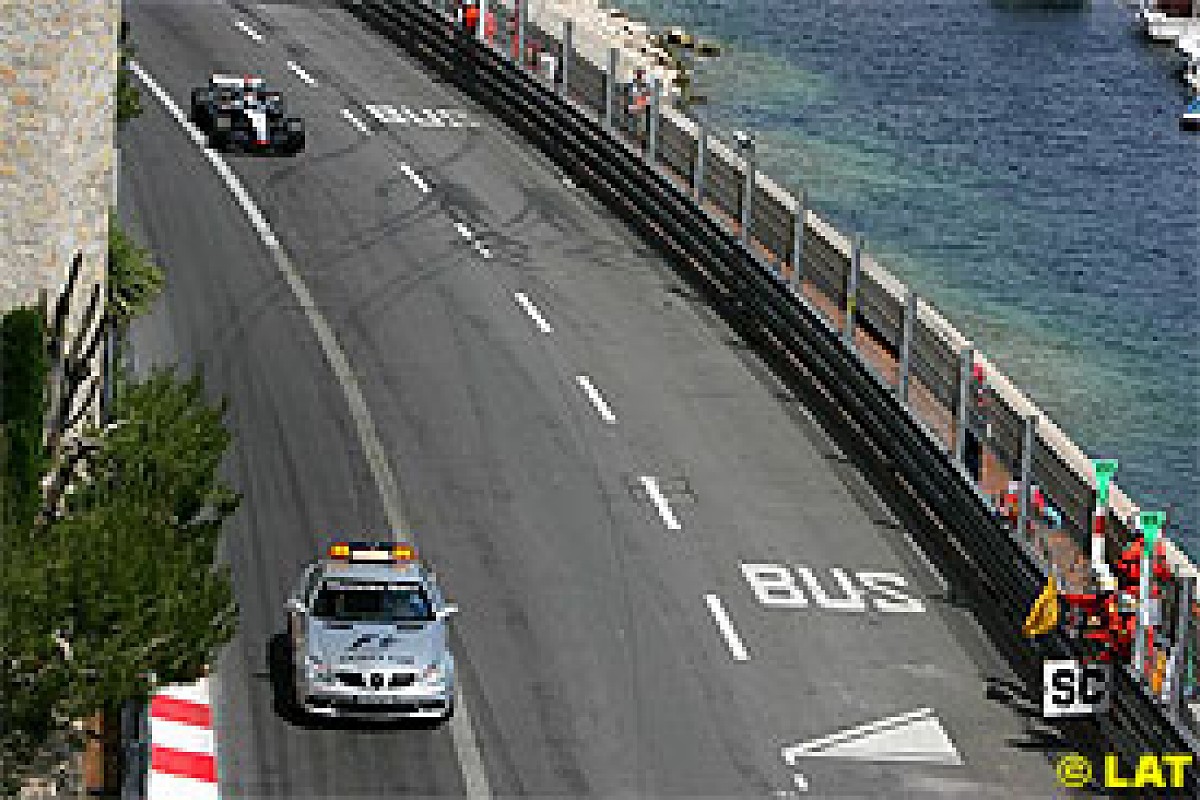 "I wasn't sure that the team was saying the safety car was not out even though the boards were there and then just after I came past the pit entry they told me to come in I said 'no, its too late'.
"The team got a bit confused and I was shouting a little bit back, you know, what the hell are they doing, but I think because they had the safety car boards out but on the computer or somewhere they didn't say the safety was out."
The same happened to all the leaders, giving teams one more lap to think through their strategy. Alonso, Webber and Heidfeld were all in on the next lap, but after strategic considerations Raikkonen chose not to come in.
"We decided to stay out because we had got many laps to go still and I thought we would be able to pull enough lead before my pit stop," he said. "The car was pretty full, but it didn't feel heavy."
Trulli stayed out too, and moved up to second, while Williams' rapid pit work allowed both Webber and Heidfeld to get the jump on Fisichella, who had to wait patiently while third-placed Alonso was fuelled up.
Apart from Friesacher, no other driver chose to pit before the safety car peeled in at the start of lap 29 to begin what would be a vital part of the race for Raikkonen to push.
Friesacher then spun out and crashed when he lost control of his car heading out of the tunnel and glanced the barriers as he headed backwards into the chicane on lap 31.
"The back end of the car felt really strange, almost like there was a puncture," said Friesacher. "On the lap I spun I just touched the brakes at the chicane and the rear snapped away. It's a real shame."
Unlike Albers, Friesacher's spinning Minardi failed to have an impact on the race overall as it left little debris as it shot into the run-off area of the chicane before being pushed away.
Meanwhile, Raikkonen made the most of a clear track to gain an advantage of 5.686 seconds over Trulli by the end of the first lap after the restart and more than 18 seconds before Trulli pitted on lap 39, two after Villeneuve.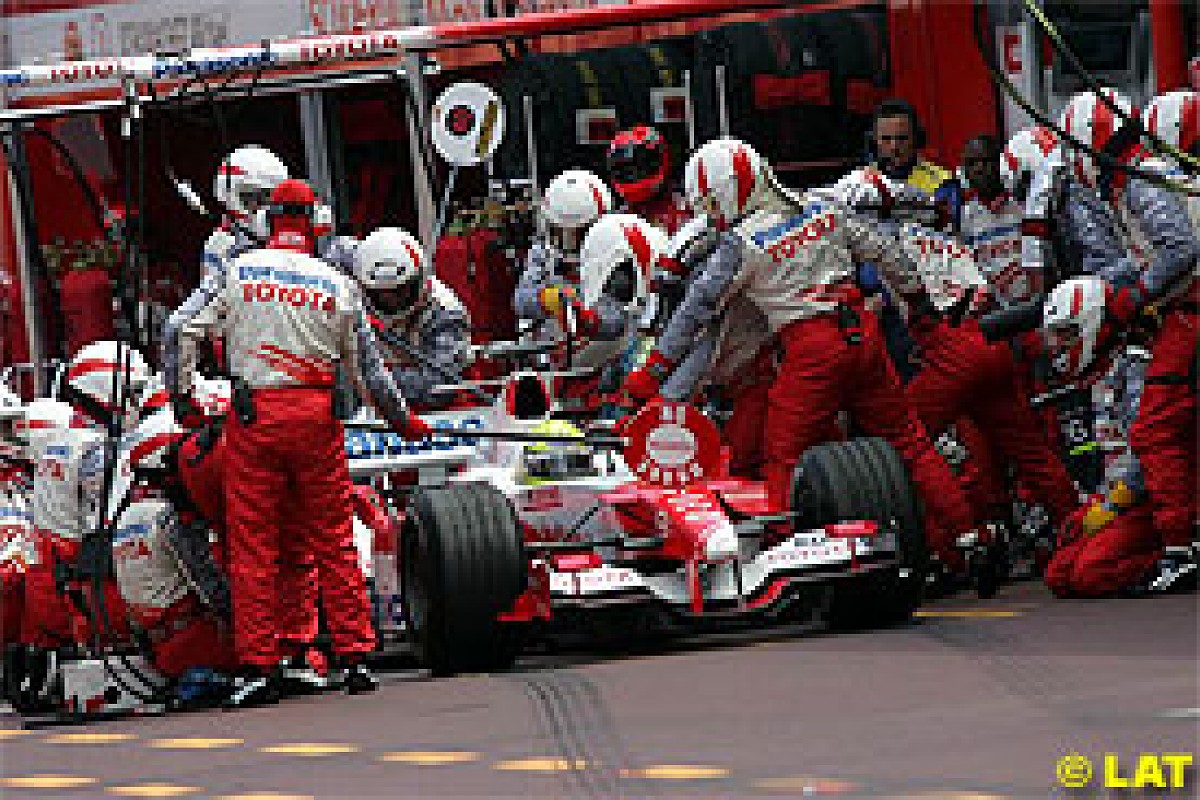 Ralf Schumacher, in the second Toyota, stopped at the end of lap 41 and Raikkonen finally came in at the end of lap 42, after completing more than 87 miles on his first stint of fuel.
By the time he stopped he was almost 35 seconds ahead of Alonso, who was in second, and when he came out of the pits he was still 15 seconds ahead and left with a comfortable drive to victory.
Alonso, meanwhile, was far from comfortable as Webber's Williams virtually glued itself to his gearbox. "Fernando had some massive moments," said Webber. "He was really, really slow and he nearly crashed in front of me a few times."
Ferrari ran even longer and Barrichello pitted on lap 45 for his first stop, bit had a disaster when he stalled in the pits then shot out in frustration and was called back in three laps later for a stop-go for speeding.
Montoya made his first stop on lap 46 and Massa made his second stop on lap 50 to leave the top order with Raikkonen 15 seconds ahead of Alonso, who had Webber and Heidfeld trailing close behind.
Williams were simply biding their time behind Alonso but soon arrived in the window for pit stops and Heidfeld was called in first, on lap 57, because he was more marginal on fuel than Webber, and Webber came in a lap later.
Webber, however, had track position on his teammate and felt he should have been called in first, leading to some sullen expressions and some disgruntled comments from the Australian after the race.
"I asked the guys after our first stop if Nick was longer or shorter than me and Nick was shorter than me on fuel so I think it is just the guys on the perch really," said Webber.
"Nick and I were doing our best behind Fernando and there was a Jordan coming which Fernando and I had to negotiate when Nick had a free lap so that was unfortunate."
Schumacher made his second stop on lap 58 and Montoya passed Massa for position on lap 60 and Liuzzi was forced to stop on the same lap when his rear tyre failed and the stormtrooper pit crew failed to fix the problem.
Villeneuve then cost Sauber the chance of picking up some valuable points when he made a lunge inside teammate Massa at Sainte Devote on the 63rd lap. "I could see that his rear tyres were finished," he explained.
Massa said: "I think he tried at the wrong moment and if he had waited a bit he could have overtaken me a bit after. He could see my tyres were bad but I think it was wrong from his side."
Villeneuve argued: "My car felt as good as it had been all race and I was told to reduce the gap to the guys in front of me because a lot of us were closing up in the fight for points, but I tried something that unfortunately didn't work."
Peter Sauber was less than happy with the incident, which saw Villeneuve hit the kerbs on the inside of the corner and pile into the barriers and caused Massa to go up the escape road and spin round to return in 11th.
"The incident caused by Jacques cost us five valuable championship points that would have enabled us to close the gap on our direct competitor," he said. "What happened there is the most depressing thing that a team can experience."
Fisichella, meanwhile, was struggling with tyre problems for the same reason as Alonso and closed up a train with Trulli pressuring him hard. The Renault driver put up good resistance but finally buckled on lap 64.
"Giancarlo made a mistake into Mirabeau and I was able to overtake him into the Loews hairpin," said Trulli. "But I hit the inside kerb which made my car feel unbalanced."
Trulli's move pushed Fisichella wide and allowed Montoya, Ralf Schumacher and the two Ferraris of Barrichello and Schumacher to get past, dropping Fisichella from fifth to tenth in a few seconds.
But Trulli's poor handling caught him out almost immediately and he went wide at the chicane, which allowed Montoya to gain another place before Trulli peeled into the pits to check the car.
Alonso's tyre problems were so bad by now he was soon caught by the Williams pair, with Heidfeld leading Webber this time. On lap 71 he made his move. "I think he was distracted a bit," said Heidfeld.
"The laps before I tried I wasn't trying too hard. If he had made a big mistake, I would have tried it, but I saw that his tyres were so bad that I thought I would just wait a few laps because they would get worse and worse.
"I saw that he was going to lap a Toyota and I think that cost him a bit of speed in the tunnel. I knew that before, so I tried to have a very good exit, and I just got by."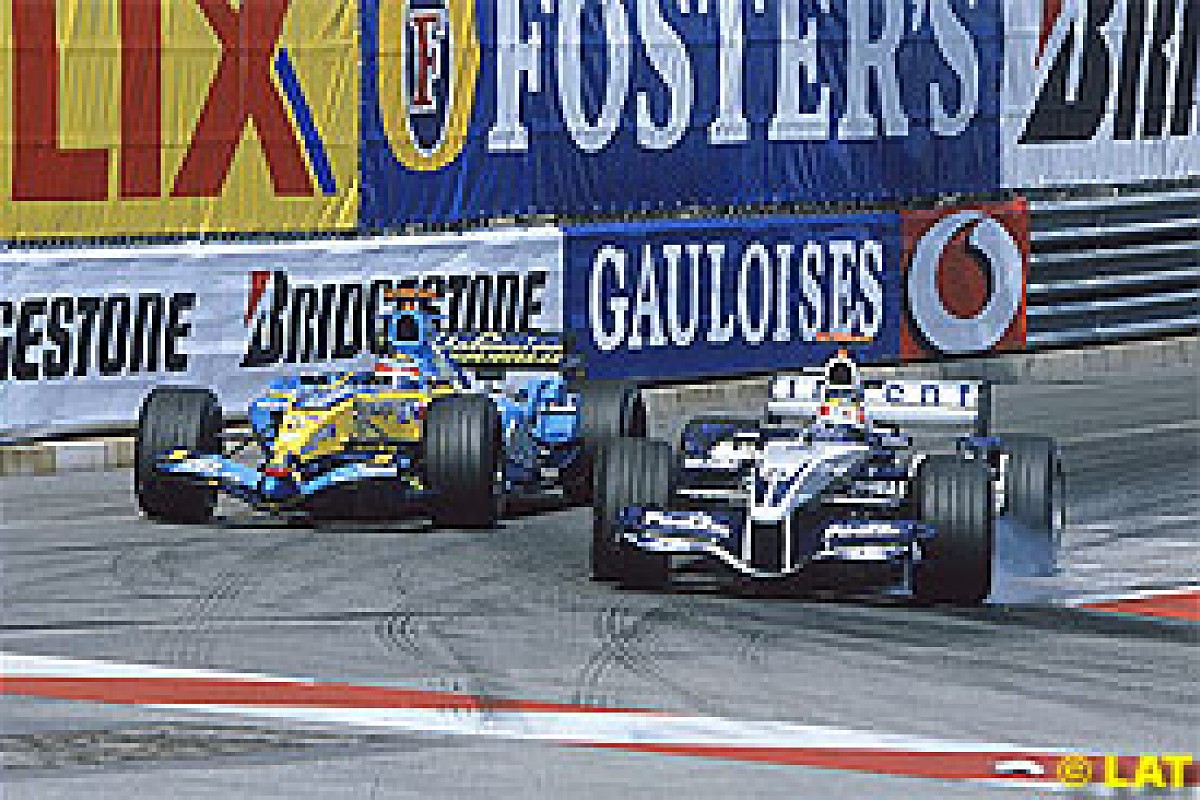 It was a smooth move, but without a backmarker to help Webber found it harder to attack. "I missed the chicane a little bit but Fernando was having trouble to stop there at all and he went straight as well," he said.
"The next lap I was just behind the kerb a little bit and Fernando went straight again, so I managed to get him the second time. It was clear I was on the inside but it was not an absolutely perfect overtaking move."
Nor was Schumacher's effort on teammate Barrichello as the race came to a close. Following a train of cars led by Alonso, with Montoya, Ralf Schumacher and the Ferrari pair, Schumacher was frustrated at the back.
Schumacher made his move in the chicane but Barrichello protested: "He overtook me in a place where he shouldn't have. He took a gamble for an extra point and if I hadn't moved out of the way we would have crashed."
But the World Champion was not satisfied with seventh and made a last-gasp lunge on his brother as they trail of cars crossed the line. "Michael's crazy," shouted Ralf after he was almost pushed into the barriers again.
But it was all in a day's racing for Schumacher. "I didn't think there was much risk involved in the moves," he said. "I am a full-blooded racer, that's why I'm here. Do they think I came here just for a Sunday afternoon outing?"
Raikkonen was. His slow, comfortable stroll around the harbour in Monaco proved he is the man of the moment, and his delight in the finish area showed he is up for the fight and ready to go for his hat-trick in Germany this weekend.
Race Results
Pos  Driver        Team                  Time   
 1.  Raikkonen     McLaren-Mercedes (M)  1h44:51.210
 2.  Heidfeld      Williams-BMW     (M)  +    13.877
 3.  Webber        Williams-BMW     (M)  +    18.484
 4.  Alonso        Renault          (M)  +    36.487
 5.  Montoya       McLaren-Mercedes (M)  +    36.647
 6.  R.Schumacher  Toyota           (M)  +    37.177
 7.  M.Schumacher  Ferrari          (B)  +    37.223
 8.  Barrichello   Ferrari          (B)  +    37.570
 9.  Massa         Sauber-Petronas  (M)  +     1 lap
10.  Trulli        Toyota           (M)  +     1 lap
11.  Villeneuve    Sauber-Petronas  (M)  +     1 lap
12.  Fisichella    Renault          (M)  +     1 lap
13.  Monteiro      Jordan-Toyota    (B)  +    3 laps
14.  Albers        Minardi-Cosworth (B)  +    5 laps

Fastest Lap: M.Schumacher, 1:15.842

Not Classified/Retirements:

Driver        Team                  On Lap
Liuzzi        Red Bull-Cosworth (M)   59
Friesacher    Minardi-Cosworth  (B)   29
Coulthard     Red Bull-Cosworth (M)   24
Karthikeyan   Jordan-Toyota     (B)   19


World Championship Standing, Round 6:                

Drivers:                    Constructors:             
 1.  Alonso        49        1.  Renault           63
 2.  Raikkonen     27        2.  McLaren-Mercedes  51
 3.  Trulli        26        3.  Toyota            43
 4.  Webber        18        4.  Williams-BMW      35
 5.  Heidfeld      17        5.  Ferrari           21
 6.  R.Schumacher  17        6.  Red Bull-Cosworth 14
 7.  Fisichella    14        7.  Sauber-Petronas    7
 8.  Montoya       14       
 9.  M.Schumacher  12       
10.  Coulthard     10       
11.  Barrichello    9       
12.  Wurz           6       
13.  Villeneuve     5       
14.  de la Rosa     4       
15.  Klien          3       
16.  Massa          2       
17.  Liuzzi         1
       

Fastest race laps: Click here
Pitstop times: Click here
Lap by Lap
Lap 1:
After qualifying on pole position for the third consecutive race - and the sixth time in his Formula One career - Kimi Raikkonen repels fellow front-row qualifier Fernando Alonso into Ste Devote and pulls away by 1.2 seconds during the lap. Mark Webber makes a slow start and loses places to both Giancarlo Fisichella and Jarno Trulli. Nick Heidfeld settles into sixth ahead of David Coulthard, Michael Schumacher, Felipe Massa (up from 11th on the grid), Jacques Villeneuve, Rubens Barrichello, the penalised Juan Pablo Montoya (who started 16th after having his qualifying times deleted for causing an avoidable accident in Saturday morning's free practice), Vitantonio Liuzzi, Patrick Friesacher Christijan Albers Tiago Monteiro, Ralf Schumacher and Narain Karthikeyan.
Lap 2: Raikkonen increases his advantage to 1.7s. The top three begin to edge away from Trulli.
Lap 3: Ralf S passes Monteiro for 16th.
Lap 4: Ralf S moves up another place, at Albers's expense.
Lap 5: Raikkonen cuts his fastest lap to 1m 17.032s and leads by 2.3s. Alonso is 1.4s clear of Fisichella.
Lap 6: Alonso is into the 1m 16s - 1m 16.835s.
Lap 8: Ralf S passes Friesacher for 13th.
Lap 9: Raikkonen laps in 1m 16.502s.
Lap 10: Raikkonen leads by 2.2s. Alonso is 1.7s clear of Fisichella. Ralf S apart, the order has not changed since the start - although Webber is putting Trulli under fierce pressure. After a particularly slow lap, Karthikeyan pits.
Lap 11: Karthikeyan comes in again but rejoins.
Lap 13: Another fastest lap for Raikkonen: 1m 16.495s.
Lap 18: Raikkonen laps in 1m 16.414s. Trulli and his suitors lose about four seconds while lapping Karthikeyan.
Lap 20: Raikkonen laps in 1m 16.235s, leads by 5.4s. Two laps in arrears, Karthikeyan pits again.
Lap 21: Karthikeyan makes his fourth stop - and this time goes straight into his garage.
Lap 24: Albers spins at Mirabeau while being lapped. Coulthard swerves round him but is clipped by Michael S and the following cars all come to a halt. The Safety Car is deployed while the mess is cleared. Massa makes a smart pit stop at the end of the lap. Coulthard comes in, too, but retires. Michael S pits for a fresh nose.
Lap 25: Raikkonen eschews the pit entrance but Alonso, Fisichella, Webber, Heidfeld and Friesacher all come in. Fisichella and Heidfeld lose time queuing behind their team mates.
Lap 29: Race restarts with Raikkonen leading Trulli, Alonso, Webber, Heidfeld, Massa, Villeneuve, Fisichella, Barrichello, Montoya, Liuzzi, Ralf S, Michael S, Friesacher, Monteiro and Albers. Raikkonen pulls 5.6s clear of Trulli, who is behind the lapped Michael S.
Lap 31: Friesacher crashes exiting the tunnel and climbs unaided from his crumpled Minardi.
Lap 33: Raikkonen is 13.8s ahead of Trulli - and 17.0s clear of Alonso.
Lap 34: That'll be a 1m 16.222s for the leader, then. He is dropping Trulli by more than a second per lap. The heavily-fuelled Alonso is going more slowly than both.
Lap 36: Still running between the two leaders, 13th-placed Michael S is lapping more quickly than anyone bar Raikkonen
Lap 37: Villeneuve pits and slips from seventh to 12th. Monteiro refuels, too.
Lap 39: Trulli pits and rejoins 11th. Michael S sets a new fastest lap - 1m 15.995s. Albers pits (although his rivals are on lap 42 by now).
Lap 40: Michael S laps in 1m 15.842s.
Lap 41: Ralf S pits.
Lap 42: Leading by 34.7s, Raikkonen pits and rejoins more than 13s clear of Alonso. Webber is third from Heidfeld, Massa, Fisichella, Barrichello, Montoya, Liuzzi, Trulli, Villeneuve, Ralf S, Michael S and the distant Monteiro and Albers.
Lap 45: Liuzzi and Barrichello pit. The Brazilian stalls - and then lands a drive-through penalty for speeding.
Lap 46: Montoya is the last driver to refuel.
Lap 47: Post stops, Raikkonen is 15s clear of Alonso - who has the Williams-BMWs queued up behind him. Webber lies third from Heidfeld, Massa, Fisichella, Trulli, Montoya, Villeneuve, Ralf and Michael S (now back on the lead lap), Liuzzi and Barrichello.
Lap 48: Barrichello serves his penalty but remains 13th.
Lap 50: Massa pits and slips from fifth to seventh.
Lap 54: Alonso has eased his pace by four seconds and is under huge pressure from Webber.
Lap 55: Michael S tries to pass his brother at the chicane, but fails and goes sailing over the kerbs.
Lap 56: Barrichello passes Liuzzi.
Lap 57: Heidfeld refuels.
Lap 58: Webber follows suit - and rejoins behind his team-mate. Michael S comes in and slips to 13th, on Liuzzi's tail.
Lap 60: Liuzzi pits with a punctured right rear and retires. Fisichella, in fifth, heads a queue of cars stretching back to 12th-placed Barrichello. Raikkonen is on his own at the front, half a minute clear of Alonso.
Lap 63: Villeneuve tries to pass Massa at Ste Devote, but he hits the tyre wall and forces his team-mate down the escape road.
Lap 64: Trulli passes Fisichella at the hairpin and most of the queue follows him through. Trulli then runs over the chicane kerbs and loses several places himself.
Lap 65: Trulli pits. Raikkonen leads Alonso, Heidfeld (half a second adrift of the Spaniard), Webber, Montoya, Ralf S, Barrichello, Michael S, Fisichella, Massa, Trulli and Villeneuve as the midfield calms down (a bit, although Montoya and Michael S, three places apart, are separated by a couple of seconds).
Lap 71: Heidfeld pounces at the chicane and passes Alonso for second as they come up behind the lapped Trulli.
Lap 73: Webber tries to emulate Heidfeld at the chicane, but both cars runs wide and Alonso stays ahead after bobbling over the kerbs.
Lap 74: Webber and Alonso stage a near-carbon copy... but this time the Australian makes it stick. He has lost almost 10s to Heidfeld in the intervening three laps. Montoya is now within 5s of Alonso - and closing fast.
Lap 77: Alonso has Montoya, Ralf S, Barrichello and Michael S on his tail. Barrichello all but clips Ralf S at Mirabeau.
Lap 78: Raikkonen wins by 13.8s from Heidfeld and Webber - both of whom record career-best finishes. Alonso holds on to fourth by 0.1s from Montoya. Michael S passes Barrichello at the chicane and crosses the line seventh, less than a tenth behind his brother. Massa, Trulli, Villeneuve, Fisichella, Monteiro and Albers complete the classified finishers.