Whatever else you do this week, you must read this column. All of it. Why so? Because it's fantastic.
And it's fantastic not because of any talent on my part, but because of the majestic gifts of a man who remains, despite the difficulties he is currently facing, a truly brilliant Grand Prix driver.
That man is Jenson Button, and his difficulties you know about. Bluntly, it's difficult to shine in a shitbox.
It's only possible so to do, in fact, when it rains - and, as the Formula One circus returns to the Hungaroring, scene of Button's only Grand Prix victory 12 months ago, you can be well sure that rain is what he'll be praying for. Showers are currently forecast for Saturday, but Jenson will be hoping it will be wet on race day, too.
Jenson Button © LAT
But they say you're only as good as your last race, and Hungary 2006 was many, many races ago. And, by and large, those many, many races since then haven't been great for Jenson.
His last race, indeed, the 2007 European Grand Prix at the Nurburgring, was not good, either: he qualified 17th and shunted on lap three.
But wait. Look beyond the stats. And then believe me when I say that what Jenson did at the Nurburgring, over just two completed laps, on Sunday July 22, ranks among some of the most dazzling drives in all Formula One history.
And that's why I've decided to devote this week's column to those two laps, and more specifically to Jenson's description of them, spoken to me on the telephone one evening earlier this week.
It came off my Dictaphone like this:
"On the grid it was beginning to rain, but not yet too hard, and of course everyone except [one-off Spyker driver, a rookie making his Grand Prix debut] Marcus Winklehock was on dry tyres.
"Even so, I don't know why Rubens [Barrichello, who had qualified the other Honda 14th] and I both got pretty poor starts. For me, the initial pull-away was fine, then the engine just bogged and the two Toro Rossos came past me, so I arrived at Turn 1 in 19th position, I think.
"As is always the case in the wet, no-one knew what to expect at the first corner, grip-wise, but I figured I'd just guess and kind of pretend it was dry. That way I might pick up a few places, I hoped.
"So I went down the outside - that approach had seemed to work well in the GP2 race, which I'd watched carefully. Anyway, it did work - I picked off both Toro Rossos, which pleased me, and then drove off towards Turn 2.
"It was raining a bit more heavily there, but not yet really heavily, and I drove round the outside of another car there. Turns 3 and 4 were hairy - I was three or four abreast with other cars in both of them, on the inside in Turn 3 and on the outside in Turn 4 - and I picked up a couple more places that way.
"It just seemed so ... easy. I was saying to myself, in my helmet, 'What the hell is going on?'
"As I got to Turn 5 I decided to go wide again - and drove round the outside of Anthony [Davidson] and Lewis [Hamilton]. Again, we were three-abreast. Mind you, I think he [Hamilton] had a puncture by then.
"I remember saying to myself, in my helmet, again, 'This is weird.' Because this lap just wasn't normal. I was overtaking a car, sometimes two cars, at every corner, and yet it felt so easy.
Jenson Button runs through the pack on the opening lap © LAT
"And Turn 5 is a fast fifth-gear left-hander in the dry - not the kind of corner you'd ever expect to be able to go round the outside of one car, let alone two cars at the same time.
"And it carried on that way. At Turn 6 I dived down the inside of Rubens and was able to pick him off on the exit, and as I approached Turn 7, the hairpin, I was behind Taku [Sato]. By now it was raining harder, and I couldn't really see a thing.
"As we got to the braking area, he [Sato] braked a bit earlier than I thought he would, so I jinked down the inside of him. But what I hadn't realised - because all I could see was a wall of spray - was that he'd taken an inside line himself, to defend the corner. So I had to put two wheels up on the apex kerb.
"But it felt okay there, and I thought, 'Yep, that's fine,' but then he [Sato] turned in on me, and we made contact, but luckily it was wheel-on-sidepod so no damage done and I pushed him wide, which was okay, and emerged from the turn ahead of him.
"Next was the uphill left-right chicane [Turns 8 and 9, a 170 mph sixth-gear double flick in the dry], and when I got there I could see, ahead of me in the spray, car after car after car having big oversteer moments. It looked really strange.
"And, when I got there, it was the same for me. It was very wet there, and, like everyone else [except Winklehock], I was still on dry tyres, of course, and as I turned in I got a bit of understeer, which was fine, followed by a massive slap of oversteer, which wasn't. But I got through it okay.
"Next was the short straight towards Turn 10, the tight fourth-gear left. And I got past both Renaults there - unbelievable! And at Turn 11 I got past Ralf [Schumacher] on the exit, and I was thinking, 'This is just so amazingly weird ...'
"The next corner was the slow chicane, another left-right, and again the visibility was very bad, but I saw one of the Williamses go straight on, so I gained another place there. And as I drove out of the slow chicane, Shov [Andrew Shovlin, Button's race engineer] was on the radio, saying, "JB! Pit! Pit! Pit! You've got to come in for intermediates."
"As I drove down the pit lane, he asked me, 'How many turns of front wing do you want down, JB?' 'Five turns down,' I shouted, as I arrived in the box. Actually, I overshot it a bit, because it was wet and there was so little grip on the pit apron, but it was okay, not a big problem, and the boys did a fabulous job.
"While I was stopped I saw Fernando [Alonso] go past and I thought, 'Hang on, that's odd. He started second and I started 17th, and yet ...'
"But then the lollipop went up and away I went, and as I exited the pit lane I found myself behind Mark [Webber]. My inters were pretty cold by now, and they were shuddering as a result, and in the spray I could just make out a few cars sliding around Turn 1 in front of me.
"I got around it okay, though, and in front of me Mark ran wide into Turn 2, and I dived down the inside of him, running wide on the exit, but holding it together, and got past him. I looked in my mirrors, but I didn't see him again after that.
"I went through Turns 3, 4 and 5 - and ahead of me I could see Fernando's McLaren. And I began to think, 'This could be really good.'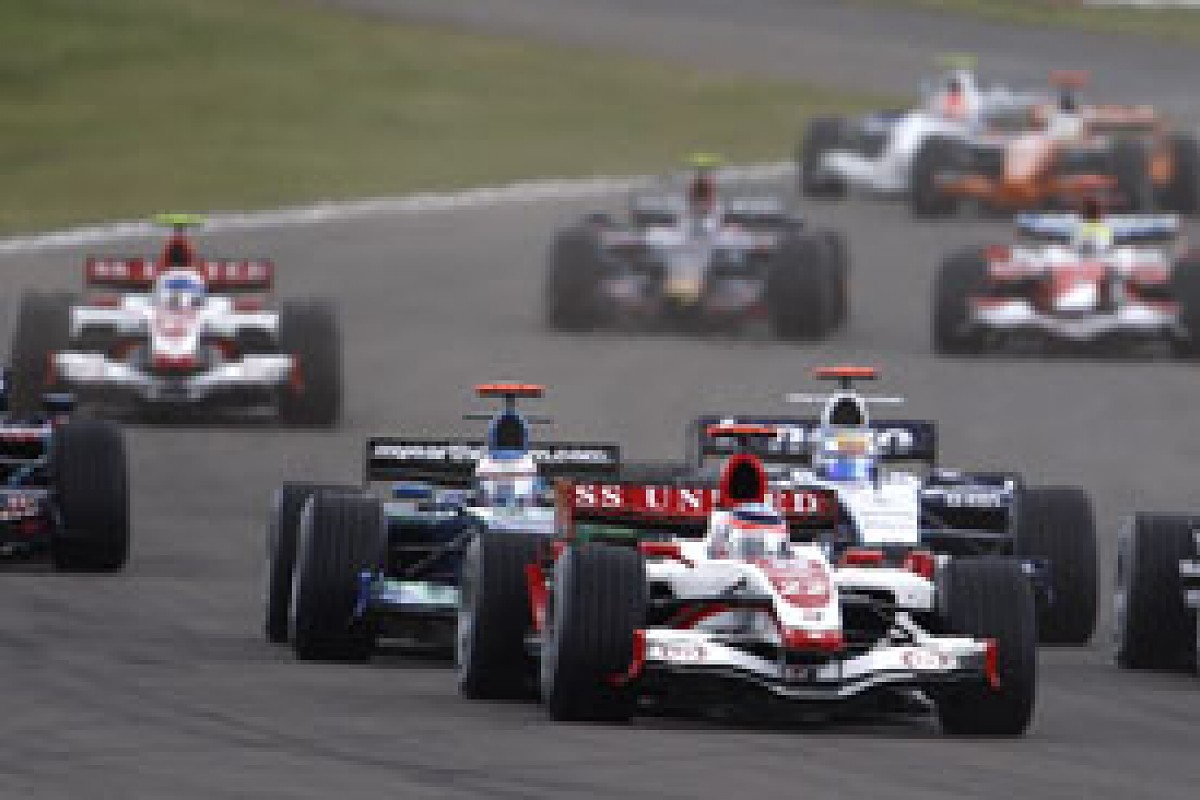 Jenson Button running in 4th place © LAT
"I knew I was really heavy, fuelled through to lap 30-something, and yet I was able to keep up with Alonso, who I knew would only be stopping on lap 19 or so. So I remember doing the sum and thinking, 'I must have 20kg, maybe 30kg, more fuel on than him.'
"And as I drove out of Turn 6 towards the hairpin, I could see that I wasn't only keeping up with him [Alonso] - I was catching him. I began to feel really, really good about things, I can tell you.
"Ahead, though, I could see carnage: cars going off everywhere at the hairpin, most of them still on dry tyres because they obviously hadn't pitted when I did, and most of them therefore without rain lights on.
"But I picked my way through them all, and it was really hairy because, on inters, my closing speed to cars on dries was enormous.
"And in the spray, I couldn't see them until I was practically on top of them, especially with no rain lights on, and it was like that through the hairpin and all the way along the uphill straight towards the high-speed chicane [Turns 8 and 9].
"And it was risky, and scary, because all I could see was spray and I was just feeling my way. It was a case of, 'I think I'll go for the inside here, let's hope that's a bit of circuit, not grass ... ah yes, good, it's circuit, it feels okay ...' Really difficult, really challenging.
"And as I drove out of the hairpin I could see Alonso, just seven or eight metres in front of me. And I realised that I must be in fourth place, behind Winklehock, who obviously wasn't going to stay there for long, Felipe [Massa] and Fernando.
"And I knew I had loads more fuel on than either Felipe or Fernando, and as we picked our way through the traffic, diving this way and that through the spray, and I arrived at the slow chicane right on Fernando's bumper.
"And again I was thinking, 'This is just so weird.' I mean: I started 17th, he started second. I'm in a Honda, he's in a McLaren. And yet, after less than two laps, I'm right with him, challenging for what is effectively second place [discounting Winklehock, whose position was always going to be temporary].
"Then Shov came on the radio in the last corner, telling me to fail, er, one of the things on the steering wheel [Jenson doesn't want to tell a journalist, exactly what thing!], because there was a problem with it, so I did that.
"And when I looked up from doing that, I was coming into Turn 1 for the start of lap three. And I was really close to Fernando. But as I touched the brakes for Turn 1, the wheels just locked solid.
"So I came off the brakes, to give the car a chance to regain its composure, but nothing happened: everything was still locked solid.
"And I realised I was aquaplaning, because the track surface at that point of the surface had become this huge lake, which meant I had no control at all. Nothing.
"I might as well have been in a boat, because my car's wheels weren't touching the track anymore, just skating across the top of the lake. It's the most horrible feeling a racing driver can ever have.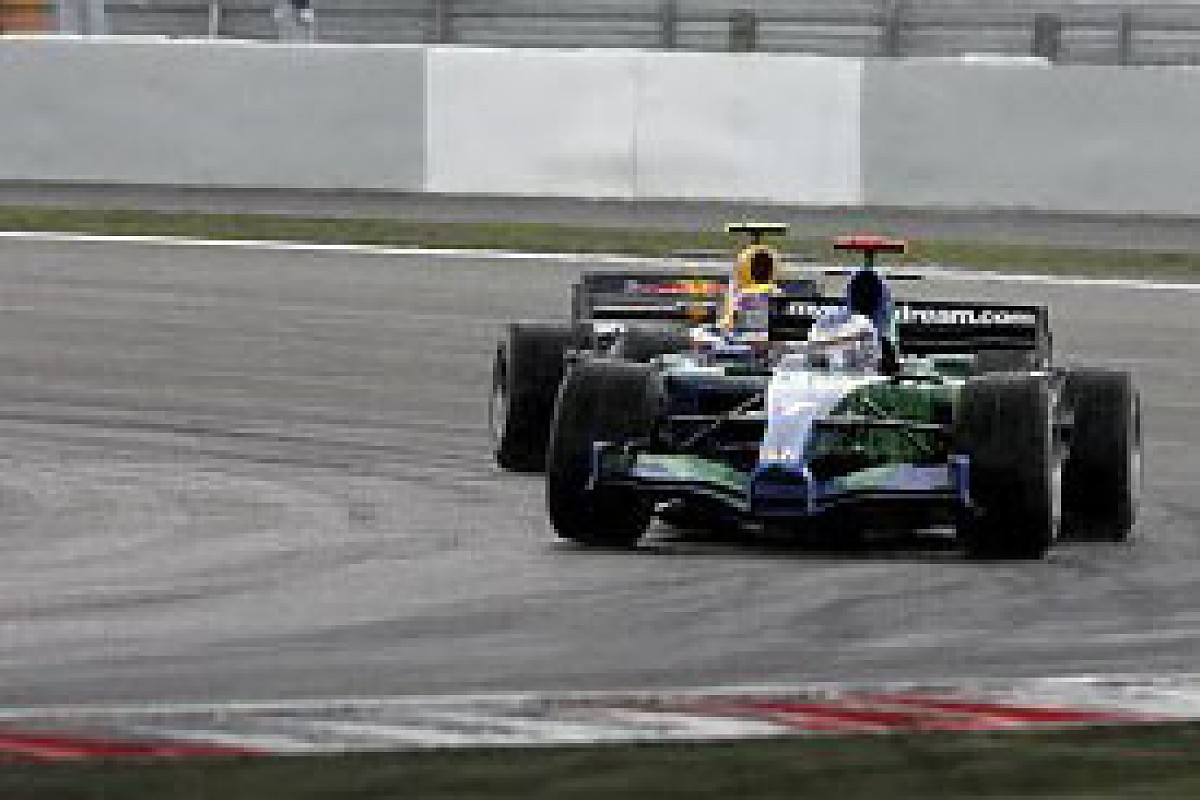 Jenson Button hydroplanes into the turn 1 gravel © XPB/LAT
"And ahead of me, as I was aquaplaning, I could still see Alonso, and I thought I was maybe going to float right into him, but in the end I just missed him, still floating, still locked solid.
"And then the back end [of Button's Honda] came round, and I realised I wasn't going to get round the corner, and then I realised that I was actually going to hit the tyre wall, and that was probably going to be that.
"And when I hit the wall, it wasn't a big impact, but it broke the front suspension. And that was that. And it was a massive shock. Just so enormously disappointing. You just can't imagine how disappointing.
"And I went on the radio and said sorry to the boys, and it was so gutting to have to say it, because we were really rocking. It was like Hungary last year.
"And, yes, okay, I was a passenger, because you can't do anything when you're aquaplaning, but maybe if I'd braked a few metres earlier, which maybe I might have done if I hadn't had to pay attention to one of the steering-wheel buttons on the start-finish straight, then maybe, well, you never know, but maybe ...
"And I've been reliving that braking point every night since then, wondering what might have been.
"Anyway, I was stopped in the gravel trap, and I knew the car was damaged, so I switched off the engine and then I looked up and saw a Spyker and Lewis just floating across the lake towards me, completely out of control. And they both shunted, too.
"And I jumped out of my car, and sprinted to the barrier and vaulted it, because I didn't want to be standing in that gravel trap with cars flying off in all directions like that.
"I did my leg in when I vaulted it, which cut me quite badly and will leave a scar, and I could see [Scott] Speed hurtling straight towards me, totally out of control, which was scary, but thankfully his car didn't fly over the tyre wall so it was okay.
"And I could see Lewis signalling to the marshals, and I thought, 'Jesus! He must be hurt.' And that's what I said to one of the marshals: 'Look, mate, I think Lewis is hurt.'
"I didn't think he could be signalling for assistance to get his car back on the track, but of course I soon saw that that was exactly what he was doing because his engine was still running and his car wasn't damaged.
"And then, as I watched, [Tonio] Liuzzi came sliding through, and he very nearly hit the tow-truck, which was scary, too.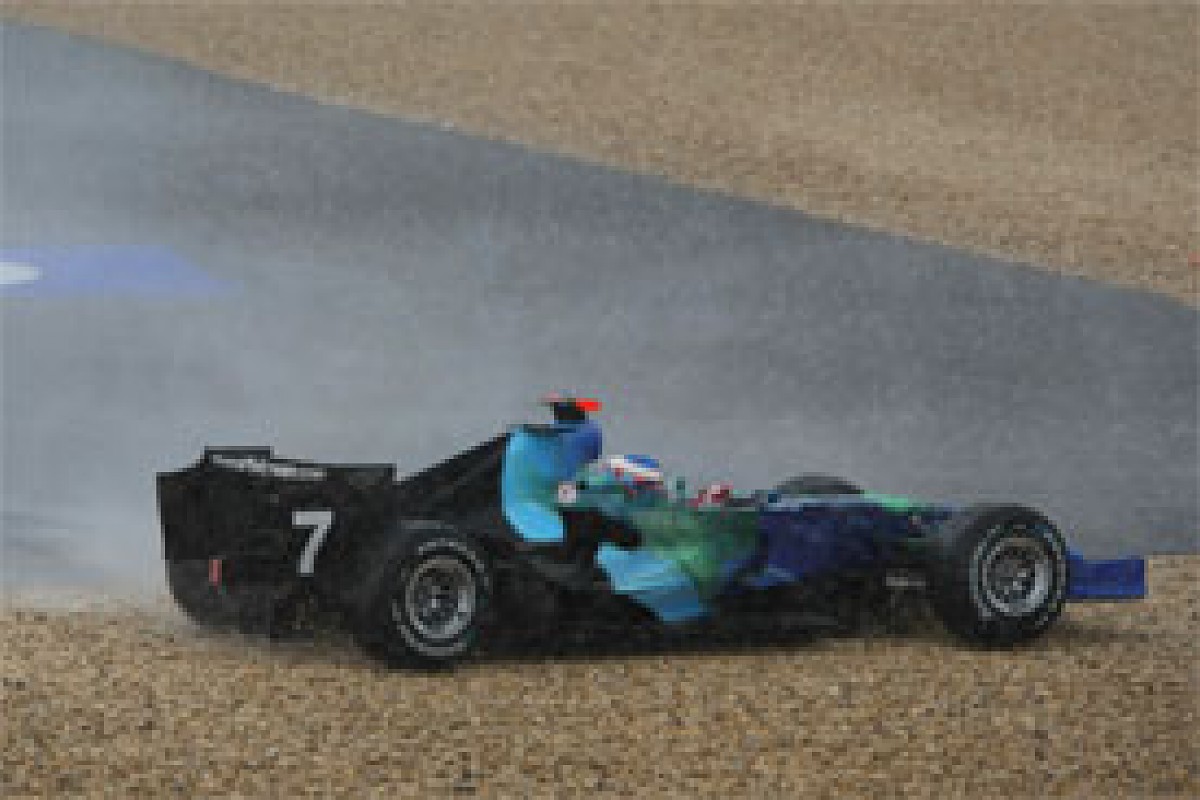 Jenson Button climbs over the barrier © LAT
"So I left. And, as I walked back to the pits, I began to feel this sensation of incredible disappointment. Because, and I don't mind saying this, I think those two laps were the finest laps I've ever driven in my entire racing career.
"And I think they may have been among the finest two laps anyone has ever driven in a Grand Prix, although I say it myself. Because I qualified 17th and Rubens 14th, and that's as good as our car was, and yet I was able to drive two laps like that in it.
"Thinking back now, and reliving those two laps in my mind's eye, it's like everything is in slow motion - and I've never had that feeling before in Formula One, picking cars off at every corner, just driving quicker, much quicker, than everyone else.
"I seemed to be able to find grip where the others couldn't. It was the strangest feeling. But a wonderful feeling."
The history books will record Jenson Button's 2007 European Grand Prix thus: Q17, DNF. But you know different now, don't you? Think of it, instead, as one of Formula One's great lost drives, drowned in a Nurburgring lake.
And think of it as a moment of mightiness. Remember it like that. Always. And for ever.