With stealth and discipline having been critical to his titles, it has been easy to forget that Fernando Alonso is also one of the most dynamic overtakers of his era, and an exemplary rain driver.
But the late downpour at the Nurburgring gave him a chance to showcase both attributes as he hounded and passed Felipe Massa to earn an extremely important victory on a weekend when endless disasters befell championship leader Lewis Hamilton.
Alonso admitted that he had been willing to settle for second place and an eight-point gain on Hamilton, but once it rained it proved just too tempting to go for victory.
"I always enjoy these types of races, but at one point, when I was second, I said maybe it's not the right time to rain, because I was happy with second place. Lewis was out of the points and Kimi as well, so for me eight points were good enough," he said.
"But then, obviously now with the final result, I like the rain, there's no doubt. Always when it rains, I'm quite happy and I have some fun."
Michael Schumacher had been invited to present the trophies, and until the late shower it looked like he would have the pleasure of handing the winner's prize to his own team, and in particular his 'protege' Massa.
Instead it was Alonso and Ron Dennis who collected their silverware from their sometime arch-rival - a juxtaposition that Dennis found understandably amusing.
Massa could only watch and grimace - for Alonso had not only inflicted an unexpected defeat on him, but also lambasted the Brazilian's driving as they headed for the podium. They had made contact while fighting for victory, and it appeared that Alonso accused Massa of deliberately causing the touch, although he refused to elaborate in the post-race interviews.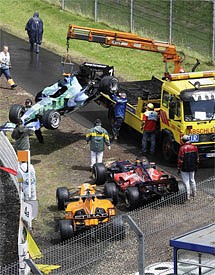 Cars are placed behind the barrier in Turn 1 © Reuters
"I apologise to him because I was so stressed when I finished the race because we nearly didn't finish the race. Now I try to enjoy the victory and forget everything," said Alonso. "I was not too happy at the end of the race because we touched each other but now, five minutes later on the podium I realised that this is motor racing, so I will not talk any more."
Massa was clearly taken aback by Alonso's approach.
"I was really surprised when he came to say that I did that on purpose. I would never do something like that on purpose," he said. "If somebody tells me something I did wrong and I didn't, I will be unhappy. But if he has apologised, then that's fine."
Both men made a great stride in the championship, thanks largely to Hamilton's hellish, point-less, weekend, which began with flu, and then progressed via a large qualifying crash to a race compromised by strategic misjudgements and some driving errors.
But it would take more than that cavalcade of issues to upset Hamilton's demeanour.
"I came here completely sick, had one of the biggest crashes I ever had, then got a puncture, went into the gravel, it started to rain - it was really a great weekend in terms of learning," he said.
"I really feel I've made a big step in terms of experience," he added. "I learned 10 times as much in the last race today. You can't have a perfect racing day race after race. The fight's still on..."
And Kimi Raikkonen is still part of that fight, even though he remains 18 points behind Hamilton after retiring in Germany. It was a bitter blow for the man who had been comfortably fastest in practice, qualifying, and the dry element of the race, but probably no less than he had been anticipating given his abysmal Nurburgring fortune.
Practice
Practice one - Friday am
Lewis Hamilton controlled the first session, ultimately holding a 0.236 second margin over Kimi Raikkonen, who briefly went fastest by dint of making a soft tyre run a few minutes prior to Hamilton's, but was soon pushed back to second.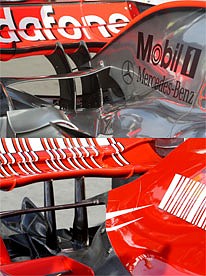 McLaren and Ferrari shared the fastest times on Friday © XPB/LAT
Fernando Alonso and Felipe Massa had a minor on-track contretemps after the McLaren had to cut the chicane while on a flying lap to avoid the cruising Ferrari. But the incident did not develop beyond a minor joust down the pit straight, before Massa allowed Alonso to pull away. The world champion ended the morning third, with Massa sixth behind the BMWs.
Considering his inexperience with Spyker's 2007 car, debutant Markus Winkelhock did well to get within 0.8 seconds of his highly-rated teammate Adrian Sutil. The newcomer still propped up the timesheets, and had a quick spin in the Mercedes Arena.
Giancarlo Fisichella also took a trip through the gravel on what looked like a difficult morning for Renault, whose cars ended up 18th and 19th. But the team were confident this reflected their conservative approach to Fridays rather than a genuine lack of pace.
Practice two - Friday pm
Dark clouds had loomed over the circuit as morning practice ended, and between sessions they developed in a thunderstorm and downpour. But while this made life tricky for the GP2 drivers practicing at lunchtime, the weather had cleared by the time the Formula One action resumed.
Some drivers briefly tried intermediate tyres, but then Hamilton went straight out on dry rubber and immediately beat Jenson Button's intermediate benchmark by a full 15 seconds, convincing the field that conditions were fine for 'slicks'.
It was Raikkonen who ultimately emerged on top in the session, his 1:33.339 effort 0.8 seconds than the morning pace, but a tenth faster than Hamilton's best afternoon time, as the McLaren made some brief trips off the road trying to respond.
Massa also left the track fleetingly on his final run and took third ahead of Alonso, with the Toyotas moving up to complete the top six and the leading 18 cars all lapping within 1.215 seconds.
The remaining damp patches caused a few scares for the drivers, but relatively little drama. Vitantonio Liuzzi took a long detour over the grass at the Ford Kurve, while Winkelhock's session ended 20 minutes early with the Spyker beached at the Bit Kurve.
Practice three - Saturday am
Raikkonen dominated an uneventful final practice session, with Hamilton again his nearest rival and this time 0.231 seconds adrift.
Alonso was unable to improve his time when the field switched to soft tyres for their last runs, so ended up 0.643 seconds behind Raikkonen in third, and with his time equalled by Robert Kubica in the closing moments.
A poor soft tyre run left Massa fifth, while Williams' Nico Rosberg completed the top six with a late run that edged Nick Heidfeld - whose day began with the birth of his second child - to seventh.
Practice round up
Sorted by total laps from all three sessions
Driver
Team
Total
laps
Practice 1
Practice 2
Practice 3
Button
Honda
82
1:33.936
28
1:33.880
36
1:32.869
18
Sato
Super Aguri-Honda
81
1:34.708
36
1:34.357
26
1:33.945
19
Heidfeld
BMW Sauber
77
1:32.975
35
1:34.146
22
1:32.581
20
Davidson
Super Aguri-Honda
76
1:34.567
30
1:34.554
26
1:33.792
20
Trulli
Toyota
76
1:34.152
34
1:33.746
22
1:32.936
20
Liuzzi
Toro Rosso-Ferrari
75
1:34.907
31
1:35.653
24
1:32.841
20
Rosberg
Williams-Toyota
72
1:34.563
32
1:33.845
24
1:32.344
16
Kubica
BMW Sauber
71
1:33.205
34
1:34.221
19
1:32.039
18
R.Schumacher
Toyota
71
1:33.825
32
1:33.668
18
1:32.788
21
Barrichello
Honda
70
1:34.142
25
1:34.411
26
1:33.229
19
Raikkonen
Ferrari
70
1:32.751
24
1:33.339
28
1:31.396
18
Massa
Ferrari
69
1:33.605
24
1:33.590
27
1:32.217
18
Wurz
Williams-Toyota
69
1:34.345
32
1:34.264
21
1:33.154
16
Alonso
McLaren-Mercedes
68
1:32.932
27
1:33.637
30
1:32.039
11
Winkelhock
Spyker-Ferrari
68
1:37.116
30
1:37.319
19
1:36.090
19
Fisichella
Renault
67
1:35.077
22
1:34.431
28
1:33.214
17
Sutil
Spyker-Ferrari
67
1:36.340
22
1:36.527
25
1:34.423
20
Webber
Red Bull-Renault
67
1:34.683
22
1:34.235
29
1:32.632
16
Hamilton
McLaren-Mercedes
66
1:32.515
26
1:33.478
28
1:31.627
12
Coulthard
Red Bull-Renault
62
1:34.062
25
1:34.504
19
1:32.679
18
Kovalainen
Renault
59
1:34.921
21
1:34.446
25
1:33.484
13
Speed
Toro Rosso-Ferrari
55
1:35.643
15
1:35.320
26
1:32.974
14
Qualifying
Part one
The Super Aguris had ended morning practice down in 18th and 19th positions, but when Q1 began they quickly established themselves in the top 16 and showed no sign of being pushed back beyond the cut-off point.
At least two of the bottom six places would therefore be occupied by bigger names. Both Williams and Giancarlo Fisichella looked to be at risk at the clock counted down, but in the end it was Honda's Jenson Button and Red Bull's David Coulthard who found themselves eliminated.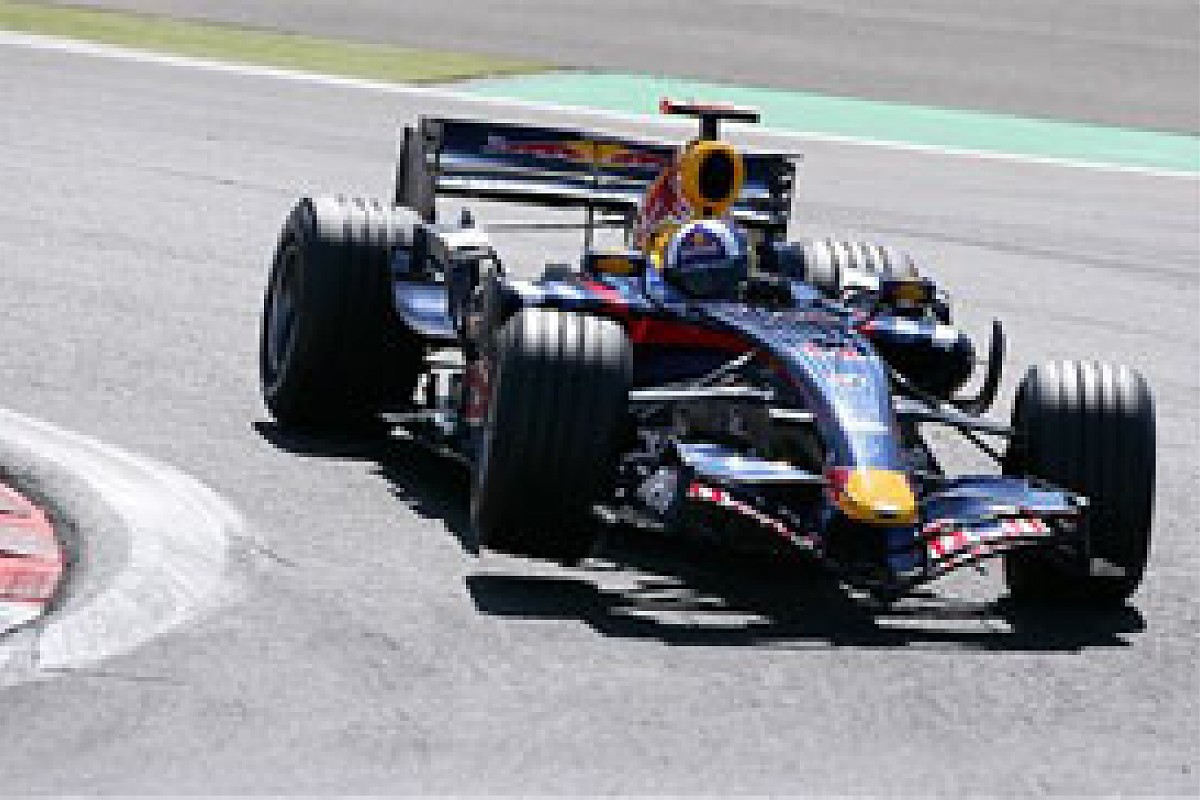 David Coulthard had a troublesome qualifying and was unable to start a flying lap © LAT
While the "massively disappointed" Button's 17th place was simply a consequence of poor grip, a more convoluted sequence of events conspired to leave Coulthard down in 20th.
Red Bull sent their cars out in close company, and when Mark Webber locked up and abandoned his first run, Coulthard found himself in his teammate's turbulence and struggling for speed. He was then sent out too late to fit in another run.
"I think we made two mistakes in that qualifying session - you shouldn't really get anywhere near a teammate, and clearly you shouldn't run out of time to start your lap," said the disappointed but calm Coulthard.
"But it happened, it's over, we'll go on to tomorrow. It's not something that's happened before and I doubt it will happen again."
A gloomy quartet of Toro Rossos and Spykers completed the back rows.
Scott Speed and Vitantonio Liuzzi were frustrated and perplexed by their lack of speed as they took 18th and 19th, while the 1.5 seconds separating Spyker's lead driver Adrian Sutil from 20th left Mike Gascoyne frowning.
"Whilst I don't think we expected to be anywhere else apart from the back row, the gap to the rest of the field is certainly much bigger than it has been," he said.
Markus Winkelhock was slowest of all, and disappointed to end up 1.6 seconds adrift of Sutil.
Part two
Heikki Kovalainen was only 0.227 seconds faster than Renault teammate Giancarlo Fisichella on their last Q2 runs, but that was enough to get the Finn through to Q3 in a comfortable eighth place, and to leave the Italian down in an unhappy 13th.
Fisichella cited traffic on his first run, over-driving on his second, and the fact that Renault were still fine-tuning the set-up required by the new front wing introduced for the Nurburgring.
The Williams duo narrowly missed out as well, and would have to share row six, with Nico Rosberg - who felt he had been compromised by traffic right at the end of his flying lap - 0.018 seconds faster than Alex Wurz. Compared to some of Wurz's miserable qualifying experiences in 2007, this was a more than respectable result, but the Austrian was not satisfied.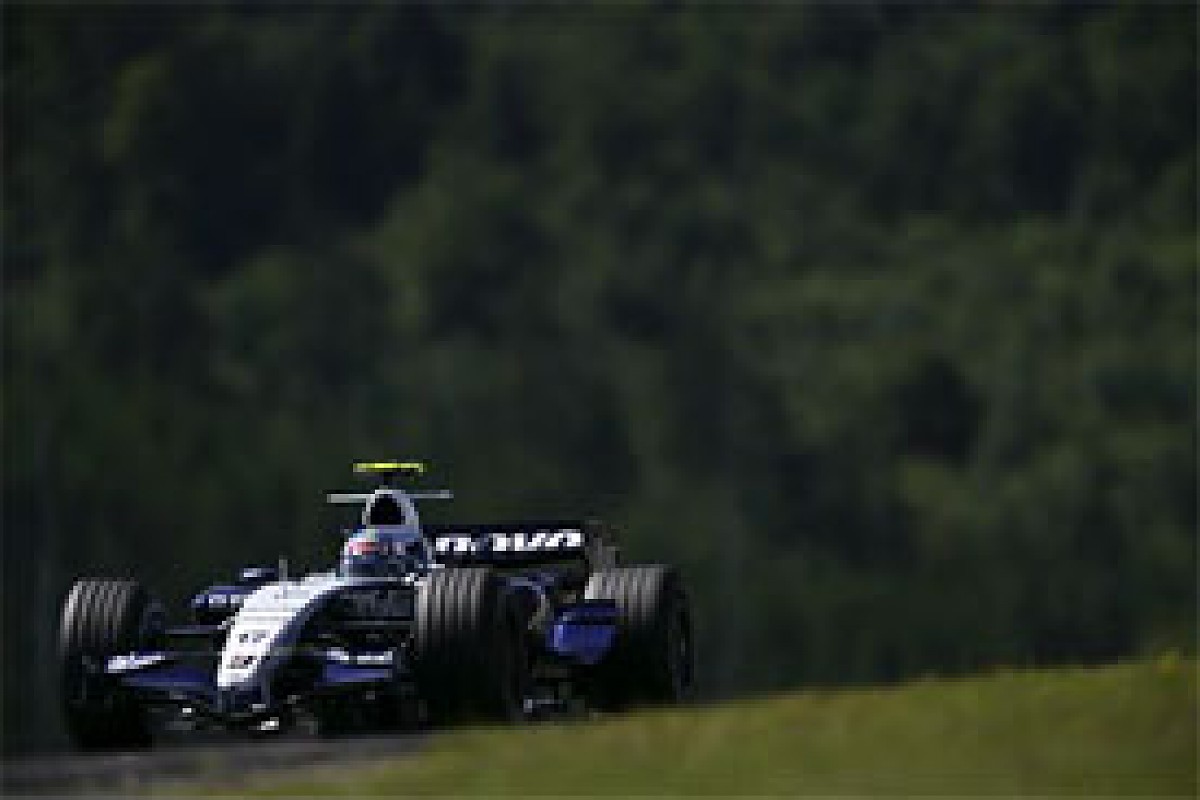 Alex Wurz had a strong qualifying and nearly made the top 10 for the first time © LAT
"I was hoping to finish eighth; 12th is acceptable, but I'm not really happy," he said. "I'm disappointed because we are competitive and I should have done better today."
The remaining three Honda-powered runners completed the top 16, with Rubens Barrichello 14th and happier with his car than teammate Button. But Honda's engineering director Jacky Eeckelaert said the team's continued lack of single-lap pace was becoming wearing.
"We know that the race pace of our car is strong enough to fight for a top ten position in the race, however we still struggle to lay the foundations for that in terms of our qualifying performance," he said.
Anthony Davidson beat Super Aguri teammate Takuma Sato to 15th, as the team celebrated getting both cars into Q2 for the first time since Catalunya.
"I feel that we got the very best out of the car and it was a lot of fun," said Davidson. "To beat one of the Honda cars and also Coulthard, especially in Q1, and to just get into Q2 was exactly what we wanted."
Part three
Qualifying was just getting serious when the right front tyre on Lewis Hamilton's McLaren tore itself apart as he committed to the flat-out Schumacher S.
The car speared straight across the gravel trap and buried itself into the tyre wall, and although Hamilton remained conscious and immediately began moving, he was clearly in significant discomfort. The session was stopped while he received medical attention.
A wave to the crowd as he was stretchered into the ambulance was an early hint that Hamilton's condition was not as bad as had been feared, and after further checks at the medical centre and a nearby hospital, it was confirmed that he had escaped injury. He was ultimately given the all-clear to compete by the FIA doctors on Sunday morning.
McLaren rapidly discovered that a loose wheel nut had initiated the accident.
"All we know at the moment is that for whatever reason, the wheel nut wasn't tight enough, that caused the wheel to move and presumably caused a failure of the wheel and a deflation of the tyre," Martin Whitmarsh explained.
It took just over half an hour for the session to restart, and with five minutes left on the clock, a hurried single run dash for pole position ensued.
Felipe Massa had been fastest in Q2 and was the first of the lead contenders to set a provisional pole time, but his 1:31.778 was no match for the 1:31.450 that his teammate Kimi Raikkonen produced moments later, as the Finn earned his first pole since the season-opener.
Lewis Hamilton is evacuated following his high speed crash © LAT
As ever, Raikkonen did not get carried away with his achievement.
"It's only pole position, it doesn't make much difference, you can still win from the other places but for sure, I think we have good speed right now and it makes life feel a little bit easier to start at the front," he said.
Fernando Alonso had beaten Raikkonen's time in the first sector, only to lose the back of the McLaren at Turn 5. The car oversteered wildly, its right rear wheel brushing the grass, but he wrestled it back into line for the Ford Kurve and continued having lost only half a second. The lap was still sufficient to split the Ferraris and earn a front row start.
"For 50 or 60 metres the car was not in my control," said Alonso. "From that moment I thought for sure pole position is not possible anymore, so I tried to do a good rest of the lap and tried to be fifth or sixth. I really thought I'd lost too much time and when I realised I was second I was really, really pleased."
Massa confessed that he had found it hard to recapture his flow after the long stoppage.
"The qualifying was very good in Q1 and Q2 for me - I had a really great momentum and great control in the car," he said. "Then suddenly this long period we were in the box, I lost a little bit of the momentum and the concentration and I couldn't do a perfect lap in the one chance that we had."
With Hamilton left to start 10th on the basis of his best fuel-burning lap, the BMWs completed the top five. Nick Heidfeld was satisfied with fourth until he realised he had only been a tenth away from a front row position.
Webber took a superb sixth for Red Bull, with Kovalainen seventh but concerned that BMW still seemed out of reach for Renault.
The Toyota pair were also slightly downbeat, despite taking eighth and ninth, Jarno Trulli ahead of Ralf Schumacher. After the German's top six qualifying performance at Silverstone, the team had hoped to be amongst the BMWs again at the Nurburgring.
Qualifying results
Europe qualifying breakdown
Session 1
Session 2
Session 3
Pos
Driver
Team
Pos
Time
Lap
Pos
Time
Lap
Pos
Time
Lap
1.
Raikkonen
Ferrari
3.
1:31.522
3
4.
1:31.237
3
1.
1:31.450
10
2.
Alonso
McLaren
1.
1:31.074
3
2.
1:30.983
3
2.
1:31.741
10
3.
Massa
Ferrari
2.
1:31.447
3
1.
1:30.912
3
3.
1:31.778
10
4.
Heidfeld
BMW Sauber
5.
1:31.889
5
6.
1:31.652
5
4.
1:31.840
10
5.
Kubica
BMW Sauber
6.
1:31.961
4
5.
1:31.444
6
5.
1:32.123
10
6.
Webber
Red Bull
13.
1:32.629
6
7.
1:31.661
6
6.
1:32.476
10
7.
Kovalainen
Renault
12.
1:32.594
7
8.
1:31.783
6
7.
1:32.478
10
8.
Trulli
Toyota
10.
1:32.381
7
10.
1:31.859
5
8.
1:32.501
10
9.
R.Schumacher
Toyota
11.
1:32.446
6
9.
1:31.843
6
9.
1:32.570
10
10.
Hamilton
McLaren
4.
1:31.587
3
3.
1:31.185
3
10.
1:33.833
6
11.
Rosberg
Williams
7.
1:32.117
7
11.
1:31.978
6
 
 
 
12.
Wurz
Williams
8.
1:32.173
6
12.
1:31.996
6
 
 
 
13.
Fisichella
Renault
9.
1:32.378
7
13.
1:32.010
6
 
 
 
14.
Barrichello
Honda
14.
1:32.674
6
14.
1:32.221
6
 
 
 
15.
Davidson
Super Aguri
16.
1:32.793
6
15.
1:32.451
6
 
 
 
16.
Sato
Super Aguri
15.
1:32.678
6
16.
1:32.838
5
 
 
 
17.
Button
Honda
17.
1:32.983
6
 
 
 
 
 
 
18.
Speed
Toro Rosso
18.
1:33.038
6
 
 
 
 
 
 
19.
Liuzzi
Toro Rosso
19.
1:33.148
6
 
 
 
 
 
 
20.
Coulthard
Red Bull
20.
1:33.151
6
 
 
 
 
 
 
21.
Sutil
Spyker
21.
1:34.500
9
 
 
 
 
 
 
22.
Winkelhock
Spyker
22.
1:35.940
6
 
 
 
 
 
 
The Race
With largely clear skies over the grid as the start approached, the race control email notification of imminent rain seemed a little far-fetched.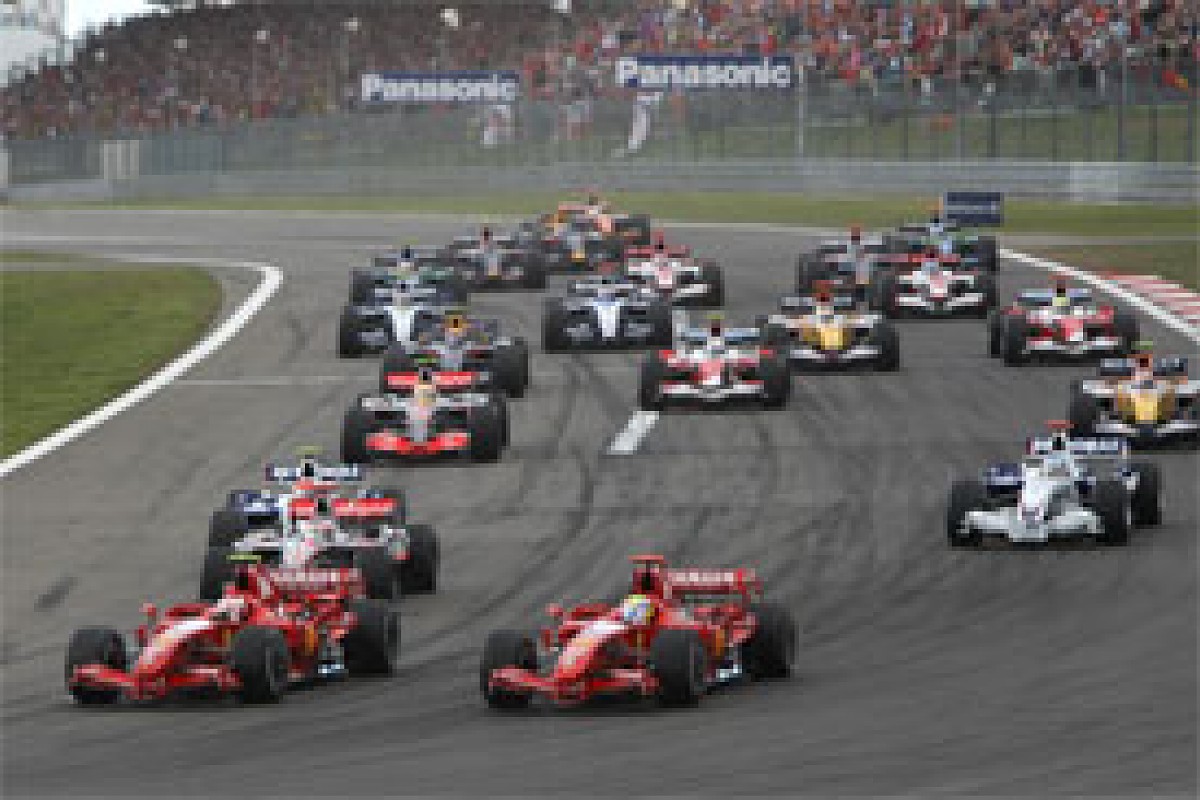 The Ferraris lead the field into the first turn © XPB/LAT
But the computer prediction was absolutely correct, and the precipitation began as the cars completed the parade lap.
Pole-sitter Kimi Raikkonen got away comfortably in the lead, with his teammate Felipe Massa making the best start from third and accelerating past Fernando Alonso before challenging the sister Ferrari on the outside into Turn 1. Massa could not complete the move and almost lost second to Alonso before claiming the place for keeps at Turn 2.
In their wake, Lewis Hamilton immediately sprinted from 10th to sixth as he approached the first corner braking area, and then picked up another two places thanks to an internecine scuffle at BMW.
Robert Kubica had passed Nick Heidfeld into Turn 1, with the two cars banging wheels on the exit. Then at Turn 2, Heidfeld bounced over the kerb and grass and punted his teammate into a spin, sending both to the tail of the field, and giving Kubica rear wing damage and Heidfeld a bent trackrod. Opinions differed over the catalyst for the incident...
"Unfortunately, in the first corner Robert forced me onto the dirt and then again in the second corner," Heidfeld said.
"I think Nick arrived a bit too fast, he touched me and I spun," Kubica responded.
Hamilton also became a victim of the incident, as the spinning Kubica clipping the McLaren and punctured its left rear tyre.
The combination of a limping McLaren to dodge around, and the rapidly intensifying rain forcing everyone to scrabble for grip, saw countless changes of position and more chaos as the lap continued.
David Coulthard put two wheels on the grass at Turn 5 and snapped into a big slide that took him over the gravel and down to the back, then Nico Rosberg tagged Rubens Barrichello on the way into the Schumacher S, sending the Honda off the road briefly and damaging both cars.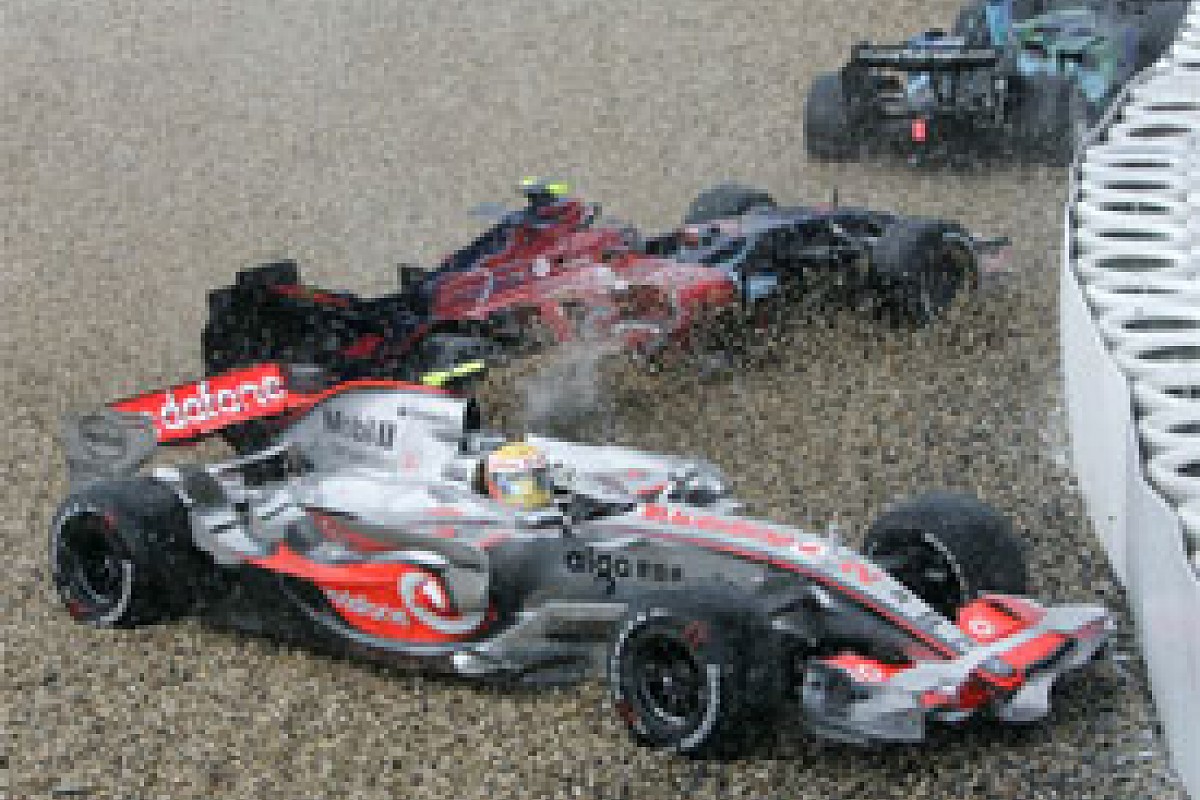 Scott Speed joins Lewis Hamilton, Jenson Button, Nico Rosberg, Adrian Sutil, and Vitantonio Liuzzi in the gravel of the first turn © Reuters
Leader Raikkonen was one of many drivers to take to the escape road at the suddenly soaked chicane, but worse was to follow for the Finn as he had a massive twitch in the curve of the pit entry as he led the charge for intermediate tyres. The Ferrari slid across the kerb and back on to the track, and would have to complete another lap with dry rubber on a circuit now completely awash.
As Raikkonen tried in vain to stay on the road, he found himself passed for the lead by debutant Spyker driver Markus Winkelhock, who had started from the pit lane on intermediate tyres.
"We saw the shower coming in, we made the call, and obviously with Markus starting from the back it was a pretty low risk thing for us," said Mike Gascoyne.
It was an inspired move, as the 27-year-old German novice gained a 20 second lead as the rest of the field poured into the pits for the correct tyres - or in the case of Raikkonen, Giancarlo Fisichella, Takuma Sato, Alex Wurz, Jarno Trulli, Kubica and Vitantonio Liuzzi, tried in vain to stay on the road, all seven having stayed out. Fisichella demonstrated the futility of this plan with a long trip through the Dunlop Kehre gravel, and they all pitted at the end of the lap.
Behind Winkelhock, Massa and Alonso were the first of the early pit visitors to rejoin on intermediates, followed by Mark Webber and Jenson Button - who had made outstanding progress from 17th on the grid in the damp, and then cruised past Webber in the Arena on their out-laps.
"It felt like everyone was stood still," said Button.
But his potentially excellent race did not last much longer. By the time the leaders began lap three, Turn 1 resembled a pond. Massa had a violent wobble then just made it into the corner ahead of Alonso. But Button was less lucky - the Honda snapped into a spin and slid straight into the barriers.
"Most of the circuit was fine, it was just the first sector that was like a lake - and it's downhill as well, which doesn't help," said the Briton.
He soon had plenty of company in the gravel. Hamilton locked up and helplessly slid straight on, just tapping the tyres.
Adrian Sutil's Spyker then arrived in the impromptu car park backwards and at much greater speed, followed closely by Rosberg and Scott Speed.
Anthony Davidson managed to halt his Super Aguri before getting bogged down, and was able to reverse out and rejoin.
The safety car was deployed, but not soon enough for Liuzzi, who lost control exiting the pit lane and nearly hit the Mercedes saloon as he spun wildly towards the run-off, where he came to a halt just nudging the recovery tractor that was already attending the stranded cars.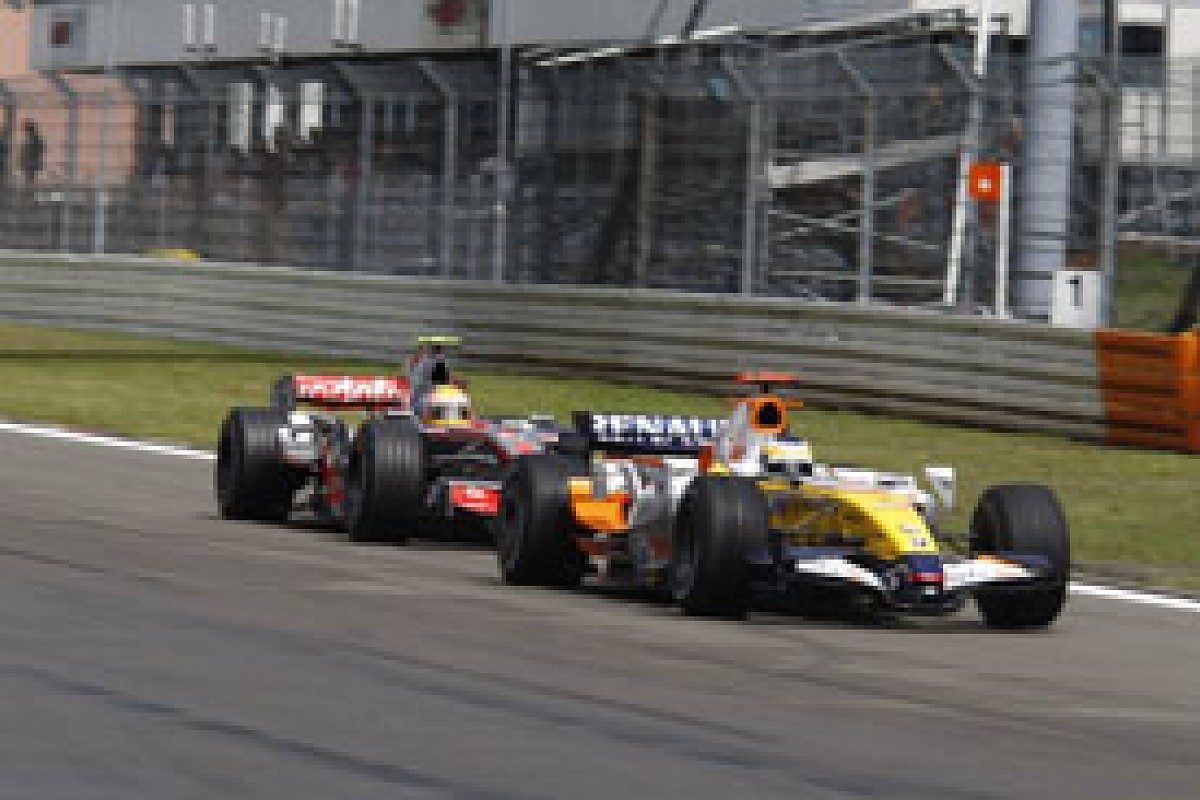 Lewis Hamilton was an early stopper for dry tyres but it put him deep in the field © LAT
That double near-miss was a scare too far for the officials, who red flagged the race.
The Eifel region then lived up to its capricious meteorological reputation again, with sunshine appearing while the cars were re-forming on the grid.
Winkelhock would retain the lead for the restart, but now with Massa and Alonso right on his tail. A superb pitstop and an excellent out-lap in the wet had brought Coulthard up to fifth behind teammate Webber despite his lap one excursion, with Heikki Kovalainen now sixth.
Virtually everyone else had been delayed either by an error, a slow stop or an additional pit visit (as several drivers vacillated between intermediates and extreme wets). Raikkonen therefore appeared in seventh, followed by Wurz, Barrichello, Fisichella, Kubica, Ralf Schumacher (who had gone backwards on the opening lap), Sato, Trulli, Heidfeld, Davidson and an extremely lucky Hamilton.
The championship leader became possibly the first driver in Formula One history to continue a race even after being lifted out of a gravel trap by a tractor. He had kept the engine running after his off, and stoically remained in the car as the other spinners vacated their cockpits.
The marshals decided Hamilton was in a dangerous position and plucked him out of the gravel, allowing him to take the restart in a lapped 17th.
Under this year's rules, he was then allowed to un-lap himself as the field circulated behind the safety car prior to the restart. Having been able to complete a flat-out lap, Hamilton decided the track had already improved sufficiently for dry tyres and dived straight into the pits. But the brave tactic was not a success - as a trip off the road at Dunlop on his out-lap proved.
The race resumed on lap eight, with Winkelhock's lead lasting as far as Turn 1, where Massa and Alonso breezed past the Spyker. The German rookie had taken the restart on extreme wet tyres - Spyker erroneously believing another shower was imminent - but the inappropriate rubber made the already impossible task of resisting the entire field in F1's slowest car and with minimal experience harder still. Winkelhock was down to eighth within a lap, and was soon ahead of only the delayed Hamilton. Hydraulic problems then ended what might yet be his sole Grand Prix on lap 13, but that didn't take the shine off his remarkable afternoon.
"To lead a Formula One race is something nobody can take away from you - you have it for your whole life," said Winkelhock.
The first and last sectors of the lap remained very treacherous at first, and in those areas Alonso was able to pile the pressure on Massa, but on the virtually dry back section the Ferrari could edge away.
Just behind, the Red Bulls swapped places repeatedly in the first laps after the restart, with Raikkonen gaining on them after passing Kovalainen into Turn 1.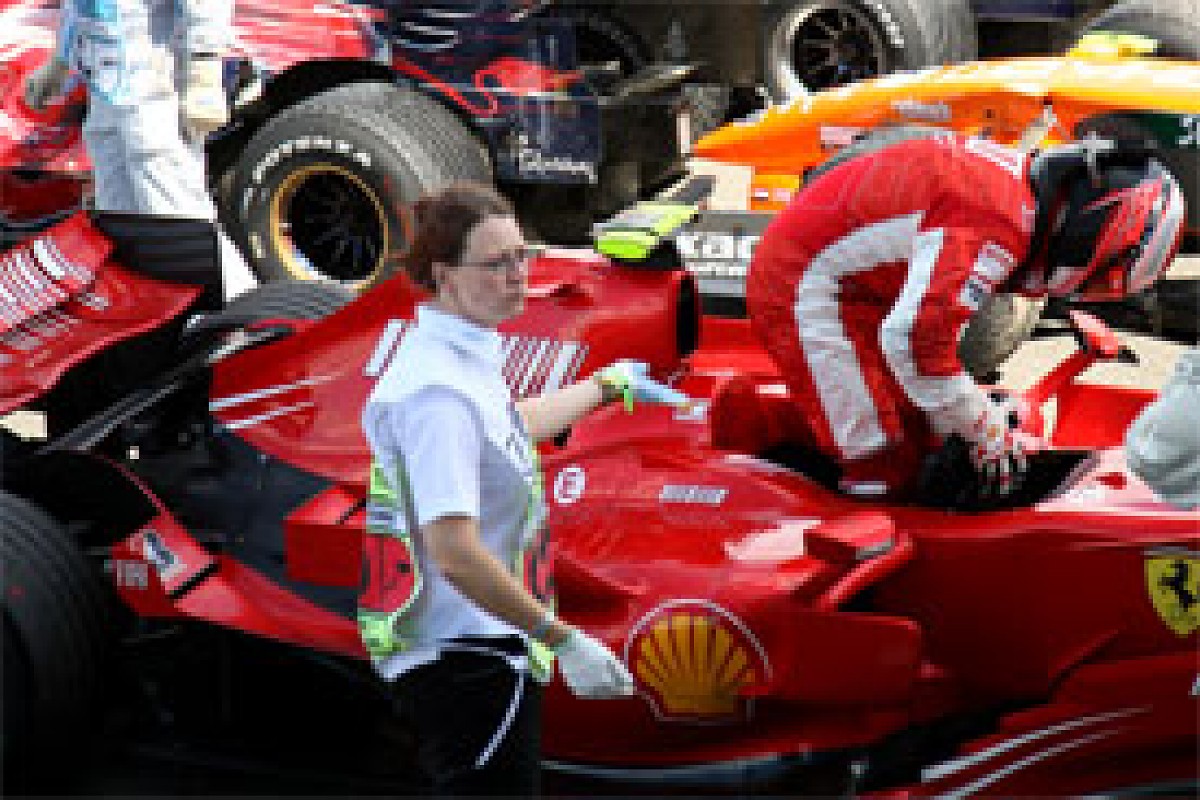 Kimi Raikkonen slowed suddenly in third and limped back to the pits © XPB/LAT
Ferrari's Finn then triggered the rush for dry tyres when he pitted on lap 11. All the teams had been monitoring Hamilton's progress, and as he fell a lap down while scrabbling out of the gravel on the restart lap and then lost a further 12 seconds to the leaders next time around, it looked like intermediates would remain the only viable option for some time.
But on lap 10 Hamilton was just two seconds slower than Massa and Alonso, and then began equalling their times.
That was the signal Raikkonen needed, and an extra lap on dry tyres allowed him to jump past both Red Bulls and into third once Massa and Alonso had led the remaining intermediate-runners into the pits on the following lap.
The top three quickly distanced themselves from the rest of the field, who were led by Webber. Wurz pitted at the same time as Raikkonen and consequently moved up to fifth, but he was soon passed by the lighter Kovalainen - the only man planning to make two stops in the remainder of the race. The Finn quickly closed on Webber but could not find a way through before his next pit visit on lap 27.
Coulthard had stayed out an extra lap on intermediates and therefore lost touch with his teammate, rejoining in seventh and coming under pressure from Kubica, Schumacher, Heidfeld and Fisichella - although this battle was spread out slightly when Heidfeld tangled with Schumacher into the final corner on lap 19 and deposited the Toyota in the gravel. Once again, opinions diverged...
"The corner before I made a little mistake which is why he came so close, but I thought that it was clear to him that he wasn't close enough to pass," said Schumacher. "I mean he had only one wheel inside which for sure is not enough."
Heidfeld pleaded not guilty: "He was slow accelerating out of the chicane, at first left room for me, but closed the door once he realised I was there. Unfortunately at this point I was on the wet part of the track and couldn't avoid a collision."
Outside the top ten, Barrichello was only just holding off the two Super Aguris, although Sato's lap 21 hydraulic failure eased the burden. A series of ill-timed pitstops during the changing weather left Trulli a distant 14th, with Hamilton still last and 80 seconds behind the leaders.
The race then settled into a distinctly uneventful rhythm throughout the middle stages. As Alonso struggled with understeer and came under increasing pressure from Raikkonen, Massa pulled away and led by as much as eight seconds.
A Ferrari one-two began to look likely, but then Raikkonen started falling away from Alonso as a hydraulic glitch caused his car to falter. The problem worsened, and on lap 34 the winner of the last two GPs had to slow and retire - not the first time he had done so while in a strong position at the Nurburgring. He attempted to get the car back to the Ferrari garage, but it finally ground to a standstill in the pit entry.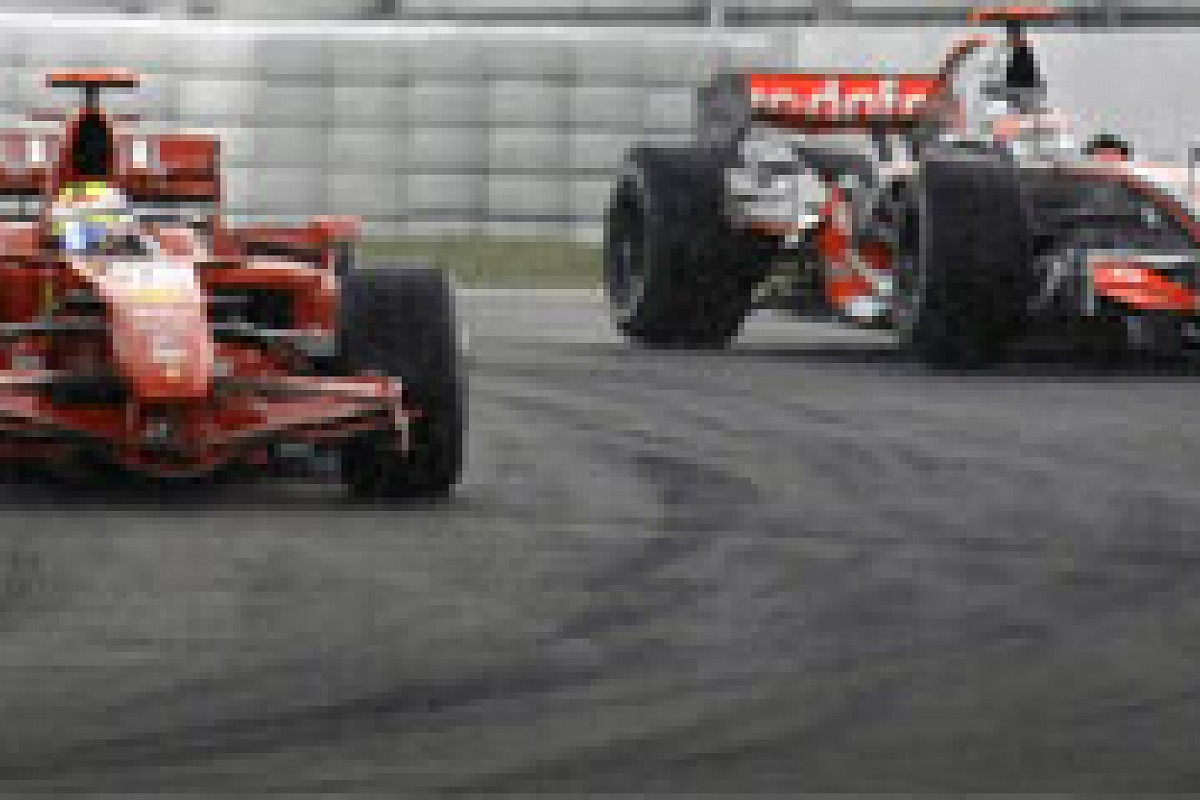 With the rain falling again Fernando Alonso pressures Felipe Massa for the race lead © Reuters
Alonso and Massa made their final pitstops on laps 37 and 38, and although a wing adjustment - which had not been possible due to a tool malfunction at the first stop - improved the McLaren's handling, it seemed Alonso was still too far back to challenge the Ferrari.
But then in the final 10 laps, the rain reappeared out of nowhere, arriving just as abruptly as it had at the start. The leaders had no choice but to pit again for intermediates, coming in on lap 53.
Alonso had already narrowed Massa's advantage to 3.5 seconds by this point, and he then lapped another 2.5 seconds quicker than the Ferrari on the out-lap as Massa struggled with a vibration on his new tyres.
Soon the world champion was all over the leader's tail, pulling alongside and edging ahead on the outside into Turn 1 on lap 55. Both ran a little wide, and there was almost contact as Massa slithered out of the corner ahead.
They then went wheel to wheel again on the way out of the Arena, before Alonso swept right around the outside of Massa through the fast Turn 5 and claimed the lead of the race. As he did so, the Ferrari understeered into the McLaren's sidepod. Both continued, but the contact would prompt some post-race vitriol from Alonso on the way to the podium, although he took pains to play this down in the subsequent interviews.
Once ahead, there was no stopping Alonso, who stormed into an 8.1 second lead by the time he took the chequered flag to clinch his third win of the year, the first since Monaco in May, and perhaps the most important for his title bid, as he closed back to within two points of Hamilton.
"I think the race was so exciting - to drive and also to watch, from the outside, I hope," said Alonso.
"Obviously for the championship it is more important. When you win and your main opponents for the championship finish second or third the gap doesn't close enough to be so 'out there' (with your celebrations). We are happy for the win but more than the win it is also ten points from Kimi and Lewis and two from Felipe."
The lead pair finished over a minute clear of the competition, with Webber hanging on to take his first podium for Red Bull in third place. Wurz had closed right in on the final laps, and almost had a chance when Webber locked up at the chicane on the final lap. But the Australian defended the position at the last turn and clinched third by 0.2 seconds.
With Coulthard pulling away from the BMWs to finish fifth, the result was the best in Red Bull's history.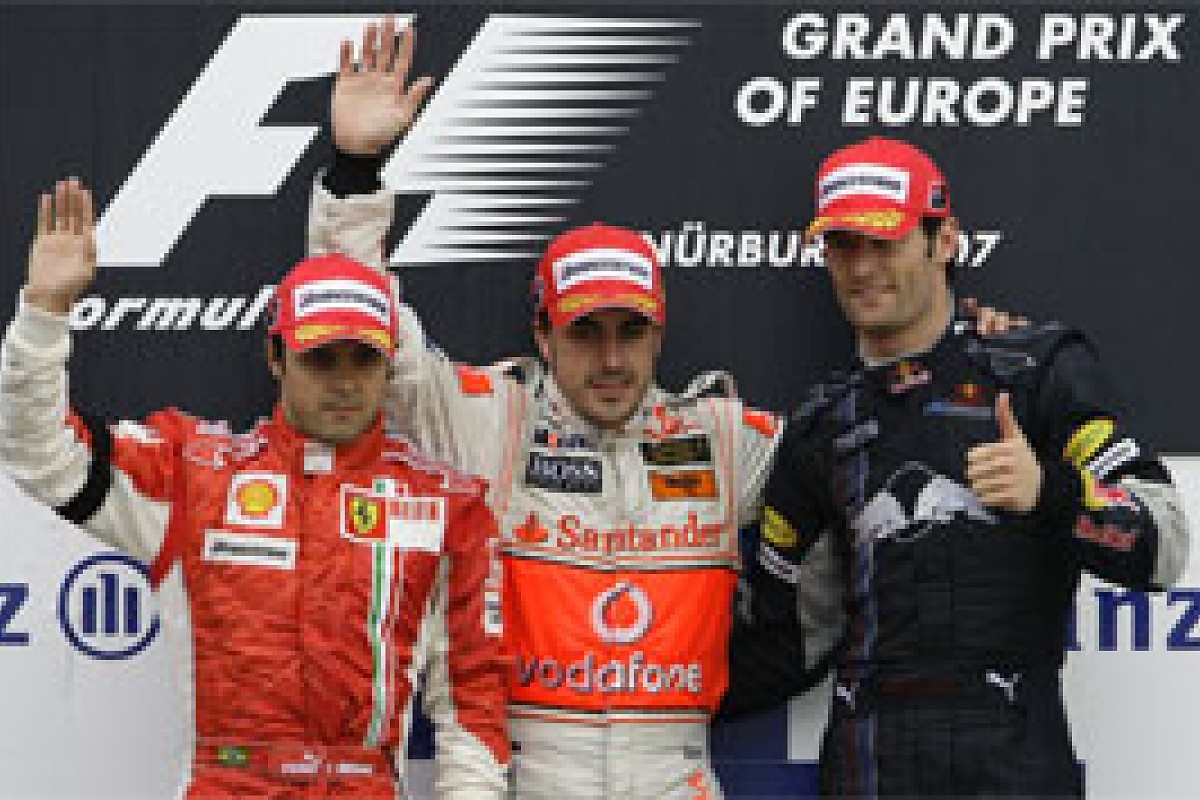 Felipe Massa, Fernando Alonso, and Mark Webber made up the podium with a surprise appearance by Michael Schumacher to hand out the trophy for the winning constructor © Reuters
"It was a special day for us, no question about it," Webber said. "It's a bloody huge relief for the whole team and for myself."
The BMWs swapped places on the final lap rather more tidily than they had on the first lap, with Heidfeld capitalising on an error by Kubica to snatch sixth. But, as team boss Mario Theissen tersely pointed out, their startline tangle had cost the team a near-certain podium.
Despite his best efforts, Hamilton could not get back into the points. He passed Trulli, Davidson, Barrichello and Fisichella to reach ninth, taking the Renault with a particularly bold move around the outside of the flat-out kink before the chicane with two wheels on the grass, and then stayed out as long as possible on dry tyres in the final shower.
This got him up to eighth before the track became too slippery and he had to pit, falling to 10th. Hamilton re-passed Fisichella on the final lap, but could not catch Kovalainen, as the Finn grabbed the last point despite Renault putting him on to intermediates three laps sooner than was necessary. His final stop had been due just as the clouds gathered, but the team's gamble was too ambitious.
Race results

60 laps; 308.863km;
Weather: Wet, then dry.

Classified:

Pos  Driver        Team                      Time
 1.  Alonso        McLaren-Mercedes     (B)  2h06:26.358
 2.  Massa         Ferrari              (B)  +     8.155
 3.  Webber        Red Bull-Renault     (B)  +  1:05.674
 4.  Wurz          Williams-Toyota      (B)  +  1:05.937
 5.  Coulthard     Red Bull-Renault     (B)  +  1:13.656
 6.  Heidfeld      BMW Sauber           (B)  +  1:20.298
 7.  Kubica        BMW Sauber           (B)  +  1:22.415
 8.  Kovalainen    Renault              (B)  +     1 lap
 9.  Hamilton      McLaren-Mercedes     (B)  +     1 lap
10.  Fisichella    Renault              (B)  +     1 lap
11.  Barrichello   Honda                (B)  +     1 lap
12.  Davidson      Super Aguri-Honda    (B)  +     1 lap
13.  Trulli        Toyota               (B)  +     1 lap

Fastest lap: Massa, 1:32.853

Not classified/retirements:

Driver        Team                      On lap
Raikkonen     Ferrari              (B)    36
Sato          Super Aguri-Honda    (B)    20
R.Schumacher  Toyota               (B)    19
Winkelhock    Spyker-Ferrari       (B)    15
Button        Honda                (B)    3
Sutil         Spyker-Ferrari       (B)    3
Rosberg       Williams-Toyota      (B)    3
Speed         Toro Rosso-Ferrari   (B)    3
Liuzzi        Toro Rosso-Ferrari   (B)    3


World Championship standings, round 10:

Drivers:                    Constructors:             
 1.  Hamilton      70        1.  McLaren-Mercedes     138
 2.  Alonso        68        2.  Ferrari              111
 3.  Massa         59        3.  BMW Sauber            61
 4.  Raikkonen     52        4.  Renault               32
 5.  Heidfeld      36        5.  Williams-Toyota       18
 6.  Kubica        24        6.  Red Bull-Renault      16
 7.  Fisichella    17        7.  Toyota                 9
 8.  Kovalainen    15        8.  Super Aguri-Honda      4
 9.  Wurz          13        9.  Honda                  1
10.  Webber         8
11.  Coulthard      8
12.  Trulli         7
13.  Rosberg        5
14.  Sato           4
15.  R.Schumacher   2
16.  Vettel         1
17.  Button         1

Team-by-Team
MCLAREN-MERCEDES
Alonso qualifies second despite a huge slide on his best lap, then runs second to Massa for the majority of the race. He can't quite match the Ferrari in the dry, but is in a different class in the wet, and steals a spectacular win with an outside line pass five laps from the end.
Hamilton is fastest in first practice, then suffers the first bad weekend of his F1 career. A loose wheel causes a ferocious crash in qualifying, and although he is eventually cleared to race, he must start 10th.
After a superb start, he is tagged by a spinning BMW and receives a puncture, then goes off in the downpour, He is lifted out of the gravel and allowed to take the restart, only to lose yet more time with a premature switch to slicks. Ironically he then stays on dry tyres too long in the last shower and can consequently only finish ninth.
RENAULT
The team struggles for pace all weekend, although Kovalainen does well to qualify seventh. Fisichella is an unhappy 13th. He loses more ground by staying out too long on dry tyres and going off in the early rain.
Kovalainen fights for fourth for a while, but Renault's strategy of making two 'normal' stops in addition to the weather-reactive tyre changes is unsuccessful. A premature change to intermediates at his last stop also fails, but he salvages eighth, with Fisichella not far behind in 10th.
FERRARI
Raikkonen dominates practice and qualifying, but slides out of the pit lane entry in the first lap monsoon and has to do a lap on 'slick' tyres in pouring rain. He falls to seventh, recovers to third with a well-timed switch back to dries, then closes in on Alonso before retiring with hydraulic problems.
Massa passes Alonso off the line, takes the lead following the restart and eases away in the dry, but is hunted own and overtaken for the win when it rains again. Finishes a downcast second.
HONDA
Despite some promising practice times, Button is a grip-less 17th in qualifying, three places behind Barrichello. But the Briton surges through the field in the wet and is up to fourth before becoming the most casualty of the Turn 1 flood. Barrichello is hit by Rosberg on the first lap, and has no pace at any stage in the race. Finishes an uncompetitive 11th.
BMW SAUBER
Heidfeld and Kubica challenge the Ferraris and McLarens in practice, then qualify fourth and fifth. They swap places into the first corner, but Heidfeld's attempt to retaliate causes an inter-team collision at the second corner.
Both sustain damage, but the stoppage and chaos soon allows them back into the points. Heidfeld survives another collision, this time with Schumacher, to pounce on an error by Kubica at the penultimate corner and take sixth place.
TOYOTA
Trulli and Schumacher are slightly disappointed with eighth and ninth on the grid considering Toyota's recent progress. Both tumble down the order in the race - Schumacher losing out badly in the first lap scramble, and Trulli making a series of pit stops (some of them fumbled) as the team swaps between dry, intermediate and wet tyres.
Schumacher gets back to ninth before a collision with Heidfeld ends his race. Trulli struggles to 13th and last, lacking the pace to make up for his early delays.
RED BULL-RENAULT
Strategic errors leave Coulthard only 20th on the grid, while Webber equals his season-best in sixth. Both drivers - and the team - cope superbly with the early rain and chaos, and take the restart in fourth and fifth places, despite Coulthard having gone off the road on the first lap.
Webber proceeds to the hold the 'best of the rest' position to the flag, and with Raikkonen retiring, he is able to claim his first RBR podium in third. Coulthard spends a lap too long on intermediates and loses ground, but eventually escapes the chasing BMWs to earn fifth.
WILLIAMS-TOYOTA
Rosberg and Wurz are eventually matched in 11th and 12th on the grid, but the former's race does not last long, as he aquaplanes off just before the red flag. Wurz waits a lap too long before changing to intermediates in the early rain, but makes up for it with a perfectly-timed switch back to dry tyres. This allows him up to fourth, and he nearly passes Webber for third on the final lap.
TORO ROSSO-FERRARI
Speed and Liuzzi can only qualify 18th and 19th, then both crash out at Turn 1 in the early downpour, with Liuzzi nearly collecting both the safety car and a recovery vehicle.
SPYKER-FERRARI
Newcomer Winkelhock is slowest in every session and has a couple of trips off the road, yet ends up leading his debut GP after an inspired pre-race switch to intermediates. The red flag brings the pack back on to his tail, and he is soon shuffled down to the rear, before retiring with hydraulic failure. Sutil out-qualifies Winkelhock by 1.5 seconds, but crashes in the early rain.
SUPER AGURI-HONDA
Davidson and Sato are delighted to qualify 15th and 16th, and they pressure Barrichello in the dry stages of the race. Their tyre change timing is less than perfect, and Davidson can only finish 12th in the end. Sato retires with hydraulic problems when 13th.
Lap-by-Lap
Lap 1: On pole position for the second time this season, Kimi Raikkonen makes a clean start and Felipe Massa gets ahead of second fastest qualifier Fernando Alonso.
Lewis Hamilton briefly moves up from 10th to fourth as the two BMWs collide at Turn Two - Nick Heidfeld taking out Robert Kubica - but the order is shuffled drastically as rain begins to fall and cars run wide in all directions.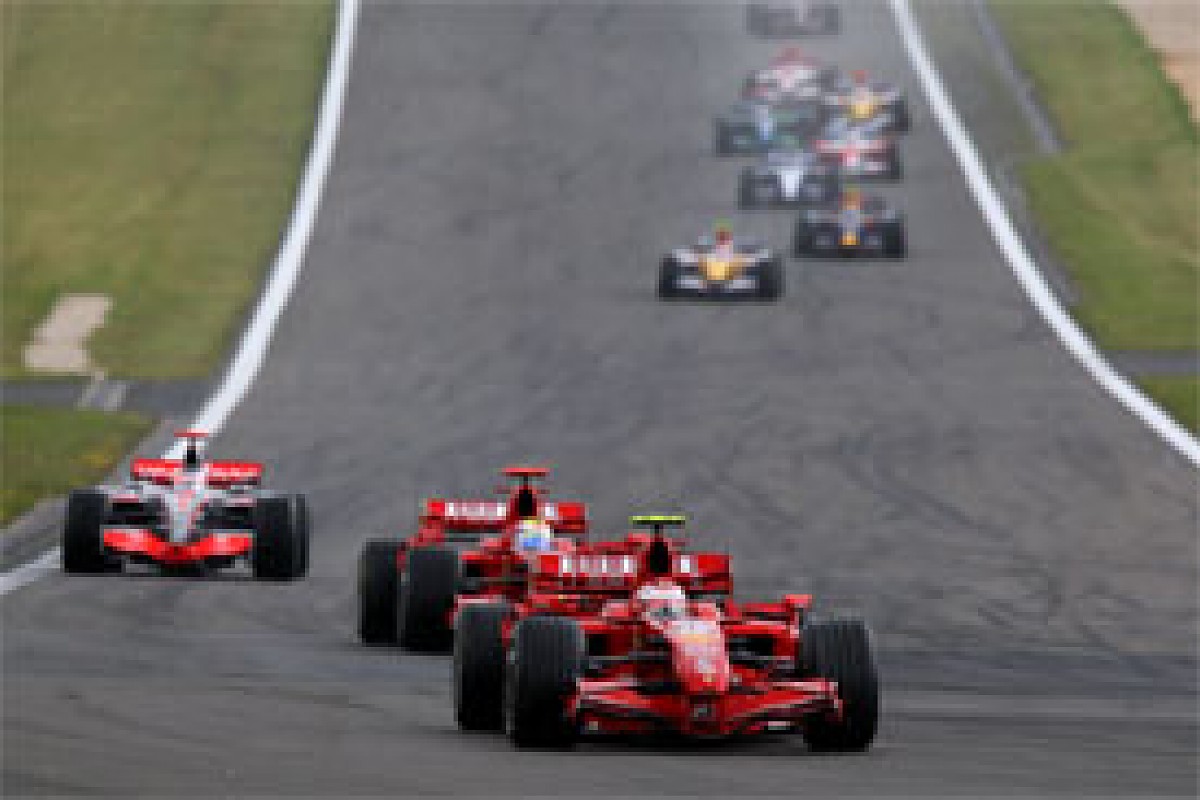 As the rain falls race leader Kimi Raikkonen overshoots the chicane © XPB/LAT
Leader Raikkonen enters the pit lane at the end of the lap, but slithers back out again. Massa pits, as does Alonso. Ralf Schumacher and Jarno Trulli - fourth and fifth - press on. Mark Webber pits from sixth, Takuma Sato and Giancarlo Fisichella stay out. Jenson Button pits.
Newcomer Markus Winkelhock - who started on wets after stopping at the end of the formation lap - doesn't.
Heikki Kovalainen comes in, the recovered Kubica opts not to stop and the rest all come in for wet tyres, in the order Scott Speed, Tonio Liuzzi, Anthony Davidson, Alexander Wurz, Nico Rosberg, David Coulthard - who has already been through the gravel once - Hamilton, Rubens Barrichello, Heidfeld and Adrian Sutil.
Lap 2: Winkelhock leads. Fisichella runs through the gravel. All those still on dries make a stop for wets.
Lap 3: Button, Hamilton, Rosberg, Sutil, Speed and Liuzzi all fly off the road. Only Hamilton rejoins, with help from a crane. Winkelhock makes a quick stop and rejoins at the head of the field. Barrichello, Schumacher, Sato, Trulli, Heidfeld and Davidson make second stops, too. The Safety Car is deployed.
Lap 4: Red flag. Winkelhock is shown as leader, with Massa, Alonso, Webber, Coulthard, Kovalainen, Raikkonen, Wurz, Barrichello, Fisichella, Kubica, Schumacher, Sato, Trulli, Heidfeld, Davidson and Hamilton completing the 17 remaining cars.
The race is suspended for 22 minutes pending a Safety Car restart. Rain is forecast to return in about 25 minutes...
Lap 5: It has stopped raining as the restart takes place on a damp track. Heidfeld pits for the third time and drops to the tail of the field.
Lap 6: Trulli and Davidson pit. Hamilton - a lap down - is instructed to pass all other cars and reclaim his missing lap. Once he has done that, he comes in for dry tyres.
Lap 7: Weather forecast changes: no rain for the next 30 minutes.
Lap 8: Restart. Massa and Alonso immediately swamp Winkelhock. Massa ends the lap ahead from Alonso, Coulthard, Webber, Kovalainen, Raikkonen, Wurz, Winkelhock, Barrichello, Fisichella, Kubica, Schumacher, Sato, Heidfeld, Trulli Davidson and Hamilton - a lap down again due to his extra stop (and presently slower dry tyres).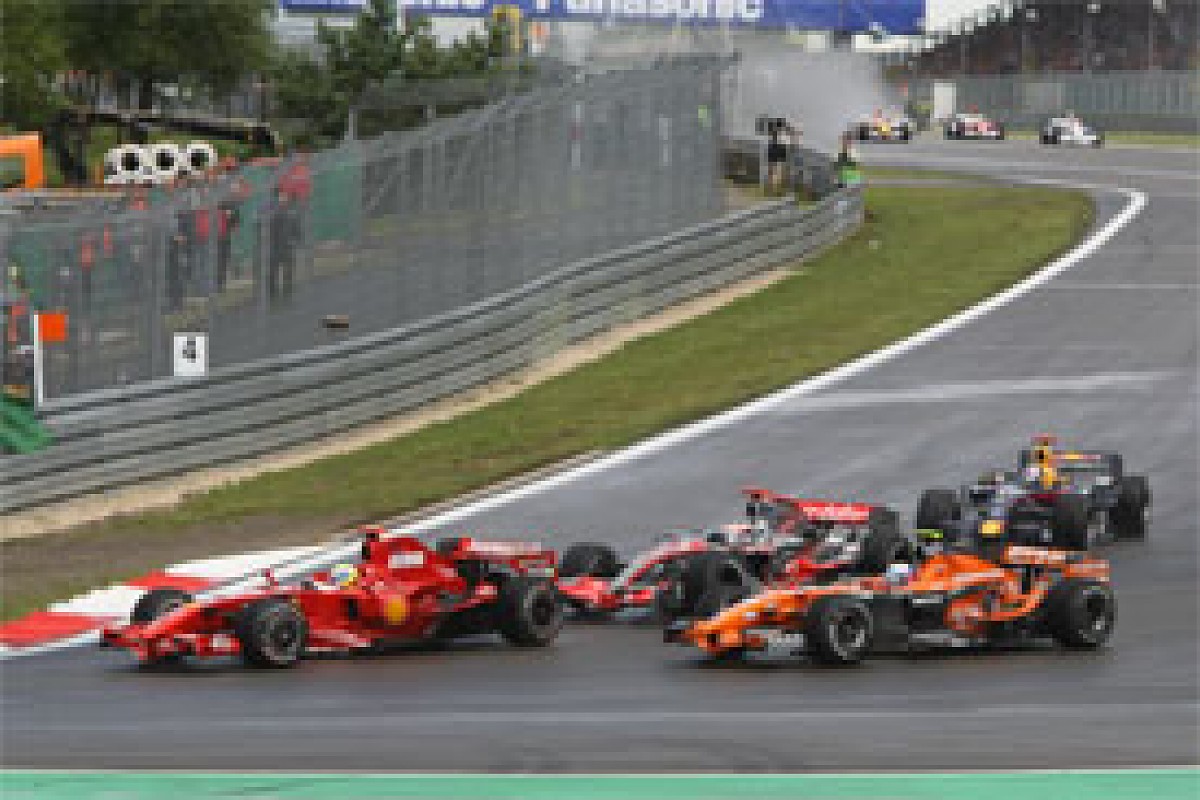 Markus Winkelhock is immediately passed on the restart © XPB/LAT
Lap 9: Massa leads by 0.6 seconds. Fisichella passes Barrichello. Schumacher passes Kubica and Barrichello. All of them - plus Heidfeld and Sato - pass Winkelhock.
Lap 10: Webber passes Coulthard. Trulli and Davidson pass Winkelhock. Hamilton ploughs through the gravel at Turn Seven.
Lap 11: Hamilton is suddenly the fastest man on the track. Raikkonen, Wurz, Davidson and Winkelhock pit for dries.
Lap 12: Massa, Alonso, Webber, Kovalainen, Fisichella, Schumacher, Kubica, Barrichello, Sato and Trulli pit. Coulthard leads.
Lap 13: Coulthard and Heidfeld pit. Massa and Alonso lead from Raikkonen, who passes Webber when the latter runs wide at Turn One following his stop. Hamilton laps in 1:35.911 - the race's best yet.
Lap 14: Massa leads by 2.1 seconds from Alonso, with Raikkonen, Webber, Wurz, Kovalainen, Coulthard and Kubica completing the top eight. Winkelhock pulls off to retire.
Lap 15: Massa leads by 2.4 seconds. Raikkonen laps in 1:35.129.
Lap 16: Raikkonen goes faster still: 1:34.902, then Hamilton posts a 1:34.359.
Lap 19: Kovalainen passes Wurz at Turn One. Schumacher spins into the gravel at the final corner after a shove from Heidfeld.
Lap 20: Hamilton laps in 1:34.020. Sato retires.
Lap 21: Hamilton ups his pace again: 1:33.765.
Lap 22: Massa goes faster: 1:33.732. He leads by 3.4 seconds, with Raikkonen 0.8 seconds behind Alonso in third. Kovalainen is right on Webber's tail in the battle for fourth.
Lap 23: Hamilton posts a 1:33.643. He's still 14th - and last - however.
Lap 24: Hamilton improves again: 1:33.607.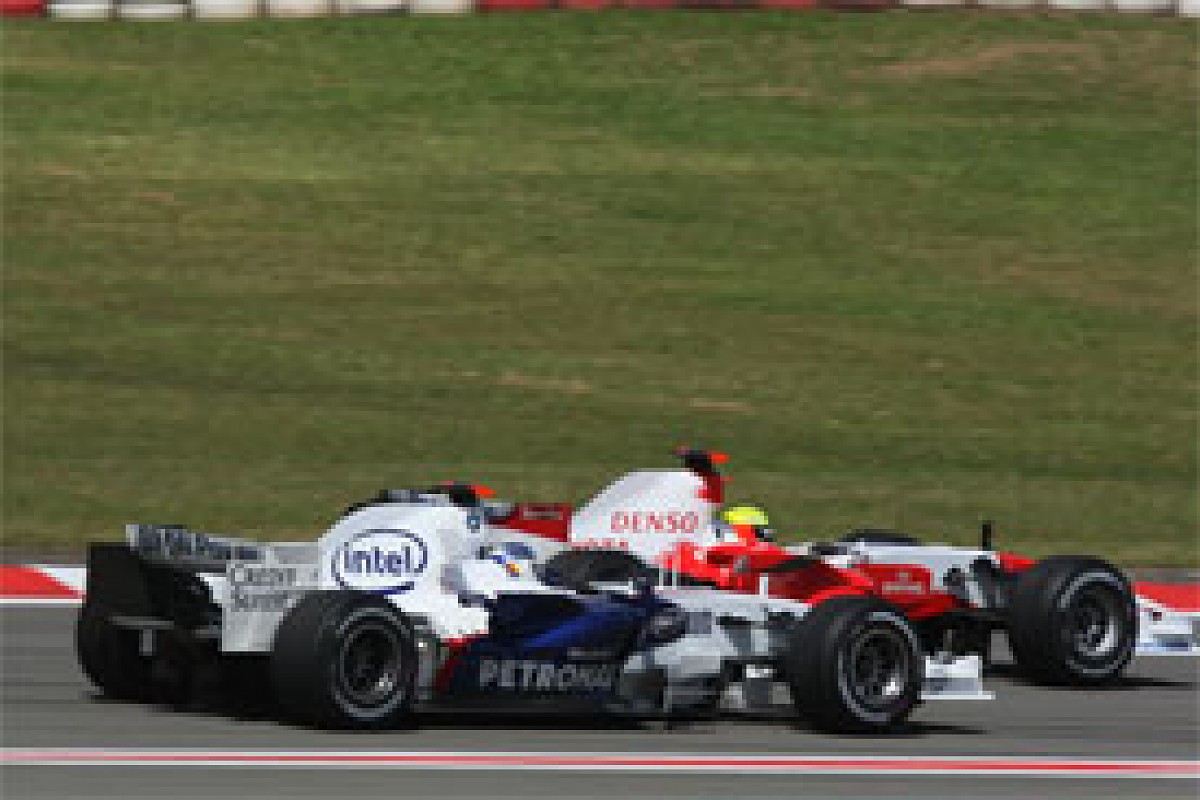 Ralf Schumacher tangled with Nick Heidfeld in the final turn and ended his race in the gravel © XPB/LAT
Lap 27: Kovalainen pits. He drops from fifth to 10th.
Lap 29: Hamilton sets a new fastest lap: 1:33.401.
Lap 30: Massa laps in 1:33.351 to extend his lead to 7.1 seconds. Fisichella pits.
Lap 33: Massa posts a 1:33.165. Alonso is now lapping at a similar pace to the leader. Hamilton passes Fisichella.
Lap 34: Massa laps in 1:32.853 but Raikkonen is down in the 1:36s. Trulli and Hamilton pit.
Lap 35: Raikkonen's car stutters and crawls towards the pit lane. He's out. Webber moves up to third.
Lap 37: Alonso, Wurz and Heidfeld pit. Hamilton passes Trulli.
Lap 38: Massa pits. He resumes with a comfortable lead over Alonso. Davidson comes in for fuel and tyres, too.
Lap 39: Kubica and Barrichello pit.
Lap 40: With 20 laps to go, Massa is 7.2 seconds clear of Alonso. Webber, Coulthard, Wurz, Kovalainen, Kubica, Heidfeld, Fisichella, Barrichello, Hamilton, Davidson and the lapped Trulli complete the field.
Lap 41: Webber pits and drops to fourth, behind Coulthard. Hamilton passes Barrichello.
Lap 43: Coulthard pits. Massa laps Hamilton.
Lap 48: Massa and Hamilton just miss a fragment of debris lying on the pit straight. Alonso closes to within 4.8 seconds of Massa. The weather forecast predicts rain in seven minutes.
Lap 49: Drizzle. Kovalainen pits for intermediates.
Lap 50: Massa leads by 4.4 seconds.
Lap 51: Fisichella and Hamilton pass the struggling Kovalainen. Davidson pits.
Lap 52: Proper rain. Coulthard and Kubica pit, as do Fisichella and Barrichello.
Lap 53: Massa, Alonso, Webber, Wurz and Heidfeld pit, as does Trulli.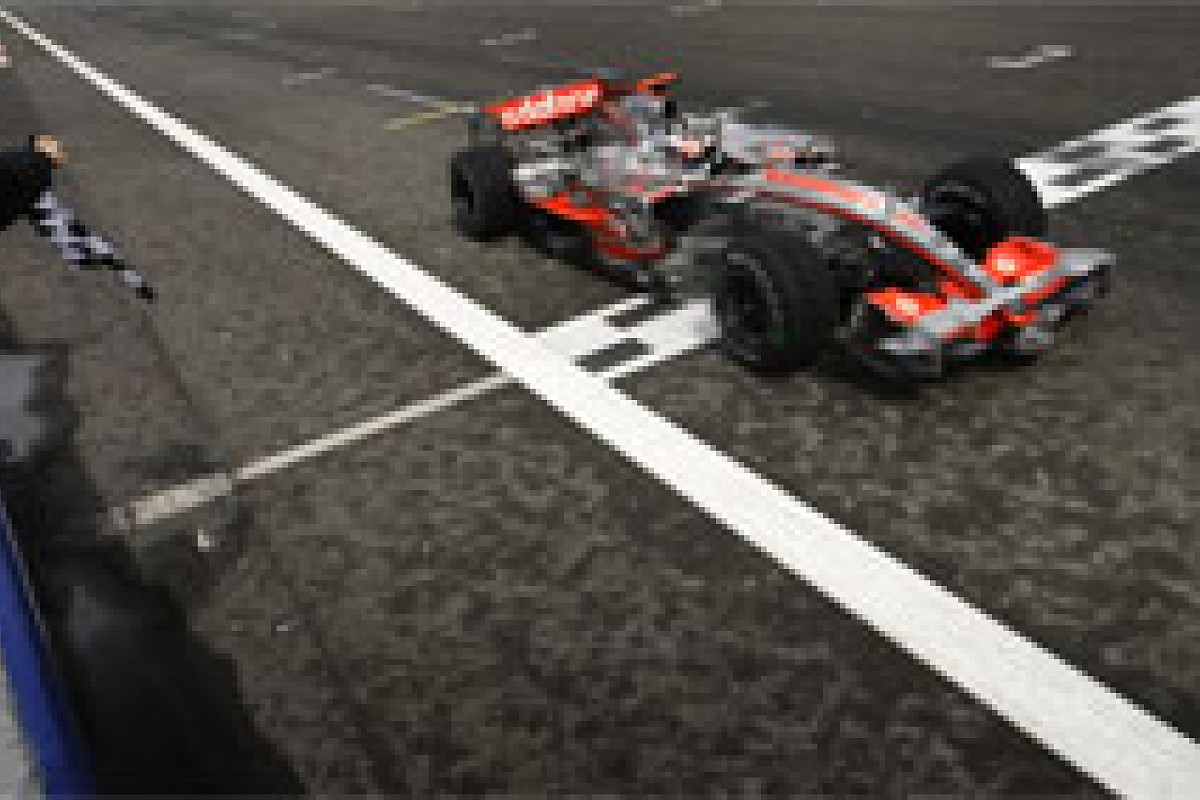 Fernando Alonso was victorious over Felipe Massa and won the European Grand Prix © Reuters
Lap 54: Hamilton pits.
Lap 55: Alonso is all over Massa. Several passing attempts are rebuffed.
Lap 56: The leaders take Turn One as one. Massa just stays ahead but only for a couple more corners. The Spaniard is 0.8 seconds clear by the lap's end.
Lap 57: Alonso extends his lead to 2.4 seconds.
Lap 58: Hamilton passes Fisichella.
Lap 60: Alonso wins by 8.1 seconds from Massa, with Webber a distant third after holding off a last-lap challenge from Wurz. Coulthard, Heidfeld, Kubica and Kovalainen complete the top eight. Hamilton, Fisichella, Barrichello, Davidson and Trulli complete the finishers.