Let me draw your attention to two press releases. One was issued on July 16, the other on July 17. One was from Honda, the other from Red Bull. They were apparently unlinked, but actually they were two parts of one big, sad story.
The big, sad story is the tale of how Honda are currently in danger of terminally lousing-up their Formula One programme.
Let me explain. The first press release bore news of Gil de Ferran's decision to resign from his never-widely-understood position of 'sporting director, Honda Racing F1 Team', which was no surprise.
The second revealed the well-kept secret that Red Bull had signed a new technical director, Geoff Willis, the man sacked from the technical directorship of Honda last summer, for no reason that was good.
The de Ferran release contained the following quote from the team's CEO, Nick Fry: "A Formula One team is rather like a jigsaw puzzle in that every piece has to fit precisely in its place. Gil has become increasingly uncomfortable in his role and feels the time has now come to seek fresh opportunities."
Gil de Ferran © XPB/LAT
What Fry didn't say is what everyone at Brackley has been saying for the past six months: that the decision to replace Willis (whose RA106 car, in the hands of Jenson Button, scored more world championship points in the last six Grands Prix of 2006 than any other) with the scarily unsuitable Shuhei Nakamoto, whose previous experience had been in bike racing and engine design, had created a serious and very damaging vacuum in terms of the team's technical leadership.
And Fry didn't say, either, that de Ferran - who, working alongside Willis, had become a very wise and useful conduit between the drivers and the race engineers - had been asked by Nakamoto to step back from that role; and, wealthy man that he is, Gil had decided that he didn't need that kind of shit. And so he had walked.
Neither Fry nor de Ferran had been in favour of Willis's removal and replacement by Nakamoto - it had been a directive from Japan - and the fact that Red Bull, a team whose 2007 car is significantly better than Honda's (and whose chief technical officer, Adrian Newey, knows exactly how many technical beans make five), should have snapped Willis up, shows that de Ferran and Fry were right not to be.
Don't forget that Newey worked with Willis at Williams throughout the early 1990s, which was Williams's most glorious ever epoch. Adrian knows exactly how good Geoff is.
Yes, Fry has managed to hire some new technical talent recently - but, with due respect to the individuals involved, none of them is a figure of the stature of the man Fry's Tokyo pay-masters forced him to fire (Willis), and none is senior enough to overrule the palpably incompetent technical leadership of Nakamoto.
For the record, though, they are Jorg Zander (deputy technical director, hired from BMW), Loic Bigois (head of aerodynamics, hired from Williams) and John Owen (a team leader in the aerodynamics department, reporting to Bigois, hired from BMW-Sauber and due to arrive in August).
Then there is Francois Martinet (another team leader in the aerodynamics department, reporting to Bigois, hired from Williams and due to arrive in September) and Peter Coysh (yet another team leader in the aerodynamics department, reporting to Bigois, hired from McLaren and due to arrive in December).
The danger, though, is that unless Nakamoto is replaced by a serious operator, engineers and designers who worked with Willis in Honda's better days are susceptible to poaching by their ex-boss, who will be eager to import the best of 'his' people to Red Bull's ever-growing and ever-improving technical set-up.
Jacky Eeckelaert and Nick Fry © XPB/LAT
Indeed, Willis's old mates' phones may already be ringing ...
In Fry's defence, he's trying his best to hire at a high level - as evidenced by his unsuccessful attempt to poach McLaren's Mike Coughlan and Ferrari's Nigel Stepney, who, had it not been for their foolishness (about which I need not remind you here, surely), would have been useful senior additions to Honda's technical team.
But neither Stepney nor Coughlan would have been enough. What Honda need is a new team principal, with a technical brief, to work alongside Fry as CEO.
If such a position were created - and it would have to be approved by Takeo Fukui, president and CEO of Honda Motor Company, because the salary and benefits package would be very substantial and would have to be specifically budgeted for - then at last Honda would begin to return to where they were three years ago, and thereafter to make real progress.
Trouble is, Fukui is a personal friend of Nakamoto, which probably explains a lot, I'm afraid to say. But it doesn't explain everything;
Fukui is one of the most able men in the motor industry worldwide, and he wouldn't place a chum in a senior technical position if he were fully aware of how ill-suited said chum was to that position.
Fukui is too proud, too conscientious and too much of a Honda man to let such personal details allow him to make such a grievous mistake.
The only explanation is that he cannot yet have been convinced that Nakamoto is doing an appalling job. Well, he must be convinced. Hence this column - which I hope, rather than bollocking me for, Honda's Brackley bosses forward to Fukui's office for his attention.
So, if you're reading, Fukui-san, sir, please understand that what I'm writing here is knowledge common to everyone who works in Formula One. It isn't a scoop, nor even only my opinion, I can assure you of that.
The current under-performance of Honda's Formula One team, whether Fukui realises its cause or not, must be giving him real pain. Formula One is part of Honda's heritage - the company's founder, Soichiro Honda, famously said, "If there's no racing, there's no Honda."
Honda need to get Formula One right for Japan, too, because Toyota won't.
And there's the rub. Unlike Toyota, who have based their Formula One team in the wrong country and are trying to use unevolved road car production techniques (kaizen and the like) to go motor racing, which will never work, Honda are closer to getting it right than it may appear.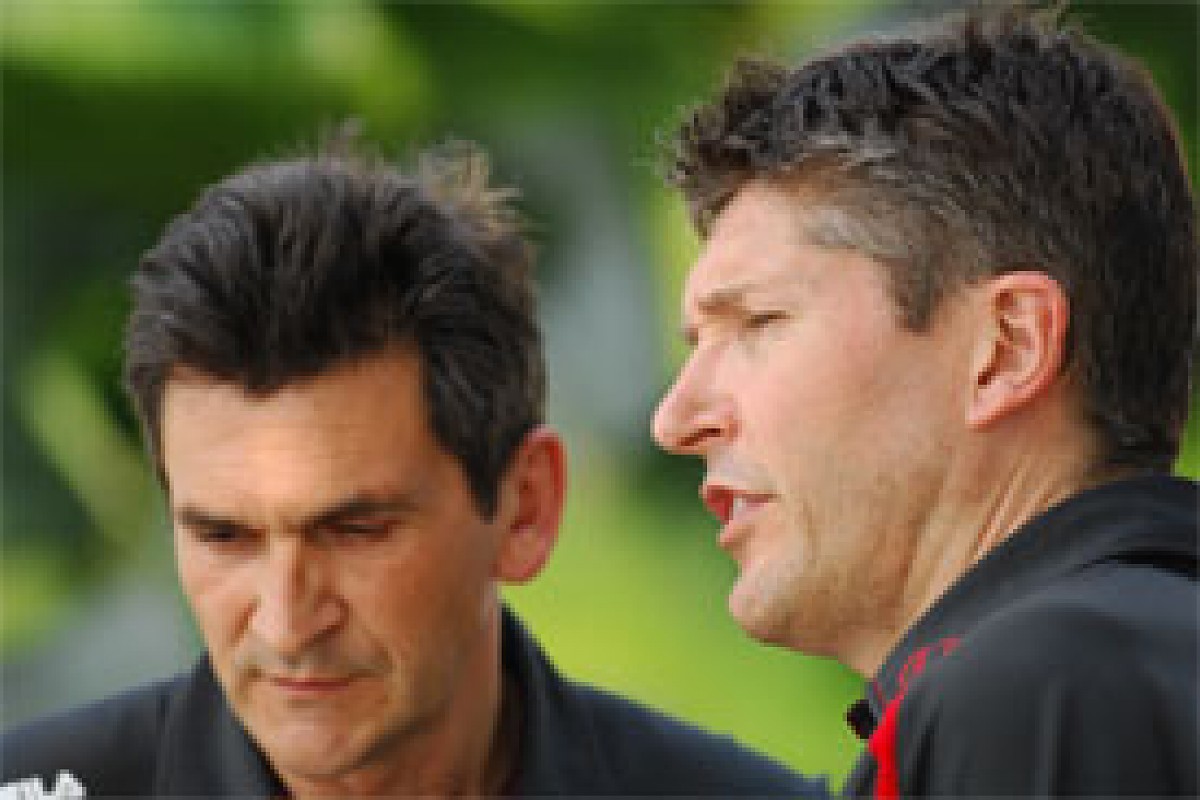 Takeo Fukui and Shuhei Nakamoto © LAT
That was proved in 2004. A root-cause analysis of Honda's current Formula One problems leads to one origin and one origin only: lack of technical leadership.
What else can it be? They have good drivers. They have all the money any team could ask for. They have a large and able workforce (600 of them, in fact, compared with 350 in 2004, which was their glory year).
And Bigois has reportedly told his friends that, in terms of technical resource and equipment, what he found when he arrived at Brackley was state-of-the-art.
Fukui is apparently of the opinion that Honda must succeed in Formula One 'as Honda', and not by importing engineering expertise from outside Japan.
Well, I'm sorry, but Formula One doesn't work like that. That isn't how Renault - a manufacturer team, lest we forget - won world championships in 2005 and 2006. That isn't how Ferrari - a manufacturer team, too, backed by Fiat - turned a lengthy championship drought into a sustained championship success from 1999 until 2004.
Renault and Ferrari succeeded by hiring the right technical leaders, irrespective of their nationality.
Besides, just as Renault's road car engineers now work extremely closely with their Formula One counterparts in the areas of aerodynamics and computational fluid dynamics, so also could Honda's Japanese engineers enjoy the fruits of the Formula One success of their colleagues in Brackley, whether or not those colleagues were also Japanese citizens.
That way, Formula One really would be a channel via which Honda could educate all their engineers, and not only those based at Brackley.
For a company who pride themselves above all on the quality of their engineering, that's quite a prize. But unless real success in Formula One can be achieved, that prize will never be enjoyed.
There's another detail that Fukui should be aware of, and it concerns Jenson Button.
If Fry isn't allowed to hire a team principal with a technical brief, and soon, Button will inevitably vote with his feet - and that will be hugely damaging to Honda's prestige.
What's more, Honda will get the blame for ruining Button's career - while his countryman, Lewis Hamilton, will be beaming from atop podium after podium after podium, week after week after week. And the British press will slaughter Honda for it.
It isn't too late for Honda to turn things round, but it soon will be. They need to act fast. A Pat Symonds or a Ross Brawn, hired for megabucks as team principal with a technical brief and working alongside Fry as CEO, is needed. Now. At all costs. At any cost, in fact.