The Cat in the Hat

---
By Dieter Rencken, Belgium
Autosport-Atlas Writer
There's something strange about Midland's entry to F1. While Red Bull bought a team and turned it into the biggest marketing exercise in the F1 paddock, the Midland F1 group bought Jordan and... well, that's about it. Dieter Rencken sat down with Managing Director Colin Kolles for something completely different
Formula One thrives on suspicion. Request for interviews are met with reams of questions and then, should audiences be granted, times and timeframes - seldom adhered to by interviewees - are laid down. Then, press officers, brandishing inevitable digital voice recorders capable of hearing mice twitch at 20 metres, are invariably present.
Not so with Colin Kolles, Managing Director of Jordan Grand Prix, and its parent Midland F1 Racing Ltd, as the whole shooting match will be known come the start of 2006. A request for an interview with the somewhat misunderstood team principal is requested, and immediately met with, "sure, when and where?" No "what about?" - surprise Number One.
Surprises Two and Three: interview granted, and I am to decide the time. "Four o'clock, tomorrow?" A quick glance at her note book, and Annouck Heinrichs, the team's enthusiastic new press officer, confirms the appointment. I arrive on time, and, Surprise Four: I am asked whether 20 - 30 minutes will suffice, not advised that only 10 minutes of Mr Kolles' valuable time will be granted.
Kolles appears five minutes later, accompanied by Russo-Canadian steel magnate and ultimate boss of the yellow team Alex Shnaider, who is present in Spain for reasons which become clearer as the interview progresses. Kolles apologises, glances at me, then Shnaider, saying, "Sorry, we were in discussion - how long do we need?"
"Twenty to thirty minutes."
"Make it fifteen," says Shnaider with a thin smile, and walks off towards a bevy of tattoo-bedecked Russian beauties imported especially for the event. "What do you want to know, then?" asks Romanian-refugee Kolles, qualified dentist and Formula Three race team owner as Surprise Five registers: no Annouck nearby to record proceedings.
Before progressing, a little background information: Bavarian-domiciled Kolles and I had met in Melbourne, scene of the debut of his ghastly 'chavski' Burberry hat, and had spoken German to each other there. Before requesting the interview I scoured the (UK) Companies House website seeking information on the operations run by him, and I was fully prepared to trip him up should it prove necessary. I chose to conduct proceedings in English, hoping to put him on the back-step.
So, where did it all start?
"I was born in Romania (as Calin Colesnic) in 1968, in a town known as Timisoara to an engineer father and dentist mother," he freely admits, "and my father was a rally driver. I went along, and then started go-karting. When I was 13 we escaped (in 1981, via a British Airways flight to the UK, from where his family made for Germany, he told Reuters). We had no money, zero, and had to start from scratch, but my parents were hard-working."
Once familial and financial circumstances permitted, he resumed karting before trying rallying, first as a map reader and then as a driver. "Early on I decide it was not my biggest interest to drive, so I studied dentistry in Budapest, before doing my Approbation (licence to practise in Germany), then worked quite hard for a few years. I still had an interest in motorsport, but not to drive..."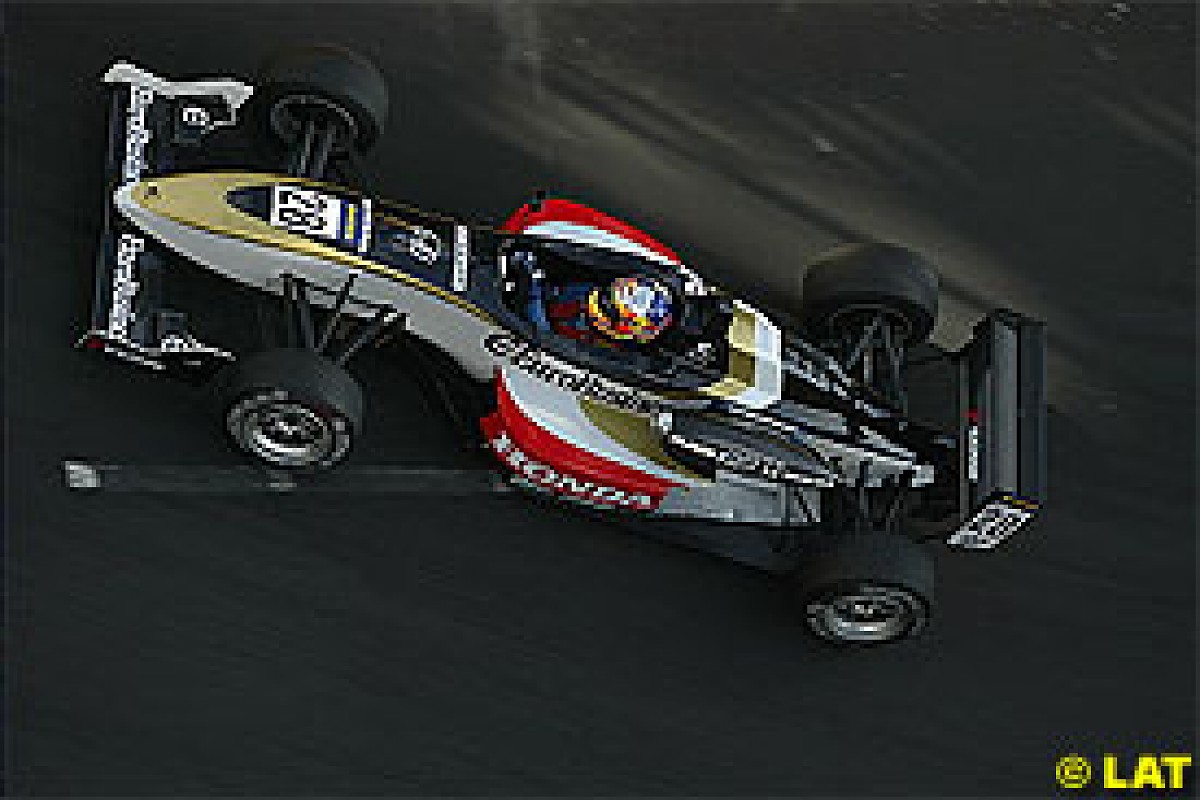 He started to enter karts for promising youngsters and progressed up the ladder until reaching (and winning) the German Formula Three Championship, before eventually teaming up in 2002 with Trevor Carlin (now Sporting Director of the Formula One operation) as Carlin.Kolles to run in Formula Three's blue riband Macau and Korean events
It was all not plain sailing though, for he suffered scrapes with bureaucracy and a devastating fire along the way. "That was a critical moment in my life, after that fire which destroyed everything - trucks, cars, equipment - in 2002. I had to decide whether to stop with motorsport or carry on. I carried on...
"There (in Macau) the idea of eventually doing Formula One was born, and Trevor and I wanted to combine our teams for 2004, although I had an immediate problem: both Toyota and Mercedes asked me to run their engines in German Formula Three, and it was such a good opportunity I decided to run two teams with different engines. Trevor was with Honda, so we could not combine."
How did the connection with Shnaider come about, then? Through professional links, for Kolles' mother and the man himself are dentists, while Shnaider's mother also followed the same profession?
"Not at all," Kolles laughs (for the first, but not last, time during the interview), "I had a friend, who introduced me to a mutual friend, who knew Alex. It was simple: the friend said to me 'I know somebody who may be able to help you reach Formula One', and introduced me to Alex. There was nothing funny about it; it was normal business, a friend introducing two friends who want to do business together. Nothing to do with dentists!"
Once they decided to go to Formula One, was the plan to establish Midland F1 in the UK before even the Jordan purchase arose? (Kolles knows not that I have documents showing Midland F1 Racing Limited had been incorporated on 29 July 2004 in the UK, with the Jordan sale initiated six months later and completed in January this year. With mystery said to surround all Midland and Kolles' dealings, will he be open?)
"Absolutely, once we decided (to go to Formula One), it was always going to be in England. It is the quickest way; everything is in England. I know how much Toyota struggled (he stresses the name of his erstwhile Formula Three and present Formula One engine supplier). I thought a lot about the location, about locating the team in Luxembourg, in Germany, but England was logical."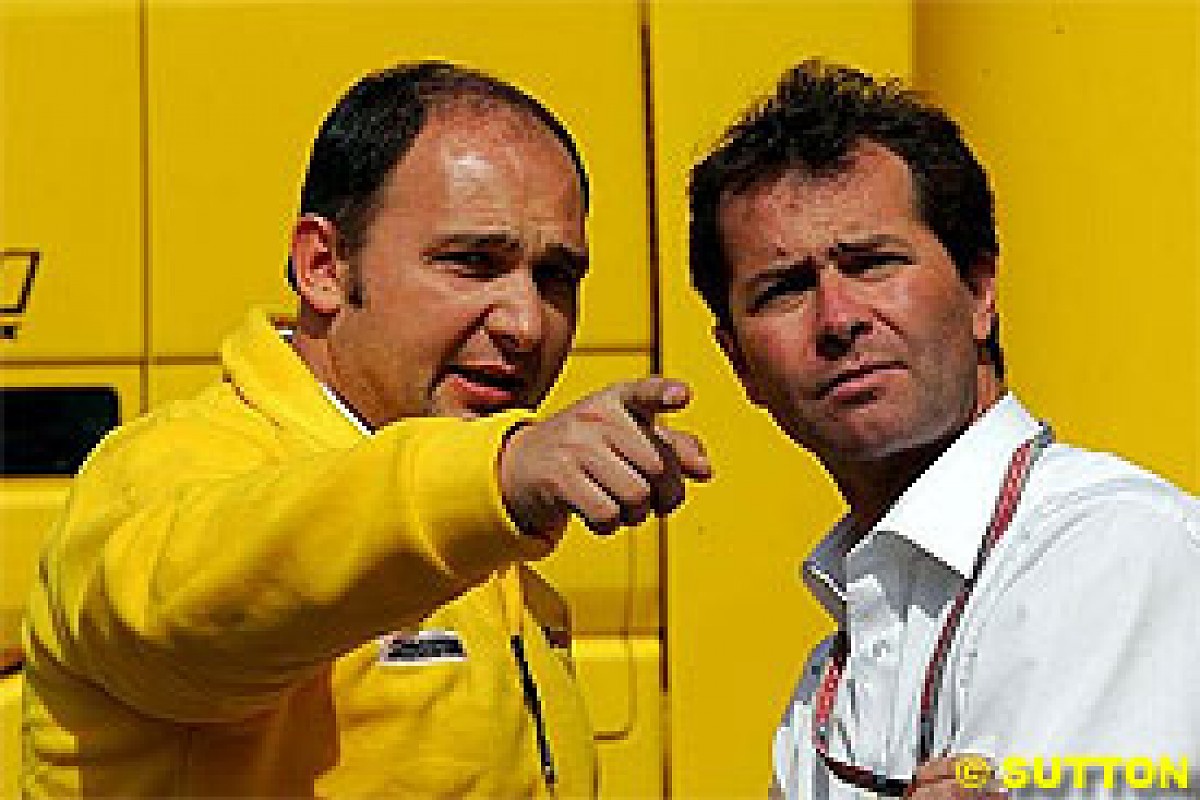 So when was the decision taken to enter Formula One and base the team in England? "Last year," Kolles, an acknowledged aficionado of Ferrari's ultra-desirable 250GTO sports racer, says, before asking rhetorically, "When was this race, Spain, last year? May? Similar time to now, so then we decided. Alex told me here last year to go for it.
"Then Christian Geistdorfer (marketing director) was contracted. I have known Christian (former World Champion co-driver to Walter Rohrl, and sponsorship specialist) for many years, so he became the second person onboard. Then came Trevor, because if you want to do things properly, you have to have these people."
So, Alex Shnaider is here to celebrate the anniversary in style, then? "Yes, and for me it was very simple, it had to be the UK if we wanted to do it quickly, and the only way to do so was to contract people outside our small group," volunteers Kolles about the Dallara link, even before the planned question is put.
"They are contracted to supply a number of windtunnel hours, CFD (computational fluid dynamics) hours, and production hours to build up our 2006 car, because that was our target date. But that is all; they are contracted for the 2006 car only."
Is Kolles prepared to disclose the shareholding of the company? "It is simple: Alex and I are the directors, and I am the only director who is responsible for the company; I do all the signing and am the responsible person. Of course, Alex can sign too, and there are other directors because the law requires it, but they have no say."
But what of Trevor and Christian; are they directors? "They are called directors because you have to here (in Formula One), but they are not directors of the company. But they have long-term contracts."
How does Kolles see the future of the team, and its objectives? "In life you have to work quite quickly, especially in Formula One, and for sure we want to be self-sufficient, without Midland's (financial) input in future. I don't want to put a time to it; I am not like other team principals who say 'three years' or whatever, but we want to do it as soon as possible. And we want to be competitive as soon as possible, but I am not going to put dates."
Without much prompting Kolles expands upon the Midland/Jordan/Dallara relationship. "Having bought Jordan makes it easier and quicker to build our 2006 car; that is all. We have a certain number of contracted hours with Dallara, we have a factory in Silverstone, they have wind tunnel, we have a wind tunnel, and these two will work together to build the car. But there are no questions that Dallara is a contractor, or that next year's car will be built with Dallara and Jordan in Jordan at Silverstone.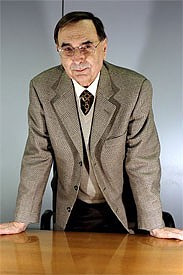 "I have to explain this because there is a lot of misunderstanding. When you decide to build a team from scratch, you cannot have overnight all the facilities, you cannot have overnight all the CFD, and we have a mission: we want to race in Formula One in 2006. So I have to go out and find out the best way I can do that, and I went to Dallara.
"Then we went and bought Jordan, so we have situation that we work with two wind tunnels, our CFD facility and Dallara's, and so on. It is a simple and logical way to my mind to do things this way when you have the resources like we do. Therefore we are working with Dallara to have the best possible car. We are working 18 hours in our tunnel and 18 hours a day in their tunnel, and doing the best job we can."
Will the team always be based at Silverstone? "For sure for the next couple of years," say Kolles without hesitation. "We are refreshing the infrastructure. I cannot say for the long-term, more than five years, but for sure for the next couple of years, because it takes two or three years to get planning permission to build. Then we will see."
How far down the road is Jordan/Midland towards an engine deal, I probe; for Toyota's supply is guaranteed for this year only, and Midland seems to be politically aligned with the Ferrari Faction.
"Well, we had a very close contact to Ferrari, and I think we have a very close relationship with Ferrari, and we had a written offer from Ferrari, which we didn't take; the big mistake that people are saying that we didn't (have the deal), but I can prove it. The others (Red Bull) only took the option after we decided to take one of the three options we have, one of which (Toyota) is obvious.
"Our Ferrari option expired on 31 March, and we decided not to take it up in its offered form because it did not suit us, but we did have an offer (which) we did not take up."
Kolles refuses to be pushed into disclosing the team's further options, but is this a case of history partially repeating itself, of having to choose between Toyota and Mercedes, plus, maybe, Cosworth? "I can tell you we have two other options, plus one obvious option, which fit our demands better (than Ferrari). If I get tomorrow another option from Ferrari which suits our demands better, then we will see again..."
Finally Kolles allows that an engine decision has "basically" been taken, and will be known "very soon, within a couple of weeks, before the August break in my opinion..."
I glance at my watch, note that 20 minutes have elapsed, yet Kolles shows no sign of impatience. Three matters remain outstanding: the testing situation, his Melbourne hat and the purchase of Jordan's wind tunnel, which media reports suggested was shrouded in lock-changing cloak-and-dagger stuff by Eddie Jordan 'heavies'.
"It is very clear, we need to reduce testing as much as possible; we are not a works team, and you have to be realistic," says Kolles. "If a manufacturer, like Toyota, wants to go testing, we cannot compete. There should be testing restrictions, and the way forward is to go with Bernie (Ecclestone) for the future." Short and sweet.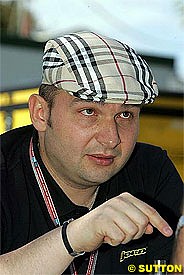 "The hat? Okay, I'll tell you about the fucking hat. It was simple. I'm balding and never went to Australia before. When I went out the first day there with Christian he warned me about the sun, and said I should buy a hat. We were in a hurry, so I asked in the hotel where is the best place to buy a hat quickly, and they sent me to the Burberry shop in the mall underneath. I bought this fucking hat, that's all there is to it - I needed a hat, and bought the first hat I saw.
"Then I wore it in Malaysia, and in the shuttle bus or somewhere I took it off and put it down because I'm not used to wearing hats and forgot it, and the fucking hat was gone. Then people write all sorts of things about the hat and me, and it was such a simple story..."
When I mention the wind tunnel affair, he leans forward conspiratorially. "I tell you, that story (Eddie Jordan locking his old team out), it was not wrong what was written. It is also very simple and very clear, but there are some people who are not very simple and very clear.
"We completed this deal (the purchase of Jordan Grand Prix) in double-quick time, and to complete a deal in quick time with Eddie Jordan is not very easy, and people should know this. So we had to concentrate on certain things, due diligence and things. So in the contract we put an option to purchase the wind tunnel by 31st March, the same date as the (Ferrari) engine option, so we have time to look into details.
"In this option it was written that if we take the option we have 15 working days to complete the purchase, and an agreed amount of rent paid for those 15 days. But no rent before - we could use it free until then. Then, on 31st March we did the deal with lawyers, correctly, but the other side didn't act correctly, and went and changed the locks. And actually, I was in Bahrain, you can check the dates, and I had to complete the deal in two days, although we had 15 days in the contract, because the other side did not act correctly."
Thirty minutes having expired, Kolles rises when I say thank you, shakes my hand and goes off in search of Shnaider. When next I see Annouck, I thank her for the display of confidence in not hanging around, recorder in hand. "I don't do that with Colin - I'm not worried..."