Exclusive Q&A with Honda MotoGP boss Alberto Puig looking ahead to 2023
Honda has endured a difficult time in MotoGP of late, with injury woes for Marc Marquez and a difficult bike contributing to two winless seasons over the last three years.
Coming into 2023, Honda has refreshed its rider line-up, with ex-Suzuki riders Joan Mir and Alex Rins joining it factory team and satellite LCR squad respectively, while Marquez has enjoyed a trouble-free winter.
In its race department back in Japan and within the race team itself, Honda has also gone through a reshuffle, with the signing of a key name in ex-Suzuki technical chief Ken Kawauchi.
In an exclusive interview with Autosport's spanish language sister website Motorsport.es, Honda boss Alberto Puig details the changes his team has made over the winter and looks ahead to the 2023 season.
Q: Can you give some details about Honda's restructuring with a view to 2023?
Alberto Puig: "We have reorganised, starting with the test team, to which [ex-Pol Espargaro crew chief] Ramon Aurin arrives, who has a lot of experience with the RCV and knows the history of the bike. Ramon has been racing for a long time and his experience will be fundamental for the test team.
"Klaus Nohles, who occupied this position until now, will become Takaaki Nakagami's crew chief. Klaus is young but already has some experience and is ready to fight alongside a regular rider. Giacomo Guidotti returns to Repsol Honda [as Mir's crew chief], where he was a few years ago [with Dani Pedrosa]. On Marc's side everything remains the same. Besides that, HRC has signed Ken Kawauchi as technical manager, taking advantage of Suzuki's withdrawal from the world championship [at the end of 2022].
"Ken will replace Takeo Yokoyama, who, in turn, will be in charge of training the young engineers we have in Japan, so that when the time comes they will be ready for Europe - both on a technical and human level. Takeo is a vital part of HRC, and his new position will be decisive for the company's future in racing. Kokubu-san, meanwhile, remains the technical director."
Q: What influence can Kawauchi have in the medium term?
AP: "When you hire someone, you don't put a deadline on them. There are a number of circumstances that have come together. In the first place, there is a need to have a person in Japan to supervise the staff of engineers that Honda has there, [who have] a lot of potential but without experience. And for this, Takeo was chosen, who, logically, had to be replaced. Ken is the answer to that. But we don't expect him to solve all the bike's problems on his own."
Q: It's not very common for a Japanese brand to hire an engineer from another Japanese brand.
AP: "The fact that Suzuki decided to withdraw from the world championship probably influenced Ken's decision to sign for Honda. From what I understand, he is passionate about racing. If Suzuki had kept racing, he probably wouldn't have switched."
Q: What about the change from Guidotti to Aurin?
AP: "Giacomo has been with us for many years and knows our bike very well. We think he can be very good for Joan, just as Ramon will be good for the test team and Klaus will be good for Taka."
Q: Marquez has been very active this winter. How is he?
AP: "This has been one of the best winters Marc has had. For the first time in a long time he hasn't undergone surgery, and that's very important. He has rested, but he has also trained a lot. He's been riding fast. Marc is the same as always, with the same mentality of going out at full throttle from the first moment. Now what's missing is to check the potential of the bike."
Q: At the next test in Sepang, in February, Honda has a lot at stake. The bike you see there will not only redefine the objectives in terms of results, but may also influence Marquez's future plans. Do you have the same impression?
AP: "What is clear to us is that we have to improve the bike. The Valencia test did not go as we expected. But, at the same time, I also tell you that Honda neither stops nor gives up. It will take more or less time, but we will find a competitive bike. Obviously the Sepang test is very important, but the result we get there, whatever it is, will not demoralise us. The priority is for Marc to have a bike that can win."
Joan Mir, Repsol Honda Team
Photo by: MotoGP
Q: Will the 2023 bike be as different from the 2022 bike as the 2022 bike was from the previous one?
AP: "The change will not be so radical, but it is true that we must improve in several areas, not just one. In any case, last year's model was not so different either. It was a little different in terms of geometry and distribution, but it was always a Honda RCV, with the same engine configuration."
Q: How will Joan Mir fit in?
AP: "Joan already trained with us in Valencia, but that bike didn't show what we expected. Mir got a more or less approximate impression of what the Honda is like, and he gave us his point of view by comparing it with the one he was riding until then [Suzuki]. Logically, when a rider comes from a bike that has won two of the last three races, he notices the change."
Q: What has been asked of you?
AP: "What Honda expects from its riders is to win races, but to do that we have to give them a bike that works. If you are in an official team like HRC, what is expected is that you win. But you also have to be fair and consistent, and you have to find a package that is balanced and works."
Q: How will Honda manage to double its efforts and keep Marquez satisfied and, at the same time, take care of a world champion like Mir as he deserves?
AP: "This is Honda. We are on all fronts: motocross, trial, Dakar, Formula 1, MotoGP. That is much more complicated than if we were only focused on MotoGP. But that's why we are the company we are."
Q: And to top that off, LCR brings in Alex Rins, who won two of the last three grands prix in 2022 in Australia and Valencia?
AP: "Rins was signed by LCR, but obviously he is also an HRC rider. Alex had the chance to go to Aprilia and decided to come to Honda. From there, we are delighted and we will try to bring out everything he has in him for the benefit of Honda, understanding that the factory team is Repsol Honda."
Q: What about the material you will receive?
AP: "In racing, the priorities are set by the results and the standings. Honda, by philosophy, wants all its riders to have the same material. Another thing is that there is not enough time to produce the parts and, in that case, the new components will be given to the rider in front."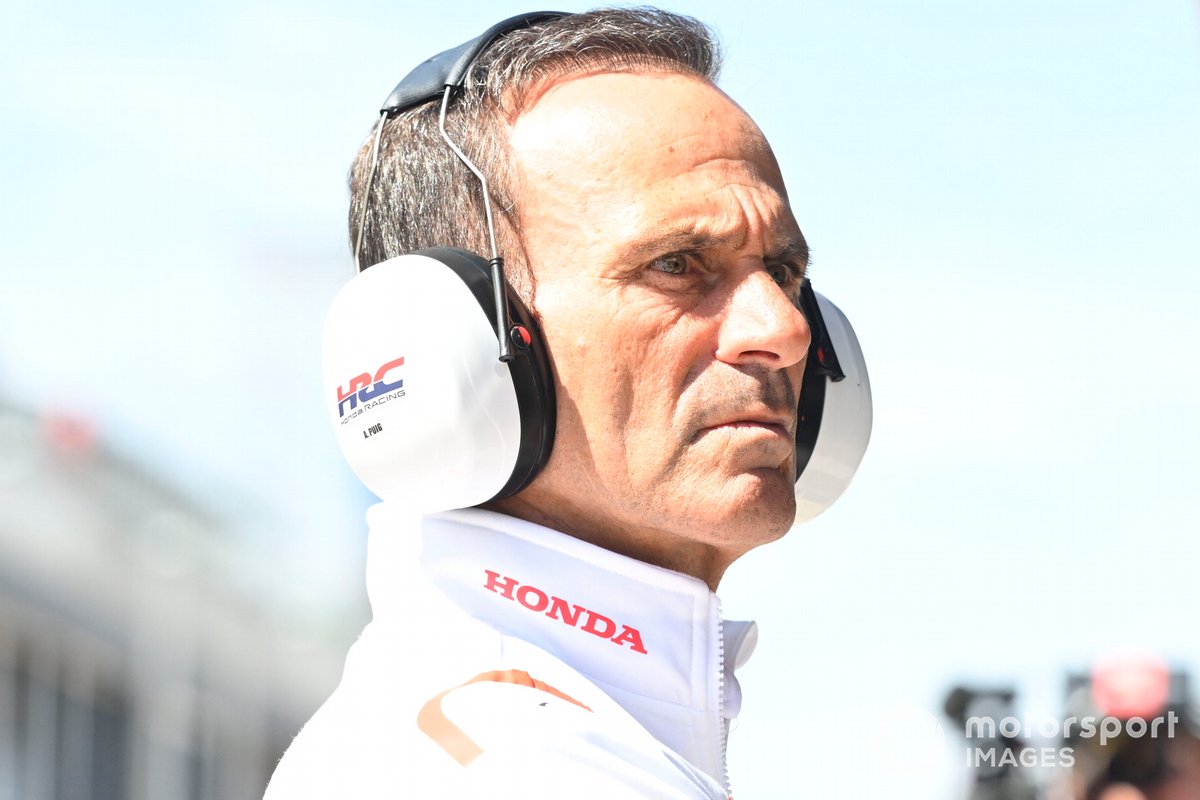 Alberto Puig, Repsol Honda Team Team Principal
Photo by: Gold and Goose / Motorsport Images
Subscribe and access Autosport.com with your ad-blocker.
From Formula 1 to MotoGP we report straight from the paddock because we love our sport, just like you. In order to keep delivering our expert journalism, our website uses advertising. Still, we want to give you the opportunity to enjoy an ad-free and tracker-free website and to continue using your adblocker.
Become a subscriber.
Disable your adblocker.