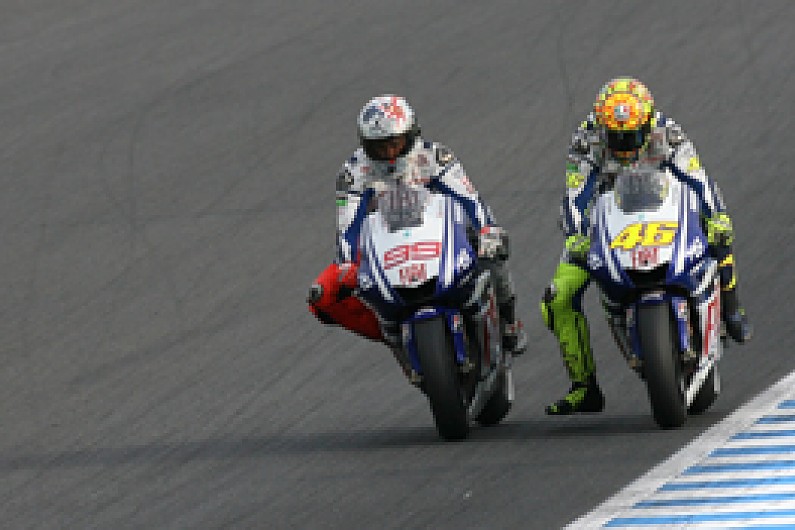 Valentino Rossi believes he could have stayed with leaders Casey Stoner and Andrea Dovizioso in the Japanese Grand Prix had he not been caught up behind Yamaha team-mate Jorge Lorenzo in the opening laps.
The two Yamahas spent the Motegi race in a huge battle with each other, swapping places on multiple occasions and even making light contact late on before Rossi managed to secure third place ahead of Lorenzo.
Rossi said he thoroughly enjoyed their dice - but reckoned being stuck behind Lorenzo in the opening laps had cost him a chance to fight for victory.
"First it's important to be back on the podium, but it was a very fun third place," said Rossi.
"Unfortunately at the beginning Jorge overtook me, we went wide and we lost time because he wasn't very fast, and I lost contact with Casey and Andrea.
"When I was able to get in front, I was already 1.6 seconds [behind] and the distance remained the same to the end of the race."
Still struggling slightly with his physical condition, Rossi admitted that he lost pace in the latter part of the race.
"At the end, in the last laps I was very tired and my bike started to slide a lot," he said. "So Jorge came back and was faster than me, and we started a great battle with some good overtaking.
"I enjoyed it a lot, and I have to also say congratulations to him for the great battle. But to get back on the podium was important for me and my team, and we are so happy."