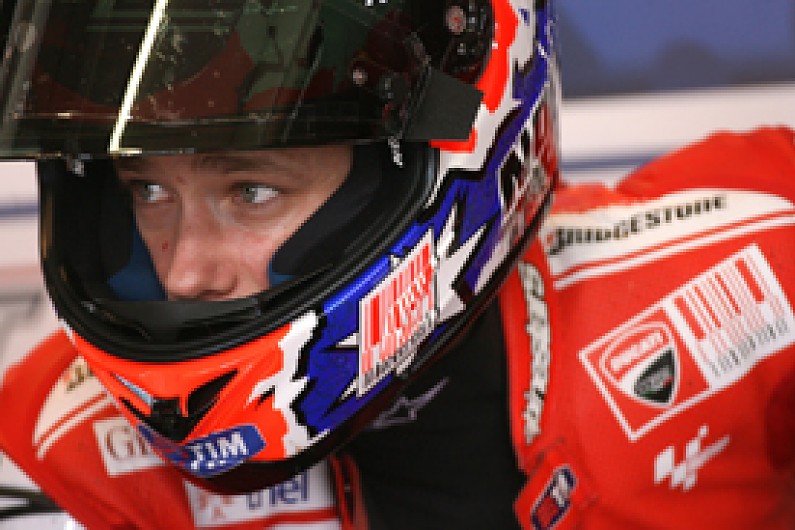 Casey Stoner remains mystified as to the cause of the arm pump that once again afflicted him during this weekend's Dutch TT.
The former world champion, who finished third - his first podium of the year - at Assen, was hit by the condition for the second time in as many races. And he revealed afterwards that the problems with his right arm were the key reason why he could not challenge Jorge Lorenzo harder for victory at Assen.
"This is the first race where we have finished in a result where we at least should have been. It's not the first time we should have been up here, but unfortunately it's taken a few races to get here so the feeling is nice," he said.
"The last two weekends we've had a really good race set-up that was fast enough to be on the podium and even compete for the win, but unfortunately in Silverstone things were different.
"And here when everything was going so well with the bike, I started getting arm pump again halfway through the race.
"On Friday afternoon's practice I immediately had it again after a few laps so it's something strange. I want to take it out of the equation."
Stoner believes the repeat of the condition, which he says sapped 95 per cent of his strength in his right arm during the race, could have reoccurred purely because he didn't give his arm enough time to recover from Silverstone: "I've never had arm pump in my life, so I'm hoping it's just that I didn't have a lot of time to recover from the race there.
"I thought it was enough time for sure," he added. "The Monday after Silverstone my arm was actually very sore and hurting and I guess it just pumped up a little bit too much and then pushing it throughout the race damaged it slightly. I thought I would be 100 per cent by the time I got here, but Friday afternoon, within a few laps I started feeling niggles under braking.
"The bike has been capable of doing a lot better than what I am doing on it - we will just have to wait until next week to see what we can do."
Stoner blamed the problem at Silverstone on an undersuit that was too tight, but said that he had changed his top to a more loose fitting garment for Assen.
And while he knows he had just days to find a solution before Barcelona, Stoner has already ruled out an operation to fix the problem if it re-emerges during the season.
"If I can go without having another operation I would much prefer it," he said. "If it stays like this, and I don't believe it will, what we need to do is change the training regime and things like that.
"You just need longer stringier muscles rather than clumps. And that helps everything go through the body better. It's better to be a tri-athlete than a body builder. Bodybuilders will pump up in three seconds, whereas tri-athletes can keep going. That's the difference between long stringy muscles and short stocky ones.
"I'll do everything to avoid an operation because I don't believe they do jack. How many people have had an operation and then come back in for another one - it just relieves the pressure temporarily until they get it again."