Suzuki has completed its rider line-up for the 2021 MotoGP season after re-signing Joan Mir on a new two-year deal.
The 2017 Moto3 world champion followed in the footsteps of Maverick Vinales in making his MotoGP debut with Suzuki last year following a single season in the Moto2 class.
Mir ended last year as the second-best rookie, finishing 12th in the standings with a best result of fifth at the Australian Grand Prix, although he battled with the after-effects of a violent crash during the post-race Brno test, which forced him out of the Austrian and British GPs.
Though he was one of the main targets for Ducati's 2021 line-up, Suzuki team boss Davide Brivio admitted to Autosport last month that everything had been agreed to retain Mir.
Taking to Instagram on Saturday morning, Mir confirmed he had penned a new agreement with Suzuki.
"I'm extremely happy to sign with Suzuki for another two years - renewing is the best thing that could happen and it's a dream come true again," Mir said.
"It's really important for me to continue because now I have more time to learn and more time to show my potential.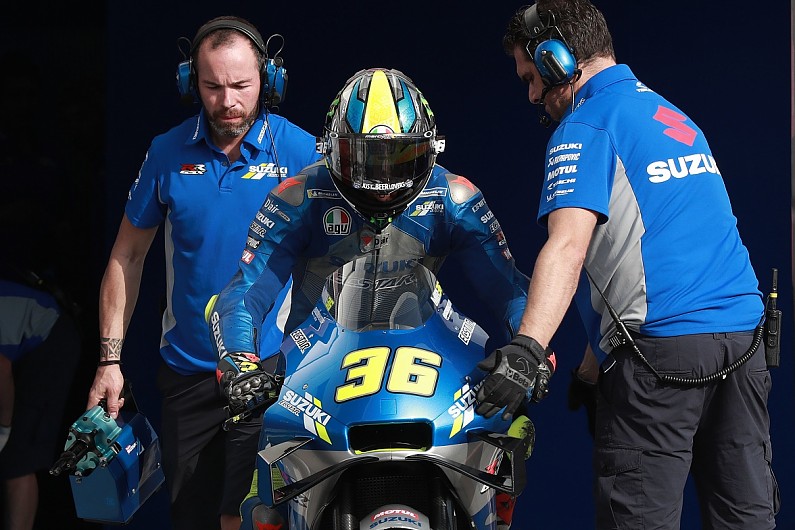 "Two years can go by quickly, but I am ready to arrive at a higher level, and we are working every day to make that happen.
"I am also so pleased on a personal level because I have a really good team and crew around me.
"I really want to thank everyone at Suzuki for their confidence in me, and let's see if I can get the results that we're capable of."
In a similar move, Alex Rins announced last month that he'd re-signed with Suzuki for two more years, and later admitted that discussions first began with the Japanese manufacturer last April.
Suzuki is the second manufacturer to firm up its 2021 line-up, after Yamaha confirmed Maverick Vinales and 2019's top rookie Fabio Quartararo on two-year deals.
Honda stunned the paddock in February when it announced it had secured reigning MotoGP world champion Marc Marquez for four more years on a deal rumoured to be worth €100 million.
The coronavirus-forced delay to the 2020 season has complicated the rider market situation, with many deals looking likely to be agreed before any racing has taken place.
Last month, Marquez suggested MotoGP introduce a freeze to rider contracts for 2021, while Petronas SRT boss Razlan Razali said his team would seek to retain Quartararo should 2020 be cancelled altogether.
After the Dutch, German and Finnish Grands Prix were cancelled, the season won't start until the end of July at the earliest, with MotoGP promoters Dorna Sports "optimistic" of getting the campaign underway by then.