Valentino Rossi admits MotoGP races behind closed doors in 2020 would be a "big shame", but accepts that this a better alternative to having no events at all.
The coronavirus pandemic has forced the cancellation or postponement of the opening 11 races of the 2020 season, with an end-of-July start the aim for MotoGP, with a campaign of around 10-12 events centred in Europe.
Due to social distancing measures worldwide, races will almost certainly have to be run without fans in attendance.
As well as closed door races, multiple races at one track have been mooted by MotoGP organisers Dorna Sports.
Rossi says he is not keen on the idea when asked in an interview organised by Yamaha for his thoughts on the suggestions being made to host the 2020 campaign.
How MotoGP is reacting to coronavirus
"For me, the best way is to start in August or September and try to make 10 or 12 races in the best circuits around the world, so where have the best conditions," the seven-time MotoGP world champion said.
"So, we can start in September and maybe also finish in December in maybe Australia or Thailand, where it's hot also in December.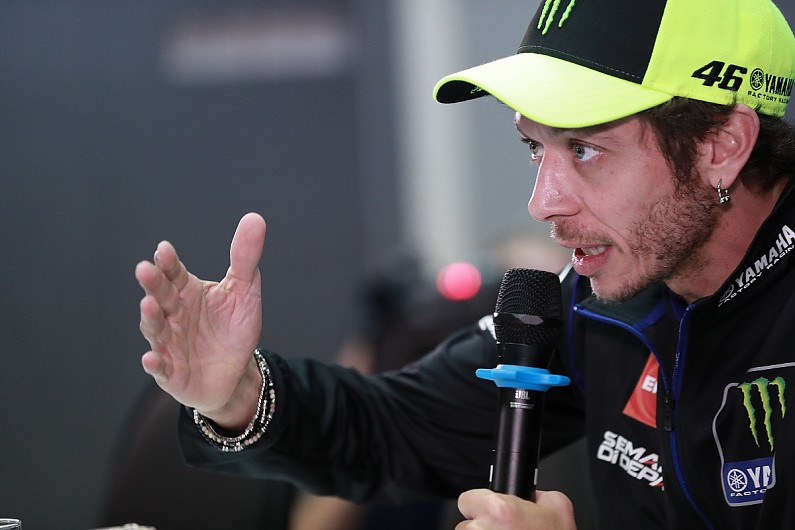 "I hope there's no multiple race in the same track, and also I don't like double race in the same weekend like in Superbikes (this idea has been ruled out by Dorna).
"For me it's better to maybe make eight real weekends, or 10 or 12 if it's in the best race tracks.
"And also, if it's [run behind] closed doors, it's a big shame for everybody because we race for the fans, but it's better to race with the doors closed than have no races [at all]."
Rossi's Yamaha team-mate Maverick Vinales feels it would be "perfect" if MotoGP could simply run the second half of the season as it was before the crisis, and feels it will be "difficult" to race twice in once circuit.
"I completely agree [with Rossi], because finally we have to race, the championship has to move on, all the factories have to work and do laps on the track because right now they are stopped," said Vinales.
"And also for us, for the fans, they can watch at home.
"Like Valentino says, it would be a shame [to race without fans] because we race for our fans and for all the people there [at the circuits] watching us.
"For me, it will be good if we can make the second part of the season, that would be perfect.
"Then, it will be difficult to race two times in one track.
"For me it will be so strange because for sure the results can change a lot."