The start of the MotoGP season has been pushed back even further following the official postponement of the Sachsenring race in Germany.
With the Italian and Catalan Grands Prix postponed earlier this month, the German GP - originally the ninth round - scheduled for 21 June, was left as the earliest possible starting point for the 2020 season.
However hopes of that were effectively dashed this week when German officials announced that large gatherings will be banned until 31 August amid the ongoing coronavirus pandemic.
German GP organiser ADAC has now confirmed the race has been postponed, with discussions now turning to a new date later in the year.
"We are in talks with MotoGP rights holder Dorna and the relevant authorities regarding a new, later date for the Motorrad Grand Prix at the Sachsenring," read a statement from ADAC.
"Our first priority is the health of fans and everyone involved.
"Tickets that have already been purchased will be valid for the new date. We ask our loyal fans for a little bit of patience."
MotoGP promoters Dorna Sports is yet to issue a statement on the German GP.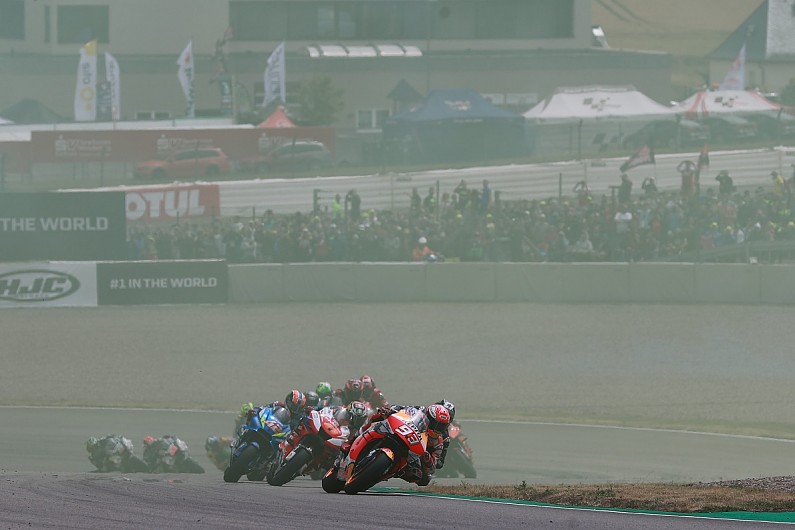 The Dutch TT at Assen on 28 June now becomes the earliest possible start to the season, with an update on restrictions in the Netherlands expected next Tuesday.

Why manufacturers must bury self-interest for the sake of survival
Recently, Dorna CEO Carmelo Ezpeleta said he would be "delighted" with a 10-round 2020 championship, though Ducati boss Paolo Ciabatti told Autosport that it would be difficult to find 10 countries able to host a race this year.
Numerous ideas had been mooted by Dorna and governing body the FIM to get a 2020 season in, which included two-race weekends and extending the year into 2021.
However, Dorna ruled out the possibility of two-race weekends earlier this week, while the latter idea looks to have been abandoned too.
On Thursday MotoGP announced the cost-saving measures it would put into place effective immediately, with the homologated 2020 bikes to be used in 2021.
Engine and aerodynamic development has been frozen for all manufacturers this year, while the non-concession manufacturers (Honda, Ducati, Suzuki, Yamaha) will be unable to develop engines or aero next year.
Autosport has produced a standalone special magazine to celebrate our 70th birthday. All current print subscribers will receive a copy for free. To order your copy of the 196-page Autosport 70th Anniversary issue, please go to: autosport.com/autosport70th