Injured KTM MotoGP rider Pol Espargaro says he rode "a little bit easier than normal" during Thailand Grand Prix practice after witnessing Marc Marquez's "violent" FP1 crash.
Marquez was thrown from his Honda in the latter stages of FP1 on his out-lap going through the right-hander of Turn 7, and had to be taken to hospital for precautionary checks - though returned to action in FP2.
Espargaro suffered a similar accident during FP4 at Aragon, and suffered a fracture to his left wrist, which required surgery.
The KTM rider admits it was "important" for him not to crash on his return from injury, and was persuaded to ride within his limits after following Marquez into Turn 7 in FP1.
"Today was an important day to just not crash," said Espargaro, who was 15th overall.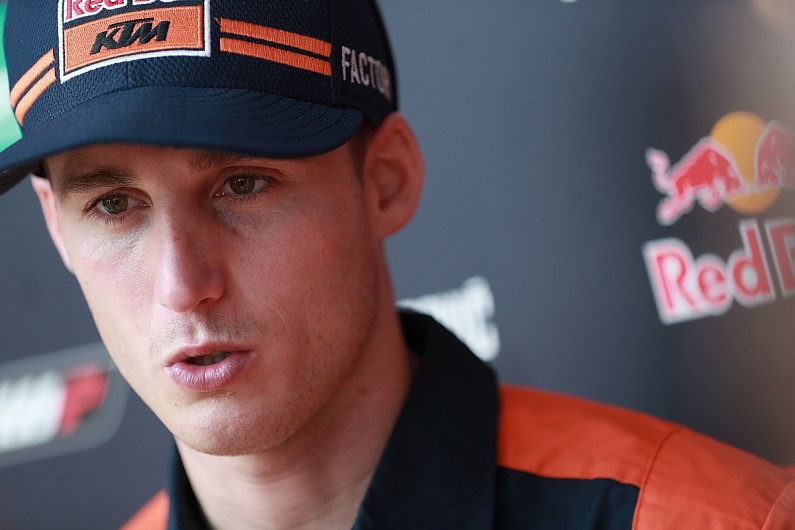 "I almost crashed this morning. Seeing the crash of Marquez, I took it a little bit easier than normally [for the rest of the day].
"I am normally riding to the limit, so today I tried to manage at the end of FP2 just to eliminate the chance of crashing with the soft tyre [while on a quick lap].
"Tomorrow I will bet [it all] on one lap [in FP3 to secure a place in Q2], and like that we take less risk at the end of the weekend.
"Let's see if I can manage all the laps in the race."
Espargaro offered his perspective of Marquez's crash, adding: "It was so violent. Miguel [Oliveira] did a very similar crash [at the start of FP1].
"He was not off-line, he was not faster than normally, just exiting the pit box.
"The tyre - I don't know if it was new or used - but for sure it was not ready because he just flew [through the air].
"The crash was so violent. It was scary, but luckily he is okay and he could manage to stay here in FP2."
Marquez set the best laptime of the day after just a few minutes of the second session, and ended up sixth on the combined times after focusing fully on race set-up.
He is fit to continue for the remainder of the weekend.