San Marino Grand Prix winner Marc Marquez says Fabio Quartararo proved at Misano he has the "potential" and the "talent" to fight for the MotoGP title in 2020.
Quartararo came into MotoGP at the start of the year with the new Petronas SRT Yamaha team off the back of a largely difficult junior career in grand prix racing, but has since scored three pole positions and four podiums in his rookie campaign.
He led for much of last Sunday's 27-lap Misano race, resisting massive pressure from Marquez before eventually being pipped to a debut win on the final tour.
Marquez heaped praise on Quartararo, calling him "the real winner" at Misano, and admitting he will from now on be a "tough contender" for race wins and the title next season.
"The real winner, who did the best race, was Fabio," said Marquez, who now leads the standings by 93 points.
"Fabio showed to all of us - I already knew [this] - that he has the potential, the talent, the bike, the team to fight for the championship next year.
"And I believe - I will try to avoid this - from now till the end of the season he will be a tough contender, and he will win some races.
"We will try to avoid this, but I predict next year he will be a tough contender for the championship."
Quartararo later commented that battling with Marquez was a "dream come true", and the "best moment of my life".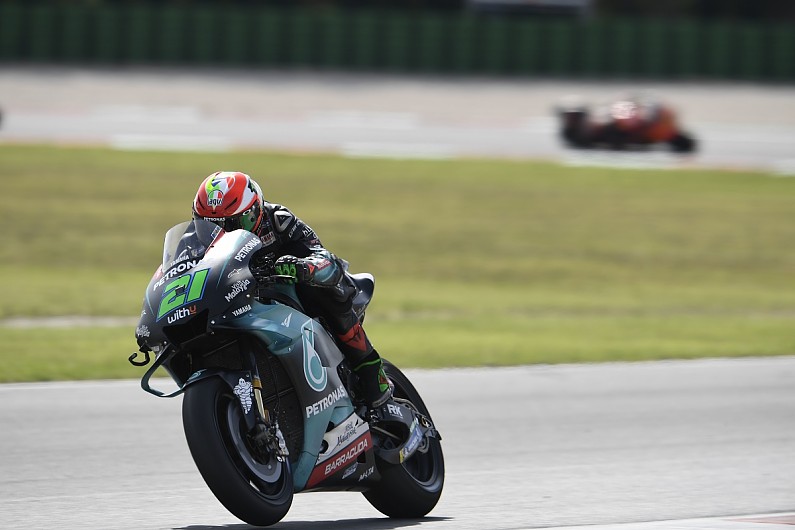 Morbidelli: Quartararo making his opponents "a little afraid"
Quartararo said after the Misano race he learned a lot from his battle with Marquez.
But his SRT team-mate Franco Morbidelli believes he is only saying these things to make his opponents "a little afraid", and in fact thinks Quartararo has "little to learn".
"These are the things you say when you are young to scare your opponents a bit," Morbidelli, who was fifth and some 12s down on Quartararo, said.
"From Valentino [Rossi] I could learn some things related to this occasion, but I don't know if they could be useful on other occasions.
"But in my opinion Fabio has little to learn in MotoGP: he is flying, he's stronger than everyone, so he has little to learn.
"He is first on every lap: what is there [left] to learn? How to be half a lap ahead of everyone?
"In my opinion it's more of a [strategic] move to make his rivals think he can improve even more.
"It's a bit of a tactic, because now Fabio has little to learn.
"Then again, maybe it's true and at the next race he will be half a lap ahead of everyone."