Marc Marquez says the spat between himself and Valentino Rossi in MotoGP qualifying gave him "extra motivation" to win MotoGP's Misano race, even though their altercation was not "necessary".
The Honda rider and Rossi tripped each other up in a controversial moment at the end of Q2 on Saturday when both were pushing for a final lap time.
Marquez was confused by Rossi's motivation for holding him up, while the Yamaha rider said he believed Marquez knew he was deliberately ruining Rossi's lap, but ultimately the pair went unpunished following a hearing.
Marquez chased long-time race leader Fabio Quartararo for most of the Misano race's 27 laps after starting fifth, and made a last-lap move for the victory stick at the Quercia left-hander before blocking Quartararo at the Carro Hairpin at the end of the lap.
With nearest title rivals Andrea Dovizioso only sixth and Alex Rins out, Marquez said he did not need to chase the win - but the incident in qualifying gave him "that extra push" to win on Italian rider Rossi's home soil.
"I knew that it was not necessary to win, because I saw that Rins was out, Dovi was far [behind]," said Marquez, who is now 93 points clear of Dovizioso in the riders' standings.
"But honestly speaking, yesterday was the extra motivation, the extra push for the race.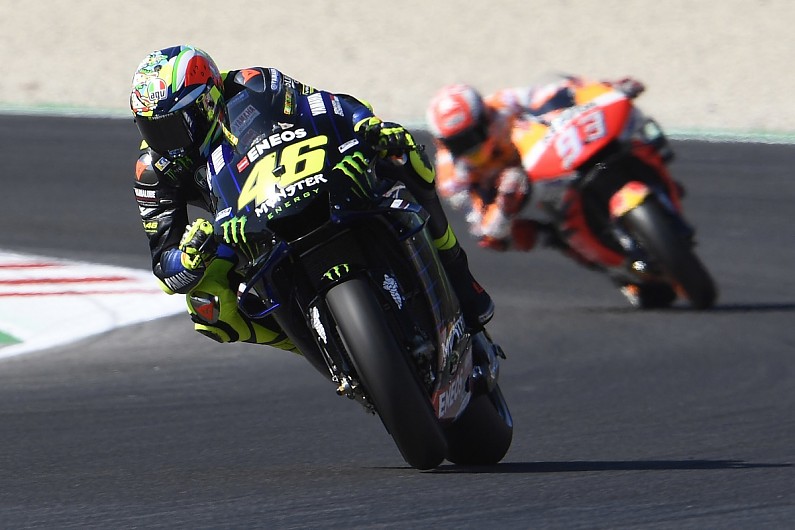 "And it's what I did, it's just I tried to stay there [behind Quartararo], stay there, and then I said, '[Do] I try or not?'
"But then I said I will try on the last lap - and yeah, I knew that Fabio was really, really fast in T3 [the third sector].
"So for that reason I tried to overtake him before T3, and in the T3 just I closed [down] the corners.
"I tried to be smart, and in the end [it's] really nice to win here in Italy - but it's even nicer to have 93 points advantage in the championship."
Marquez added "the best way to speak is on the track" in relation to his and Rossi's Saturday clash.
"I would not sleep well [if he had not tried to pass Quartararo," he said.
"I tried this time and it was possible. Yesterday gave me extra motivation. Somebody woke me up."
Rossi struggled for pace from seventh on the grid, and only just beat Petronas SRT Yamaha counterpart Franco Morbidelli to fourth - continuing his podium dearth, which dates back to the Austin race in April.