Alex Rins believes had he not gotten stuck behind Ducati's Danilo Petrucci in the MotoGP Catalan Grand Prix, he could have mounted a challenge for his second victory of 2019.
The Suzuki rider ran in the battle for second with Petrucci for much of the 24-lap contest, but was unable to keep the Ducati behind when he passed him at mid-distance with an aggressive Turn 4 move.
Rins almost collided with Petrucci under braking for Turn 1 late on while trying to re-pass, and dropped to sixth as a result, before recovering to fourth at the chequered flag.
He says his tyres overheated while following Petrucci, which caused him issues under braking, and ultimately stopped him from closing the gap to eventual winner Marc Marquez.
"Looking at the data, can be [the case], because behind him the [front tyre] pressure went up, and to reduce the pressure it's difficult," Rins said when asked by Autosport if clearing Petrucci would have allowed him to close in on Marquez.
He added: "I was expecting to go a little bit faster, but on Sunday the engineers analyse a lot the tyres, the bike.
"Sincerely, behind Petrucci our bike was fully hot. The tyre pressure went up immediately. And maybe for this reason we were struggling a lot of the brakes, and also on turning."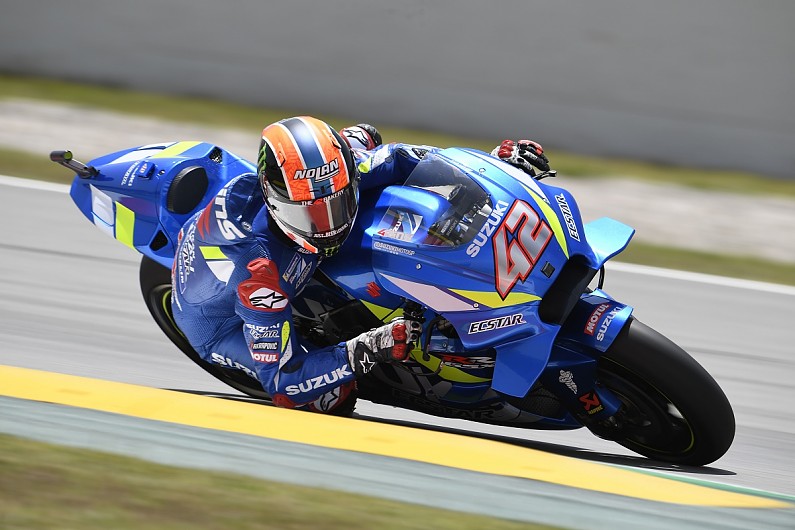 Rins was almost thrown from his Suzuki at Turn 3 on the fourth lap, and blamed this on a "strange" problem with right shoulder of his medium rear tyre, which at lean angle made the bike "uncontrollable".
"I was faster than Petrucci going in [to the turns], but then on the acceleration we lose a lot [because of] the tyre.
"When I overtook him I tried to push two laps, but was impossible to open a small gap.
"During all the weekend we were very strong on the last sector and during the race we lose a lot of time there.
"Until I overtook Petrucci on the fourth corner, he did one step more. He was able to follow me.
"[It] was difficult for me because, for example, at the first corner, braking straight was good, but when I was leaning the bike the rear was uncontrollable. I was so close to crashing there."