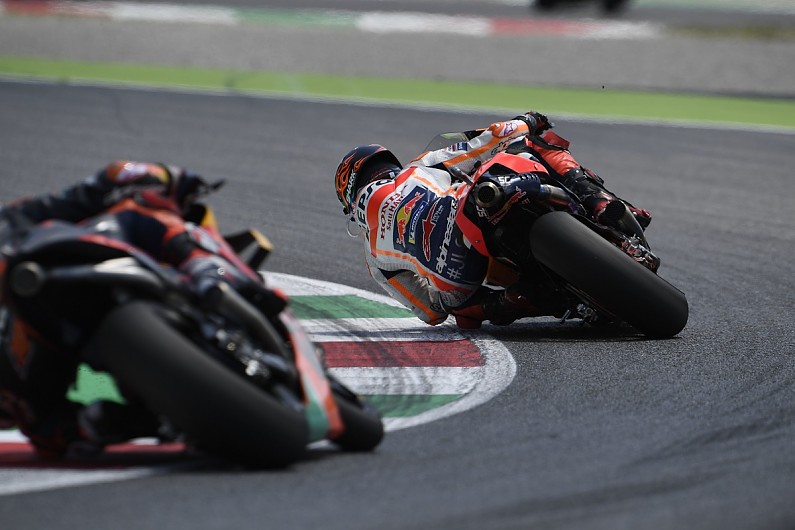 Jorge Lorenzo is applying bike braking elements and dynamics that he used at Ducati to his Honda MotoGP bike in order to improve his feeling and close the gap to the fastest riders.
Regardless of the changes that he considers necessary to the ergonomics of the RC213V that he will carry out this week in Japan, Lorenzo admitted at Mugello that he is studying the telemetry a lot to try to speed up his adaptation to the new machinery.
He repeated several times that the most critical area, and where the room for improvement is biggest, is braking.
"I'm analysing a lot to be able to extract the maximum from this bike, which under braking is almost the opposite of the Ducati," he said.
"I still need to modify my riding style a lot on corner entry."
Lorenzo is not trying to replicate Marquez's barking dynamics, instead following his own path.
This is path that helped Lorenzo return to winning ways with Ducati at Mugello a year ago.
Something that helped him master the Desmosedici then, was when he asked Honda for a fuel tank cover that allowed him to have more grip and be able to use his legs less.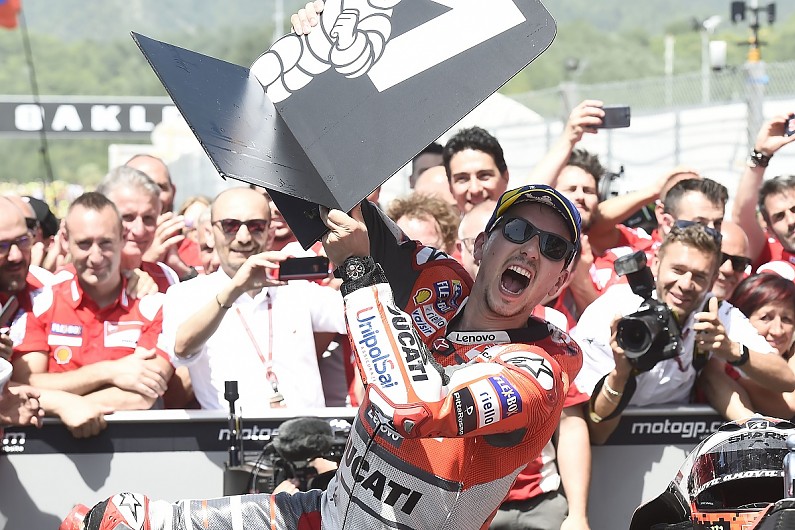 "Jorge had a strange feeling under braking with the Honda, so we applied all the developments that we carried out with Ducati and that Honda wasn't using and that Marc, for example, prefers not to use," explained Andrea Pellegrini, Brembo's chief engineer, to Autosport.
A closer look at some of the details will help us identify some of the elements used by the #99 but not by the #93.
Lorenzo, for example, is using an anti-drag system that prevents the calipers from coming into contact with the disc unintentionally.
Since Le Mans, he also uses a valve known as 'anti-knockback', which basically prevents the bike's movement from making the brakes not work momentarily when the rider pulls the levers, something that could lead to potentially dangerous situations.
Lorenzo's is the only Honda that carries it.
Despite his intention to 'Ducati-ize' the braking of the Honda, there are limits which will be very hard to break in terms of design.
"Honda is the only manufacturer that uses 320mm front brake discs on most circuits [except Austria, Motegi and Thailand], while the rest usually carry 340mm ones," adds Pellegrini.
Looking at the Honda riders' braking, the contrast is also evident in the data, which reflects their different riding styles: while Lorenzo's strength has always been corner speed, Marquez prefers to go deeper on the inside of the corner to then suddenly make the bike turn.
"What I can say is that both use the brakes heavily at the start, but after that, while Marquez releases the levers progressively, Jorge does it much faster, also instantly," concludes Pellegrini.