MotoGP legend Valentino Rossi has urged Lewis Hamilton to visit his motorbike training ranch in Italy following the five-time Formula 1 champion's recent Jerez Superbike outing.
Hamilton was out on track at Jerez on Saturday with Yamaha World Superbike racers Alex Lowes and Michael van der Mark on a plain-coloured YZR-M1 bike bearing his #44.
The Mercedes F1 driver suffered a small crash at the right-hander onto the back straight but was uninjured and was able to continue running.
Rossi was asked about Hamilton's exploits on Sunday at his Ranch after taking victory in the '100km dei Campioni' dirt bike relay-style race alongside his protege and fellow MotoGP rider Franco Morbidelli.
He said he would like to see Hamilton pay a visit to the facility, which is situated in Rossi's hometown of Tavullia and acts as the base for his VR46 Riders Academy junior programme.
The 1.8-mile dirt track also serves as Rossi's training venue.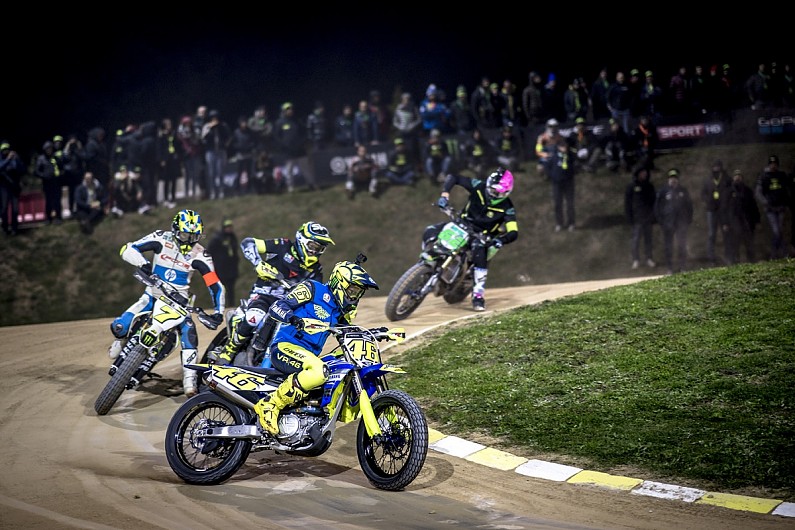 "Hamilton is a big bikes fan," said Rossi. "He follows the races and is always texting me. He exaggerates a bit, as he praises bike riders saying we are the ones taking real risks.
"He has to come to the ranch one day."
Following his Superbike run, Hamilton posted on Instagram saying how much he had enjoyed his Yamaha experience.
He wrote: "Woke up feeling great today, miss riding the superbike already. FYI I've always loved two wheels more than four.
"Always wanted a motorbike since I was a kid, however am super-grateful my dad got me a kart. But current new love is [being] out on track on my bike.
"I have the highest regard and respect for these motorbike riders. It's a much different discipline, however requires some of the same basics such as time, patience, fearlessness, focus, agility and risk taking - all of which make a sport exciting.
"And yes, I'd love to race bikes. But these guys are on another level so I think I'll just enjoy riding and testing the limits on track.
"@valeyellow46, I need to come to the ranch asap."
Lowes described Hamilton as "very quick and impressive" and a "top bloke and genuine two-wheel fan" in a Twitter post.