Jorge Lorenzo is certain of being on the grid for his final race as a Ducati MotoGP rider in Valencia, having missed the four previous grands prix due to injury.
Lorenzo injured his foot in a major highside crash at the start of the Aragon race in September, but was back on his Ducati Desmosedici just two weeks later in Thailand.
But the Spaniard suffered another big crash in practice there, which resulted in a fracture to his left wrist and ended his weekend early.
He tried to ride the following weekend at Motegi, but ceased his participation after just two practice laps.
Lorenzo then skipped the Phillip Island round entirely and withdrew from Sepang after Friday practice.
Asked ahead of the season finale in Valencia whether he was confident of taking part in the race, Lorenzo said: "Yes, I will be riding on Sunday. I think I'm quite well to be able to ride.
"In Sepang I wasn't [well enough] - or, I wasn't able to fight for something important, top 10, even top 15, I was too slow.
"Luckily the injury improved so much in the last 10 days, every day was important and every day I feel better.
"So now I feel enough good to try to achieve the best result possible for the team."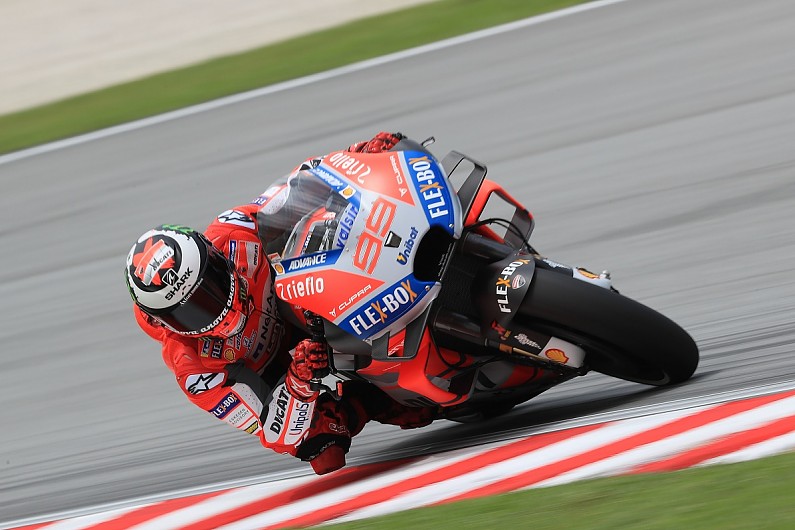 Ducati works rider Andrea Dovizioso, whose relationship with Lorenzo became increasingly fractious in their time as team-mates, referred to Lorenzo's Malaysian GP absence as "strange" later that weekend.
It was a comment that subsequently angered Lorenzo.
The Valencia Grand Prix will be the end of the three-time world champion's time at Ducati, with Lorenzo moving to Honda next year.
Lorenzo's struggled badly alongside Dovizioso initially in 2018 but scored three wins after a mid-season breakthrough.
The departing Ducati rider said Valencia will be "a very emotional race" as it will "close an important chapter in my career".
"The good moments were very good, I enjoyed a lot," Lorenzo said of his Ducati tenure.
"So I would like to give them [the team] the last present of making a good race."
Lorenzo is not yet fully fit and he is hoping that the wet weather forecast will help him ride around his injury.
"Probably the rain will help me a little bit to not stress so much the injury, which is still in the last part of recovery.
"So, [I'm] looking forward to jump onto the bike."