Tech3 MotoGP team principal Herve Poncharal has criticised his rider Hafizh Syahrin for running over 10 seconds off the pace during San Marino Grand Prix practice at Misano.
Rookie Syahrin ended both Friday sessions in 25th, only ahead of MotoGP debutant Christophe Ponsson, and crashed in both sessions as well.
He was 2.9s off the pace in practice one, during which he completed two runs on a medium rear tyre and at one point did several laps over 10s slower than pacesetter Andrea Dovizioso.
When asked what Syahrin's problem was, Poncharal was unable to give an explanation.
"When you face this kind of struggling, you would always like to know what's happening, in order to solve it. Honestly, I don't know," he told the official MotoGP website.
"I will always be honest and clear, this morning apart from a small technical problem on the bike, he was in between sometimes 11s and 17s slower each lap, which is not normal.
"I had a talk with him after. I wanted to tell him, if there is something wrong on the bike or you don't feel good on the bike, come in, and ask the team to work on the bike.
"To do laps more than 10s from first has absolutely no meaning, you lose the rhythm, you lose everything.
"This is unbelievable that sometimes you have to tell professional rider basic things like that."
Syahrin, who will continue with Tech3 when the team switches to KTM bikes in 2019, had made a strong start to his first MotoGP season and is in contention for rookie of the year honours.
But he has only finished higher than 14th once in the past five races.
Poncharal admitted he cannot understand Syahrin's drop in form.
"For a few races he's been struggling more than in the beginning of the year," added Poncharal.
"Honestly I don't know, I've been talking to his management, we'll talk again with him tonight and the management, but he doesn't seem to be really here, and to be really, clicking with the team, with the bike."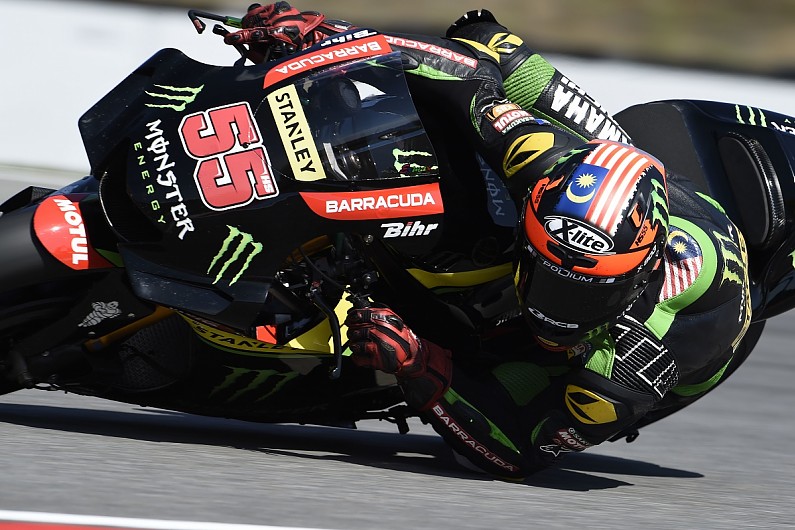 Syahrin admitted has has been lacking confidence since last month's Brno race when asked about his Misano practice woes.
"I am starting to struggle from Brno until this race," he said. "I don't know why.
"I don't have a good feeling with the bike at the moment in the front wheel.
"When I release the brake and the bike doesn't help me for turning, I need to keep the brake until the corner so it's quite slow for me.
"We have a talk about this [with Poncharal], he says try to work hard, no need to stress, try to enjoy, I try to take this motivation and try to use it.
"At the moment I don't know why I am struggling with the bike and I really want to be faster so that is why I put so much stress on the bike or myself."