Danilo Petrucci believes Ducati will choose between him and his Pramac team-mate Jack Miller for the second spot in its MotoGP factory line-up next year.
Ducati confirmed a two-year extension for its works team leader Andrea Dovizioso at Le Mans, and is understood to have significantly upped the Italian's salary following his 2017 title challenge.
But Dovizioso's new terms will have further complicated the renewal of team-mate Jorge Lorenzo, who was brought in on high wages in 2017 but has struggled since his arrival.
Speaking to Italian media ahead of the French Grand Prix after the announcement of his new deal, Dovizioso named Petrucci and Miller, and not Lorenzo, as the likeliest candidates for the second Ducati ride for 2019.
Asked about Dovizioso's claim in the post-French GP press conference, Petrucci answered: "[It's] because our salary's less."
The answer was met with laughter, but the Italian reiterated later on: "I think, as you said, the choice for Ducati is from me and Jack.
"But [it] is not a joke, because our salary's less, for that reason."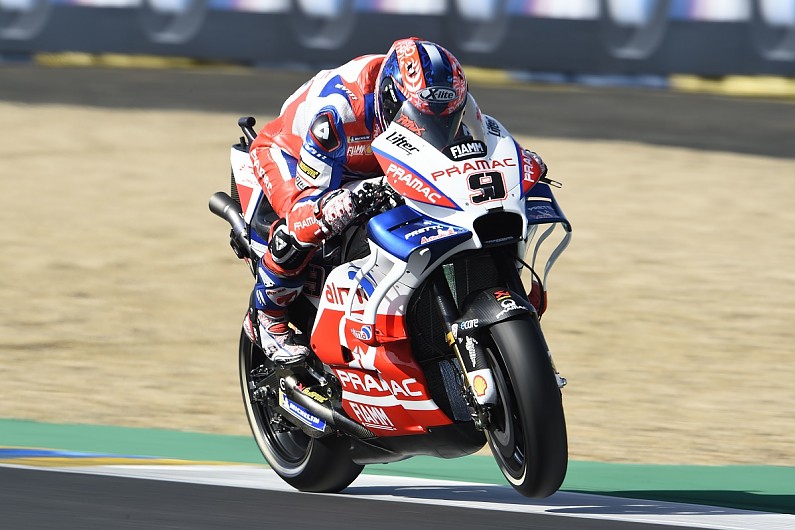 Ducati has a factory ride option on Petrucci, who competes on a works-spec GP18 bike and claimed what was only Ducati's second podium of the year with a runner-up finish at Le Mans.
Petrucci is ahead of both Dovizioso and Lorenzo in the standings, but so is Miller, who has so far impressed on an older-spec GP17 in his first year with Pramac.
"Ducati knows me very well," Petrucci said. "I hope that they will choose the rider in all the evaluation, in not five grands prix of this year, but in the last maybe two seasons.
"I have other choices, but I have an option with them that lasts until the end of June.
"I have to wait that they must say yes or not, and then I can look around."
Lorenzo, known to be a 2019 target for Suzuki, led nine laps at Le Mans but faded as the race went on, finishing behind both Petrucci and Miller in sixth.
Asked whether the Le Mans race left him in doubt over whether his Ducati partnership could ever come good, he said: "No. I believe that if Ducati bring me what I need on the corner speed and on the turnability of the bike, I can lead more laps to the end, I'm sure.
"I'm trying everything, I'm working really hard, I'm trying to adapt myself to the bike, but you know, every time is different - maybe [next time at] Mugello we can get the podium."