Johann Zarco should turn down Yamaha's 2017 MotoGP bike if it is offered to Tech3 next season, says Valentino Rossi.
Satellite Tech3 team rider Zarco beat both works Yamahas for the fifth time this season aboard his year-old M1 at Sepang last weekend, finishing third behind Ducati's Andrea Dovizioso and Jorge Lorenzo.
Rossi and factory Yamaha team-mate Vinales continued to struggle with the 2017-spec M1 in the wet, ending up seventh and ninth respectively.
Both have recently complained of a lack of rear grip, something Yamaha's engineers have failed to fix so far.
Rossi thinks it would be completely logical for Zarco to not want to ride the 2017 Yamaha next season.
"Riding the 2017 bike in wet conditions is impossible and Zarco isn't stupid," said Rossi.
"The 2016 bike works well in the wet, so I understand why Zarco says he hopes he doesn't get this bike next year.
"He got his first Moto2 title in 2015 and when Kalex wanted to give him the 2016 bike, he rejected it - and he won the championship again."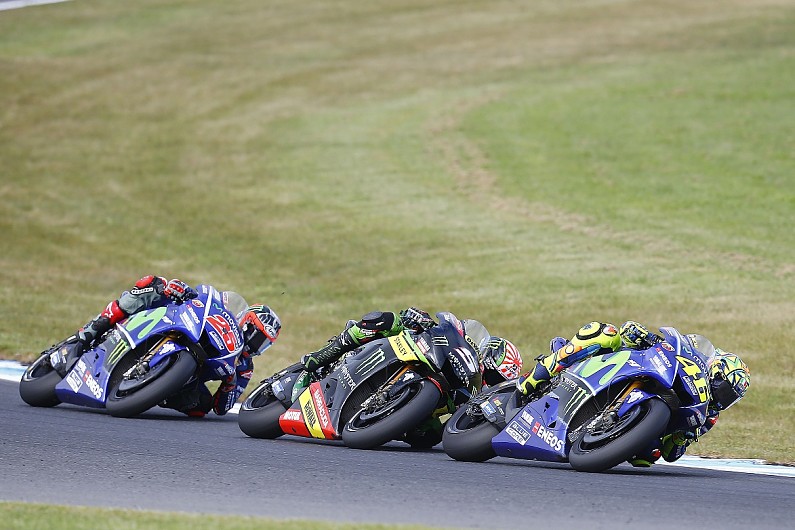 Asked if he could be given a 2018 bike next season rather than a '17 version, Zarco said he trusted Yamaha would do whatever gave it the most competitive presence on the grid.
"If Yamaha has made some mistakes with the bike of this year, I don't think they will give it to Tech3," said Zarco. "There's no sense for Yamaha.
"The target is to have four bikes on the grid and [Yamaha] needs to have four bikes competitive."
Vinales agreed that Zarco should be reticent about the 2017 design, and suggested that Tech3 getting a current-spec bike next year would actually help Yamaha.
"Zarco would have more problems with the current prototype," Vinales said.
"However, it is always positive to have more bikes on track and I think he has already demonstrated that is able to give us useful information.
"We hope to have more information next year about what we try on the bike. It is always better to have data from three bikes, than just from two.
"This year, Zarco's data brought us nothing."