Valentino Rossi reckons he was fortunate to avoid further damaging his injured leg in his practice four crash ahead of this weekend's Motegi MotoGP race.
Rossi, who is still recovering from breaking his right leg in a training accident in early September, fell at the Turn 8 left-hander during FP4.
The Italian was quickly able to get back up on and returned to the track on his bike.
But Rossi said that while he could feel some pain, he was pleased to avoid a bigger injury.
"I was lucky because it was a highside, but fortunately the bike rotated below and I stayed on the bike, but I'm good," he said.
"I have some more pain now, but it's okay, I didn't hit the leg a lot.
"My finger [hurts] as always, but it was good because it was quite a big crash."
Following his off, Rossi insisted on returning the bike, which he felt had the "best setup", back to his pitbox so that he would be able to use it for qualifying later in the day.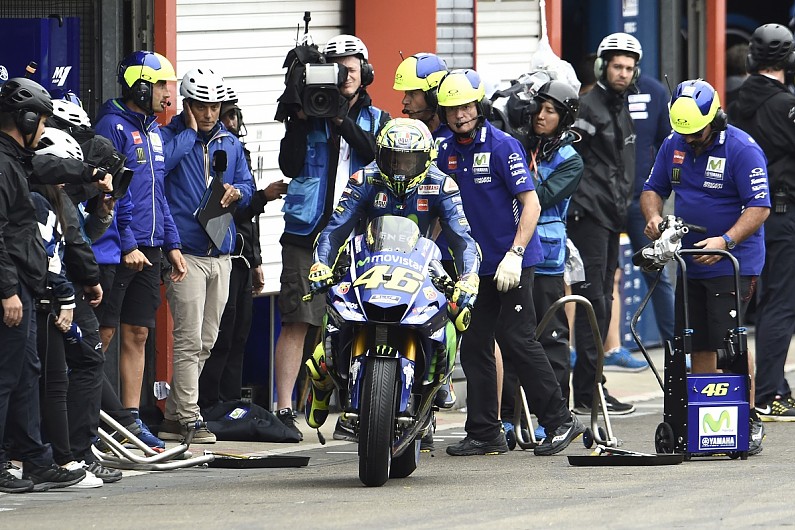 But the damage the bike sustained needed too much time to fix, which meant Rossi has to ride his second bike for the pole shootout.
"It was my race bike with my best setup and I though [that it was] also important to have it for the qualifying," he explained.
"[But] unfortunately there was too much damage so I made a lot of effort for nothing.
"But if the bike had remained there, maybe I [couldn't] come back in time for the qualifying so I wanted it to bring.
"But the mechanics said [there was] no way, too much time for [fixing], it was over."
Rossi ended up taking 12th place in qualifying after a gamble to run slicks on a drying track failed to pay off.