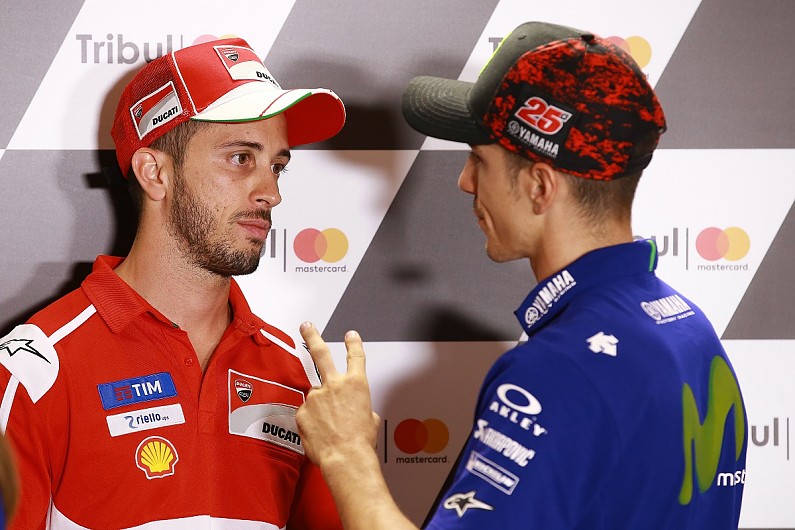 Leading MotoGP riders say bike training between race weekends is "dangerous" yet a necessity, following the crash that has all but ended Valentino Rossi's 2017 title hopes.
Rossi broke his right leg when training on a motocross bike last Thursday.
With a minimum recovery time of 30-40 days, he is likely to miss not only this weekend's round at Misano, but also the following race atAragon.
Earlier in the season, Rossi had sustained chest and abdomen trauma in a different motocross training incident, in the lead-up to the Mugello race.
He managed to salvage a fourth-place finish from the Italian Grand Prix weekend, but admitted his injury contributed to him missing out on the podium.
Asked whether Rossi's injuries were a sign that certain types of training were best avoided, his MotoGP title rivals insisted bike training outside of race weekends was essential despite the risks.
"I think we have to train with a different sport and different bike because we can't test a lot in MotoGP and we have to be fit," said points leader Andrea Dovizioso.
"I believe in that training, You have to ride, in my opinion, a motocross bike and train about physical condition, but also to train on the bike.
"For sure it's dangerous, we have to try to not take too many risks, but if you want to improve your situation, you have to push - maybe not 100%, but almost 100%. And this [injury] can happen.
"It's something unfortunately that's easy to happen but I believe it's the only way to be ready in MotoGP."
Rossi's Yamaha team-mate Maverick Vinales added that "it is impossible to be fit if you just stay on the sofa", while Honda's Marc Marquez said: "I hate when I read sometimes 'why are you riding motorbikes, [they] are dangerous?'
"It's part of our job. Of course we would like to be on the beach and just relaxing, but there you cannot improve your skills.
"And to improve your skills you need to ride bikes, to train at home."
While dismissing criticism of motocross training as "bullshit", Pramac Ducati's Scott Redding did suggest that Rossi's age could've played a factor in the severity of his two injuries.
"Valentino is getting older, unfortunately that is the way it is, you're getting older, you get more brittle, more accidents can come with big consequences," he said.
Speaking to MotoGP.com, Rossi admitted he will consider making changes to his training.
"For us, we are motorcycle riders, and the best training is riding a motorcycle. Unfortunately, sometimes more, sometimes less, when you are on the motorcycle it is dangerous," Rossi said.
"We can't not train sometimes with the motorcycle, because it is very important.
"Unfortunately this year it [injuries] happened to me two times - also before Mugello - so we need to make another way."