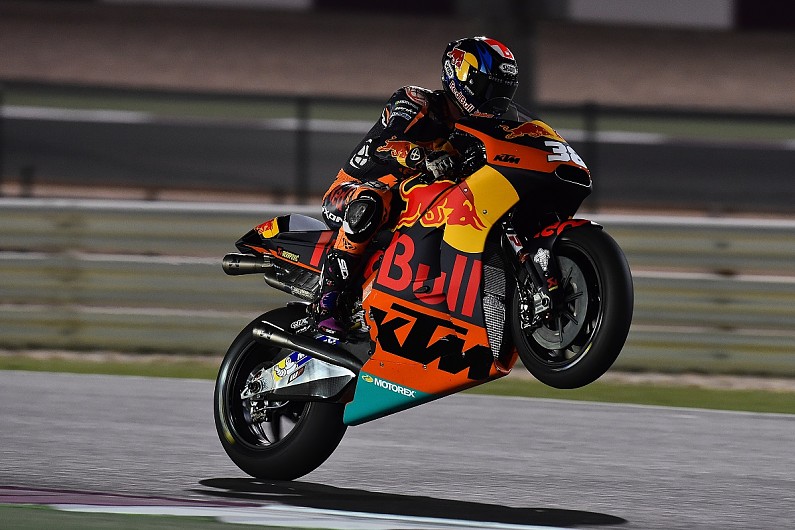 KTM's Bradley Smith reckons the Austrian manufacturer needs to find more speed in next weekend's Qatar MotoGP opener to be able to challenge for points.

The Briton completed the final pre-season test in Qatar in 21st quickest, only beating his team-mate Pol Espargaro and KTM test rider Mika Kallio.
His time of 1m56.351s was less than two tenths behind Aprilia rookie Sam Lowes and the injured Tito Rabat, but Smith admitted there is a bigger gap to the group that will be in the fight for points.
"That next area is where we need to be if we want to fight for points," Smith said.
"Looking at the times, we need to find probably another half a second from somewhere.
"If we can be in the 1m55s in qualifying, that would be quite positive but then again we have to see the track conditions.
"It would be nice to come here and fight for points, maybe that's a little bit optimistic, but let's set the bar a little bit high and see if we can chase that."
"We are about half a second away from [15th, the final points-paying position] at the moment in terms of one lap and probably only about a quarter of a second, two or three away from that on the race pace."
Despite the KTM bikes taking the last three places in the classification, Smith was satisfied with the progress the team made during the final pre-season test.
"I'm pleased with the improvements today and over the three days," the 26-year-old said.
"We were able to improve another two-and-a-half seconds over the three days.
"Just working with the [engine] mapping, especially on the electronics side, we made some good progress, we now have something that's a lot more consistent.
"[It's] good over a race distance even with an old tyre, so a really good job by everybody and we wait and see what happens when we are here for the race."