KTM CEO Stefan Pierer says his brand is relishing going up against its "most hated competitor" Honda in MotoGP this year, blasting the Japanese marque for alleged attempts at cheating.
Pierer took aim on Monday during the KTM's 2017 launch, where the Austrian manufacturer unveiled the colours its RC16 will carry in its first full season in MotoGP.
KTM also presented its new Moto2 programme, and it was in answering a question about the prospect of supplying engines to the category that Pierer directed his jab at Honda, which has a deal as sole provider through to 2018.
"Moto2 is cheaper than Moto3, because the engine is frozen," Pierer said.
"[The engine] is coming from my most-hated competitor, Honda.
"But I don't have any problem with that, to cover that and put on that KTM.
"And from what I've heard, Triumph will deliver [the engine from 2019] and maybe it sounds nicer!"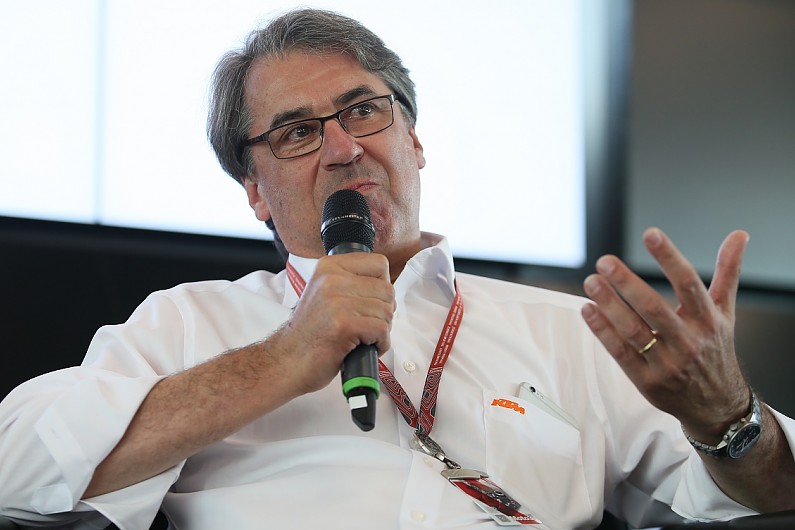 Asked to elaborate on his animosity towards Honda, Pierer outlined instances in which he believes it has crossed the line.
During the 2017 Dakar Rally, Honda riders were given one-hour penalties for refuelling in a prohibited zone, tipping the victory battle in KTM's favour.
Early last year, Pierer accused Moto3 rival Honda of exceeding the category's maximum rev limits during the 2015 season, in which Honda rider Danny Kent beat KTM factory rider Miguel Oliveira to the title by six points.
"Honda is the big challenge, and secondly Honda is always trying to cheat around the regulation," he added.
"Look at Dakar, what happened two months ago.
"It's always the same - also in Moto3. I don't know why, they don't need to do that.
"That's the reason we like to beat Honda."