Mika Kallio expects to make wildcard appearances for KTM during its first full season in MotoGP in 2017.
The Finn made 32 MotoGP starts in 2009-10 with Ducati and its satellite Pramac outfit but then returned to Moto2, finishing as runner-up in the 2014 championship.
He was signed as a KTM test rider for its new MotoGP project in October 2015, and then led development this year, culminating in being at the helm for the RC16's race debut in the Valencia season finale.
Kallio qualified 20th but then retired early, and in addition to staying on as a KTM test rider he is anticipating making wildcard appearances again for the Austrian manufacturer next year.
"I enjoyed a lot riding this best bike in the world, the MotoGP bike," he said of his 2016.
"It's good experience and I already liked to make these kinds of development, I was always interested with all of the small technical things.
"But at the same time, like always, I said I would like to make those races.
"We are planning a few wildcards, and hopefully this somehow can bring me into the game again.
"It will be easier that there are these two guys Bradley [Smith] and Pol [Espargaro] who are riding with the same bike so there is some reference - 'OK, where is my level?'
"Hopefully I can stay on-board and stay on the level they are - if I can do that, I think there is a chance to do something further."
Incoming race riders Smith and Espargaro took over from Kallio during the post-Valencia GP test, while Kallio was back alongside Smith at Jerez one week later, with Espargaro still contracted to Yamaha.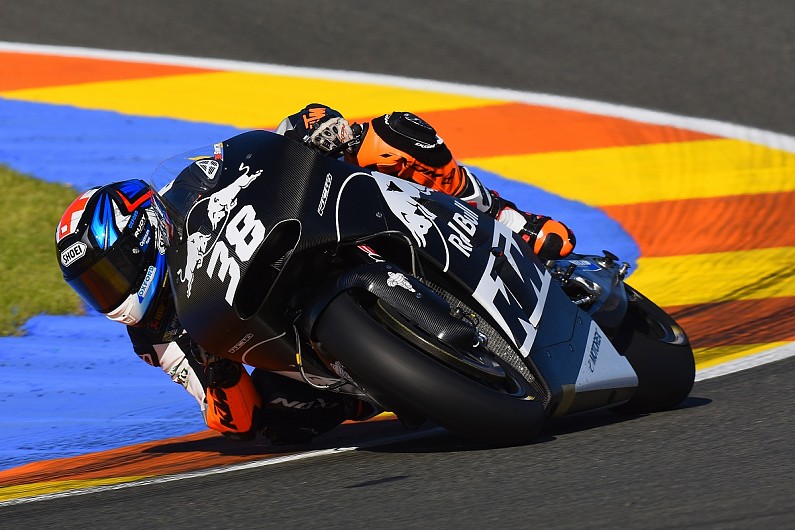 Arriving from Tech3 Yamaha, Smith has been encouraged by what he has learned about the KTM so far, and Kallio said their feedback is now driving development.
"It's good to hear the comments when Pol and Bradley were trying the bike," he said.
"They had a good reference from other years from when they were using the Yamaha bikes, so I was really curious to see the comments.
"It's just the parts that need to improve. Most of the things we are quite similar, to the comments I gave to the team.
"There were a few things on the set-up - like the engine braking, for example - that they wanted to set up a little bit differently to me, but this is always a question of what the rider wants.
"There is a lot of things to improve, in almost every area, just need to be a step better.
"But the positive feeling was there, that's the most important and this also proves that we did a good job during the season."