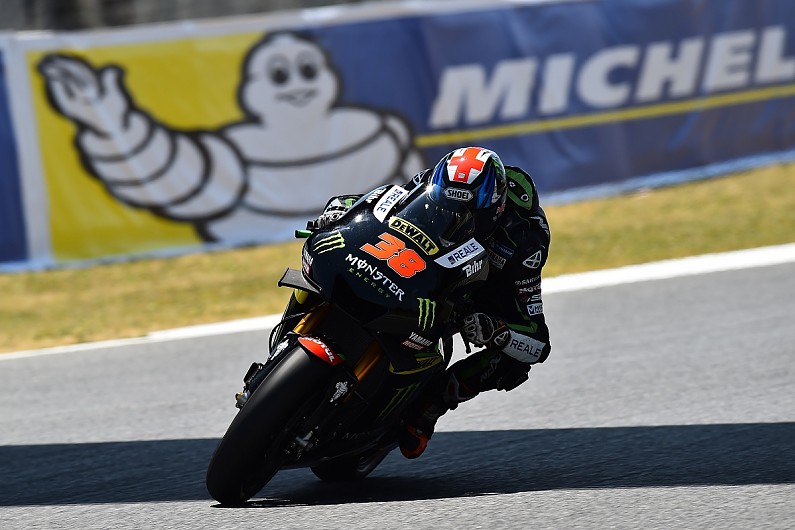 Tech3 Yamaha's Bradley Smith has expressed his disappointment that only 10 of the 21 MotoGP riders "assumed their responsibilities" and attended a safety commission meeting after Luis Salom's death on Friday.
The safety commission has a standard meeting at 5.30pm on the Friday of every grand prix, with Marc Marquez suggesting "nine or 10" riders usually attend.
That number remained the same after Salom's fatal accident during Moto2 practice, with Smith and Marquez joined by Andrea Dovizioso, Andrea Iannone, Cal Crutchlow, Aleix Espargaro, Pol Espargaro, Alvaro Bautista, Jack Miller and Tito Rabat.
"I was the first one in the room because for me it was important to turn up there," Smith said.
"That day of all days, assume our responsibility because our responsibility there is not so much as a GP rider, it's as a safety advisor.
"Everyone who turned up there assumed their responsibilities. The riders that didn't turn up there, I'm a little bit disappointed [in them] because we all know exactly what time it starts and where it is."
The group entertained the notion that the event could be cancelled and eventually reached the consensus that a switch should be made to use an adapted version of the Formula 1 layout, which has a chicane where Salom crashed.
Factory Yamaha pair Jorge Lorenzo and Valentino Rossi were among those to miss the meeting, with Lorenzo suggesting there should have been additional communication around the "special occasion" to avoid confusion and have every rider in attendance.
Rossi said he was busy at the time and while he was not in favour of changing the layout, had to accept the decision as he was absent.
When told of the Italian's comments, Smith said: "Valentino was a guy that didn't turn up at the safety commission and didn't assume his duties and hasn't assumed any of his duties throughout this season so he can't comment.
"Not once this year [has he attended], not since Malaysia [last October] so he spat his dummy.
"Why spit your dummy again when you're not doing anything, you have no foot to stand on.
"Yesterday was the day to assume the responsibility.
"He should've swallowed his pride and turned up there yesterday and done what his job is as a MotoGP rider: to look after the safety."
Smith said the decision to adopt the F1 layout in full, and not just the chicane complex instead of Turn 12, was about pre-empting any problems at Turn 10 by utilising the larger run-off area the tighter F1 version creates.
"We're just going the extra mile," he said.
"It's what we're trying to do as a safety commission. OK we missed this one [Salom's crash], we can't miss a next one.
"So we just pre-empted a situation that could arise in a million scenarios and rather than have people go, 'oh why didn't you change it because there's a Formula 1 track there', well let's just do everything."