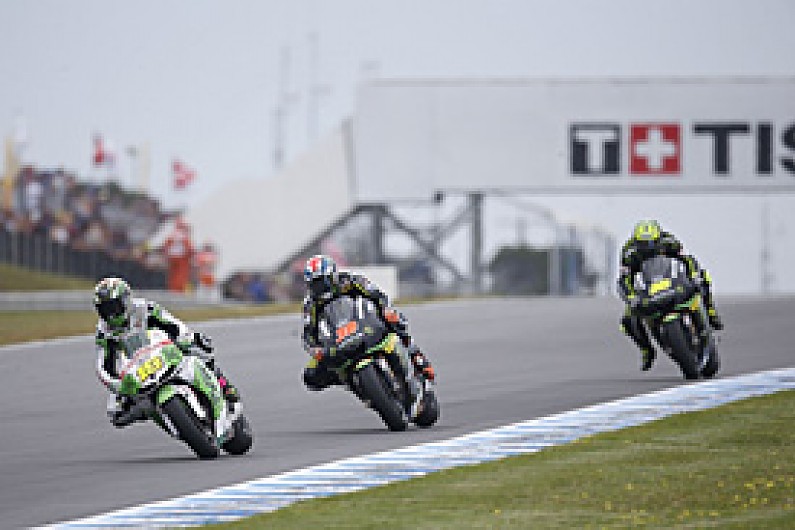 Bridgestone has requested an in-season MotoGP test at Phillip Island next year in a bid to rule out a repeat of the tyre dramas that marred last weekend's Australian Grand Prix.
The Japanese tyre supplier was caught out by the new surface at the circuit, excessive wear meaning the race had to be shortened with a mandatory pitstop for a bike with new tyres imposed.
Bridgestone had not tested at the track since the resurfacing, but its motorsport manager Shinji Aoki says the company will push for that to change ahead of next year's race.
"It is evident from what we now know about the condition of the Phillip Island circuit that we will need to undertake testing here before the race in October next year," said Aoki.
"As Phillip Island isn't currently used for any IRTA group tests or private team tests, we are currently negotiating a way by which we can test here next year with some MotoGP riders before the next Australian Grand Prix.
"This way, we can use the data obtained to develop tyres that better suit the new track surface."

Toby Moody on how MotoGP avoided a disaster
Aoki said he was happy with how things turned out in the end, and was thankful to the MotoGP teams for accepting the changes needed for the race.
"Considering the tyre allocation we had to work with, I am pleased at the outcome on Sunday as the crowd at Phillip Island, as well as fans around the world, got to witness a safe and exciting race," he said.
"The teams and riders showed great flexibility and professionalism in adapting their programme for a flag-to-flag race and for this they should be congratulated."