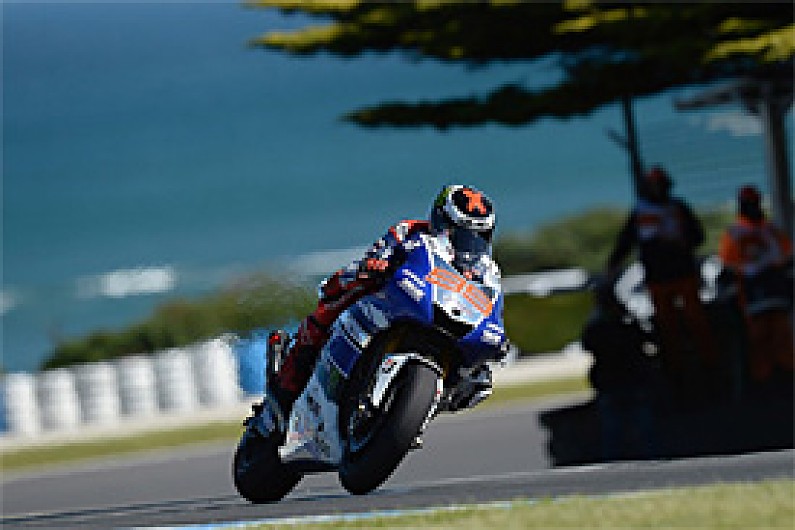 The MotoGP field will be forced to use Bridgestone's harder compound for Sunday's race at Phillip Island after higher-than-expected levels of degradation on Friday.
Bridgestone said a new track surface was proving particularly severe on its tyres, and that analysis after Friday's opening practice session had compelled it to mandate that only the harder tyre be used in the race.
Riders can still make use of the softer tyre during practice and qualifying.
"We anticipated that the new tarmac at this circuit had the potential to make this circuit even more severe on tyres, so we analysed the tyres used by the riders today to see if this was the case," said Shinji Aoki, manager of Bridgestone Motorsport's Tyre Development Department.
"Straight away it was apparent that the new surface offers more grip, which resulted in very quick lap times.
"Our analysis shows that the tarmac has made this track tougher on tyres, so we have decided that - although riders can still use the softer rear slicks for the remaining practice sessions and qualifying - for the race we have specified that all riders use the harder rear slick options available to them."
Two-time champion Jorge Lorenzo set the pace on Friday, working his way down to a 1m28.961s - less than three tenths of a second off Casey Stoner's 2008 qualifying record.
The new track surface also caused problems in the junior categories, with several riders suffering punctures during Moto2 practice.
Dunlop, which produces tyres for the MotoGP feeder category, had designed a bespoke tyre for resurfaced tracks but was forced to withdraw it and replace it with an older selection.
There were still punctures on the latter compounds however, with riders also complaining that massive performance drop-offs could prove dangerous on Sunday.
"After two or three laps [the old tyre] started to drop off," Moto2 points leader Scott Redding said.
"For me it wasn't such a big problem, [but] over a race distance it may be a different story."