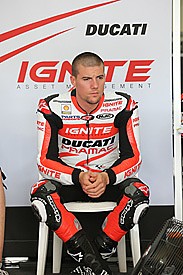 Ben Spies is adamant his place on the 2014 MotoGP grid with the satellite Pramac Ducati squad is not in doubt.
The American has only started two races since joining the team due to lingering injuries.
Pramac recently recruited Yonny Hernandez as a more long-term, but indefinite, stand in for Spies, with the Colombian being released from his contract with Paul Bird Motorsport.

Despite his struggles through 2013, and the arrival of Hernandez, Spies insists his relationship with Pramac remains strong and that the two-year deal he signed with the squad is not at risk.
"My relationship with Ducati is great. Nothing is going on there, like I have read about," Spies told MotoGP's official website.
Asked about rumours he could lose his seat next year, he said: "You hear about all of these crazy stories, but that is basically it. There is nothing to [it].
"I am talking with Ducati every few days and they are keeping me up to date with what is going on with the bike, what is going to be tested, what I am doing and so on. That is where we are at right now.
"I wish [Hernandez] luck. It is a great opportunity for him - unfortunately at my expense - but I hope he does a good job and is able to do well.
"Right now we are just watching, kind of from the outside, and waiting to see the first time we can come back."
Spies said the extent of his injury was also being mis-reported, adding: "The other thing is that, for everybody who said my shoulder was dislocated, there is a major difference between a dislocation and a separation.
"A lot of people, and still to this day, are saying it has been dislocated, but the diagnosis was a Grade 5 separation.
"That is pretty much as bad as it gets; I had a Grade 2 or 3 separation on my right shoulder a long time ago and was able to race with that, but with Grade 5 there is no way of doing anything about it.
"Before setting any goal [for 2014] the first step is just to get back to 100 per cent and then we have plenty of time to get back on the bike and re-set goals.
"I haven't felt that in a long time. If we can do that, then I know what we can do and the team knows what we can do."