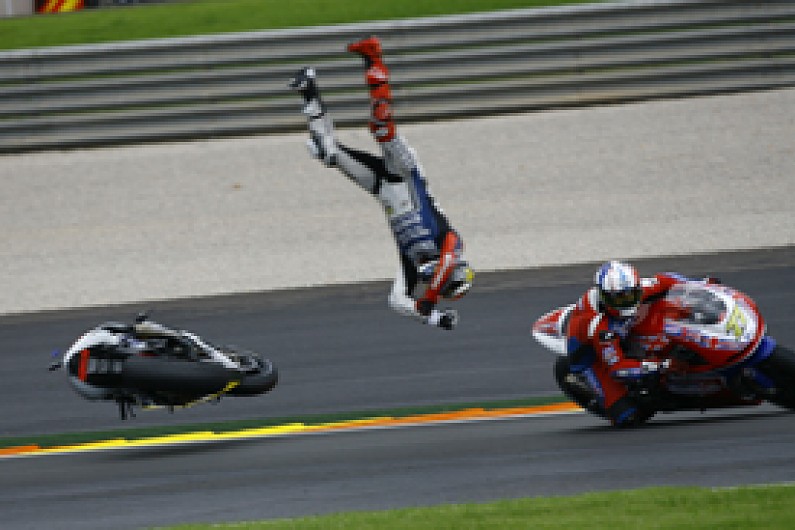 Jorge Lorenzo blames James Ellison for his violent high-side crash in the Valencia MotoGP season finale.
The Spaniard, who clinched this year's title a fortnight ago at Phillip Island, was leading the finale after correctly gambling to start the race on slicks.
He was under increasing pressure from Dani Pedrosa when, 17 laps from the finish, he tried to gain ground by scything his way through a group of backmarkers including Ellison.
Lorenzo says the Briton had turned and seen him behind, but then moved back onto the racing line rather than letting him through.
As a result the Yamaha rider was squeezed to the outside and off the dry line, his bike bucking beneath him before finally flicking him off in a violent high-side.
"I arrived into a group of riders and came to Ellison, who looked behind, saw me and then suddenly entered the good line rather than letting me pass," Lorenzo told the official MotoGP website.
"That's why I crashed.
"I tried to overtake him [so as] not to lose time to Dani, but we got on the wet Tarmac and crashed."
Lorenzo admitted he was disappointed not to end a triumphant campaign with victory, but said a second crown easily outweighed the upset.
"The most important thing is we are world champion, no?
"If we arrive here without that, I crash and lose it would be much worse.
"It was a pity - I made the tough choice of starting with the slick tyre, I was doing well and leading, and I wanted to win the last race.
"But I can take a global view and it's wonderful to be twice world champion.
"We took the gold medal, so let's party tonight - only one leg because I have pain, but it doesn't matter. We are very happy and proud of our championship."