Newly-crowned six-time MotoGP world champion Marc Marquez says his 2019 title run was his "best season" in the premier class, outstripping even his famously crushing '14 campaign.
Marquez stunned in his rookie year in 2013 by clinching a maiden MotoGP title at the first attempt, before utterly dominating the following year by winning the first 10 races of the season and wrapping up the championship with three races to spare.
With 13 victories, 13 pole positions, 12 fastest laps and 362 points collected, Marquez's 2014 campaign remains his strongest one statistically so far.
But the 26-year-old has had a near-perfect run this year, having finished every race - except Austin, where he crashed while leading - in the top two, collected nine wins to date and clinched the title in Thailand with four rounds to go despite competing on a Honda lambasted by its riders as being far too aggressive in its characteristics.
Marquez's main reasoning for classing 2019 as his best MotoGP season is that he believes he faced a much more competitive field this year than earlier in his career.
The 2014 season was massively dominated by the factory Hondas and Yamahas, while this year four different bikes were able to win races.
"It is my best season in MotoGP," said Marquez.
"2014, OK, 13 [wins], but honestly speaking, there was a big difference between the level of manufacturers, bikes.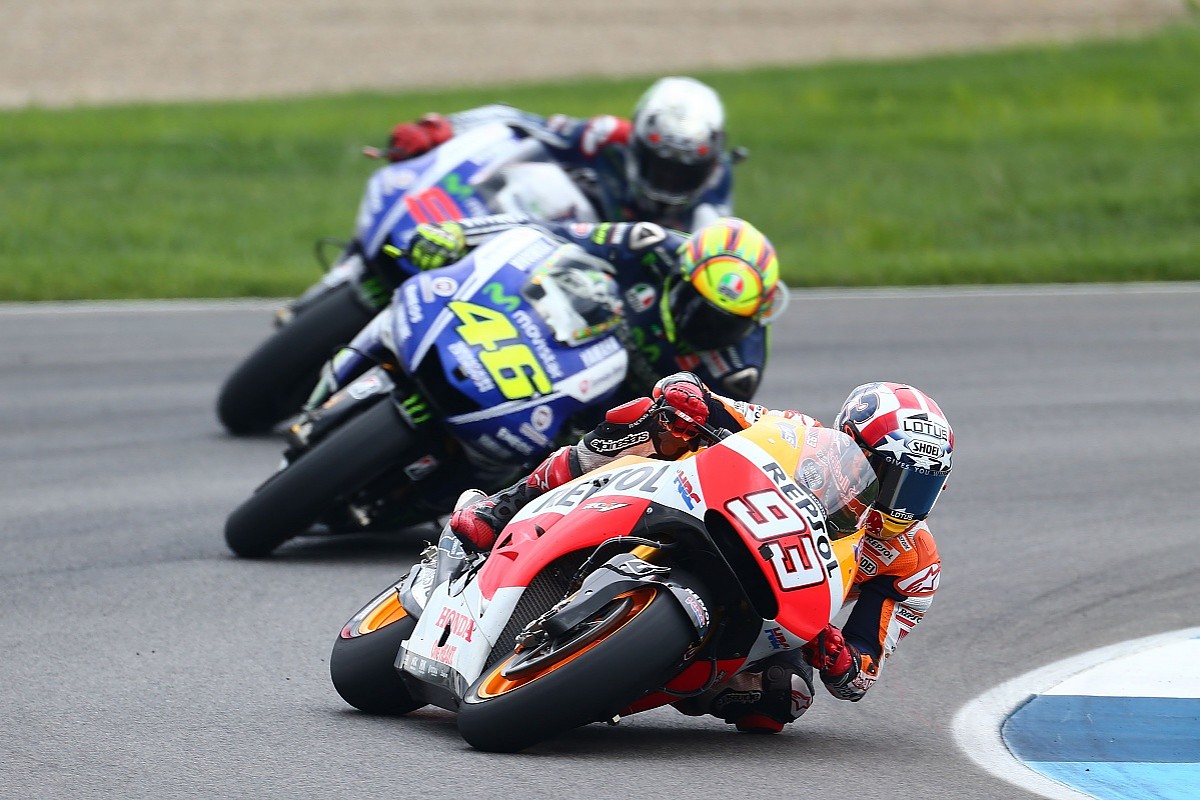 "Now we are in a very competitive category with four different manufacturers you can fight for a victory.
"We were very consistent, we focused a lot especially on our weak points and we covered those weak points and we survived in a very good way in difficult races.
"I want to say thanks to all my team, because for a rider it's easy to keep the ambition but for a team of a lot of people, it's not easy to keep the same mentality with all the mechanics and keep the same concentration.
"When the difference is reduced at the mechanical level, Marc is able to make the difference with his talent" Santi Hernandez
"They are able to do it and this is one of the most important things."
Across all three classes of the grand prix motorcycling world championship this decade, Marquez only failed to win a title in Moto2 in 2011 - when an injury at the penultimate round ruled him out of his close championship fight with Stefan Bradl - and '15 in MotoGP, when he ended up 88 points adrift of that year's champion Jorge Lorenzo on the Yamaha.
Marquez's right-hand man's verdict on 2019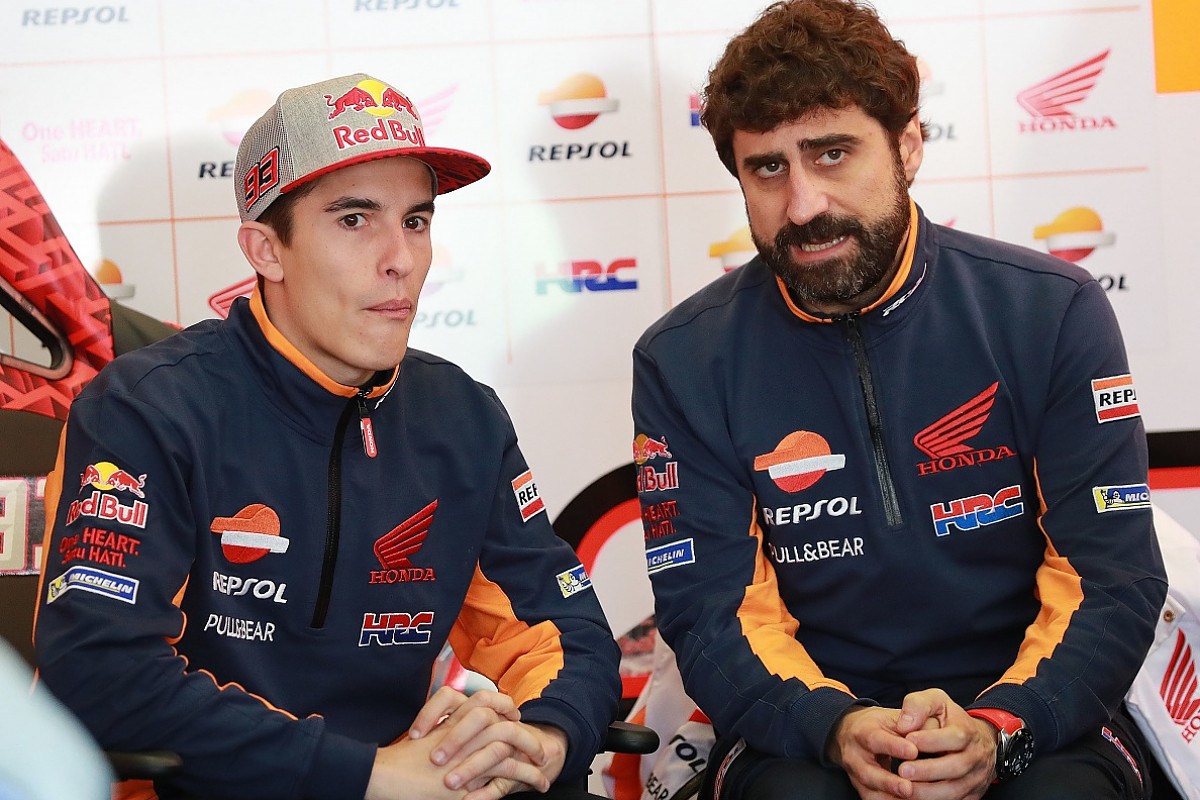 Throughout his time in MotoGP, Marquez has been backed up by crew chief Santi Hernandez - who has been a key element of Honda's most devastatingly successful weapon.
Critically, Hernandez has been able to guide Marquez through the now-ruthlessly competitive era MotoGP has created.
Hernandez agrees with his rider the nature of the competition now in MotoGP makes Marquez's 2019 title win better than his '14 romp, arguing that with the bikes now closer in performance it's become a much bigger test of outright rider talent.

"It is true that in 2014 we won the first 10 races and 13 in total, but at that time the differences between the bikes of the different brands were much bigger than they are now," Hernandez explains.
"At that time, each manufacturer used its own electronics, the unified package [introduced in 2016] had not yet been implemented.
"Now everything is much more even. Ducati was always competitive, Yamaha has recovered a lot and Suzuki has probably been the motorcycle that has grown the most.
"2014 may be a better year at the statistical level because those numbers are imposing. But we must bear in mind that the current level of difficulty is much higher.
"When the difference is reduced at the mechanical level, Marc is able to make the difference with his talent.
"There is no doubt that this Marc is better than 2014, because he has the same speed but has much more experience."
Marquez's decade of dominance
2013 - Rise of rookie sensation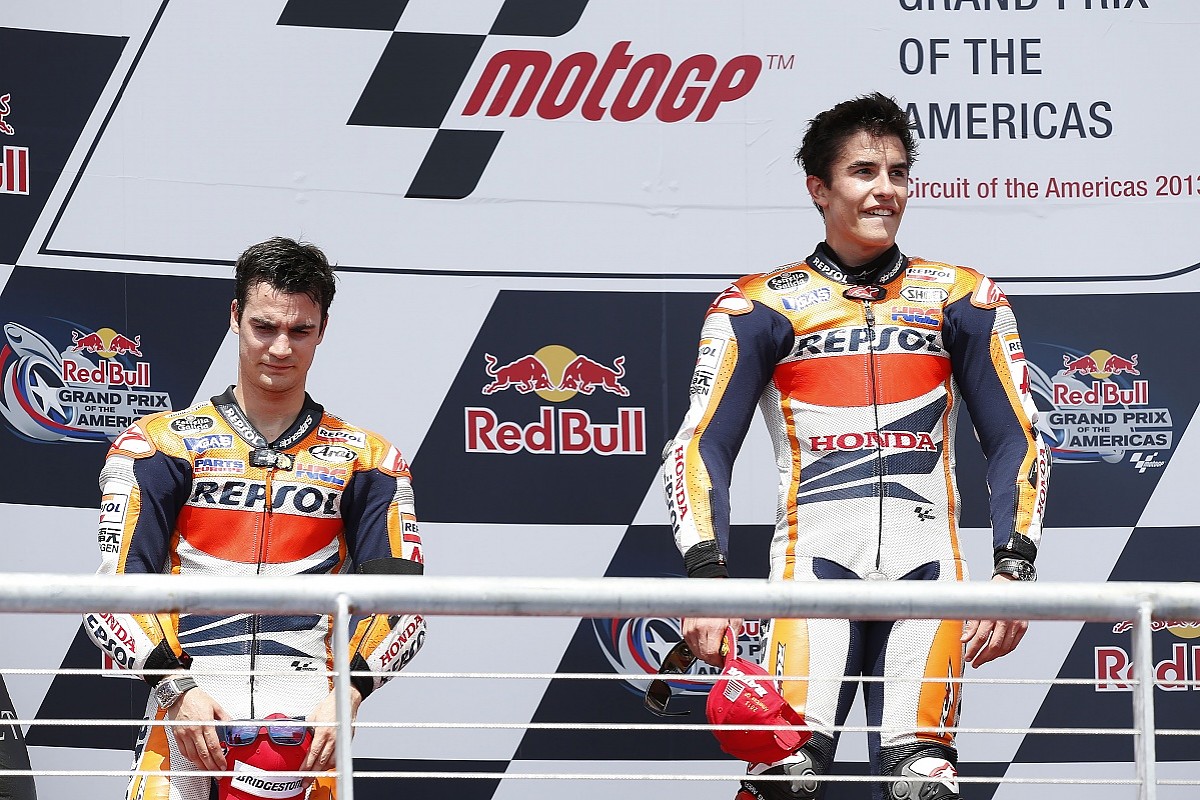 Marquez's title-winning ways in the 125cc and Moto2 class made him the obvious choice to replace Casey Stoner at Honda for 2013, and the hotshot rookie quickly swept the memory of Stoner under the rug by securing his first MotoGP win at Austin in just his second race.
Ruffling feathers along the way - most notably Lorenzo's at Jerez after barging past at the last corner for second - Marquez added five more victories and capitalised on injuries for Lorenzo and his Honda team-mate Dani Pedrosa to put himself firmly into title contention by mid-season.
He beat Lorenzo in a nailbiting final at Valencia to become MotoGP's youngest ever world champion at just 20 years old, and the first rookie to win the crown in their debut year since Kenny Roberts Sr in 1978.
2014 - A not-at-all difficult second album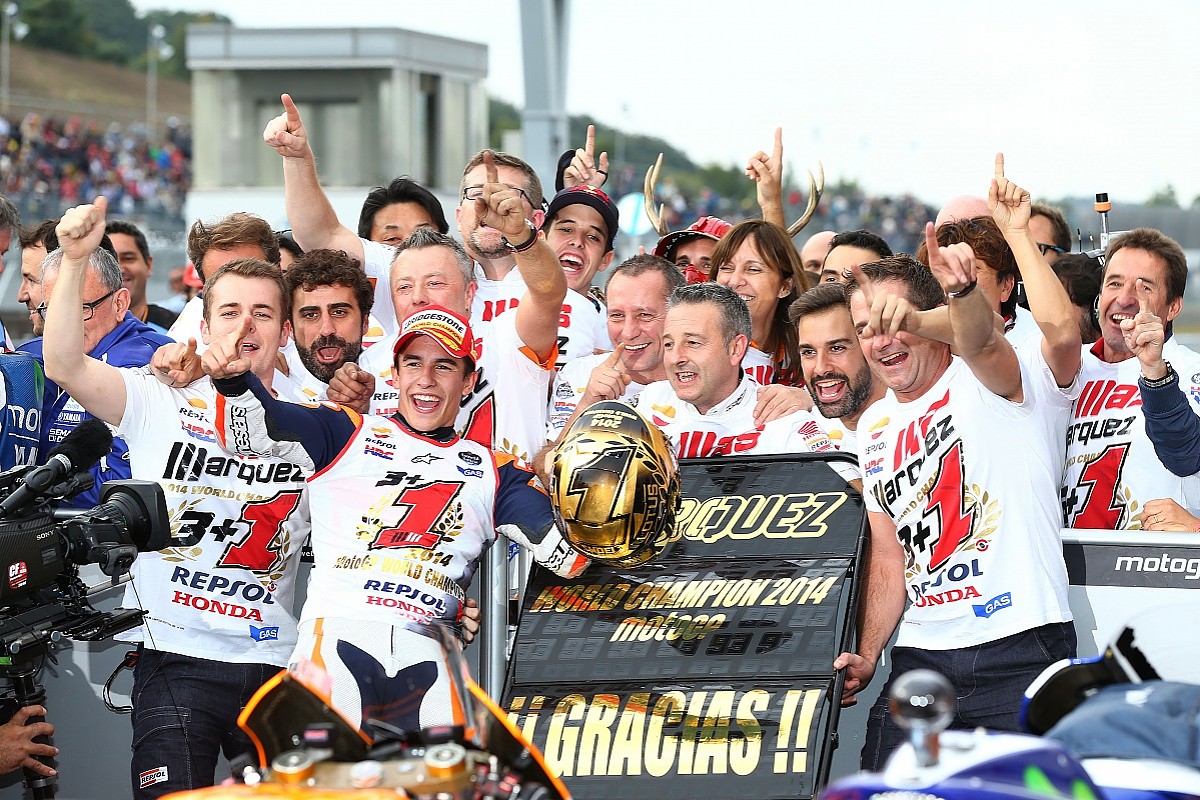 Winning the title in your first season is one thing, but repeating the feat is an even more monumental task as a rider has to cope with even more pressure to prove the previous year was no fluke.
If Marquez was feeling any pressure, he didn't let it show. Despite suffering a broken leg in pre-season training, the Honda rider won the first 10 races of the championship - doing so with a mixture of dominant performances and great displays of racecraft.
He would win 13 in total, beating five-time 500cc world champion Mick Doohan's record of 12 in a year from his similarly dominant 1997 campaign, and won his second MotoGP crown with three rounds to spare.
2016 - Losing battles to win the war
Marquez's first hard knock came the year before, when an aggressive Honda stopped him from riding the way he had the previous two years and led to a spate of crashes that ended his title hopes early.
The RC213V remained troublesome in 2016, but Marquez regrouped and approached the year with a new mentality.
Stripping back his 'win it or bin it' mentality to put emphasis on the bigger picture, Marquez waved the white flag in races where he couldn't win without huge risk and settled for good points instead then doubled down on the ones where victory was achievable.
Throw in inconsistent form from Yamaha duo Lorenzo and Valentino Rossi, and Marquez managed to wrap up the title with three races in hand with five wins to his credit.
2017 - Seeing off a new threat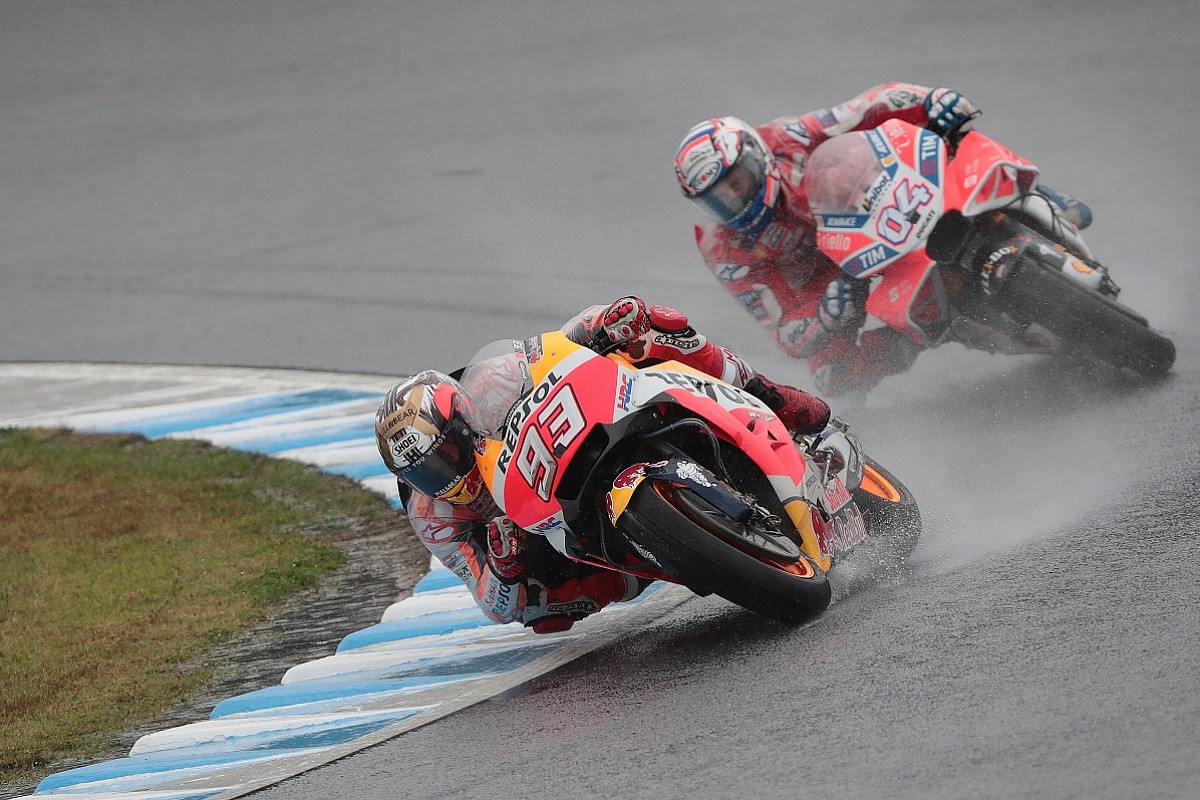 Honda tried to cure its acceleration woes for 2017, but the bike remained problematic in this area and Marquez struggled in the opening half of the year - admitting later the stress of those races led to him suffering hair loss.
His feeling on the bike was improved for the second half of the campaign, and he won four races to add to the two he won earlier in the year to head into the final round with a healthy advantage over surprise rival Andrea Dovizioso on the Ducati.
Despite almost crashing in spectacular fashion during the final race, Marquez prevailed to win his fourth MotoGP title in five years and cement his status as a true great.
2018 - Breaking records with broken bones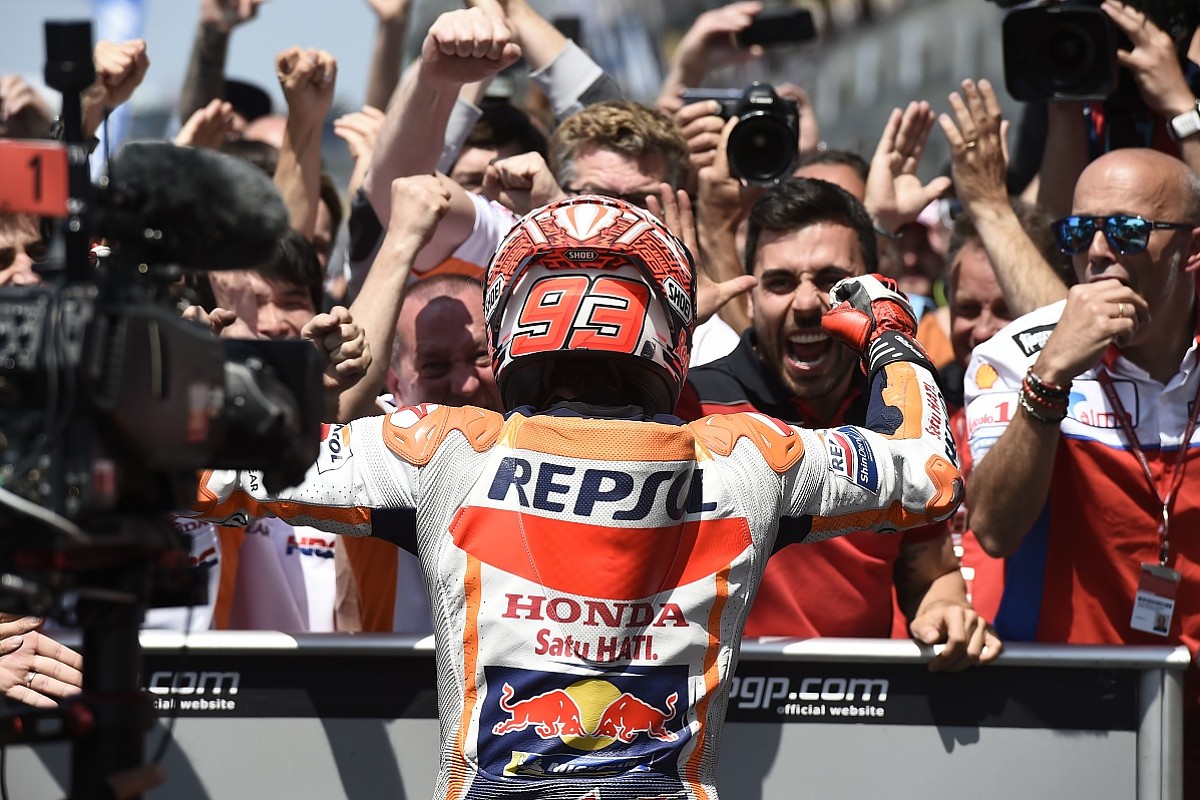 A slightly more user-friendly engine made life somewhat easier for Marquez in 2018, and on a bike he was much happier with than the previous year he duly won five of the first nine races.
Early-season crashes for Dovizioso meant Marquez was already in control of the championship at the mid-way stage, almost nullifying his two non-scores in Argentina - when he jumped the start and controversially tangled with Rossi, for which he was penalised - and Italy.
He would go onto win three more races and once again seal the championship early in Japan.
While it seemed his dominance was effortless, it was far more miraculous that it appeared at the time.
Marquez suffered a badly dislocated shoulder in a pre-season training incident and kept this quiet all year, but struggled continuously with it all season.
MotoGP doctor Xavier Mir, who operated on him in the winter, was left stunned that Marquez could do what he did with the shoulder the way it was.
2019 - The best yet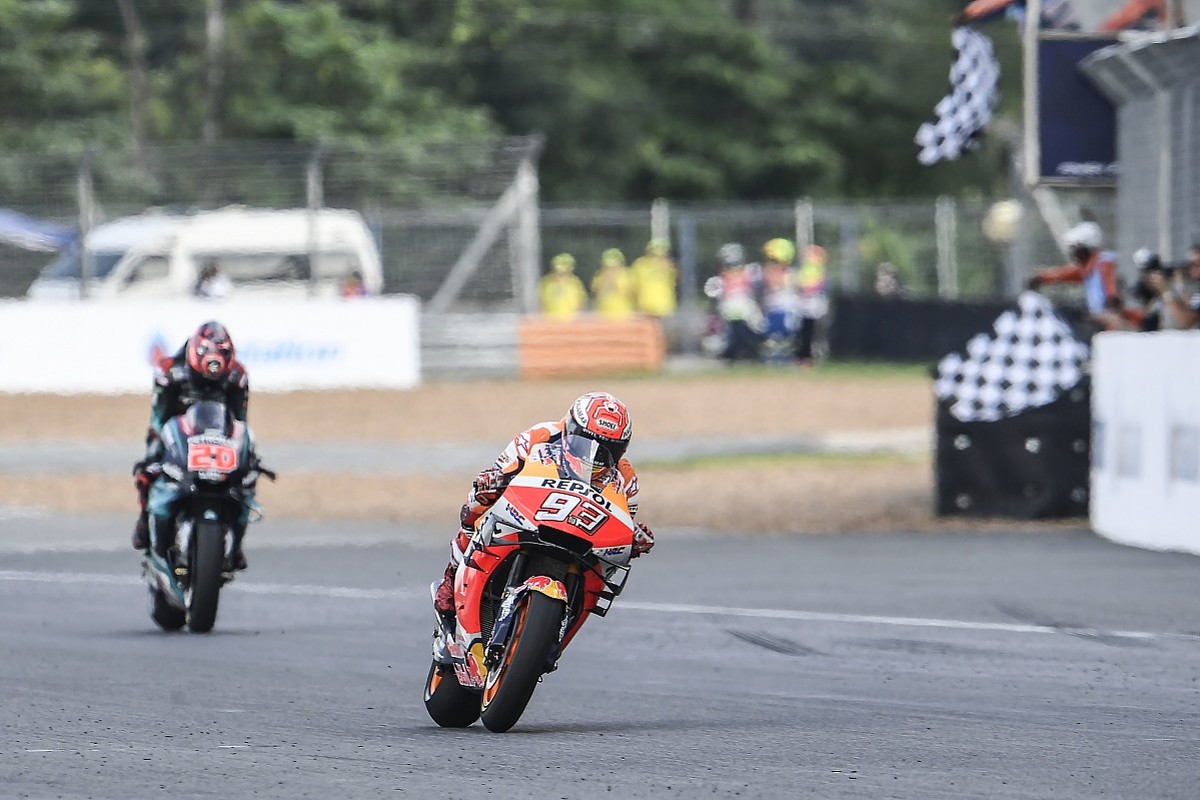 Honda brought an engine that could match Ducati for top speed, which meant Marquez was no longer risking all under braking. But the bike itself became even harder to ride.
A crash from a commanding lead in Texas aside, Marquez finished every race in the top two and took nine wins.
With struggling new team-mate Lorenzo failing to even make the top 10, and LCR's Cal Crutchlow only reaching the podium in third twice this year, Marquez was proving his class on talent alone. In a season where four manufacturers - Honda, Ducati, Yamaha, Suzuki - won races, the champion was on one of the worst bikes on the grid.
Securing the title with four races to run in Thailand, Marquez's eighth crown across all classes puts him into the record books alongside Rossi (seven overall) and Giacomo Agostini (eight) as the only six-time premier class world champions.
At just 26, Marquez stands a very good chance of establishing himself as the outright most successful MotoGP rider in history in the next decade.