Andy Murray's sensational straight sets win over Novak Djokovic not only ended the 77-year wait for a British male to claim the Wimbledon male singles title, it also shifted the burden of national sporting underperformance.
With Fred Perry now just a tennis legend of the 1930s rather than a beacon highlighting subsequent failure, the record that glares from the history annuls now illuminates the name Barry Sheene.
On August 16, 1981 in Anderstorp, Sweden, Sheene took the chequered flag for his 19th and final 500cc world championship win. Not since then has the union flag flown above the premier class bike racing podium. For the country that produced most of the stars of the early days of the world championship - Geoff Duke and John Surtees - not to mention arguably the greatest rider of all time - Mike Hailwood - it's a shocking statistic.
At this point it's worth taking time out to make mention of the success Brits have enjoyed on world superbikes, not least through Carl Fogarty and James Toseland, but let's not forget that Tim Henman won 15 ATP titles without converting that into grand slam success.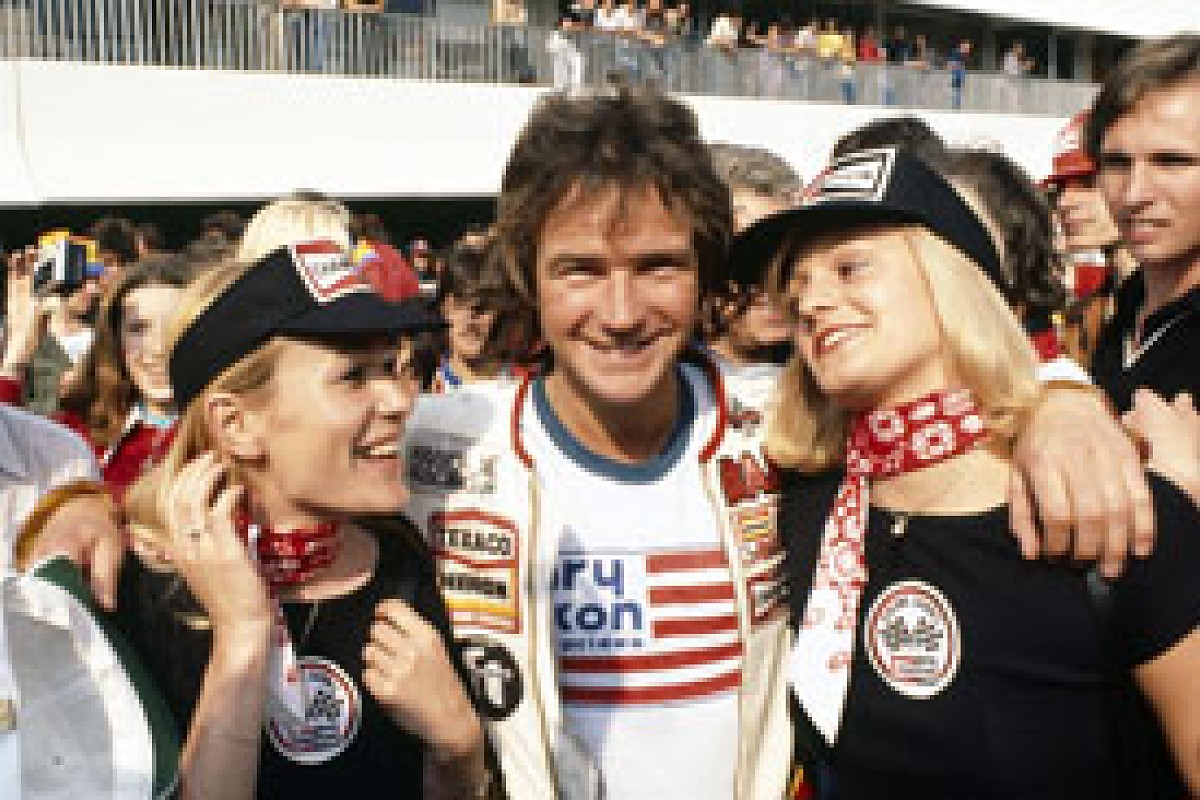 Sheene called an end to a glittering bike career in 1984 © LAT
When Sheene retired at the end of 1984 to let his battered, arthritic body rest in the warming Gold Coast sun, British bike fans had no reason to suspect almost 30 (and counting) winless years lay ahead of them.
That year "Rocket" Ron Haslam had enjoyed a breakthrough season for Honda, taking his first (and only) pole position and two podium positions. Yet over six more full seasons - including stints on works Hondas, Suzukis and Cagivas - there would be just five more podiums.
There were high hopes for Scot Niall McKenzie, who was making sporadic 250cc appearances as Sheene's valedictory season was playing out. A move to HB Honda in the top fight in 1987 yielded a pole in Japan and a podium in Austria. Yet despite finishing a fine fourth in the world championship on a works Suzuki in 1990, there would be no more poles and just six further podiums in a career that lasted 104 races.
Talented riders like Roger Burnett and Donnie McLeod made occasional appearances, before Fogarty made the first of just six 500cc starts on a ROC Honda in 1990. He rode a thrilling race on a factory Cagiva at Donington in 1993, finishing fourth, but at the time he was the super star on the burgeoning superbike scene and for whatever reason was happy to remain the biggest fish in that pond.
The strength of the superbike scene, both domestically and internationally meant that very few Brits set foot on the MotoGP ladder. There would still be the odd ride for people like Terry Rymer, but for a while Carmoney's Jeremy McWilliams was the only Brit racing full-time on the world championship bill.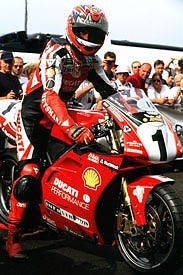 Fogarty opted to stay in superbikes © LAT
His big break came with a works Aprilia ride in 2000 and he claimed a pole and two podiums, which included a sensational third in the British GP, a race he briefly led and finished less than a second behind eventual winner Valentino Rossi. A switch to Proton for the inaugural 'MotoGP' season yielded another pole but no more podiums.
James Haydon, Sean Emmett, Chris Walker and Neil Hodgson made frequent starts on privateers bikes from the likes of Harris and Padgetts, but both enjoyed much greater success on superbikes.
Shane Byrne and James Ellison might have had what it takes to enjoy a long career in MotoGP, but also took the superbike route. It wasn't until Toseland, the reigning world superbike champion, joined the Yamaha satellite factory team Tech 3 in 2008 that a Brit was on a bike genuinely capable of winning since McKenzie in his Suzuki days.
A front row start for his debut in Qatar was a false dawn however. He was unlucky to be on the wrong side of the Bridgestone/Michelin tyre war, but any hopes of redeeming himself in 2009 was undone by a huge winter testing crash, which left him with concussion.
His relationship with the team, and team-mate Colin Edwards deteriorated, and he returned to Superbikes for 2010, retiring mid-season a year later after sustaining a serious wrist injury.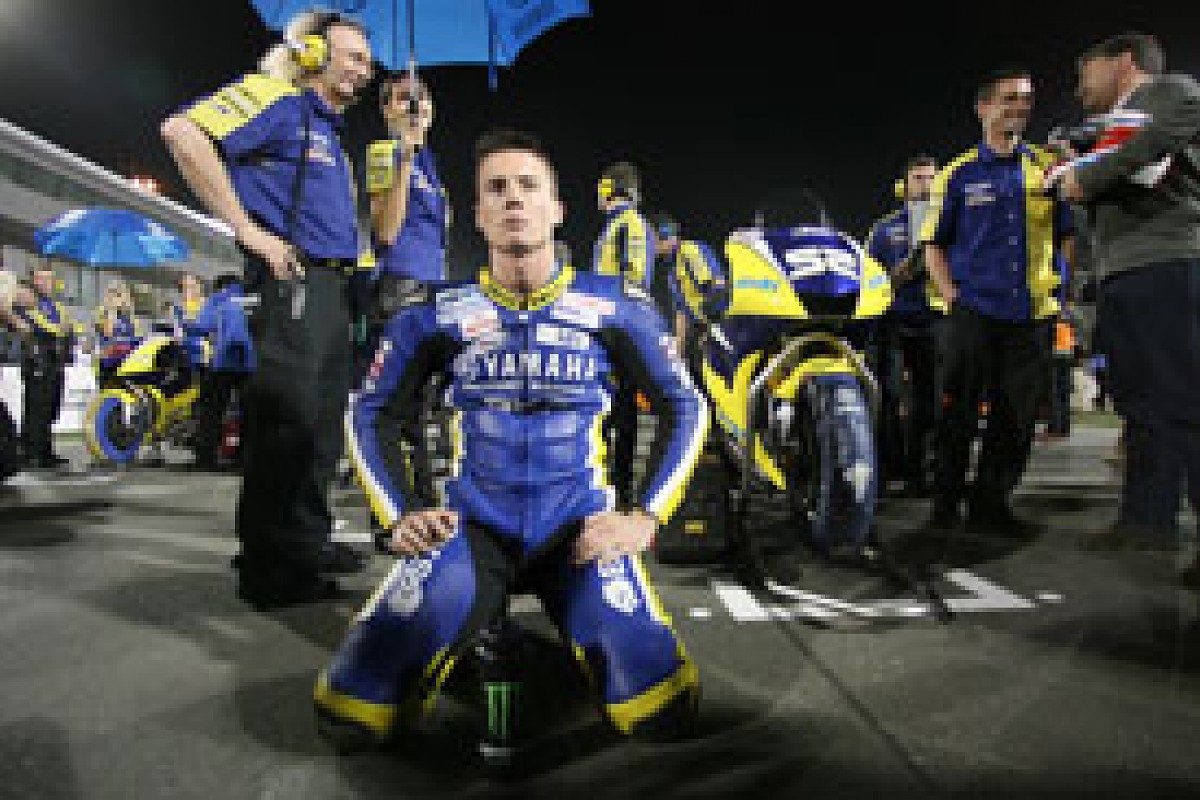 Toseland's debut front row proved to be a false dawn © LAT
Enter Cal Crutchlow, the 2009 Supersports world champion and a title contender for Yamaha in world superbikes a year later. Like Toseland, he joined Tech 3, where he has the nearest thing to a works bike without actually being on one. But unlike Toseland, he's built upon a decent start in the top flight.
At the Dutch GP in June, he became the first Brit since McWilliams in 2002 to take a pole position. And four podiums this season, added to the two he scored last year, means he's closing in on Haslam and McKenzie as the most successful British rider since Sheene.
"I'm not overly confident or excited," Crutchlow tells AUTOSPORT. "We're not setting the world on fire but we've done a good job and we're pleased. The team has been fantastic, that we're able to compete with the factories is nice. We're not winning races but I'm pleased with the way it has gone so far."
With title favourites Dani Pedrosa and Jorge Lorenzo both nursing injuries after huge crashes (two in as many races in Lorenzo's case), the timing may never be better for Cal to establish his credentials as a factory rider in waiting.
"I think it's definitely possible to win one and if you keep on your bike, it is possible to win the race," he reckons. "As soon as you lose sight of that and you think it's their machine, then you are finished already.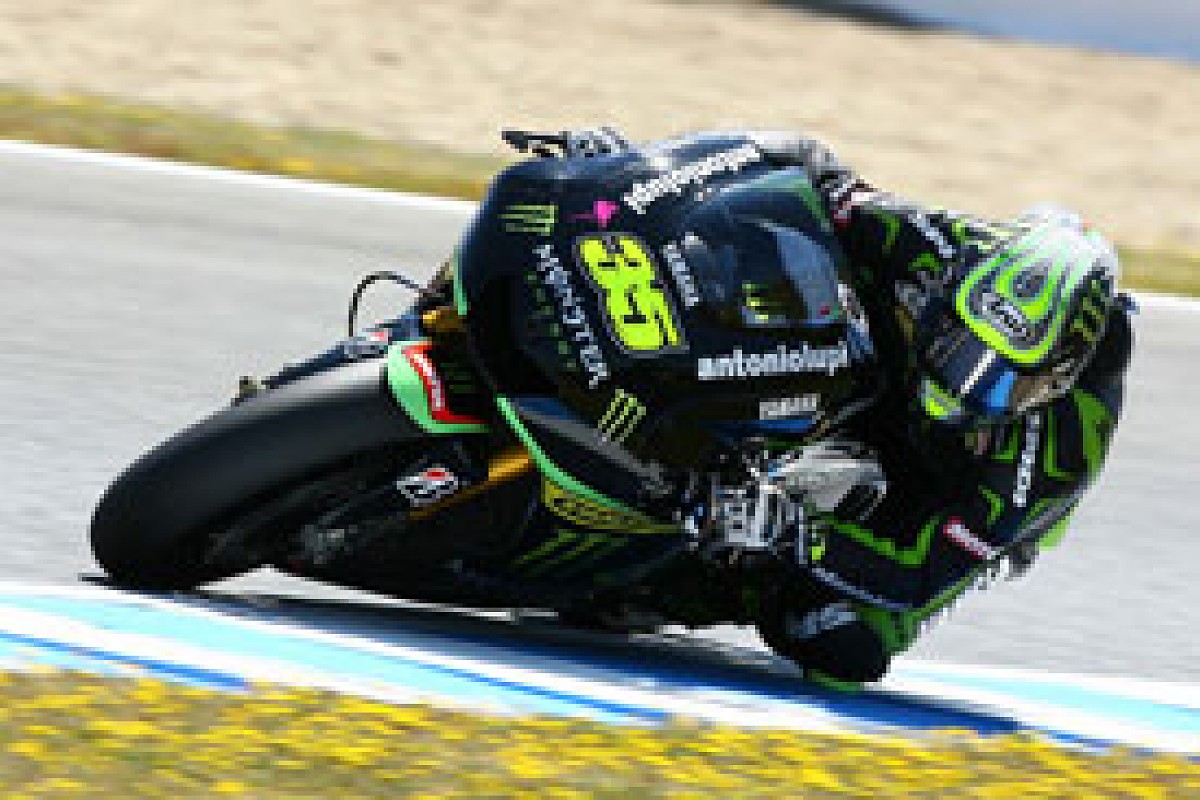 Crutchlow is edging closer to a breakthrough victory © SMARTFotos
"You have to be more patient of course, but a lot of what is happening is experience. My pace is very similar to the winning race pace of last year and the year before.
"I'm doing the same, it's just they've gone a little bit faster. It's the experience again. At some point, we'll catch up. But when, I don't really know."
In contrast to Crutchlow, his Tech 3 team-mate and MotoGP rookie Bradley Smith is having a tough time. A big crash in Mugello left him with a severely injured finger, but it also led to a series of his best results of the season - sixth in Spain, ninth in Holland and sixth again in Germany.
After a pair of strong seasons in Moto2, the step up was much greater than he was expecting.
"It's a very big challenge," he confirms. "Everything about this bike is set up for an optimum performance, so much so that the tyre won't warm unless you are in that one-second zone. If you are within one second you can make the tyre work to its optimum.
"The thing is, in MotoGP, there isn't a learning step. It's just fast or slow, there is no link in the middle, and it's really difficult to go from slow to fast.
"Up until now, every bike I have ridden has been learning a little step, a little step, and a little step, so you can go step by step and the bike can work in your range.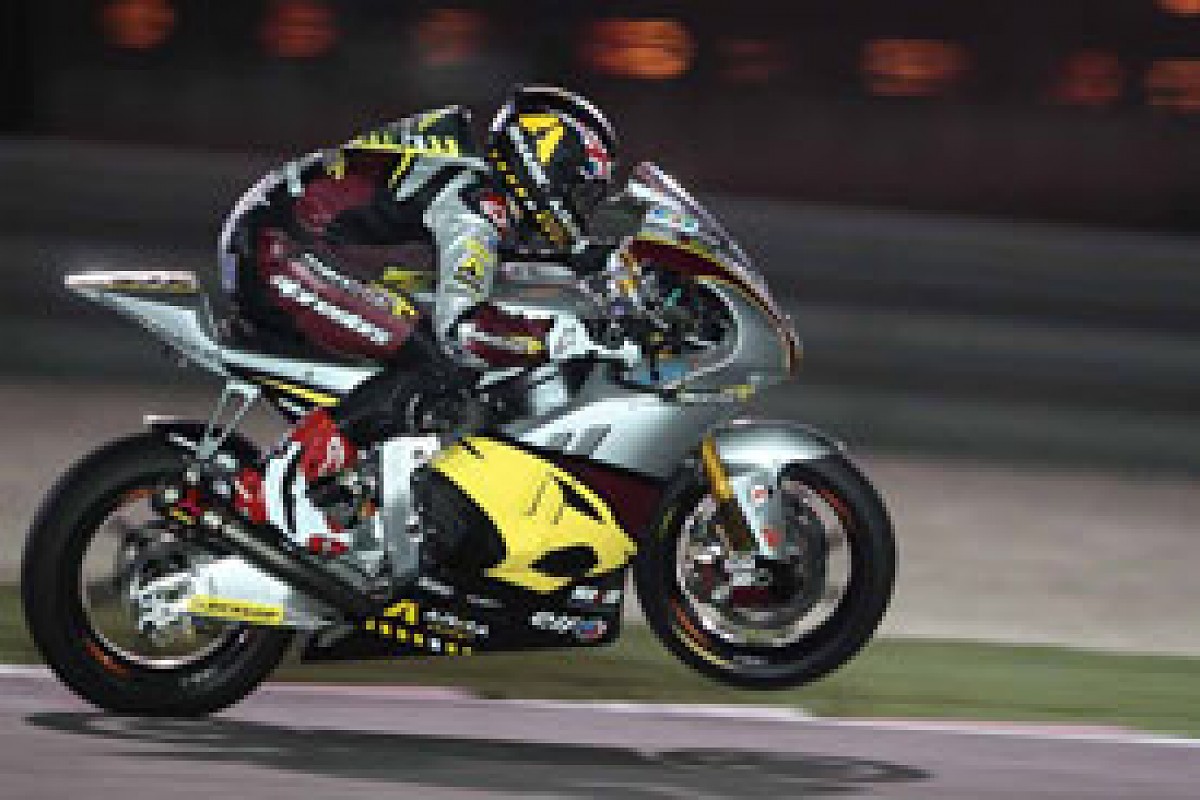 Scott Redding has stormed into an early Moto2 points lead © SMARTFotos
"The MotoGP range is super, super, super small. The bike has to run at optimum performance. They are designed better than the riders can actually ride it themselves."
With Scott Redding in the thick of the Moto2 title battle, things haven't looked this rosy for British MotoGP success for more than a generation. But could the expectation become a burden?
"Absolutely," says Smith. "Right now, that pressure is more with Cal.
"It would be a target to try and achieve as there is a lot of public interest in British motorsport, especially in motorcycle racing, and there is a lot of talent so the target for everyone is to be the guy who fills that void."
"I'll just do my job," offers the more taciturn Crutchlow.
"It would be nice but we are just going about our business with what we're doing, as we can't do anything else really. We're the closest guys to the factories and that's the important thing."