As good as Yamaha's pre-season testing had been, Jorge Lorenzo knew beating the Hondas, and in particular 2011's runaway champion Casey Stoner, was going to be tough.
Admittedly the 2012 crown was never likely to fall outside of Yamaha or Honda, but while MotoGP's strength in depth might be questionable - the arrival of the CRT class a boon for grid numbers rather than general competitiveness - it did at least have a trinity of worthy title-aspirants in Lorenzo, Stoner and Dani Pedrosa.
Their strength, paradoxically, was also MotoGP's weakness. Too often were they able to simply ease away to the detriment of on-track action; too often did the showpiece event failed to match its Moto3 and Moto2 cousins. That no one else managed to win - and only one other rider managed to crack the top two - is simultaneously a tribute to the prowess of the top trio and an indictment of the category's overall health.
None of that should detract from what was a phenomenal season for Lorenzo. But it does leave the series facing numerous questions and in need of severe changes if it is to ever to return to its former glory.
How it was won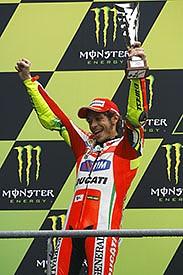 Rossi had to settle for a few podiums as Lorenzo, Pedrosa and Stoner shared the wins © XPB
In classic Lorenzo style: metronomic consistency, lap after lap and race after race.
In 18 races, the Yamaha man missed out on the top two just twice, and one of those (Assen) was not his fault given he was taken out at the first corner.
Some might point to Stoner's injury at Indianapolis as the point when momentum truly swung Lorenzo's way, but it's worth remembering he was already 25 points ahead of the Australian prior to his Dutch TT fall.
It's also difficult to argue that Stoner would have been able to better Pedrosa's record across the second half of the season.
Winless over the opening seven races - a sequence that ultimately left him with too much ground to make up - Pedrosa scored his first win by defeating Stoner at the Sachsenring and looked every inch champion-material right up until the moment the Misano start procedure went awry and left him vulnerable in the midfield.
The Spaniard won five times either side of that crash, but ultimately couldn't repair the damage. A fall at Phillip Island dealt his title hopes the fatal blow, but he was at least able to win the finale in wet and crazy conditions, not typically his forte.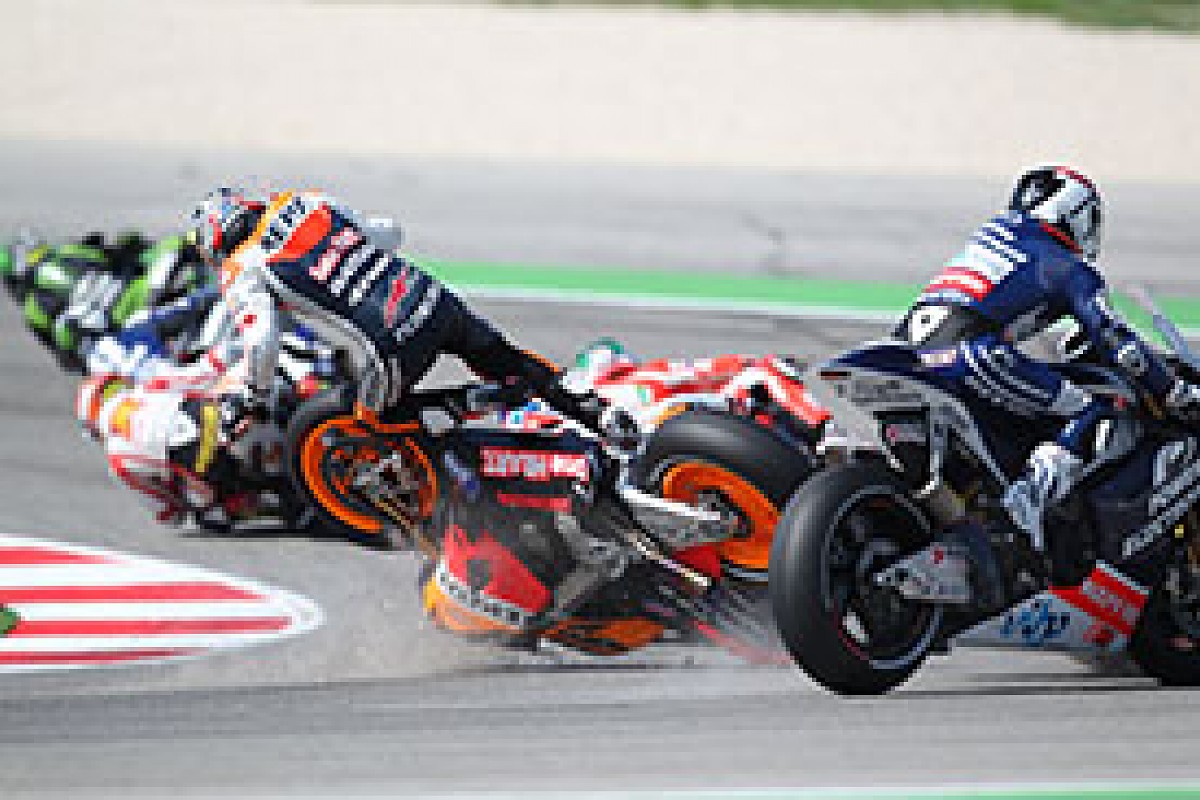 Pedrosa's Misano crash proved very costly © XPB
Despite the best efforts of the Honda men, Lorenzo was always the master of his own destiny. He led the championship for all but one weekend, and even after his Dutch TT woe quickly re-established an advantage via a podium at the Sachsenring and a comfortable win at Mugello.
Yes, he was bested by Pedrosa on several occasions during the run-in, but there was always the lingering suspicion - fostered by Lorenzo himself - that he was focused simply on doing enough. After such a sensational start, that was his right.
Standout performers
Andrea Dovizioso was shunted from the works Honda squad to Yamaha's satellite Tech 3 outfit ahead of the season, but delivered one of his strongest seasons to date. Six podiums - three times what any other Tech 3 rider has delivered - helped him to finish fourth overall, his best finish barring last year's third place.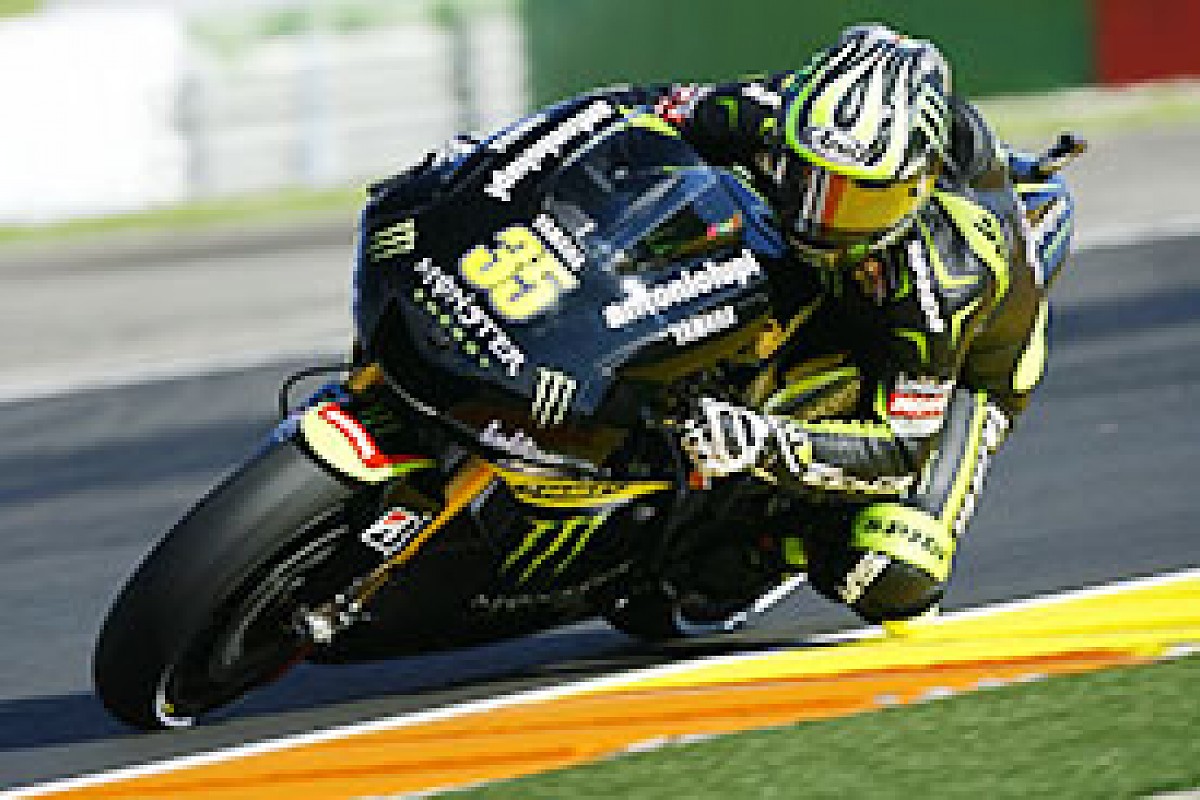 Crutchlow had a breakthrough season © XPB
On the other side of the garage, Cal Crutchlow also enjoyed a fine year. A proclivity to crashing put a halt to challenging Dovizioso in terms of points, but it was the Briton who had the better of qualifying and came close - on so many occasions - to delivering that maiden pole.
In his maiden season 2011 Moto2 champion Stefan Bradl also acquitted himself finely, missing out on a maiden podium in Italy by just 46 hundredths of a second.
Something to remember
Casey Stoner's domination of Phillip Island, for a sixth successive occasion, was perhaps the highlight of a year in which he also made the shock decision to retire from the sport.
The Australian has made a habit of winning his 'home track' (despite having never raced on it before joining the grand prix ranks). After last year's fairytale of race and championship glory, this year's feat was more redemptive: hampered massively by the ankle injuries suffered at Indianapolis, Stoner had finished fifth and then third in the preceding Japanese and Malaysian GPs.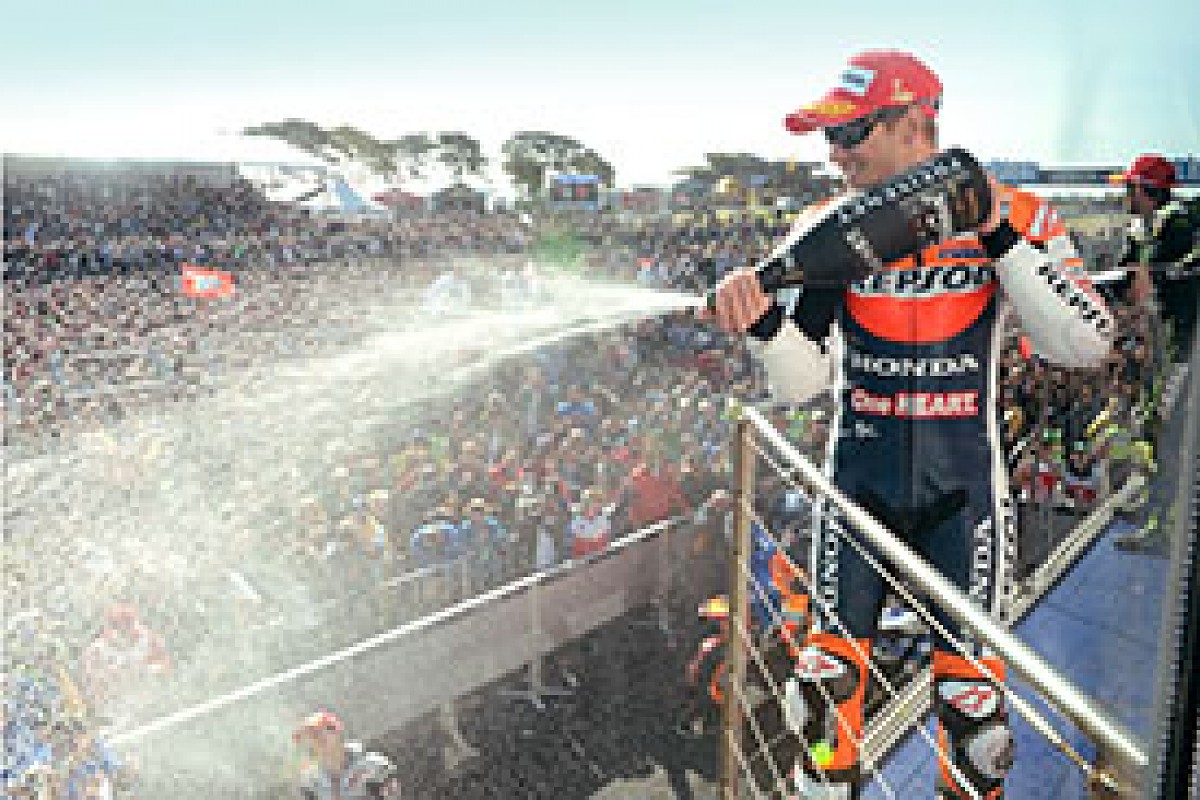 Stoner delivered a fairytale win at home before saying goodbye © XPB
Come Phillip Island however he was peerless. At times more than one second clear of the field in practice, he captured pole by 0.517s and went on to win for a sixth - and final - time.
Something to forget
The scarcity of great races, particularly out front, was worrying, as was the danger of the title being decided by crashes in which the title challengers shared no blame.
More than that though, 2012 will be a year Ben Spies cannot put behind him quickly enough. A litany of problems - some self-derived, others not - disrupted him from the outset and never left him.
The US and Indianapolis GPs were particularly cruel. First a broken shock mount sent him flying out of fourth at Laguna Seca's Corkscrew, then a blown engine - while running second, and having led early on - put him out.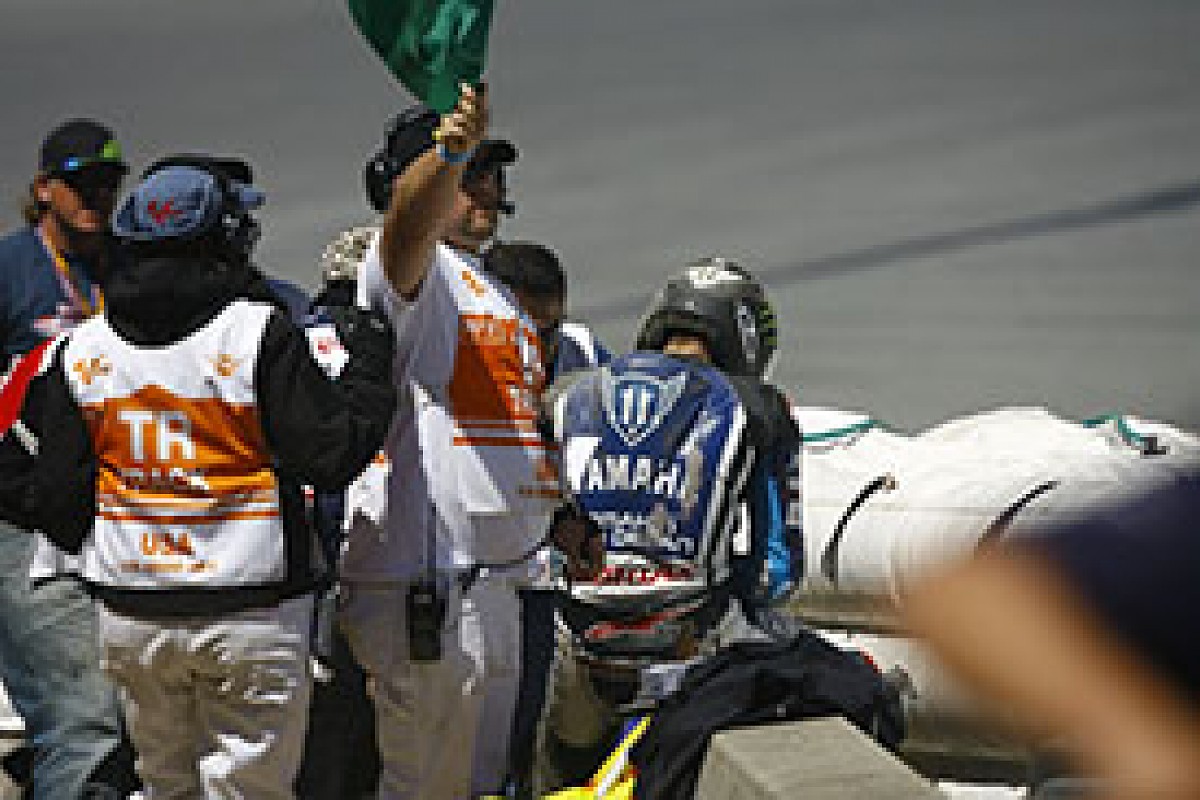 Spies retires in America © XPB
Six riders fell in Malaysia, but he was the only one to suffer serious injury, with a broken shoulder ending his season prematurely.
Where next?
Thankfully, there are reasons to be optimistic. In Marc Marquez the sport may just have the brash, swashbuckling star it needs to reignite the races and bring an element of magic back - just look at the Moto2 Valencia finale for evidence of his qualities.
The Spaniard's arrival is part of a wider shake-up that can only benefit a series at risk of stagnating. Valentino Rossi returns to Yamaha, with Dovizioso replacing him at Ducati - where major background changes are taking place. Bradley Smith and Andrea Iannone are among the Moto2 graduates.
More significant, however, are the long-term changes set for 2014, including the availability of a spec ECU and datalogger. Factory teams can still opt out, but at a price (smaller fuel capacity and fewer engines), which should finally help curb the truism that money buys success.
Suzuki's rumoured return, and cheaper satellite bikes, should also constitute a massive shot in the arm for a series Rossi recently said was at its 'lowest ebb'.