These are important times in the world of MotoGP racing, with political discussions going on at the moment about the 2014 regulations.
Cost, money and the whole economic downturn are all buzz words that the world's politicians are trying to avoid but that MotoGP is trying to face up to.
Series promoter Dorna has had enough on its plate over the past few years, following the boom time that was the ultra successful switch to four-stroke engines and the rise and rise of Valentino Rossi.
That was followed however by the financial crest of the hill in the shape of factories pulling out, Rossi not winning and dwindling attendances. Dorna has propped up many a team short of cash in an effort to keep it on the grid and maintain something worthy of the title 'world championship'.
The hard facts are that there are just three factory teams on the grid with some CRT bikes using heavily modified production engines. At the height of MotoGP's 990cc era there were six factories represented, but as we approach the publication of new rules for 2014 and beyond, Dorna is sensing that its Moto3 regulations may well be key for the future of the big class.
The success of Moto3 could influence the future of the premier class © XPB
There, the factories providing engines are duty-bound to supply them to a minimum of eight bikes in their first season and 15 thereafter, so by definition it will be a two-engine championship unless the rules change.
This is something that is not regulatory in Formula 1, but has been a model that started in four-wheeled motorsport and continues to this day. The supply of engines to be mated to your own chassis has dwindled somewhat since MotoGP's four-stroke rules came in for 2002.
In F1, Red Bull cannot be considered a true 'garagiste' team due to its huge resources, but it has won titles with Renault engines against the works Renault team, so why can't that be a way forward for MotoGP? It would open up for others the opportunity to at least have a chance... rather than having to make do with a bog 185bhp road bike engine.
FTR, Suter and KALEX could all build chassis with an engine-partner concentration on their side of things. A Suter-Honda, Suter-Aprilia, Suter-BMW or Suter-Yamaha? It opens up more options again, just like the old days.
Elsewhere in the paddock, the standardised ECU (Electronic Control Unit) discussion that has been shunned by Honda is somewhat frustrating to hear as there are plenty of other forms of motorsport that have embraced a common ECU.
F1 took on the common ECU in 2008. It was supplied by McLaren Electronic Systems in a tie-up with Microsoft, which assisted in the writing of the software. MES was deemed sufficiently distanced from the F1 team itself, so the sport's governing body, the FIA, went ahead with it on a long-term arrangement.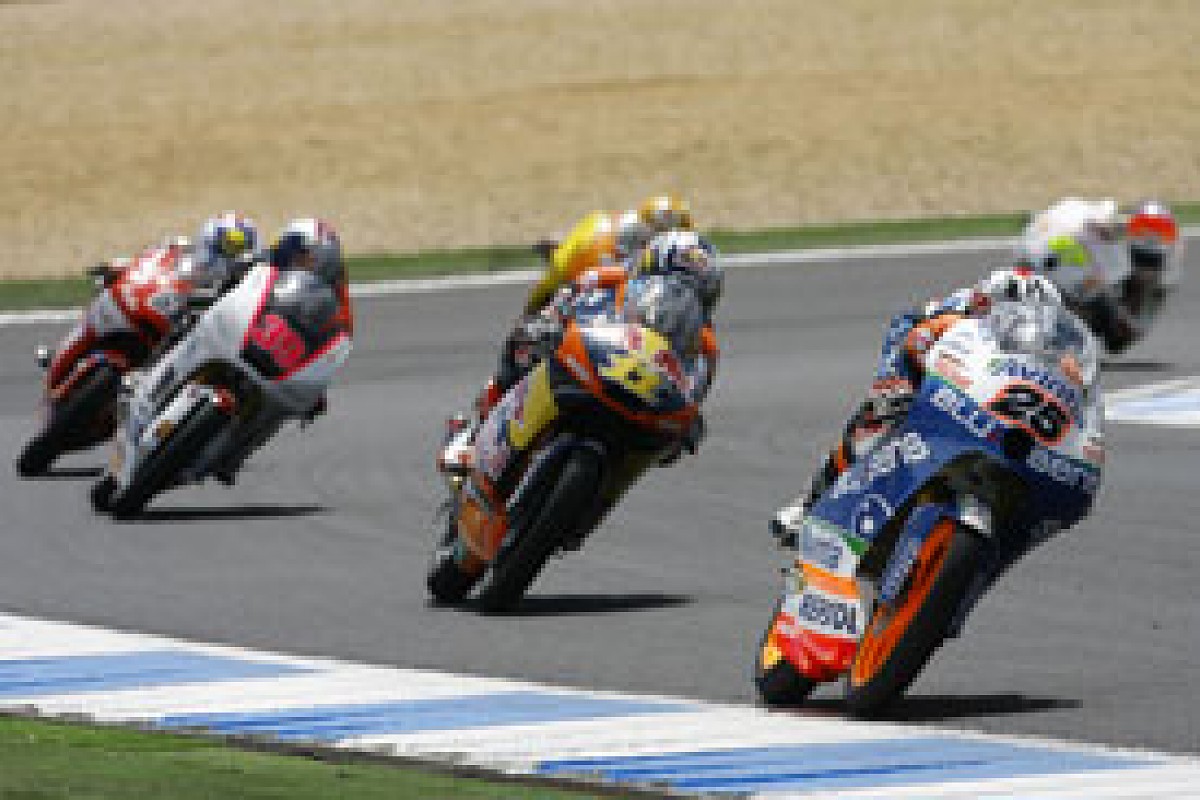 HRC team principal Shuhei Nakamoto is opposed to a spec ECU © XPB
One technical director of a race-winning F1 team was moved to say: "What the ECU provided the teams with was a hardware box and the basic tools for what was needed to get the job done. What it doesn't mean is that everyone stares at the same laptop screen up and down the pitlane. It was essentially an open template of software."
"Teams can ask the FIA if they can add some functionality to the software package, a request that is unattributably circulated around all the other teams if it actually helps a team without giving a massive advantage. It means that some teams get helped along the way."
What is jaw-dropping within this debate is that when the Honda F1 team had the FIA's common ECU handed to them, the hardware was 50 per cent lighter, made the engine run better than with their own, had better functionality and was more reliable.
Now, only HRC knows how good its electronics package is but the 'Honda way' is to learn the hard way by creating something from scratch rather than copying. This invariably produces a great product, but takes an awfully long time while everyone else's mistakes are repeated. There is almost a culture of non-fast tracking. Remember Suzuki and its self-built valve springs needing to be replaced after every on-track session? In the end it gave up and used Ohlins kit.
Another example was a European World Superbike (WSBK) team that ran a Japanese motorcycle. It once asked Cosworth for help with its engine. That was perfectly within the rules and something that the 'European way' was familiar with. Then Japan heard about it and politely asked for the process to be terminated.
The question is: do we need an ECU at all? The riders are very adamant that without the electronics there would be more of them in hospital than on the grid. We must listen to that as it's their asses on the line, but Moto2 and Moto3 all have throttle cables leading to the butterflies.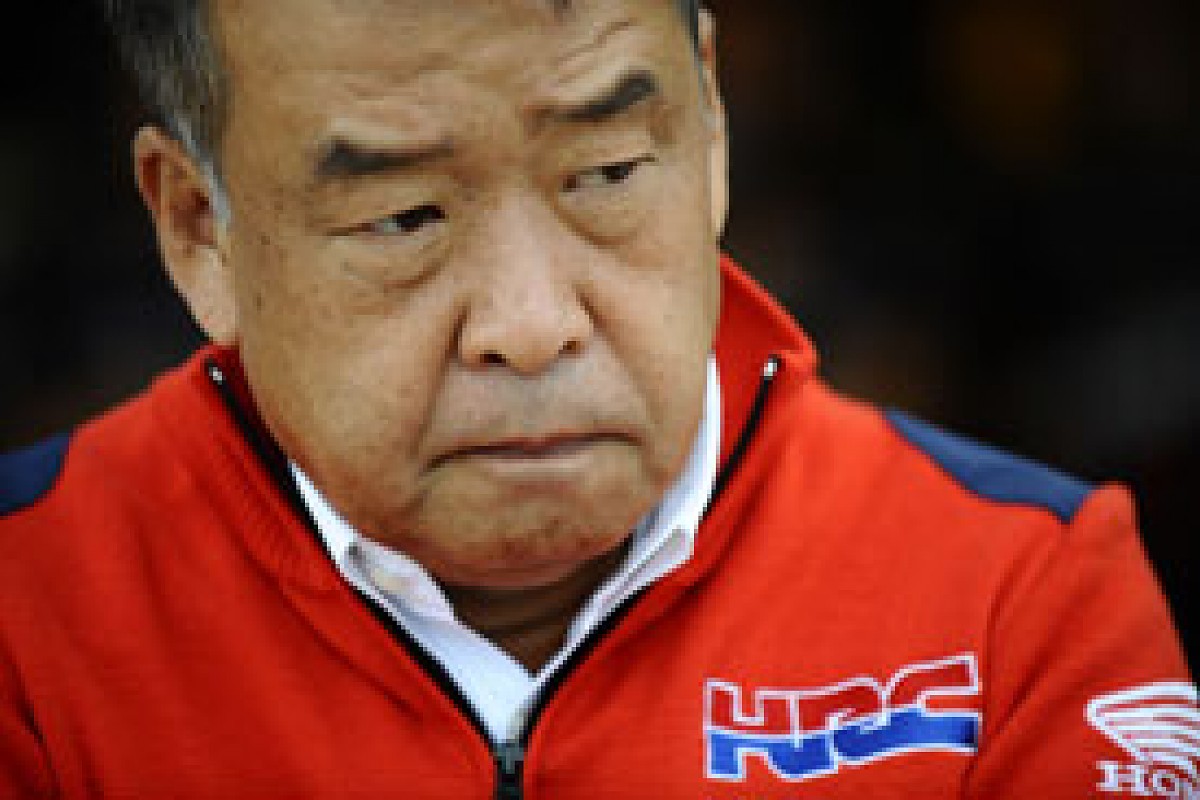 Riders have expressed concerns about losing electronics © XPB
Tech3 engineer Tom Jojic explains: "If they want to make that happen then put a cable on the butterfly and give all the control back to the riders. You can then leave the ECU fully open and allow the factories to develop new strategies to deal with engine braking and traction control, i.e. an electronic clutch for engine braking and engine decompression for traction control.
"It sounds far-fetched, but the manufacturers want a challenge. Then we will stop all this max-angle, full-throttle, ECU-controlled power management that only the top three riders can cope with. Moto2/3 both have the cable butterfly and so did the old 500cc two-stroke machines with much worse tyres than we have now."
There are other plus points for a common ECU in MotoGP. It would eliminate any scope for cheating by 'future-proofing' the opportunity seen in F1 during the bad old days of the mid 90s, and it would stop the advent of a space race should electronics become key to being quickest - as it was about to be in F1. Writing electronic packages and developing hardware is hugely expensive ($5m was recently touted around) so why not take the default package that everyone else has got? Spending all that money tapping away at a keyboard doesn't enhance the show.
Again, looking at the F1 timeline, Toyota and Honda left F1 because they spent millions (or billions) but only won one race between them (Hungary 2006 for Honda). They quit the sport overnight, leaving guys in the lurch without jobs and four holes on the grid. Honda has threatened to leave MotoGP if the rules don't suit it and go instead to WSBK but it has had its bluff called by Dorna with the Spaniards now in control of that series too. Was that a 'check' or 'check mate'?
Elsewhere, Yamaha has remained quiet throughout. It can see a different picture of South East Asian sales going up rather than road-bike sales that are plummeting. Ducati is selling more top-end prestige bikes than ever, even though it hasn't won for over two years. Will we see Yamaha entering Moto3 and attracting the smaller profit margin/more units sold arena?
Other MotoGP cost-saving measures that could be put in place include limited staff at the race track and the promotion of more test days at a host track before or after the GP, rather than having to go elsewhere.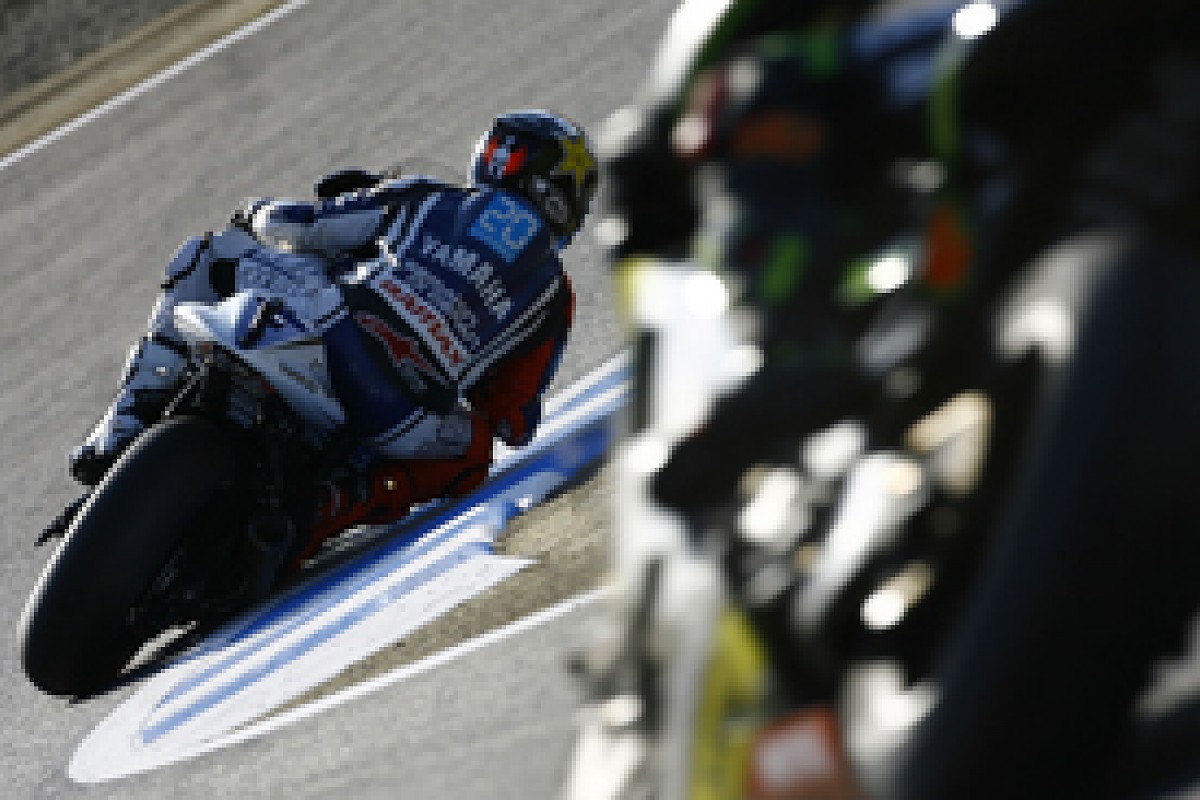 Yamaha has stayed quiet throughout the future rules debate © XPB
One of the things that has been successful in cost saving is the cap on engine usage at six units per year. Casey Stoner used just five last season to win the title, Honda proving it could be done with one less... just for fun. Again, a step forward in budget saving over F1's mistake of using an engine per day, like McLaren did with Ford for Ayrton Senna in 1993. That's nearly forty over a season. Madness.
So, is the problem we're going through an economic downturn or a cyclical one? Shouldn't we be pioneering the furthering of new technology that burns less fuel to go further, faster? Of course we should, just as F1 is moving from 2.4-litre V8s to 1.6-litre V6 turbocharged engines in 2014 with a third less fuel and double the available KERS.
It's easy to make fun of a Toyota Prius and the people who drive them but the second generation of petrol engines such as the new three-pot one-litre turbo in a Fiesta, let alone Gordon Murray's T25 100mpg car, are the way forward.
Which begs the question brought up by Jojic: "Do we really need to limit factories that have the resources and the money? Why not make a more elegant solution to slowing them down like reducing fuel capacity for the factory prototypes? This solution means revs would drop, factories could make more fuel-efficient engines that last longer and are still powerful. They could then transfer this to their road bikes and everybody wins. This solution also brings the top three closer to CRT without nasty rev limits and single ECUs."
Or, looking further ahead, the angle the manufacturers could take is to push ahead with technology paid for by their 'green environmental' budgets. That way the Kawasakis, Suzukis, BMWs and Aprilias would remain on the grid. If anyone should be pushing for the 'less fuel/green' MotoGP it should be Ducati with parent company Audi and its endurance know-how. Audi knows a thing or two about KERS usage at the Le Mans 24 hours!
The answer could be both, but maybe some MotoGP folk need to look at what other forms of motorsport have done and to gauge what happened in the learning process.
We must look outside our own pen - it would save an awful lot of time and effort.