When Casey Stoner retires at the end of the 2012 MotoGP championship, the statistics will not do his career justice.
Whether he leaves the sport with two or three world titles will be something fascinating to watch over what will now be final 14 races. He will surely add to the 35 wins, 35 poles and 62 podiums during that time, but retiring as he will just one month into his 27th year, it will be impossible not to ponder whether he could have been the greatest ever, a rival to that moniker which has long seemed destined for Valentino Rossi.
On raw talent alone, MotoGP has perhaps never enjoyed anyone as fast as Stoner. The Australian's legacy will probably not outshine Rossi's, but his ability might. In Stoner, the sport had someone who was very special, an astounding talent.
Ahead of his impending retirement, AUTOSPORT looks back at 10 races that have helped shape his legacy. Some may not be classics, or even victories. There is also a wide range to choose from. If nothing else, the list below should stand as a fitting tribute to one of the fastest riders ever to grace the sport.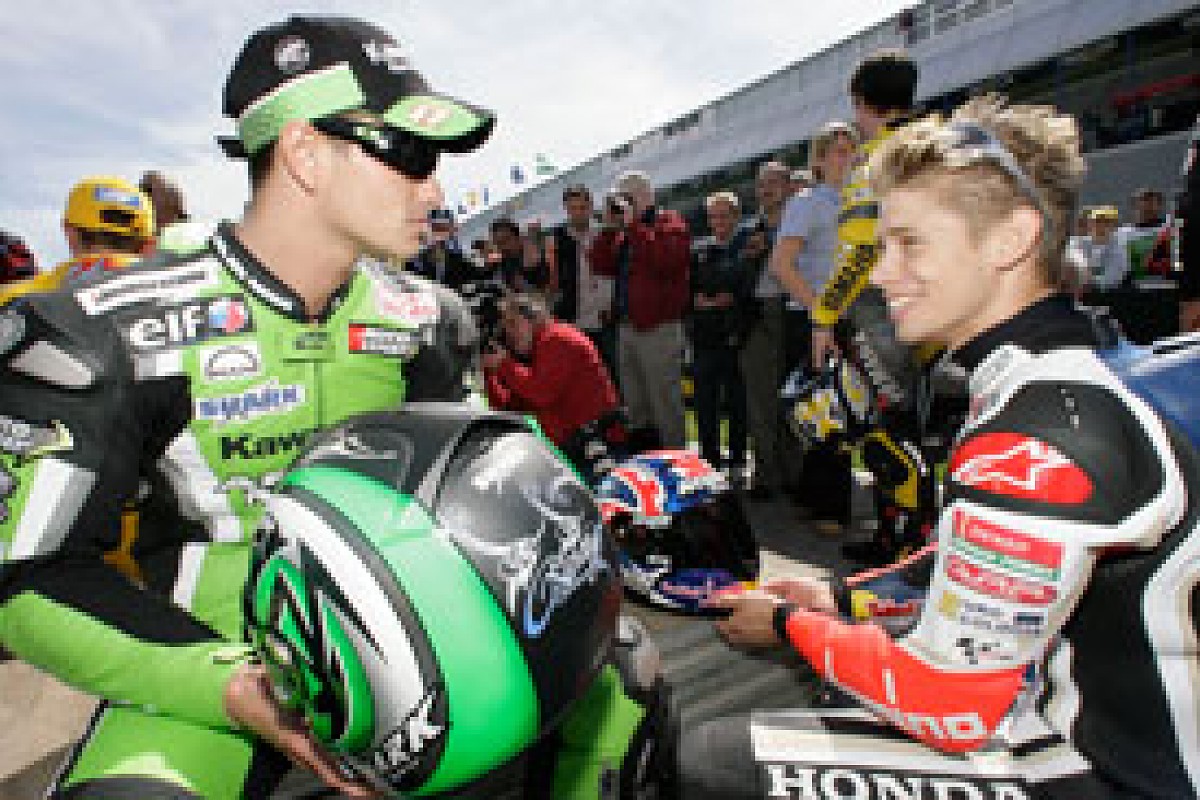 Stoner chats to Randy de Puniet on the grid © XPB
2006 Spain
Stoner's rise through the lower grand prix ranks was more of the quiet rather than spectacular nature - it wasn't until his final year in 250s, for example, that he won more than once. It was on the back of that 2005 season, when he won five times and finished runner-up to Dani Pedrosa, that Stoner graduated into the premier class with the LCR Honda squad.
The Australian was LCR's only rider that season, and had missed nine days of pre-season testing on the RC211V. He was still able to qualify around one second slower than the works Hondas of Pedrosa - who graduated the same year - and Nicky Hayden, but in a competitive field he started from the back of the fifth row, in 15th.
The race was a different affair however; amid a frantic start in which Valentino Rossi crashed, Stoner made his way through to sixth during the opening lap. Once there, he had the pace not only to stay but to move even further up, running as high as fourth in the early stages. He eventually slipped back to sixth, but held on despite heavy pressure from the vastly more experienced Shinya Nakano, the pair crossing the line just 0.135 seconds apart.
"I honestly didn't expect this after missing nine days of testing so I'm very happy with this result," Stoner said. "[LCR Honda has] done a great job this weekend. I made a great start and with the mix-up at Turn 1 with Rossi crashing I was able get away with the leading group. We had changed the set-up with different front forks after the problems in qualifying and the bike was much better in the race."
It was not just the finishing position that impressed. Stoner lapped within half a second of the outright best - setting the fifth fastest lap overall. It was a precursor of things to come: the following grand prix in Qatar he qualified on pole and finished fifth, while in the third round in Turkey he started seventh and finished second, his first premier class podium. Stoner had arrived.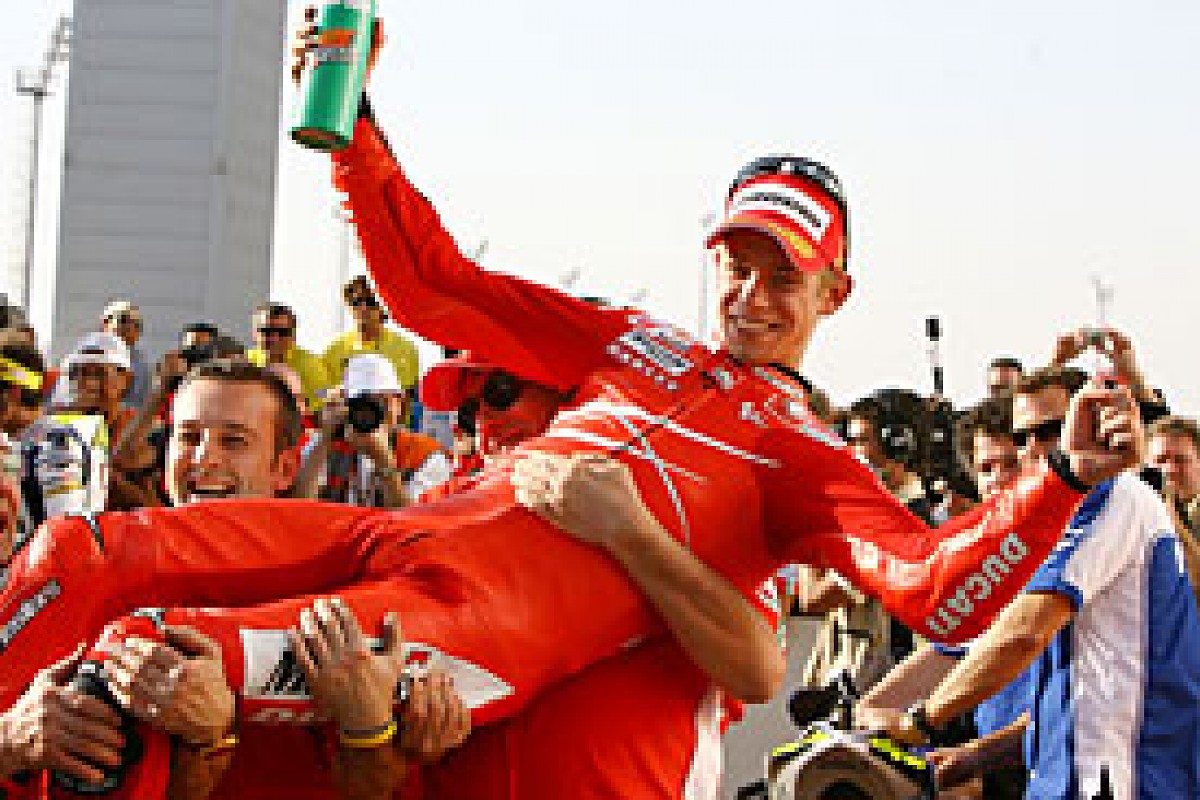 Victory celebrations after his Ducati debut in Qatar, 2007 © XPB
2007 Qatar
After a debut season marked by rich promise and the occasional crash, 2007 heralded a move into Ducati and a switch to Bridgestone rubber for the first time. Stoner made the perfect start.
Qatar, the circuit at which he had qualified on pole in only his second ever MotoGP race in 2006, was the setting. Second to Rossi in qualifying - by just five thousandths of a second - many expected a tight battle between Stoner and the then-five-time champion.
While Rossi never allowed Stoner to fully break away, he was however unable to prevent the Australian from leading every lap - at least across the line - en route to a first ever premier class win. What's more, Stoner and Ducati were now leading the championship.
"We couldn't ask for much more," Stoner enthused. "It was my first time racing with Ducati and Bridgestone: a perfect start, I couldn't be happier. We had a bit of a speed advantage and though we had some dramas in other parts of the track I played to the strengths of the bike and was able to do some pretty fast lap times.
"Valentino and I had a good battle, it was nice riding up front again. When he came by later on I decided to see how much further the bike can go and I was able to break a bit of an advantage. On the last lap I didn't realise I had a gap and rode the fastest lap. I'm leading the championship which feels a little strange but it's only the first race of a very, very long year."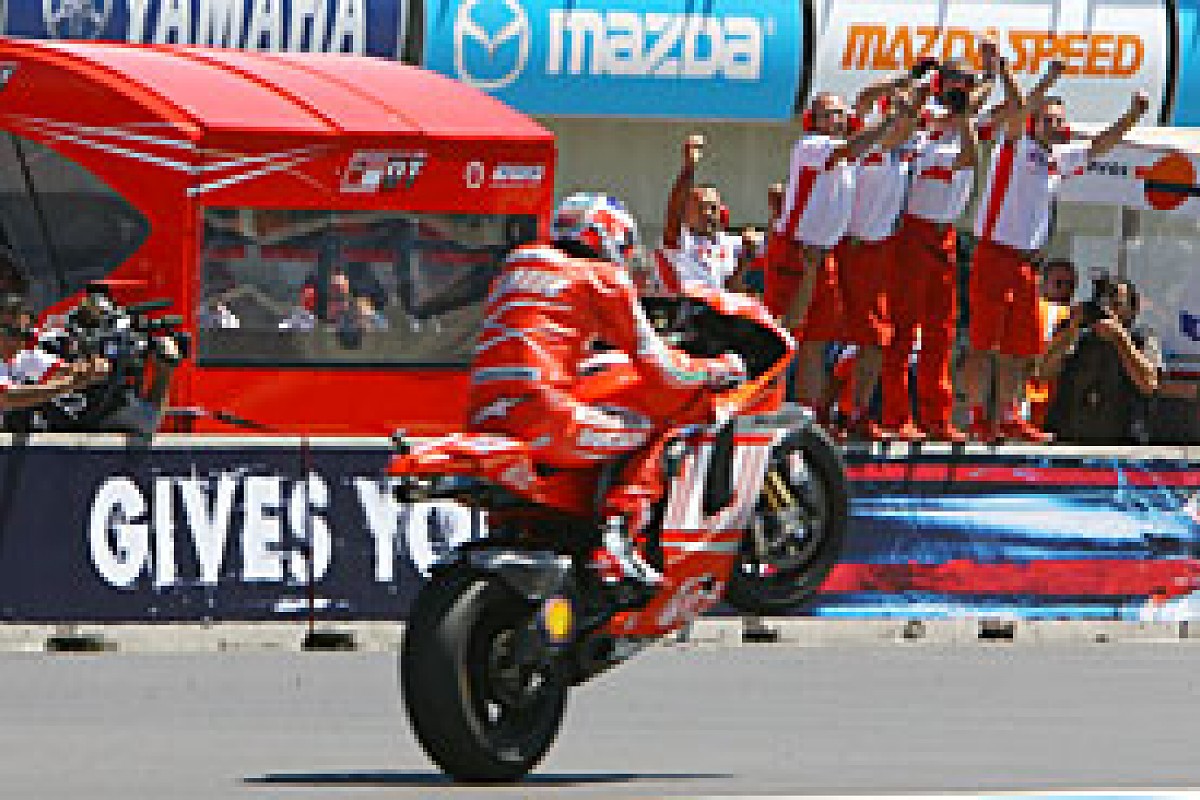 Stoner caps a dominant weekend in California © XPB
2007 USA
Ducati's straightline speed advantage would become a common feature of the 2007 season, and an easy bullet to aim at Stoner: sure he was winning, but it was the bike, not the rider. In many ways, it was not until his switch to Honda in 2011 that such disparagement was silenced.
Stoner did not let the criticism affect him, winning again in Turkey, China, Catalunya and Great Britain to establish a 32-point lead over Rossi heading into Laguna Seca, and what he later termed "my best racing weekend ever".
From the start, Stoner was on it, fastest in all three practice sessions and again in qualifying. For good measure he went quickest in the warm-up, and was simply relentless in the race - leading every lap and setting the outright best. Thirty-two laps later and his victory margin stood at 9.865s, his first MotoGP clean sweep complete.
"This would have to be my best racing weekend ever," Stoner said afterwards. "Today everything was perfect: the tyres, the bike, everything. We managed to be fast in every session and after all this hard work we did it in the race. I'm absolutely stoked about this race.
"At the start of the race I dipped into the 22s, I wanted to see how fast everybody else could go. I was pulling away from Dani [Pedrosa] by about half a second per lap, then Chris [Vermeulen] got in front of him and started to chase me down. I thought he was obviously pushing a bit harder so I decided to up my pace and I was slowly but surely pulling a gap. Chris was very fast, I just continued to push throughout the race. I didn't think there was going to be a big group at the front, I knew we had the set-up and it was just a matter of everything going to plan for us with no bad luck and everything worked."
Celebrating a first home MotoGP victory © XPB
2007 Australia
Stoner had already wrapped up his first MotoGP title by the time the series reached his home event in Australia for the 16th of its 18 rounds. The initial disbelief, the surprise of victory, morphed into a triumphant fanfare in front of the home crowds. If the pressure was off though, Stoner showed no sign of letting up.
Fastest throughout practice, Stoner missed out on pole by a surprisingly large margin - 0.615s - and started third as a result, behind Pedrosa and Rossi.
It took all of half a straight for Stoner to assert himself, jumping into the lead after "one of my best starts". From there he was never headed, and as Hayden, Rossi, Pedrosa and Loris Capirossi battled over second, he eased to a comfortable six-second victory. Winning at home for the first time proved the perfect way to cap a magical season of so many highs. It also proved the first of many at Phillip Island...
"Being up on the podium was just unbelievable, I've never felt anything like it," Stoner said afterwards. "I've been working very hard for a lot of years trying to win here. This whole season has been magical for us, we came here with a lot less pressure after winning the title in Japan, so I could really enjoy this race. It's definitely my best victory so far."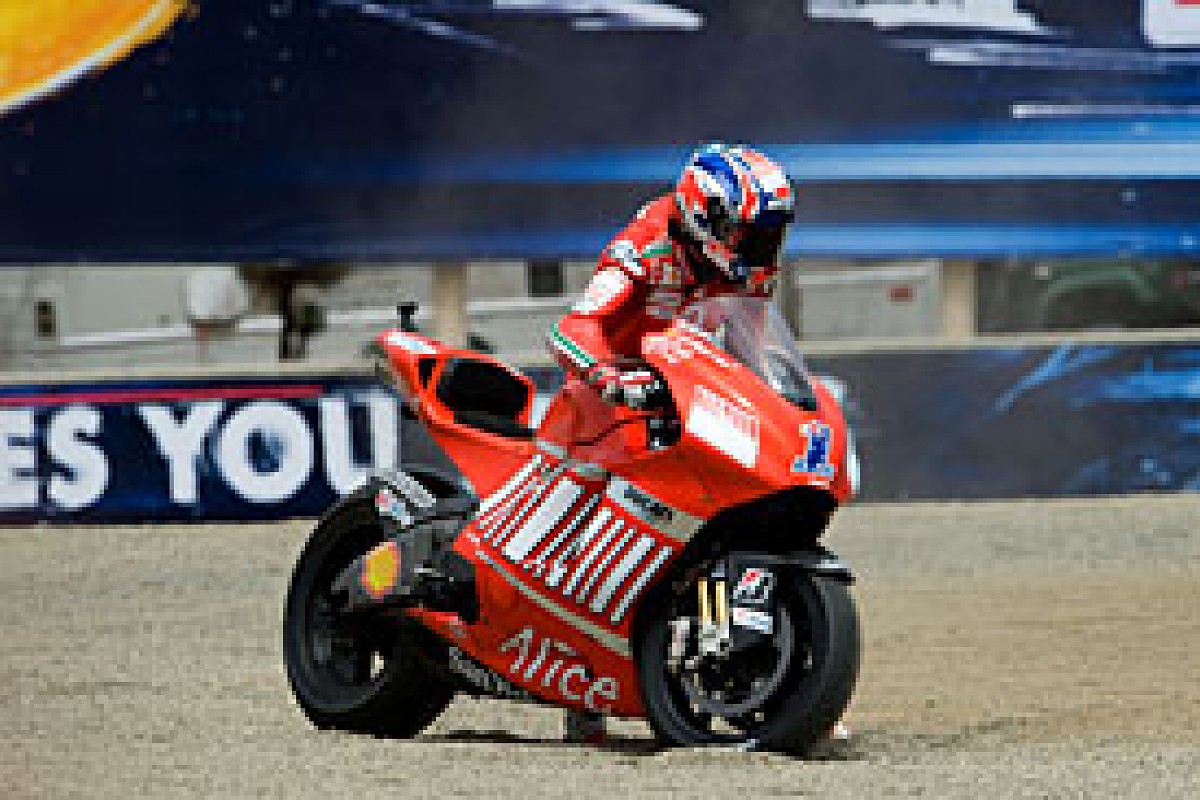 Stoner's battle with Rossi ended with a trip into the gravel © XPB
2008 Laguna Seca
A disclaimer: Laguna Seca 2008 was not one of Stoner's best races, but the 32-lap duel he staged with Rossi remains one of the most defining races not just for each rider and their rivalry, but for MotoGP as a sport.
This was toe-to-toe racing at its best: Rossi, apparent heir to the greatest-of-all-time crown, and Stoner, the young upstart who had shocked the MotoGP community by beating the Italian to the 2007 crown. More than that, it was the microcosm of a far wider argument: which rider could push harder; which rider was best.
A rivalry that had simmered throughout 2007 produced a stunning race, in which Stoner - fastest the entire weekend - was simply not allowed to escape. Any time he moved into the lead, Rossi was quick to attack in order to constantly keep the Australian in check. The pair were inseparable; until Stoner ran wide, into the gravel and out of contention near the finish.
For Rossi fans, this was proof of the Italian's supremacy. For Stoner fans - and for Stoner himself - some of the Italian's moves had been borderline at best. "I knew I had to try and stay in front," Rossi said, "and it was impossible to relax for even one second."
In the wider context, it halted Stoner's bid for four consecutive victories, which came after many had written off his chances of competing for the 2008 crown. Laguna did not end Stoner's hopes - he left the US still within 25 points of Rossi - but the hangover was felt in retirements in the subsequent two grands prix.
While therefore not his greatest race, Laguna Seca 2008 will be indelibly written in Stoner's MotoGP legacy.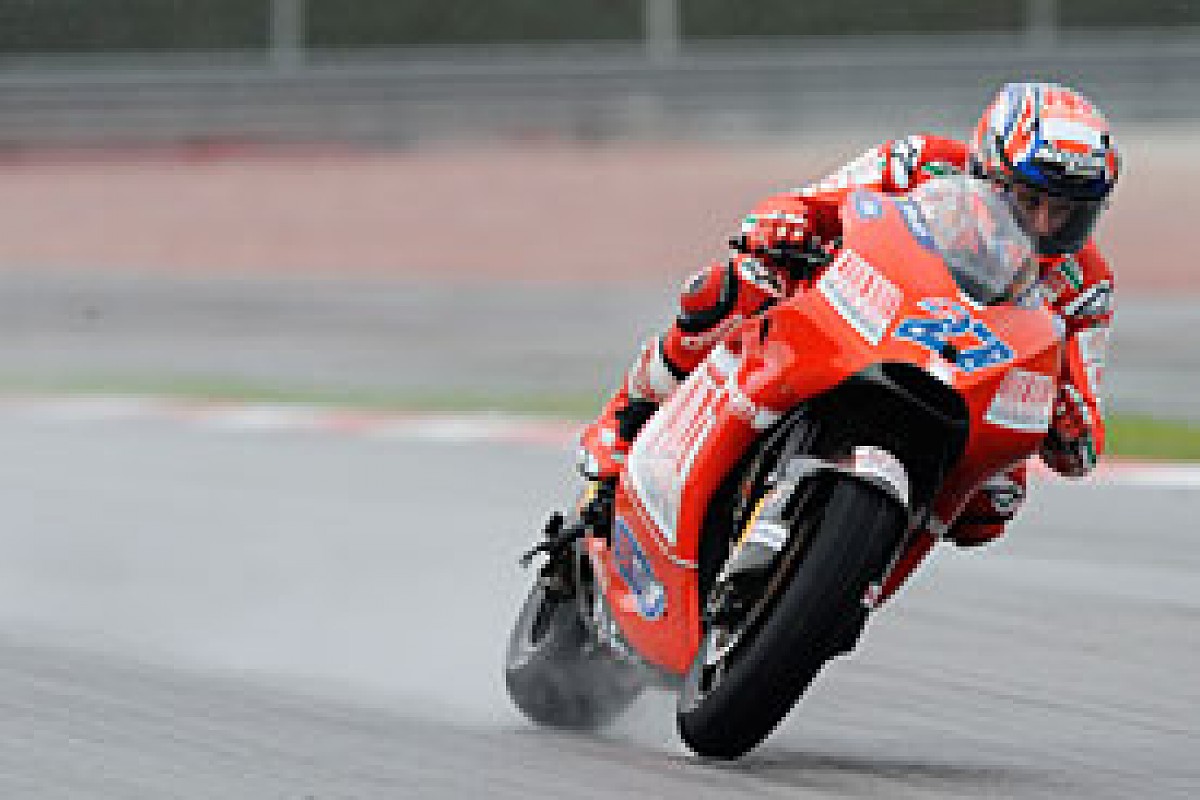 Stoner stormed away in the wet shortly after his return from an illness lay-off © XPB
2009 Malaysia
With Rossi winning the 2008 crown, the accusations that Stoner's success the year before had been down to the bike, and that the rider was mentally fragile, again reared their head.
That school of thought was only heightened when the Australian elected to take a three-race break mid-season for what was widely reported as a 'mystery illness' and was ultimately diagnosed as lactose intolerance.
Having missed the Czech Republic, Indianapolis and San Marino grands prix, and now facing such criticism, Stoner had just four races in which to salvage something from a year in which he had won just once.
While he did just that at Portugal and Australia - where he finished second and first respectively - arguably his finest ride that season came in Malaysia, amid wet conditions that had previously plagued the Ducati.
Starting fourth, Stoner was customarily aggressive on the opening lap and led when the field came round for the first time. With Rossi having slipped down the order following a Turn 1 mistake, Stoner's path was eased, but he admitted afterward to being "surprised" at just how calmly he was able to ease away. He led every lap, and eventually triumphed by just over 14s from Dani Pedrosa's Honda.
"By the end of the first lap I was clear by a second," Stoner said. "I have to be honest, I didn't expect to be so far ahead so early in the race but when I looked up and saw three seconds on my pitboard I decided to step the pace up even more and try an escape. I kept pulling out a second a lap and then eventually decided to back it off and not take any risks.
"This is another fantastic day for us and I want to thank everybody in the team for their effort. We've struggled with the bike in the wet this season but everybody has worked so well and the difference today was clear to see."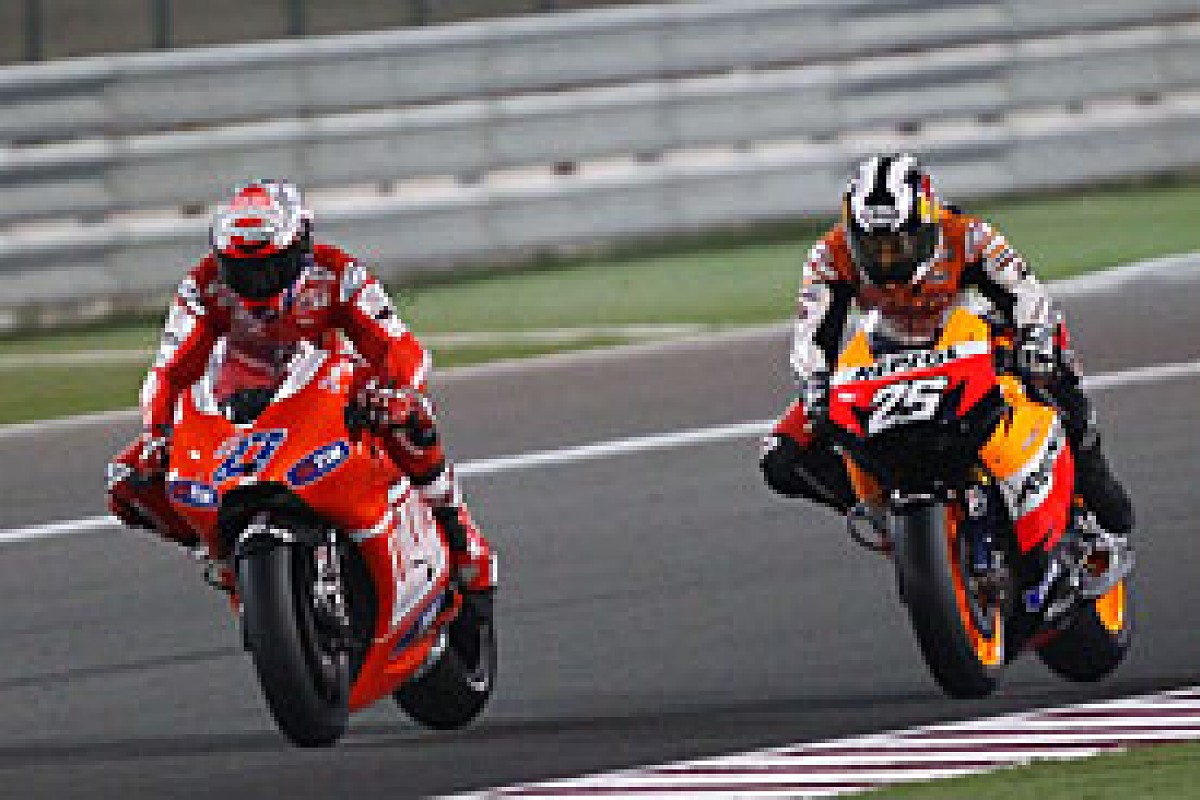 After battling to the front at Losail in 2010, Stoner would crash out © XPB
2010 Qatar
Qatar 2010 is another race to file under the 'defining' rather than 'greatest' category, chiefly because it demonstrated the tiny nuances with which Stoner was having to ride the Ducati - and which were perhaps only exposed when Rossi moved to the Italian squad.
Fastest throughout practice, qualifying and warm-up, Stoner bogged down at the start but was soon able to work his way back to the front and by lap three was leading. Two laps later, however, and he crashed out: the victim of not pushing hard enough to get the difficult Ducati front-end working properly.
"Once I got to the front I started to get into my rhythm but I lost the front end a couple of times in long corners so I made the decision to try to ride a bit smoother and not put so much pressure on the front tyre with the full tank," Stoner explained afterwards. "Unfortunately that is what led to the crash because looking at the telemetry I didn't have enough load on the front, so I guess in hindsight I should have stuck to the way I'd been riding all weekend. It's my mistake."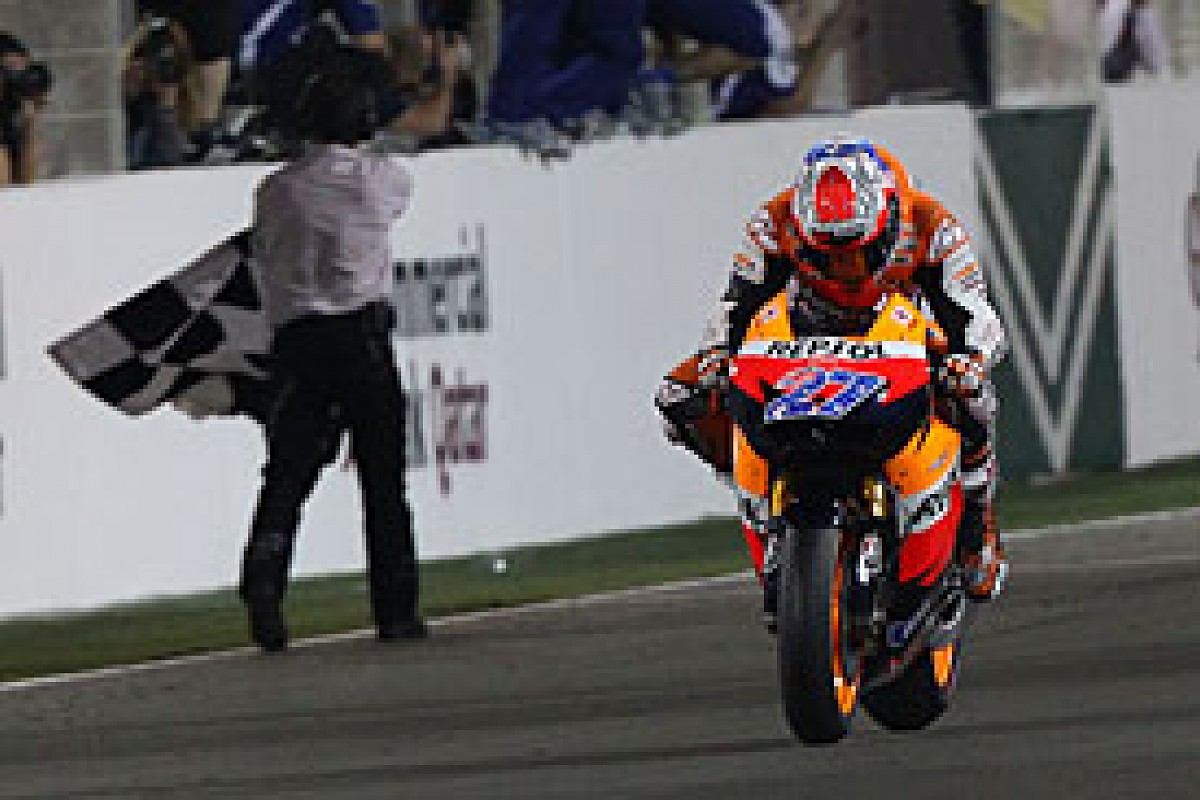 Stoner kick starts what would be the second title-winning season of his MotoGP career © XPB
2011 Qatar
Prior to his 2010 crash, Qatar was prime Stoner territory. He proved it once again with a devastating weekend in 2011, in what was his first race following his switch to Honda. Following a similarly dominant pre-season, it was to prove ominous for the forthcoming campaign...
There were points, like his 0.6s gap in first practice and his near-second gap to everyone but team-mate Pedrosa in qualifying, when Stoner seemed untouchable. No longer haunted by the handling of the Ducati, Stoner's talent was set free.
"After a great pre-season, we came into this race weekend and everything kept getting better and better for us. Dani came past and we decided to follow to see where he was strong and where I was weak. Then when I started to feel more confident with the bike and had more grip and better turning, we decided to push forwards and take advantage. It is a great way to start the season."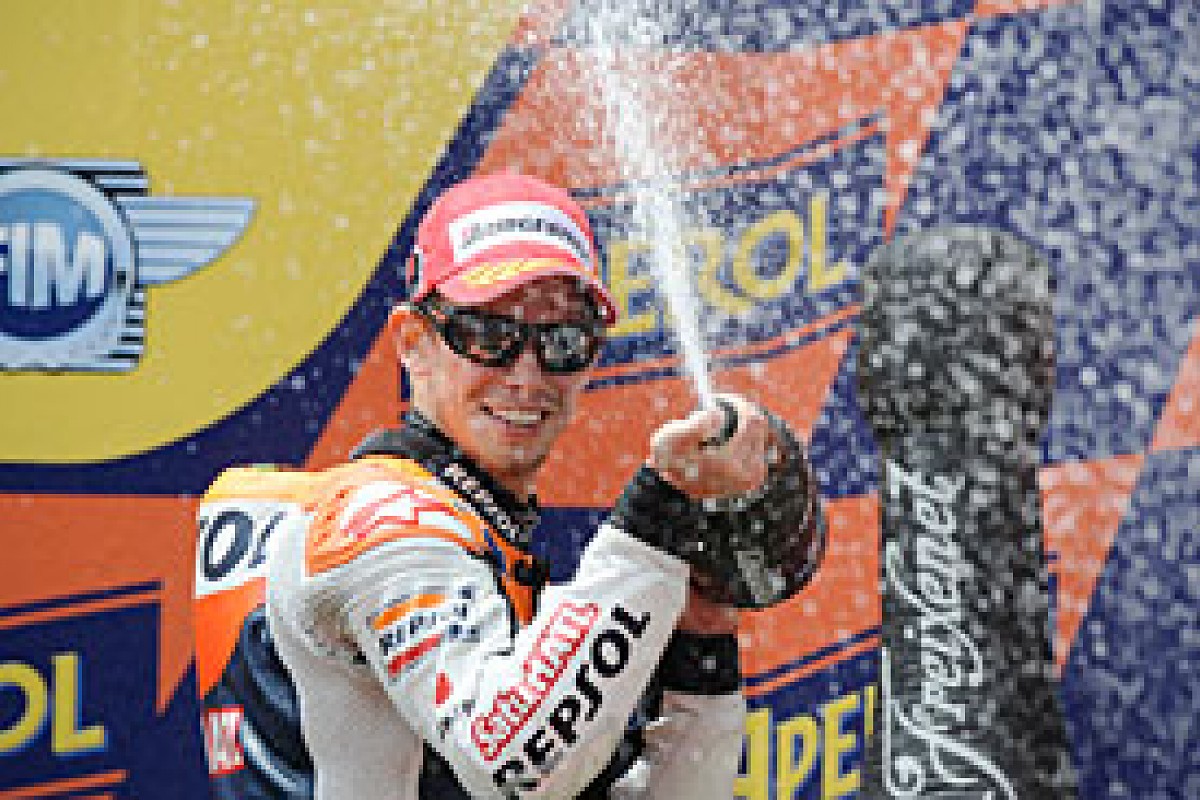 Victory at Catalunya was among his best in 2011 © XPB
2011 Catalunya
In truth, we're spoilt for choice for standout rides in 2011. For that reason winning isn't enough - and for that reason, Catalunya has to rank as one of the Australian's finest rides.
Having lost pole to reigning champion Jorge Lorenzo by just 0.016s, Stoner made his way into the lead at the end of the first lap and began edging away, only for rain to start falling. Always the first to arrive at each corner, and therefore providing the barometer of conditions for Lorenzo behind, Stoner judged it perfectly.
"I watched what the others were doing and if they had started to catch me then I would push," Stoner said, "and if I started to pull an advantage then I would back off a little."
Lorenzo was never out of contention, but under pressure from both the Spaniard's Yamaha and the circuit conditions, Stoner carved out a two-second victory to move to within seven points of Lorenzo in the championship.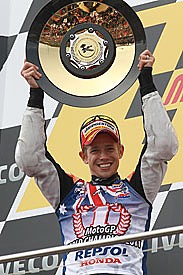 Stoner claims title number two on home turf © XPB
2011 Australia
Stoner's fairytale 2011 culminated in the most fitting fashion in Australia, as Stoner won on home soil for the fifth consecutive time, sealed his second world championship crown and became only the fifth man in history to have won the sport's premier title on two different makes of bike.
His task eased by a warm-up crash ruling out Lorenzo, Stoner was in emphatic mood, controlling the race from the front even as rain once again served to make things tricky. His ninth win of the season, from his 11th pole, wrapped up a sensational campaign.
"I don't think anyone could plan things to happen better than they have today!" he beamed. "The race was incredibly difficult, the conditions we're very tough. I built up an early lead as I saw the rain coming in, but I wasn't sure if it would hit us. I basically ran into a wall of rain, there wasn't any warning at the back part of the circuit and I came into the last turn and the rain started hard. I nearly lost control and thought for sure I was going to end up in the gravel.
"I managed to control it and maintain the gap to everyone and thankfully bring it home for the win, but it was a little bit nerve-racking for sure. Everyone that has worked so hard all year, thank you!"