There is an enormous amount of work that goes in to putting on a world championship level motorsport event. Paying the series organiser for the privilege of bringing the MotoGP circus to town is something is actually the easy bit; convincing people to come through your turnstiles and watch the show, thus recouping aforementioned outlay, is rather more tricky.
'The show' is an over-used phrase, but it is totally relevant in this instance.
There are different agendas behind why various events are on the calendar. Some are for personal gain (Le Mans), others to make money to enable them to reinvest in their circuit (Silverstone). Some are for the fans (Laguna Seca), others still for corporate pride (Motegi) or for an international show of power (Losail). Indianapolis falls into the pride and fan category.
The track puts on as much entertainment as it can for the fans to entice them through the gates over the weekend. By the Thursday night ahead of the meeting the hype machine is in full flow. Adverts and posters, a website constantly updated and a press service that puts some government offices to shame. Events are all laid on downtown or trackside for those who like to wander around.
It's an assault on the senses.
For the teams it's an easy race to work at as everyone loves the whole 'American thing' going on around the track - whether it be a stunt show, a Q & A session with riders and journalists, manufacturer stands (that are enormous) and a main street that's closed downtown just for motorcycles on Saturday evening.
Stoner won, but vocally panned the track © suttons
That's all great. But to those who understand how the paddock really works, there was a sense of sorrow for the guys at Indianapolis on Sunday evening. The winner of the main event had dominated - just as he's paid to do by his employer - but over the three days had complained about the circuit whenever his helmet came off. He said it was not the most enjoyable of circuits to race on - something that I can understand - but to systematically criticise nigh on every corner in a media scrum on Saturday evening wasn't what some of the big wigs wanted to hear as they emerged from negotiations with Dorna to extend the event's presence on the calendar for 2012 and beyond.
You can just hear their thoughts, 'So I'm gonna invest a load of cash for these guys to come and race with my train set only for them to slag it off'..
Racers are wired up differently to the rest of us. They spend every single waking hour thinking about going faster and faster, beating the next guy to a pulp - something I can also understand. But there were some nervously twitching Indiana eyes around the place on Sunday afternoon after all their efforts to do the best they could for the fans and the riders - including a brand new road surface from Turns 4 to 14 of the road course - something that did not come without considerable investment.
The new surface produced a winning race time 39 seconds faster than 12 months ago - and that's over the same regular 28-lap MotoGP event. Thirty-nine seconds. I'll leave you to draw your own conclusions.
It remains to be seen if Indy is back on the schedule next year. My feeling is that it will be but I sense that statement is laced with my emotion. I sympathise for the guys who are just doing their level best to put on a show worthy of the circus master's approval.
Magic Marquez
Emilio Alzamora said to me on Sunday morning, "Today will be the key day to the championship." Turning an imaginary key with his hand. Marc Marquez's team boss - himself a former 125cc world champion - wasn't wrong. His rider started from pole position at Indy while the world championship leader Stefan Bradl was back in 22nd after a silly off in practice having ridden off the edge of a kerb.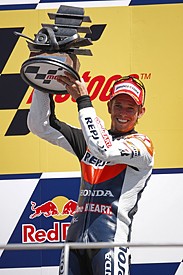 Marquez has hit form at the right time © suttons
Marquez - the reigning 125cc champion - tracked the leaders down and pulled away for a dominant victory while Bradl cut through as best he could to sixth. Hmmm... that's a 15-point gain/giveaway in one race.
I'm torn as to whom I want to win the Moto2 title. Someone in my position should not have favourites, but you cannot help but be drawn into the fascinating battle between Bradl and Marquez, which is set to get even more intense over the remaining six grands prix. The German has seen his championship lead tumble to just 28 points with 150 to play for. If Marquez wins all the remaining races (not as far-fetched a possibility as it sounds) and Bradl is second at all of them, the German still loses the title by two points.
Marquez is producing a carbon copy of last year. Taking his time to settle in, he's now tasted the winning sensation and is clicking into full steam ahead mode and winning nearly every race he turns up at.
After Silverstone Marquez was 82 points behind Bradl; now he's just 28 adrift. The race is on.