Casey Stoner

Stoner has been firing on all cylinders since joining Honda
The marriage of Casey Stoner and Honda brought together two parties on a mission to prove a number of very important things: Stoner to show that it was he, and not his Ducati, who won the 2007 MotoGP World Championship; and Honda Racing Corporation to prove that it can at least take something from the 800cc era, following domination firstly by Ducati and ever since by Yamaha.
For a manufacturer with such depth and history in grand prix motorcycle racing, it is nothing but embarrassing for it not to have even been close to a title since the end of the 990cc era in 2006. That means that the job for 2011 is nothing short of domination (and relief) in the name of winning. Heads will roll back in Asaka if trophies are not brought home; the hiring of Stoner to execute said job is all part of the plan.
He's won five of the 10 races so far, and been on the podium at every race except for the Spanish Grand Prix - where he was taken down by a wayward Valentino Rossi - and so it's little wonder that he's 20 points clear at the top of the table with 200 still in play. His self-belief and confidence are typical of an Australian sportsman, with his 'just-get-out-of-my-way' attitude. He gets angry at the drop of a hat and even resorted to punching Randy de Puniet in the arm on the back straight at Le Mans for getting in his way during warm-up! It's all in the make-up of the confidence of a sportsman who believes he is without question the best in the world.
Stoner is not universally liked for brusque remarks - even when on top of the podium - that rub fans up the wrong way all over the world. Then again, he is by his own admittance camera shy and, when you're following the antics of Rossi and Jorge Lorenzo, you are by definition going to look a little muted.
The only retort he has to his critics is through his riding; passing Lorenzo around the outside at Laguna Seca's first turn, a sweeping left over a blind crest, at 170mph, says it all. 'Brave' doesn't even come close.
Lorenzo leads the chase of Stoner this year © sutton-images.com
Jorge Lorenzo
He may have been on the back foot technically right from the start of the season, but the world champion led the standings after the second race following his Jerez victory. Like Stoner, he's had one non-score after falling off at Silverstone. He also got knocked off by Marco Simoncelli at Assen, only to fabulously recover to sixth. It's all ifs, buts and whats, but if he'd had a clean race in The Netherlands he may well be level with Stoner at the top of the table now.
He's gone back to last year's chassis, the bikes literally being dismantled in the Tech 3 garage at Le Mans and then taken next door to the works Yamaha pit. Sometimes newer is not necessarily better. Just ask Rossi and Ducati.
Yamaha found that it was well and truly on the right track again when Lorenzo won at Mugello, but the heroic nature of the Spaniard shone through at Laguna after a 25g deceleration in practice when he high-sided, before putting it on pole position three hours later. It is down to Lorenzo to prevent Honda and Stoner winning this year's title and, while there may only be one man ahead of him in the championship, it must feel like he's fighting a solo Yamaha battle against four marauding Hondas. It's do-able, but it's a hell of a mountain to climb.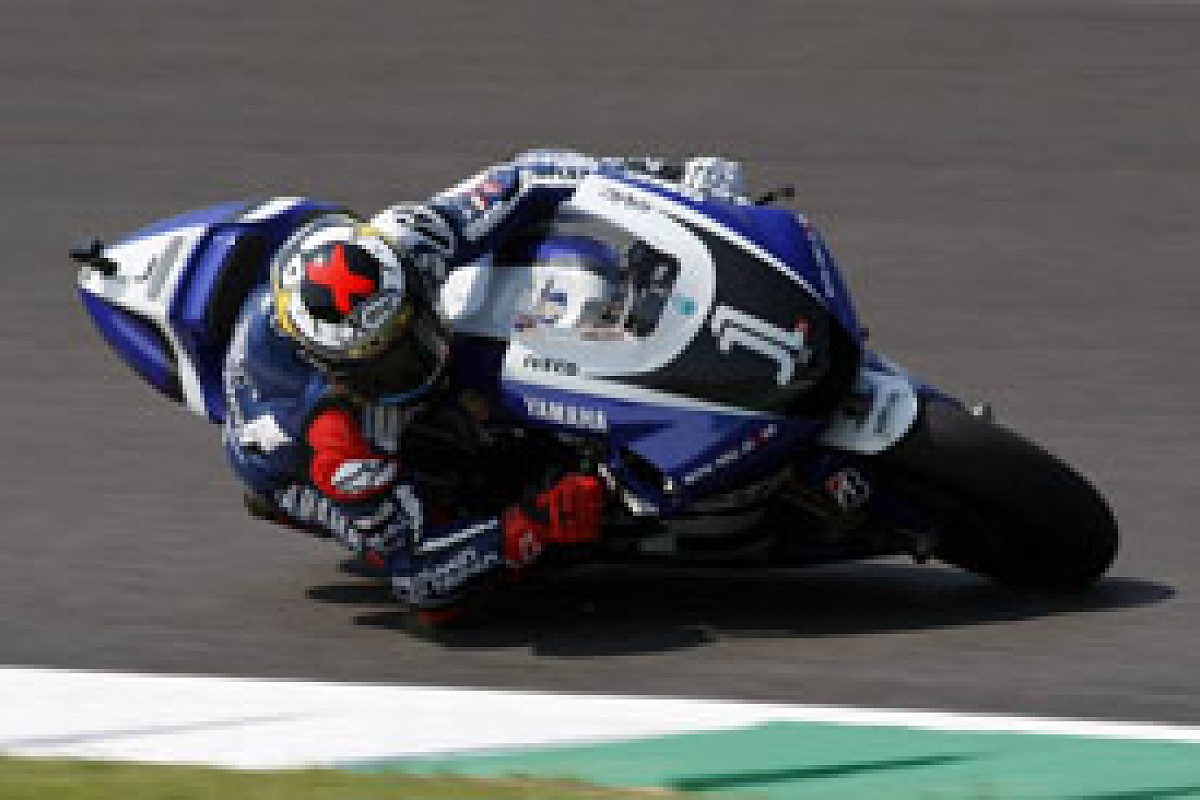 Dovizioso has had a constant stream of podium finishes in recent races
Andrea Dovizioso
The Italian has done well considering that HRC didn't really want him in its team this year - Honda painted itself into a corner during contract negotiations last autumn. But this family man is probably happy that Stoner and Dani Pedrosa are taking the limelight away from him.
He's riding for a job next year and riding well with it too, only once being out of the top four after his traction control messed up at a wet Jerez and chewed his tyres to the canvas. He might just win a race between now and the Valencia finale as he holds on to the back of the leading two in the title chase.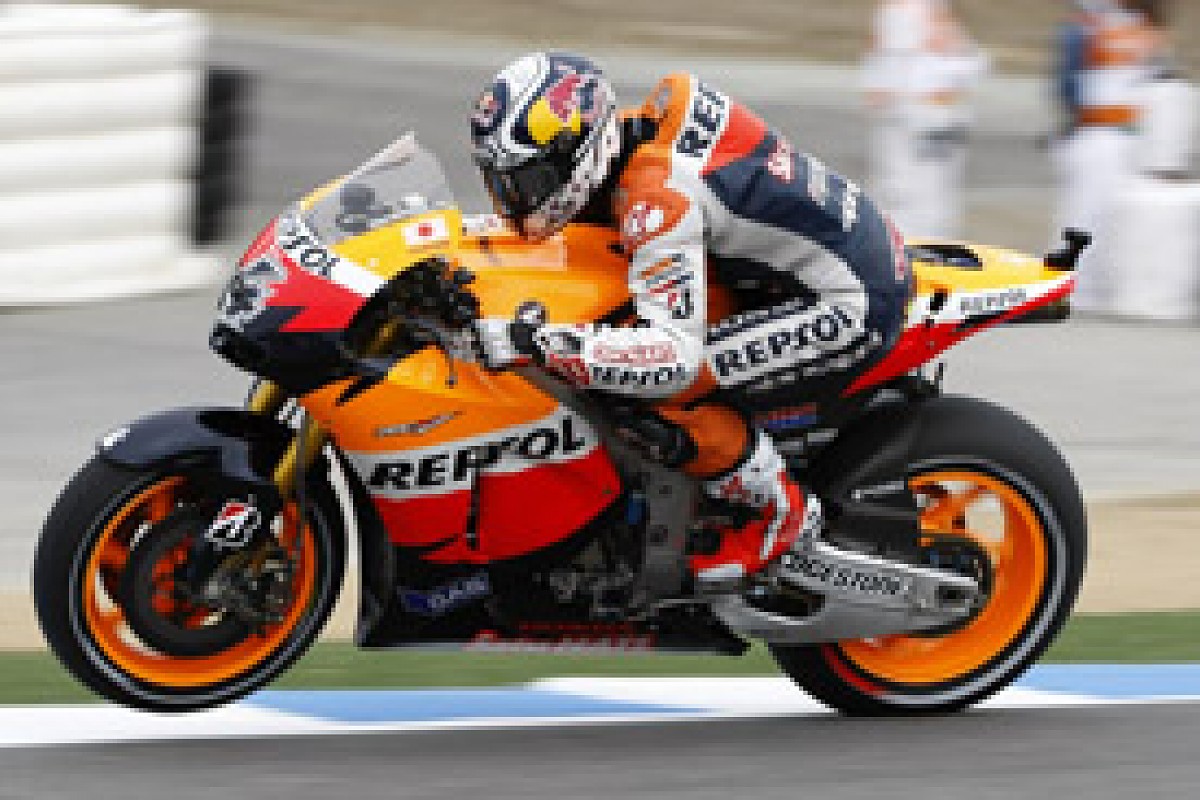 Pedrosa has been injury-plagued again
Dani Pedrosa
Again, the see-saw nature of a Pedrosa season continues. He's yet to do a full year without some kind of injury, and by the third race of 2011 in Portugal - where he won - it finally looked like the curse was broken. Yes, he was still struggling with a left-collarbone injury that meant he lost feeling in his hand in Qatar, but the postponement of the Japanese GP gave him a window in which to have an operation to relieve the pain.
Did it do the trick? Did it half! The trouble for the Spaniard was that he fought Simoncelli too hard at Le Mans and broke his other collarbone, leaving him absent for three races and blunting all his hopes of winning that still elusive title. His German win was nothing short of breathtaking for the li'l guy on the beast of a MotoGP bike on such a short and twisty track.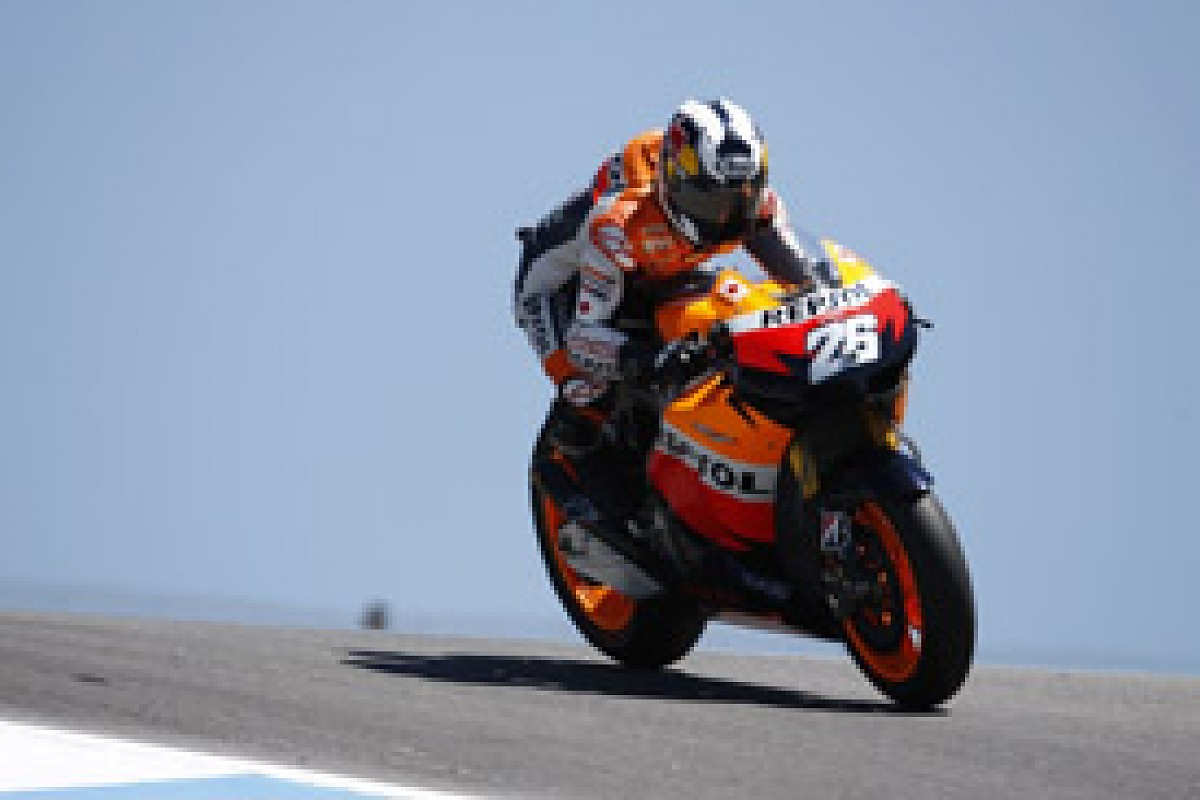 Rossi has had a tough start to his Ducati career © sutton-images.com
Valentino Rossi
The Doctor hasn't been able to repeat his romantic Yamaha 2004 story with Ducati this season. Nowhere near. He took nine wins in his first year on a Yamaha, and has won none this year. I had a bet with a friend last October that Rossi wouldn't win a race in 2011, and Rossi said after Laguna Seca that he won't win a race "unless it snows", proving he still has his impish charm and sense of humour.
Ducati have brought the GP12 forward by nine months to help him, but it's still a way off feeling anything like he's been used to on the kind of conventional twin-spar aluminium frames he's been riding for the previous 15 years at GP level. Front-end feel and confidence don't seem to be there at all, meaning there is probably another chassis that Ducati are going to bring out before the start of 2012.
There is nothing but midnight oil being burnt in Bologna to turn this thing around. Rossi will win on it, but will have to wait until the 1000cc bike comes on song next year.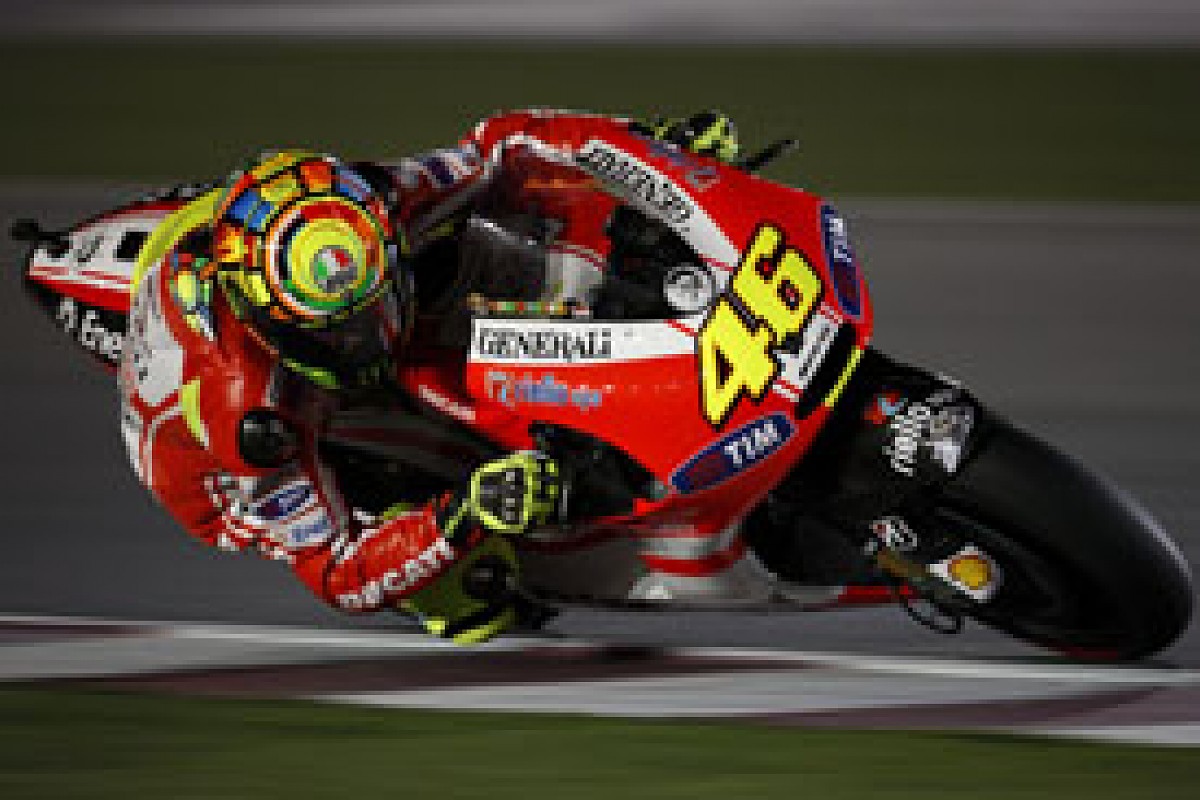 Spies took his maiden GP win at Assen © sutton-images.com
Ben Spies
The quiet American cracked the World Superbike-to-MotoGP nut when he won at Assen, and won by a mile - no-one could have beaten him that day.
He's not as good as Lorenzo was in his first or second year, but his progress is upward - the trouble is that there are some explosively fast guys at the top of this game right now who give nothing away from Friday morning. Watch Spies at Indianapolis, where he got pole last year and only lost out to Pedrosa.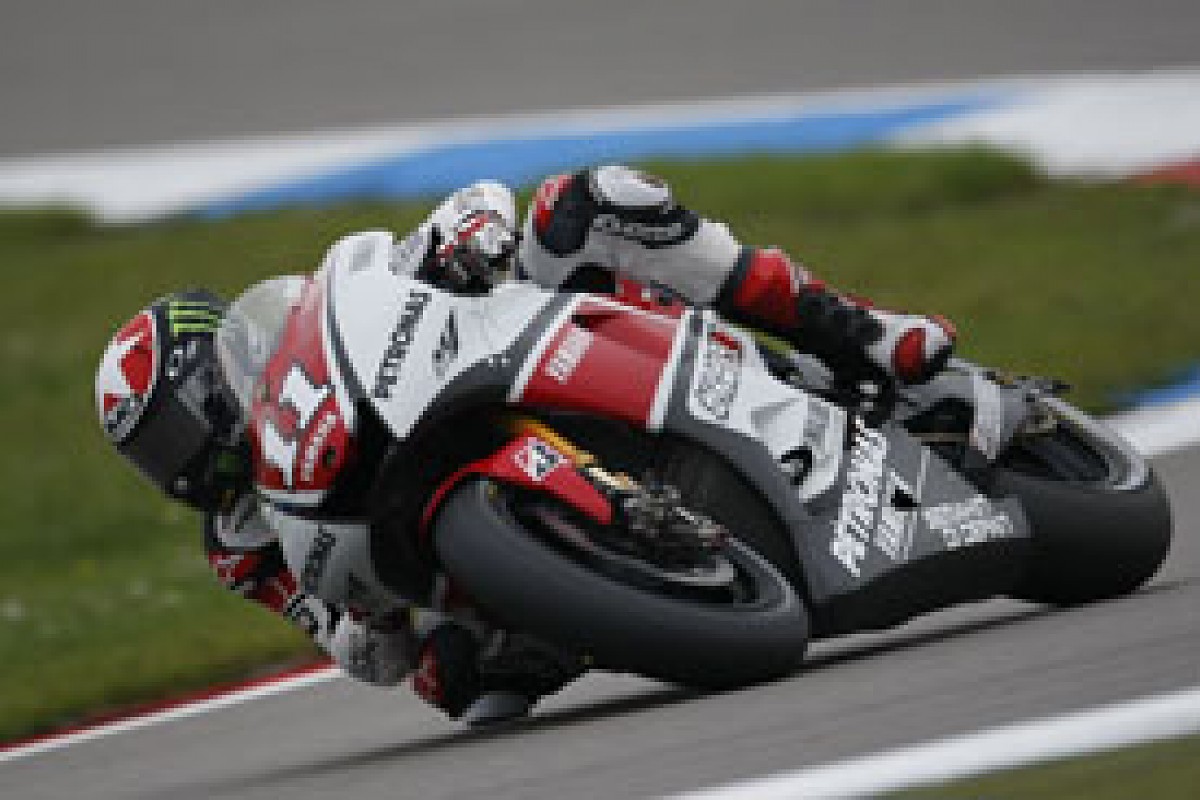 Marco Simoncelli Gresini Honda 2011 US Grand Prix © LAT
Marco Simoncelli
The wild-and-woolly guy who the riders hate but the fans love (except in Spain after his coming together with Pedrosa). Enough has been written about 'that clash' with Pedrosa to fill a library, but my thoughts were clear and simple at the time.
He's a tad clumsy in his approach and can't react as well as he might in Italian when the conversation is in English, but he can ride a bike fantastically quickly over one lap on a Saturday afternoon. He's just got to string it together on a Sunday now. His fanbase did rocket after Le Mans though, with many more comedy Simoncelli wigs appearing, along with a tenfold increase in 'Sic 58' T-shirts in the stands.
The other issues
The unfair advantage enjoyed by smaller, lighter riders over heavier guys was a talking point at Jerez in April, while the current chit-chat is of Lorenzo and Stoner refusing to go to Japan, fearing the radiation dose they may get. That's despite an FIM-commissioned report that says, "Based on the estimate dose it can be said by no doubt that the radiation risk during the race event is negligible." My thoughts on that are here.
Fine. Leave it up to the riders to decide whether they want to go or not. No-one has a gun to their heads here. But the bigger picture must be appreciated, for the good of a sport that has made every single man on that grid very rich.
Brno is next, after two weekends off. Will that favour Lorenzo with his classically smooth 250cc style, or will Honda bolt on the extra 0.5s widget as it normally does after the Suzuka 8 Hours? As we start the remaining eight races, there are an awful lot more politics and hard racing to go before Valencia.